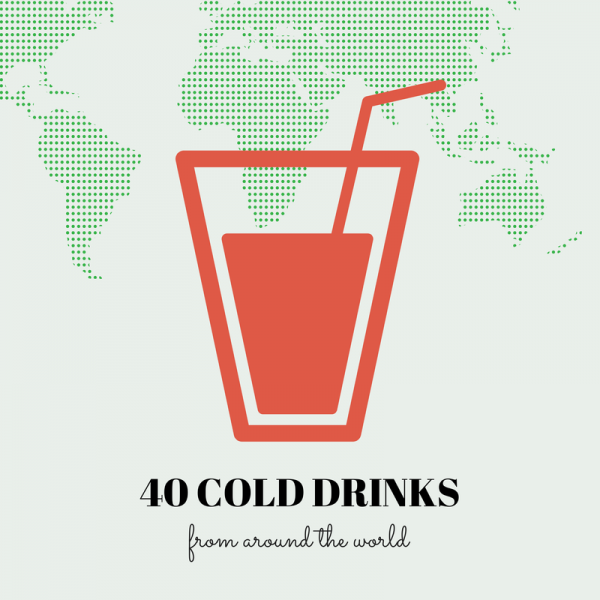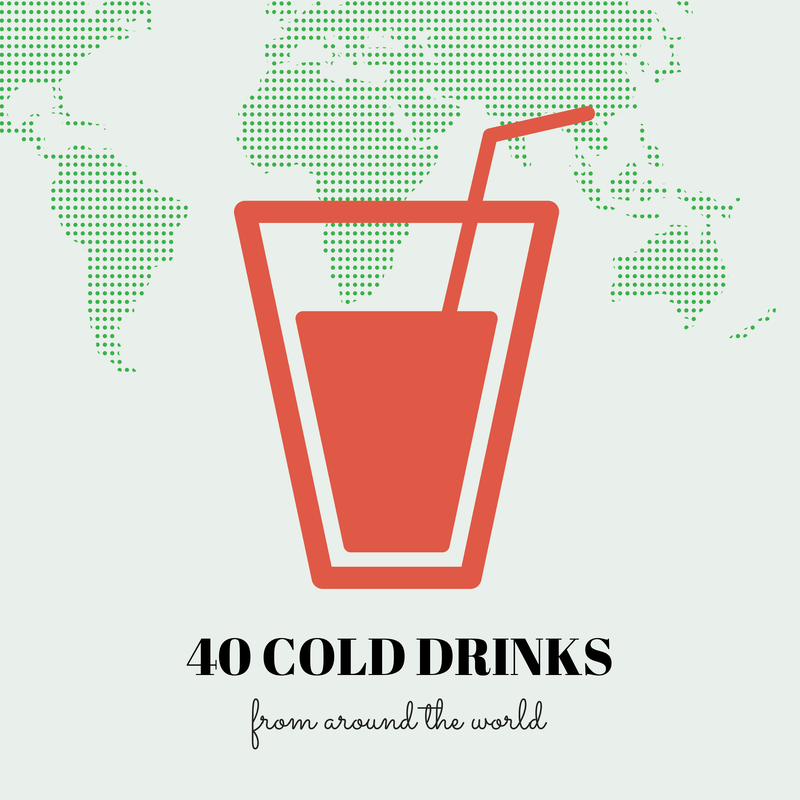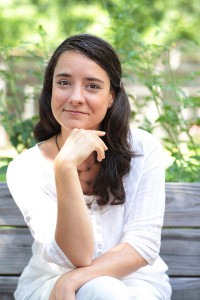 Hi friends!
When someone asks how you are doing, do you reply "Oh, SO busy"? I recently read that being 'busy' is the new norm. Turns out that's how many people are measuring their self worth and even asserting their status as an "important" person.
Ugg.
This makes labor day an even more important holiday in my book.  A time to slow down, enjoy the bounty the world has to offer, and just… be… with your family and friends. I've compiled 40 cold drinks from your global neighbors for you to enjoy this weekend (perhaps not all at once, eh?).
Bonus challenge?
Vow not to say you're busy for the entire month of September.
Even if you are. #letsbanbusy
xxoo Sasha
NOTE: These recipes are enjoyed in their particular countries, but not necessarily exclusive to the countries.

The African drinks we've tried on our cooking adventure include a lot of fresh, tropical fruits like mango, pineapple and papaya. There's also a good deal of ginger (think ginger beer and ginger tea), hibiscus, and earthy spices like cinnamon. All of these ingredients grow easily in Africa. The most unusual drink by far has to be the "burnt" rice tea, made with toasted leftover rice in Madagascar. A real curiosity that's sure to fascinate your loved ones.
African drink recipes (from upper left to bottom right)

Vanilla Ginger Bissap | Mali
West-African Inspired Watermelon Lemonade | Ghana
Chapman Cocktail | Nigeria
"Burnt" Rice Tea (Ranovola) | Madagascar
Mango Daiquiris | Cameroon
Swahili Ginger n' Milk Tea | Mozambique
Coconut Milkshake | Cape Verde
Lemon Ginger Tea (Gingembre) | The Gambia
Spiced Papaya Milk | Chad
Iced Hibiscus Drink with Pineapple (Bissap a la Bonne Dame) | Burkina Faso
Not pictured: Coconut Milk Chiller | Cape Verde
.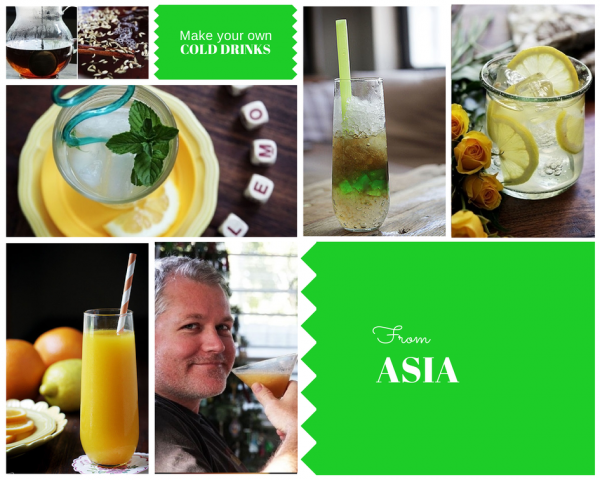 Asia is an enormous continent which extends from the Arabian peninsula, through eastern Russia, all the way east towards Japan. We were lucky enough to try cold drinks available representative of this variety. Anything with rosewater or orange blossom water is interesting (When I first tried it I thought it was like drinking perfume, but now the floral note is a household favorite). Kids will love the drinks with unusual textures (like tapioca pearls or jello in the glass – so fun!).
Asian drink recipes (from upper left to bottom right)

Masala Chai (Spiced tea with milk) | India
Israeli Juice (Lemon-Limeade with fresh mint) | Israel
Tapioca & Jello Sipper | Sago at Gulaman | Philippines
Rosewater Lemonade | Oman
Orange Blossom Juice | UAE
Lomi Lomi | Maldives
Not pictured: Espresso Jello with Evaporated Milk | Japan
.

I'm not sure what happened with the European drinks we sampled – but there's a lot more boozy drinks in this list – everything from the Lithuanian Honey Spirits (take it from me: make them now for Christmas gifts later), to the quirky concoction called Bambus, made with red wine and coca cola (apparently a great way to use up sub-par wine)!
European drink recipes (from upper left to bottom right)

Iced Fruit Drink (Kompot) | Bulgaria
Honey Spirits (Krupnikas) | Lithuania
Sangria | Spain
Finnish Blueberry Milk | Finland
Bambus (Celebration Drink) | Croatia
.

Here's another grouping that makes me smile – all sorts of fresh fruit, sparkling flavors, and certainly more than a little bit of "punch." One of my favorites is also Jimmy Buffet's favorite – the spiked Coconut Water, but I'll take a Killer Bee or Strawberry Horchata any day of the week. The strangest one of all is definitely the grapefruit and avocado smoothie… the creamy avocado gives the drink body (and does a body good)!
North American drink recipes  (from upper left to bottom right)

Spiked Coconut Water |Barbados
Pineapple Horchata | Nicaragua
Sparkling Grapefruit Breeze | Antigua & Barbuda
Caribbean Rum Punch | Grenada & beyond
Mojito | Cuba
Killer Bee Cocktail with Black Pepper & Nutmeg | Saint Kitts and Nevis
Strawberry Almond Horchata | Mexico
Sorrel Drink | Jamaica
Grapefruit & Avocado Smoothie | Dominica
Bahama Mama | Bahamas
.

These are such fun! The Recycled Iced Coffee has the most interesting background (locals they really do sell them from shacks in recycled water bottles and other plastic containers!), while the 'Otai and Papaya sipper are nearly impossible to put down. Seriously.
Oceanic drink recipes (from upper left to bottom right)

"Recycled" Iced Coffee | Nauru
Coconut Watermelon Refresher | 'Otai | Tonga
Pineapple Papaya Coco Sipper | Micronesia
.

South America knows what's what… but perhaps this list is not what you may have expected. The fruit salad looking drink is as awesome as the coca cola infused ice coffee (I mean, how could it not be?!). Perhaps most interesting, however, is the Lemongrass Dawet – originally a drink from Asia but that has been popularized in Suriname. I dare say, the USA is not the only melting pot!
South American drink recipes (from upper left to bottom right)

Colombian Oatmeal Smoothie (Avena) | Colombia
Iced Brazilian Mocha-Cola | Brazil
Lemongrass Dawet | Suriname
Venezuelan Fruit Punch | Tizana | Venezuela
.
P.S. Here's something for those of you looking to grill this Labor Day: 21 of the World's Best Grilled Eats!