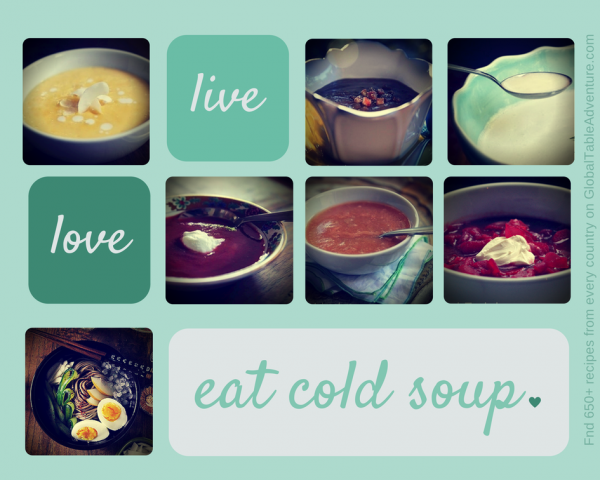 A few things have changed since the early days of this blog (namely the photography), but one thing is certain: I love a good, chilled soup in the summer. Here are seven awesome cold soup recipes from around the world that aren't gazpacho – because, my goodness, there are other cold soups besides gazpacho! So, without further ado, summer's almost over – let's skip the heat and chill out.
1. Mul Naengmyeon | Korea [Recipe]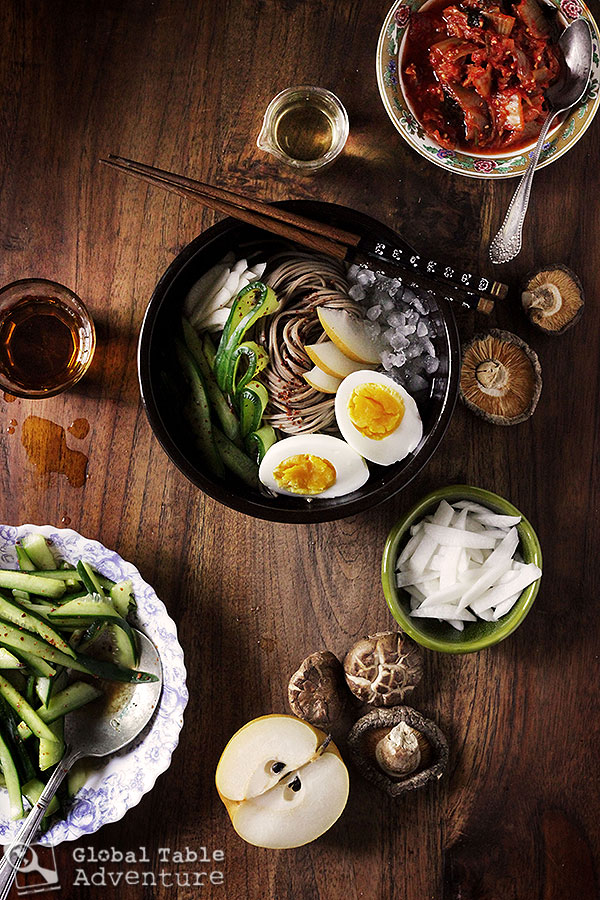 This Korean recipe is the most recent addition to our collection – a soup so cold, it is actually served with ice. It's claim to fame? The balance of flavor between earthy buckwheat noodles spicy cucumber, sweet Asian pear, and tart vinegar.
The best part? This soup is DIY, so everyone can add exactly what they like (and leave out the rest) – perfect for picky eaters who want to stovetop travel to Korea!
2. Rye Bread Soup with Homemade Rhubarb Raisins | Iceland [Recipe]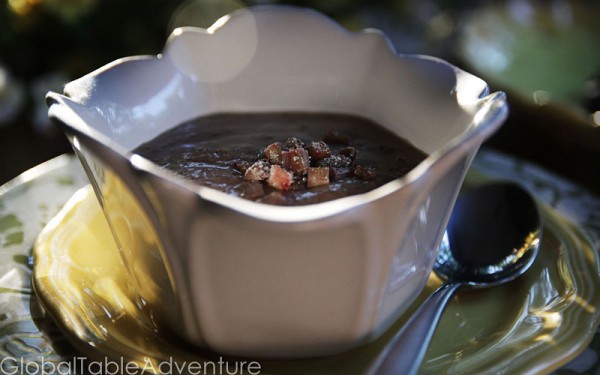 A soup made with bread? Yup. It's thick, heavy on the rye, and just odd enough to get table conversation going. While traditionally served hot, Brauðsúpadc makes quite an interesting cold soup. My favorite part has to be the "raisin topping" made from sun dried rhubarb – so easy and fun! You make them in the oven or – if it's super hot where you live – you can literally dry them in the sun. Fun for the whole family!
It's just the kind of soup to turn heads.
Just ask this horse.
3. Tart Rhubarb Soup | Iceland [Recipe]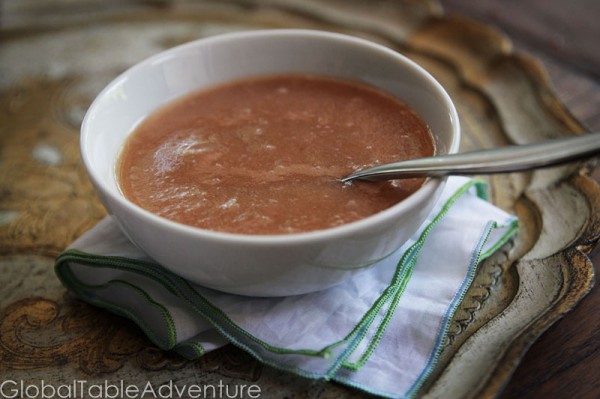 Speaking of rhubarb, this soup just might be the happy offspring of rhubarb and lemonade. The puree is tart in a sparkly sort of way, rounded out with a touch of sweetness. Want to make a good thing even better? Give each bowlful a soft spoon of whipped cream on top.
It'll taste the way this feels:
4. Chilled Cherry Soup | Hungary [Recipe]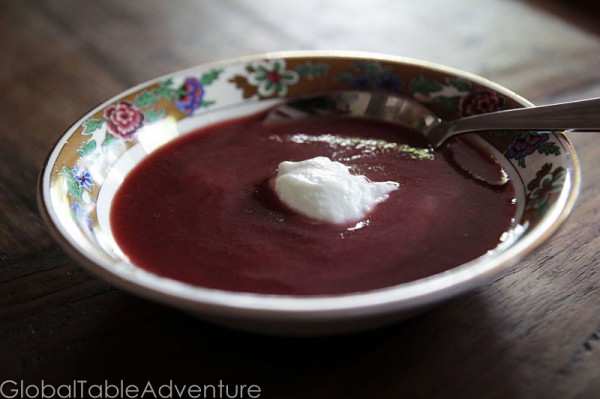 This cherrylicious soup is one of my favorites. Sure, I'm part Hungarian, but even if I weren't the combination of cherries, wine and cinnamon is… ridiculous. In the best possible way. You can use fresh tart cherries or jarred – but be sure to top each bowl the Hungarian way: with sour cream. The richness is the perfect foil to the fruity soup. Perhaps it might be fun to enjoy while contemplating the work of Hungarian artist József Rippl-Rónai (1861–1927) – a sour cherry tree!
5. Coco-Mango Soup | Guyana [Recipe]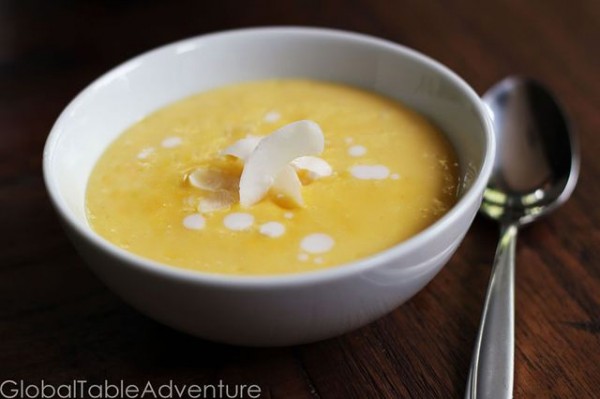 This might be my favorite of the cold soups – simply puree fresh mango with coconut milk, yogurt, and honey…. until satin-smooth… top with coconut chips. I mean… what's not to love?! Still not sure? It takes like… 10 minutes to whip together. Talk about an entertainers dream!
Thanks for this mango landing, Guyana!
Here's another mango landing from Guyana to enjoy while we eat:
6. Chilled Cucumber Soup – Tarator | Bulgaria [Recipe]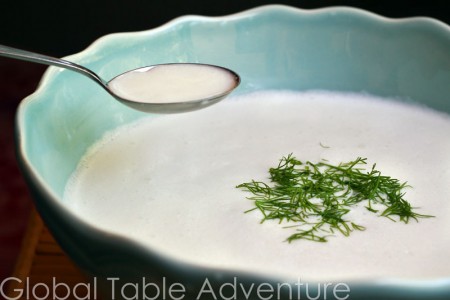 Tarator is a lovely surprise – fresh cucumbers and yogurt with a dollop of dill. A great big bite of delicious beloved throughout much of Eastern Europe but prepared when we cooked Bulgaria!
All in all, a great recipe that tastes like… a true Bulgarian beauty almost as great as this vista:
7. Borscht | Eastern Europe [Recipe]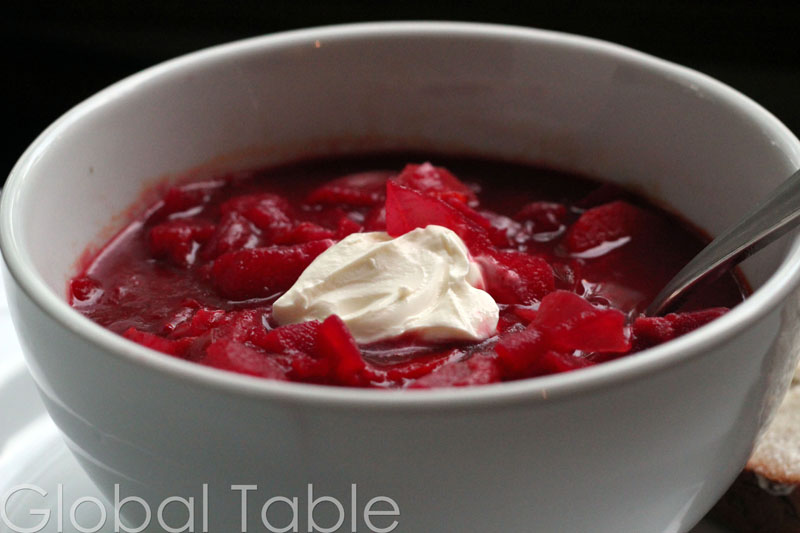 Oh, look at this photo! Have faith ye new food blogger! Keep snapping those pictures. It took me four years of trial and error to put photos like this in the past. As for the soup? This one is as good cold as it is hot. We're talking beets, cabbage, potatoes, and more.
Yum. Yum. Yum.
We tried it for Belarus where… apparently…
this swan lives…
As with the previous soup – you'll find variations on this recipe throughout eastern Europe and central Asia.
Pssst… How are you keeping cold this summer? I invite you to try one of these soups and tag me on instagram (@globaltable) or use #GlobalTableAdventure to share your feast. I so LOVE seeing what you all are up to!