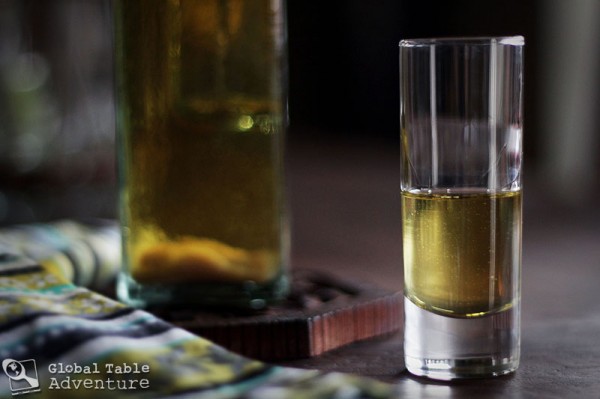 The holidays are over. We stuffed our wrapping paper back into the closet and swept the confetti into the trash, right on top of the party hats that say 2012. The cookies and the friendly buffets of family favorites are long since gone, replaced by soulless detoxes and way-too-skinny drinks.
I know some of us are even thinking about spring – scanning the frozen ground, vainly hoping to see some stray spot of green, willing a warm gust of air to come our way, instead of a moveable wall of ice.
But can we just… pause for a second, in the interest of good planning? Would you be very mad if I asked you to make a few presents for next year? Right… now?
Hear me out.
They say Lithuania has the largest collection of amber in the world – known as the gold of the baltics – but I uncovered a far more enticing "gold" in their liquor cabinets: Krupnikas, or Honey Spirits. This boozy drink tastes like heaven on fire – a sweet, fragrant blend that is almost too complex to describe… sure there's honey, but there's also orange peel, an entire vanilla bean, ginger, cardamom, allspice, and so much more.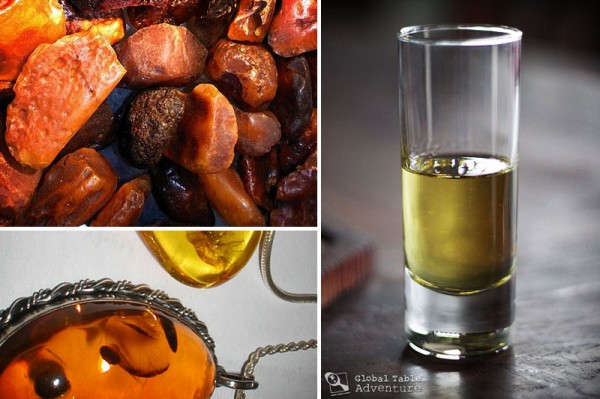 The layers of flavor are baffling, considering the modicum of effort involved (dump in a pot and cook, then let settle and mellow). You can make a half gallon of Honey Spirits to bottle and save for next holiday's giving season in less than an hour. Heck, you can wear your pajamas while you work, if you'd like.
While Krupnikas is ready to drink just two weeks after you make it (I can personally attest to this), the drink mellows and becomes even better six months to a year later. UPDATE: It's better a year later, but you can drink well beyond that time – there's no expiration date on the drink.
Getting done with next year's holidays in January? Now that's a golden opportunity.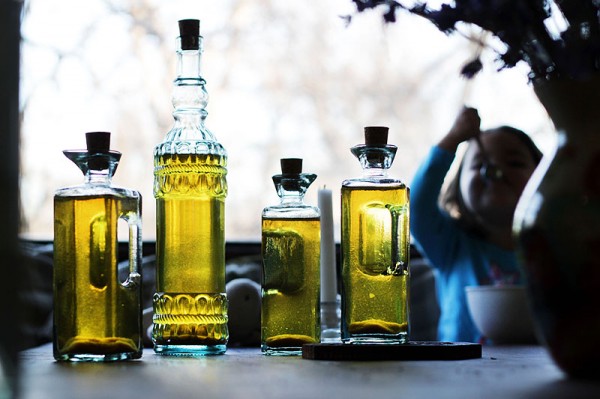 Makes a little over 2 quarts
Ingredients:
All spices should be cracked lightly if possible to maximize flavor.
8 whole cloves
3 cinnamon sticks
10 cardamom pods, cracked
1/2 nutmeg seed, cracked
5 allspice berries
1 1/2 tsp black peppercorns
1 tsp fennel seed
3 inch piece of ginger root, cut into 4 pieces
2 inch piece turmeric, cut into 4 pieces
The peel of 1 orange
The peel of 1/2 a lemon
1 vanilla bean, split and scraped
1 1/2 lbs honey
1 quart water
750 ml Everclear (190 proof grain alcohol)
Method:
Take a stroll through your kitchen and gather up all the spices… you'll need a large heart to hold all this goodness.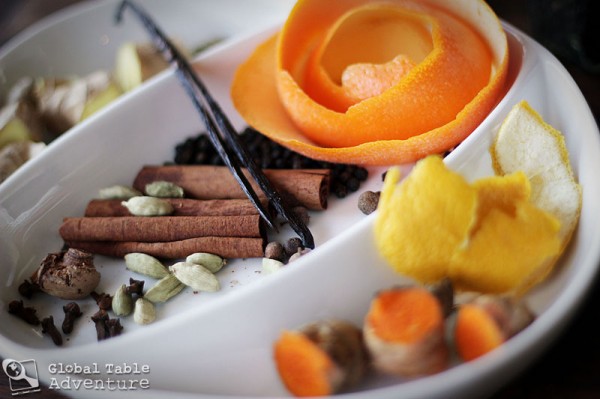 Next, bring the honey and water to a simmer. Skim off any foam that surfaces, then add in all the spices (everything but the Everclear). Simmer uncovered for 30 minutes, or until the mixture smells like "good" and tastes even better.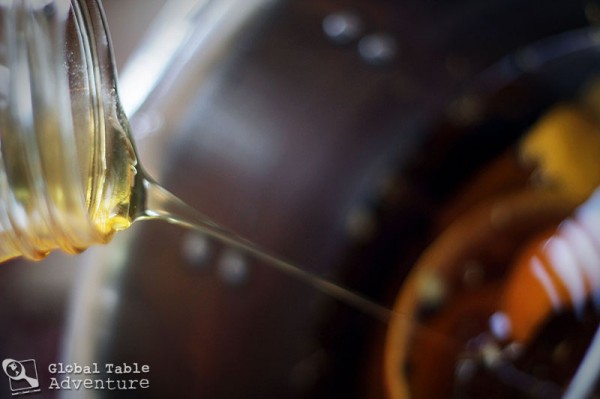 Meanwhile, take a walk in the crunchy snow and listen to the clouds whisper.
When you're done, go home and remove the pot from heat. Add the Everclear to the still-hot mixture, stir to combine and then strain the mixture. (Tip: use the spices again to flavor a vanilla ice cream base, chocolate, flan, etc- yummmmm)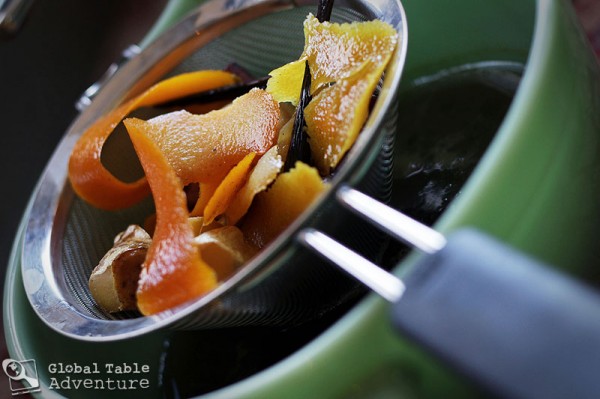 Pour the golden goodness into sterile bottles (run them through the dishwasher before using) and set aside for two weeks (or up to a year).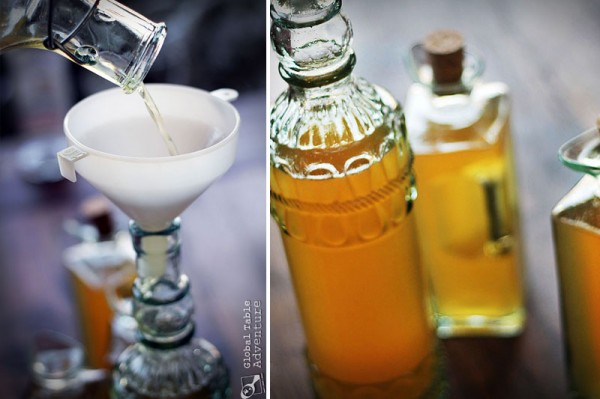 Explore your world while you wait, even if you just go down the street a little ways.
Through the quiet of this winter, the heat of next summer and the chill of autumn, the spirits will settle. They'll go from super cloudy…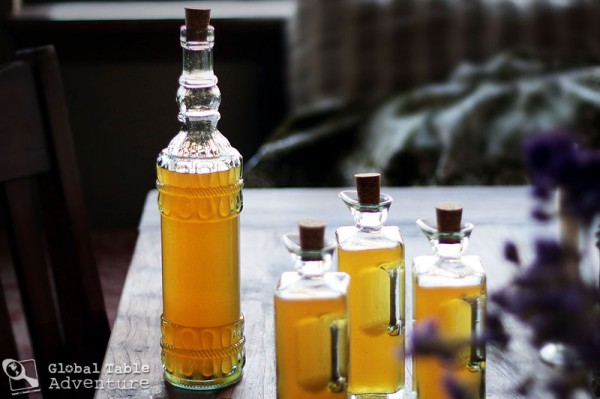 And end up clear as day. Just like a well-traveled human spirit.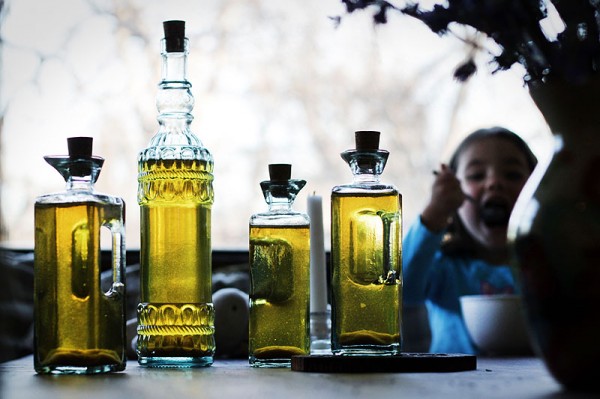 But don't be fooled. Even in this clarity, there is depth and an entire universe of flavor.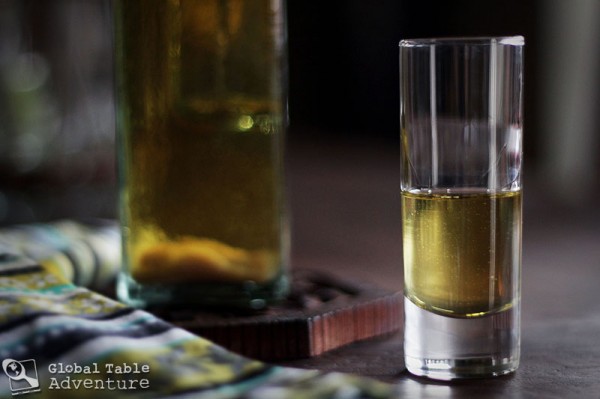 The gunk that settles on the bottom of the bottle is perfectly safe. Some Lithuanians like to shake their Krupnikas up, while others go so far as to filter it out. I love the idea of using it to add a bit of boozy oomph to a fruitcake.
Distribute the bottles to friends and family who could use a sweet sip of love. And be sure to save a bottle for yourself and sip until you feel like you're glowing, from the inside out.
Now that my friends, is Lithuanian Gold.
Sip with friends, family, and – when you're done – do it all over again.
Enjoy!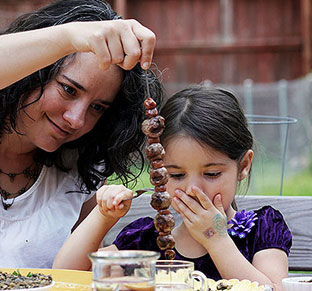 Hungry for more?
Be notified when National Geographic releases my memoir.
Simply fill in your details below.