Makes just over a gallon
Cooking a meal for every country in the world makes this mama thirsty! The Bahamas have the perfect solution – a traditional, tropical Bahama Mama.
Serve Bahama Mamas chilled, under the hot summer sun. Play around and adjust this recipe to your preferences.
NOTE: Some prefer to add unflavored rum for all or part of the rum flavor. You decide for you, below is what I like
Ingredients:
1 quart chilled orange juice
1 quart chilled pineapple juice
1/4 cup grenadine
2 cups chilled coconut rum, or to taste
Method:
1. In a large pitcher, combine all ingredients. Stir well. Return to refrigerator until needed.
2. Serve over crushed ice. Garnish with orange slices if desired (I completely forgot to do this, but I know you'll forgive me as soon as you taste this drink
)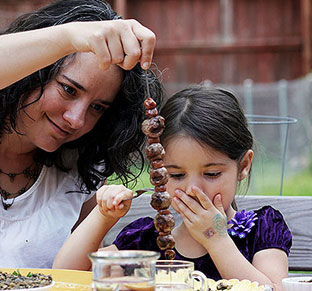 Hungry for more?
Be notified when National Geographic releases my memoir.
Simply fill in your details below.