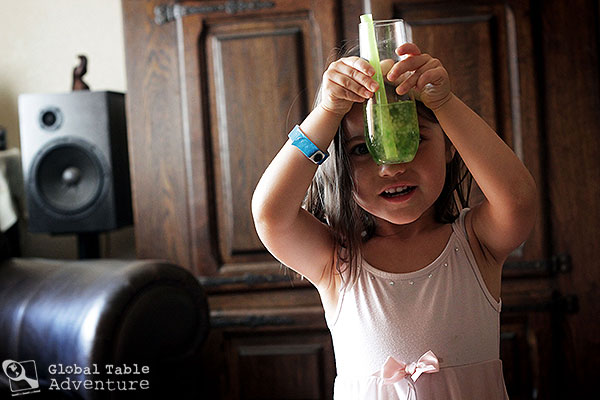 It's Friday. We all need a little love. A quick fix to carry us into the weekend, Filipino-style. Also, we're on our way to October, which means we're on our way to Halloween…
The answer? <gulp> Sago at Gulaman, a.k.a. Tapioca and Jello Sipper. This drink hardly even needs a recipe.
First step, make some jello. For brownie points, make agar agar "jelly." Agar agar is seaweed based and sets up at room temperature. Very cool. You can find it on the international aisle of Whole Foods, or at your local Asian market.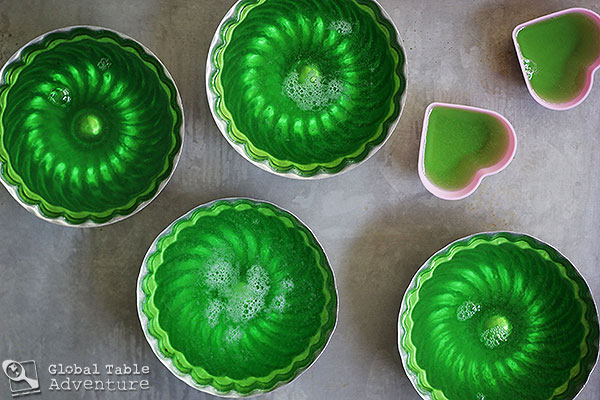 I used pandan flavored jelly from Nam Hai, one of our local Asian markets. They also had mango, lychee, and many other fun, tropical flavors. (Note: You might find it easier for dicing to make your jello in a 9×9 container – but Ava and I had a blast using these molds)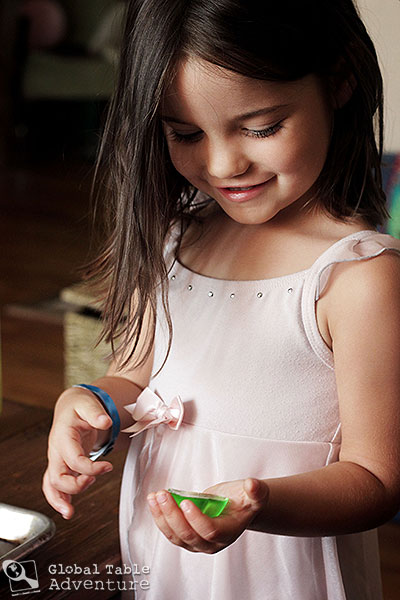 Next, up, the tapioca. Drop the dusty white pearls into a large pot of boiling water. Give several stirs and cook like pasta until completely transparent. My small pearls took almost 30 minutes, but times will vary depending on the size of your pearls and brand. Use lots of water – if you don't, it'll start to thicken like pudding.
You'll know they're done when they are completely clear, like the ball on the right in this photo: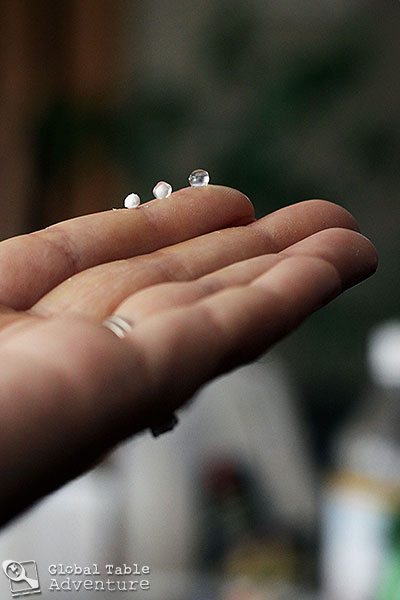 When the tapioca look like millions of fish eggs, drain and rinse thoroughly with cold water until the tapioca itself is completely cool.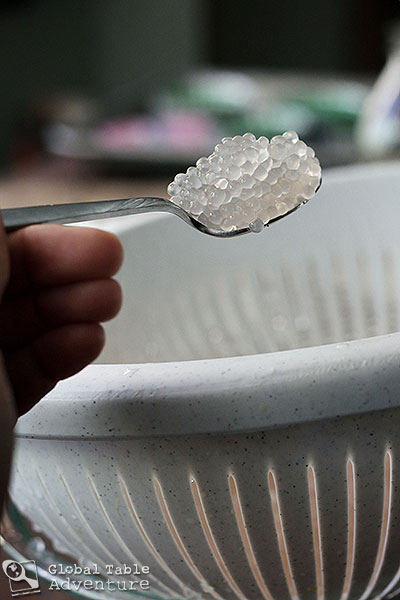 Now for delicious assembly. Spoon some into a glass… some of it might stick to the edges. It's all good.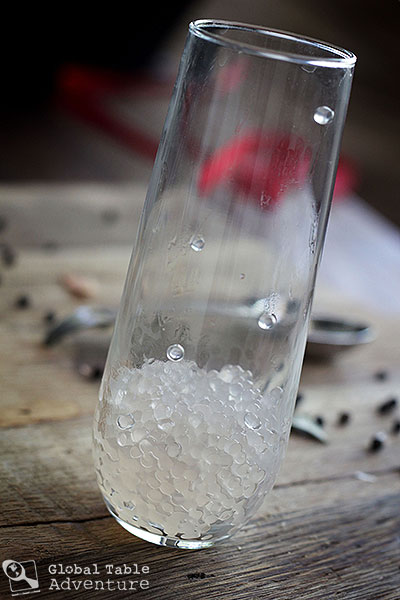 Slice up some of your jelly…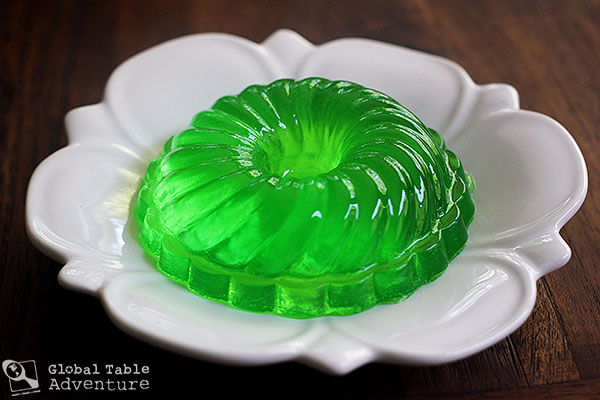 And toss it on top of the tapioca.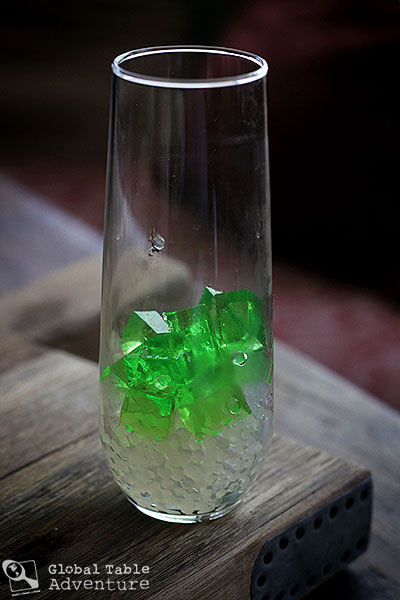 Next add crushed ice (you can make it in your blender). Try not to spill.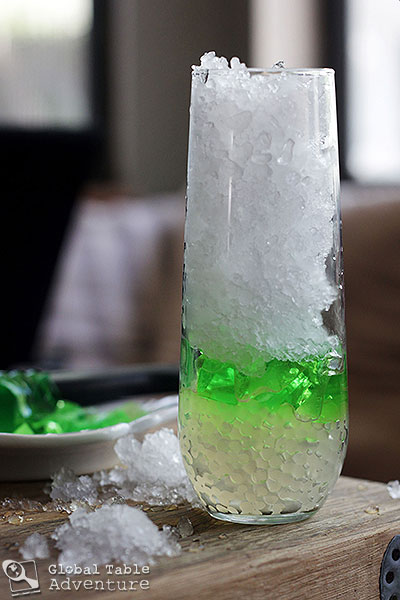 Pour on some cooled brown sugar simple syrup and dilute with water until it tastes just right.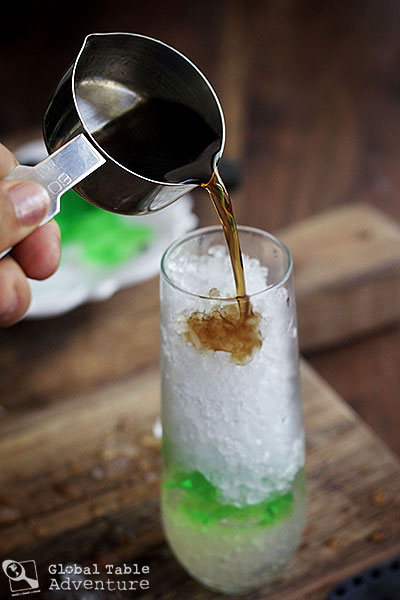 Enjoy with a wide straw and a smile – slurp up those goobers and chew!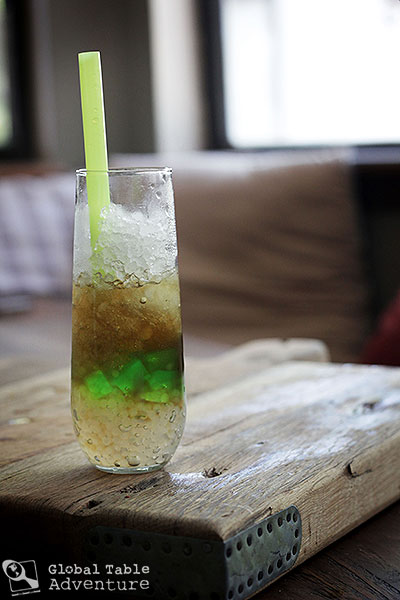 Just be warned. The entire process of making this drink is a jiggly, wiggly burst of squishiness.
In the best possible way.
P.S. Sago means tapioca and Guluman means jello/jelly. In case someone wants to know.
To make 8 servings
Ingredients:
2 cups prepared, diced jello, any flavor  (unflavored is commonly used
1 cup tapioca, cooked in boiling water like pasta, drained and rinsed until cool.
1 cup brown sugar, boiled with 1 cup water until dissolved, then cooled
crushed ice
Method: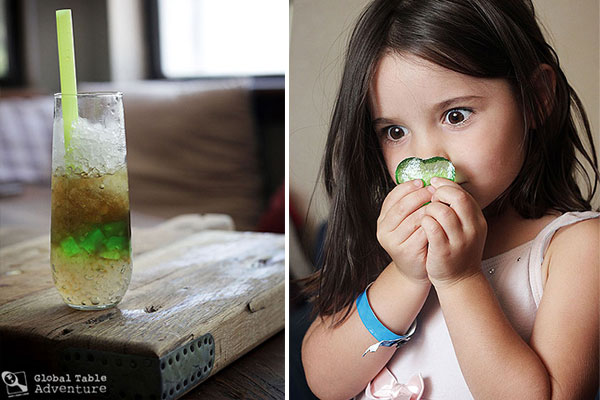 Layer in a tall glass, drink with wide straw (like a milkshake straw) and enjoy the ride.
So… are you in?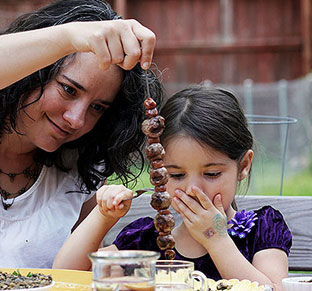 Hungry for more?
Be notified when National Geographic releases my memoir.
Simply fill in your details below.