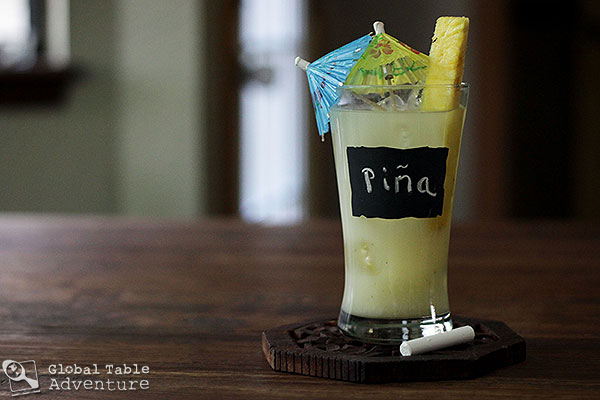 This summer I've seen almost everything. Laughter in sad moments. Tears in happy moments. Life is a bumble-all-over-the place, as it should be when temperatures screech up into the 100's.
What I haven't seen? Purple-feathered dancing ladies.
This Pineapple Horchata is certainly the closest I'll get to this sort of carnival fun.
And every summer should have a little carnival fun, don't you think?
The recipe is a cooked horchata (homemade rice drink), different from the amazing no-cook Strawberry Almond Horchata we made for our Mexican Global Table. In this drink, the Pineapple skin and core simmers with the rice and water to extract maximum flavor. Then I added extra pieces of pineapple goodness to amp up the flavor.
Puree with a sprinkling of sugar and you're done.
Welcome to summer in a glass.
Makes a gallon
1 pineapple
12 cups water
1 cup rice
1 cup sugar, or to taste
Method:
Gather your rice and pineapple. Let the sweet pineapple fragrance help you drift away to sunny Nicaragua.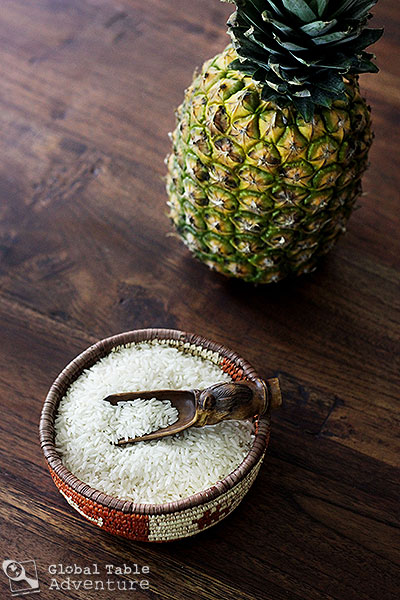 Once there, trim and core the pineapple, adding these pieces to a large pot. This is thrifty. This is smart.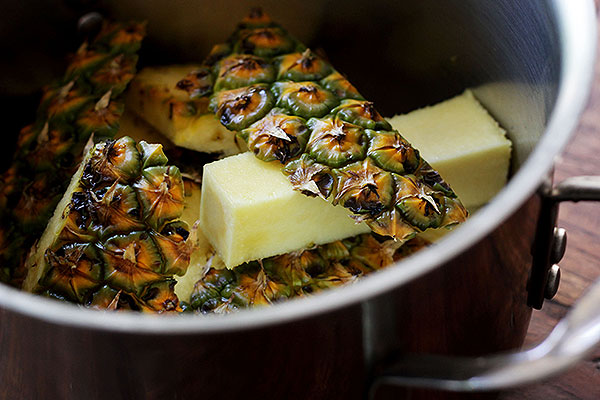 Sprinkle on the rice and water…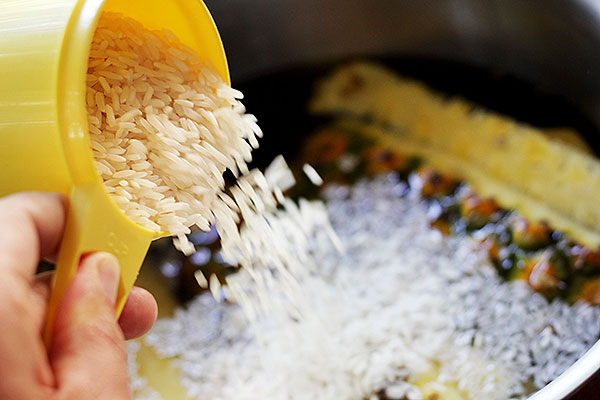 Give it a good mix.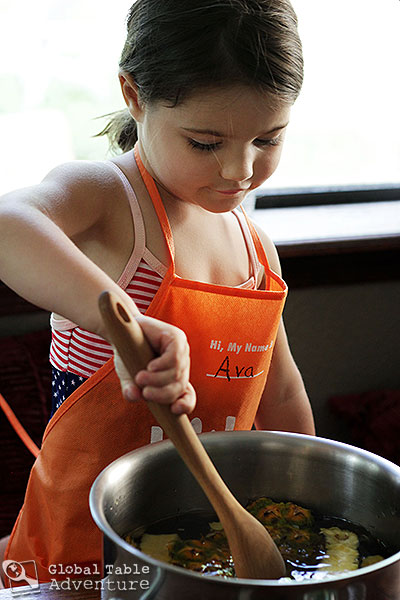 A little helper is perfect for this job,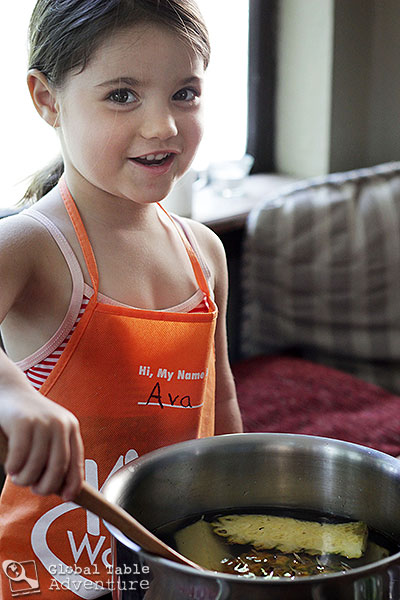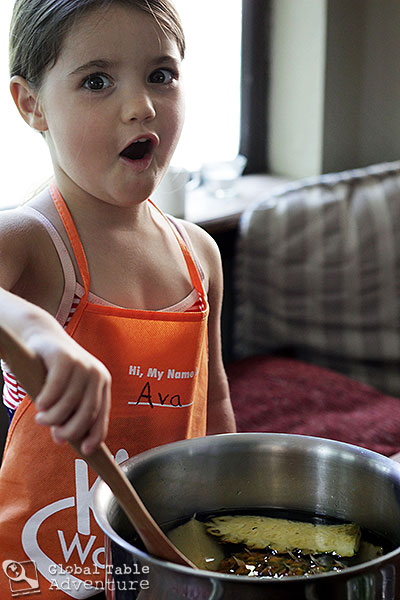 And will take great pride in what she does.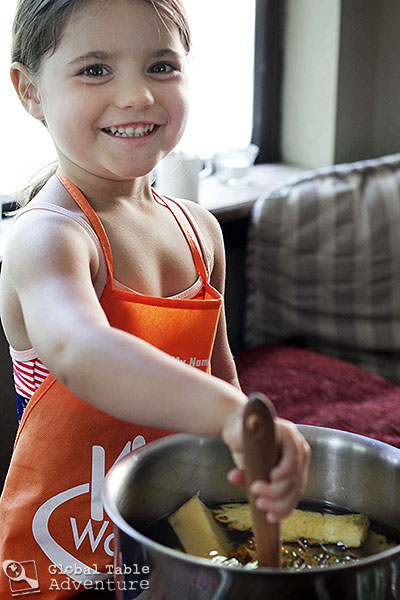 Let simmer, covered, for 30 minutes. Remove the skin and core, then puree the rice water with up to 2 cups cubed pineapple.
I used an immersion blender, but if you use a regular blender be careful – cool before blending.
Strain the horchata and whisk together with as much sugar as you'd like. I used 1 cup.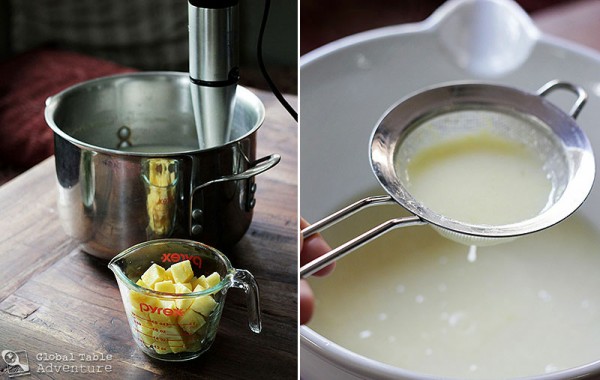 You may drink this straight and it will be a smoothie consistency, or you can dilute it with water to make a thinner cocoction.
Either way , add a spear of sweet pineapple, or several cubes.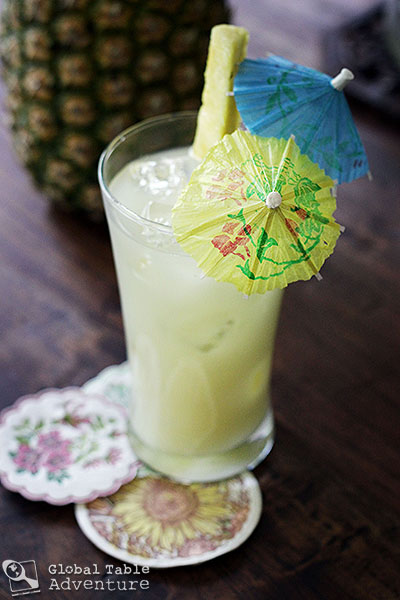 It makes things just a little more carnival-fun.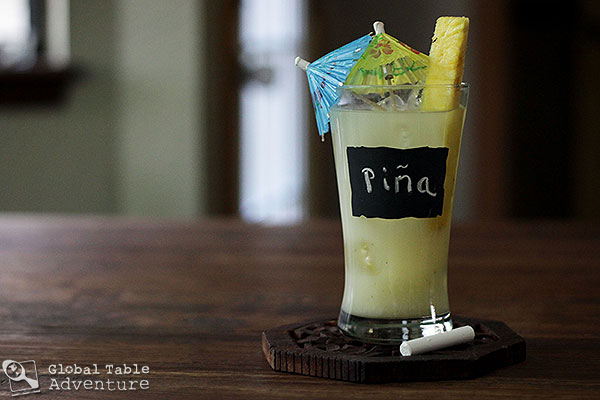 Enjoy!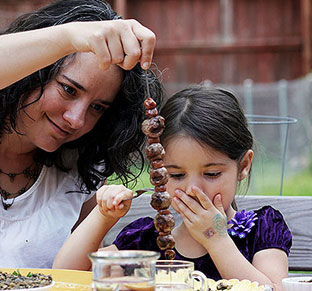 Hungry for more?
Be notified when National Geographic releases my memoir.
Simply fill in your details below.