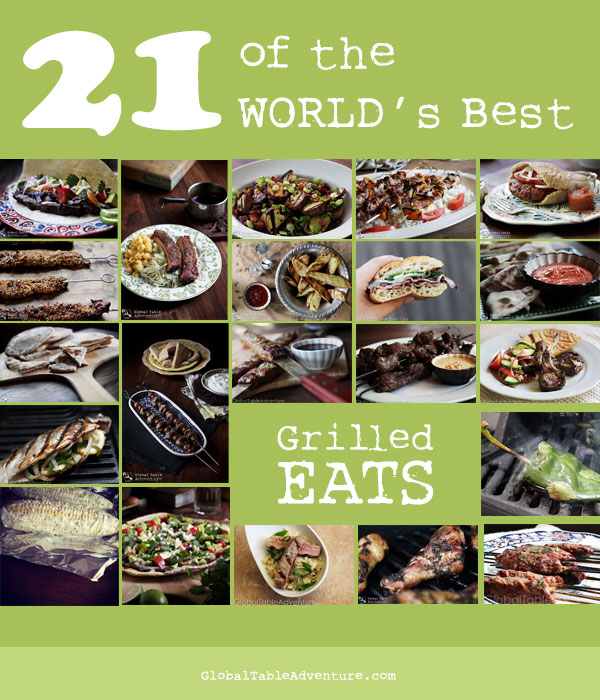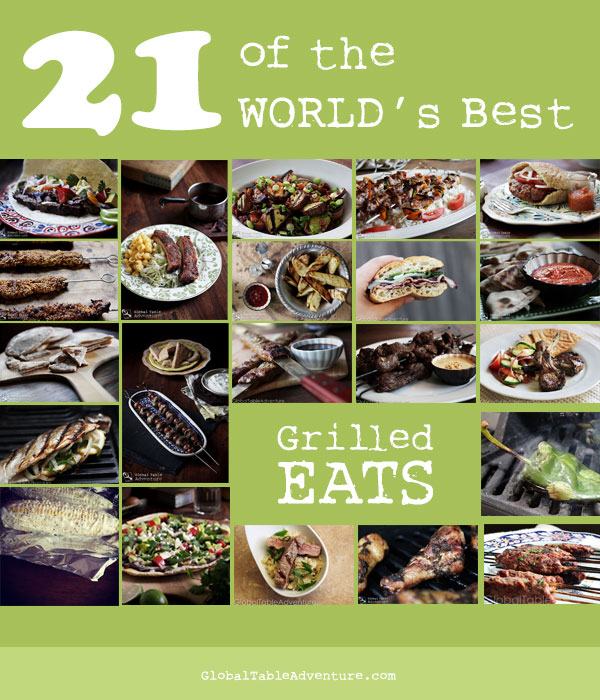 Have you fired up the grill yet? In honor of Memorial Day and the start of this year's heat wave, here are some of the best grilled foods from our family's around the world cooking adventure, including several vegan and vegetarian dishes. For more than 600 other recipes from every country in the world, check out my Countries I've cooked page. 
P.S. The recipes below may be enjoyed in multiple countries, but the countries identified below indicate at what point in our adventure we sampled the dishes. 
1. Carne Asada | PARAGUAY (Recipe)
Oh man. Steak marinated in garlic, oregano, fresh lime juice, and black pepper? Then sliced and served in a tortilla with avocado, tomato, cheese, and more? Yes, and yes!

2.  Barbecue Ribs | USA (Recipe)
These ribs are fall-off-the-bone good and blasted with paprika, brown sugar, chili powder, cumin, oregano, garlic, cayenne pepper, and cracked peppercorns. After a low, slow grillin', they're brushed with a lick of sweet barbecue sauce at the end. Need I say more?

3. Beef Suya | NIGERIA (Recipe)
If ever there was a recipe that surprised me with it's utter deliciousness, it was these kabobs. They're loaded with fresh ginger, garlic, peanuts, and bouillon cubes (yes, you heard me right – maggi cubes are a very typical sub-Saharan seasoning). Anyone who has tried them has fallen in love.

4. Grilled Sweet Potato & Bacon Salad | Kumara |  NEW ZEALAND (Recipe)
Need an easy, but impressive side dish? Try grilling fat slices of white and orange sweet potatoes (called Kumara in New Zealand), then tossing the lot with bacon and green onion. Happy, happy.

5. Grilled Island Fries | NAURU (Recipe)
Nauru is teeny tiny – the road around the island nation is only about 11 miles long. Which is just right to walk off this incredible vegan side dish inspired by their love of fries and grilling. Grilled fries. I mean, come on!

6. Bushmeat Skewers (a.k.a. Alligator) | NAMIBIA (Recipe)
Alligator becomes tender and zesty with homemade piri piri marinade (piri piri is a lemon and hot pepper sauce that can be used on any grilled meats, but is particularly good with chicken)

7.  Coupe Coupe (Hickory Smoked Flank Steak) |  GABON (Recipe)
Head to Gabon and you'll surely bite into some smoked meats on the street served in a toasted baguette. This recipe (which my husband still asks for on a regular basis) includes the requisite bouillon cube of sub-Saharan cooking as well as a nice pop of cayenne and other seasonings. Great with some grilled poblanos as seen here.

8. Balkan Burger | MONTENEGRO | (Recipe)
These burgers are extra juicy thanks to grated onion and garlic. A kick of paprika rounds out the tantalizing mixture of ground beef, sausage, and lamb. Served with pepper sauce, ajvar, there's no need for ketchup.

9. Muhammara (Char-grilled Red Pepper Dip) | IRAQ (Recipe)
This vegan dish will go into regular rotation once you try it. The grilled peppers are blended with pomegranate syrup, cumin, olive oil, garlic,  and walnuts. This recipe makes me incredibly happy, especially on a warm summer day with bits of pita bread.

10. Grilled Whole Wheat Pita Bread | IRAQ (Recipe)
Speaking of pita bread… you can grill it, too. Making the pockets puff is a great challenge (and vegan, too).

11. Kabab Koobideh IRAN | (Recipe)
Ground beef or lamb on a sword, served with pomegranate syrup. The seasonings? Turmeric and the lemony kick of sumac. Seriously.

12. Beef Sate | INDONESIA (Recipe)
The longer this beef marinates, the happier you will be. SO incredible. Think garlic, ginger, kecap manis, peanut oil, coriander, and red chili peppers (the food, not the band). Yum.

13. Grilled Rosemary Lemon Lamb | GREECE (Recipe)
What's not to love about rosemary, lemon, oregano, and tender morsels of grilled lamb? Greece is so smart!

14. Whole Stuffed Trout | ANDORRA (Recipe)
This was the first time I grilled a whole trout. The fish comes out much more tender and flavorful this way – a fun method to try!

15. Garlic Butter Tuna Steaks | EAST TIMOR (Recipe)
The most lovely tuna steaks I've ever had the privilege of tasting… and there's almost nothing to the recipe. It was inspired by fishermen in East Timor who grill whole Tuna this way (as retold to me by Karen Coates of Rambling Spoon).

16. Jerk Chicken | JAMAICA (Recipe)
Spicy, spicy, spicy. There's heat thanks to habenero peppers, yes, but also complexity to this grilled chicken thanks to allspice, orange juice, soy sauce, bell peppers, garlic, ginger, thyme, basil, and more. Sound like a lot of ingredients? Trust me, it's worth it.

17. Butter-Grilled Poblanos | BHUTAN (Recipe)
Just exactly what it sounds like. And, yes. I'll have two, please.

18. Coconut Grilled Corn | CAMBODIA (Recipe)
Oh man, oh man, oh man. This vegan side dish is simple, but it's also my favorite way to finish off that can of coconut milk lurking in the refrigerator. Try adding some palm sugar (or brown sugar) to the mix for a sweet variation.


19. Lyulya Kabob | AZERBAIJAN (Recipe)
Ground lamb with cumin, grated onion and garlic, mint, parsley, and hot pepper. Ah-mazing.

20. Grilled Mexican "Pizza" | Tlayuda | MEXICO (Recipe)
Nothing like this enormous corn tortilla topped with seasoned black beans, browned chorizo sausage, and a whole garden of tomatoes, lettuce, avocado, and jalepenos. Oh, but don't forget the queso fresco. I would eat an entire one of these if left to my own devices.

21. Syrian Lamb kebabs with Sour Cherries | SYRIA (Recipe)
Try sour bursts of cherries with ground lamb balls (think homemade baharat, cumin, coriander, and cinnamon). Delish, especially with a spoonful of yogurt and a few bits of that homemade pita bread. Smiles all around!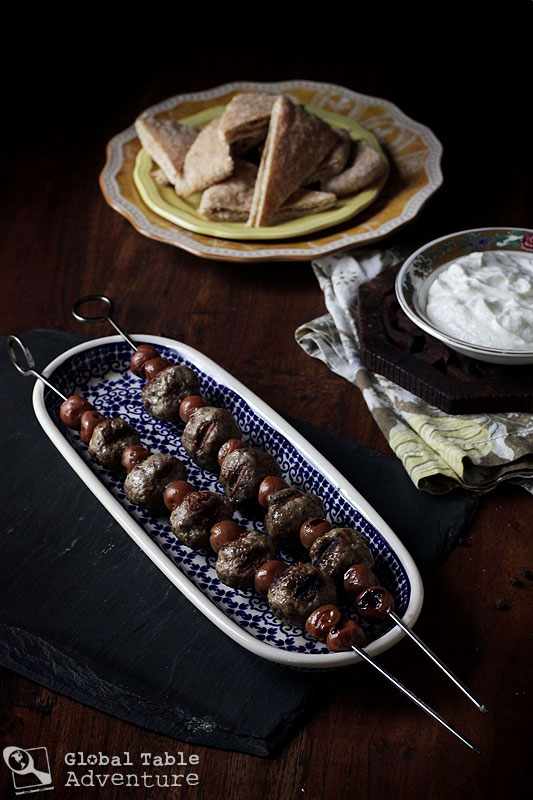 I want to personally thank each of these countries for their delicious food. Because of their recipe ideas my grill has become a very real way to stovetop travel and to share a love of the world with my family.
What in the world is on your grill?
xxoo Sasha