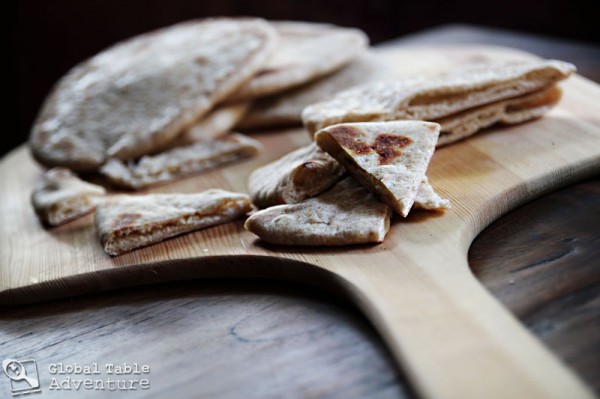 Makes 8 Pita
Light, airy, grilled pita bread spells summer. Flip flops and ice water. Sunglasses and big smiles.
Making this recipe just might help you get to know your neighbors. After all, the fresh smell of grilled pita bread is nearly impossible to resist. As long as you're willing to share…
So, let's take a cue from the fine people of Iraq and enjoy pita, just like they have in this region (not only the Middle East, but the Mediterranean and also the Balkans) for millennia. Today, let's serve it up with your favorite Middle Eastern food – falafel, kababs, muhummara, and tabouleh. Come to think of it, any way is a good way to eat pita.
Based on the recipe in The Best Recipes in the World by Mark Bittman. You can also bake this recipe. Simply cook on a stone or cast iron pan in an oven set to 500F for a few minutes per side.
Ingredients: 
1 cup whole wheat flour
2 cups all purpose flour
2 tsp salt
2 tsp yeast
2 tsp sugar
2 tsp olive oil
1 cup warm water + extra, as needed
Special equipment:
A flat griddle to place on the grill, or cast iron pan.
Method:
Take a deep breath and smile. You're going to make balloons out of bread.
Bread balloons. It's true.
First, stir together the flour, salt, sugar, and yeast.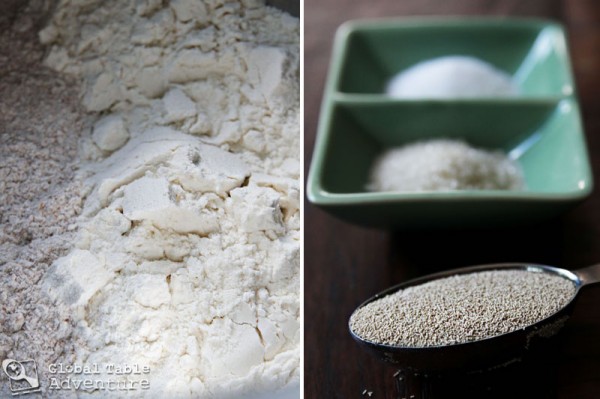 Then pour on the warm water and oil. Mix until a soft dough forms. If the dough feels tight, add a little more water until it is soft but not sticky.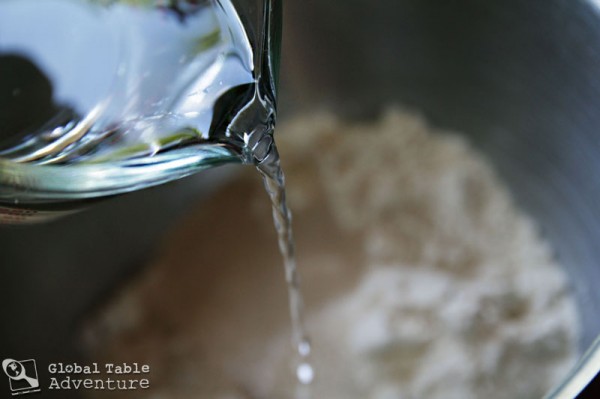 Let rise until doubled in volume, about 1 1/2- 2 hours.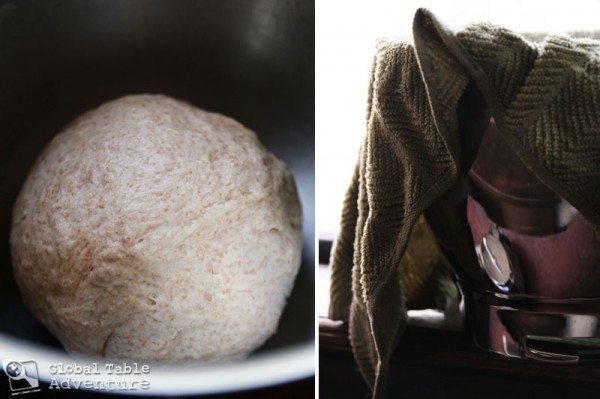 Meanwhile, go for a walk and enjoy the fresh air.
A little while later you'll end up with a doughy pillow. My favorite. Well, almost my favorite. Dough balloons are the best, though.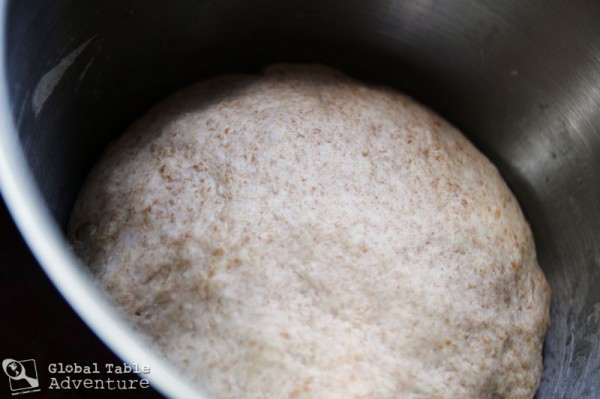 Divide into 8 balls, pat into a disc, and roll flat. They need to be thin so that they'll puff up and create the pita's characteristic pocket – Bittman suggests making them less than a 1/4 inch thick.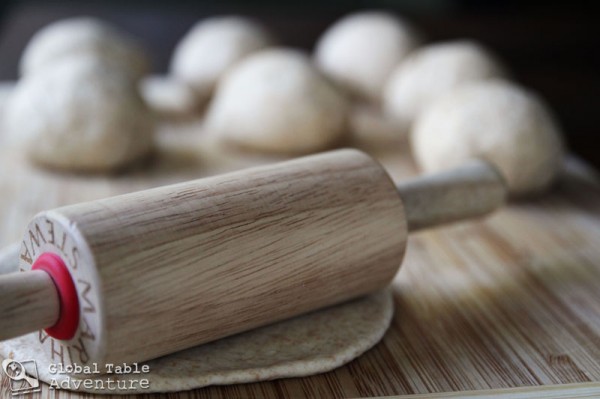 Once they are all rolled out, let the dough rest while you preheat the grill (they need to rise about 20 minutes).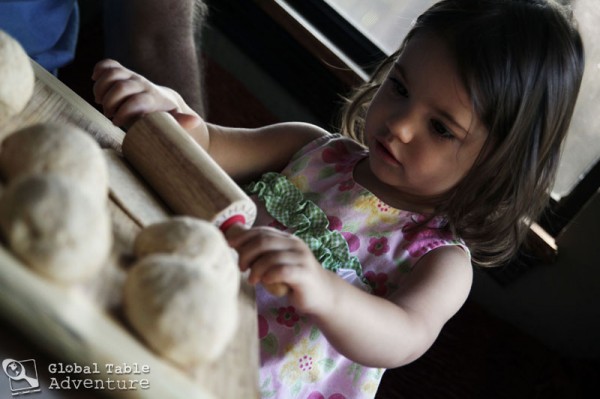 To prepare the grill:
Place a griddle or cast iron pan on the grill and preheat to 450F. Mist the bread with water (optional, but helps them puff up) and place on the griddle. Close the grill and cook a few minutes per side, until puffy and golden.
Now there's a pita balloon. Hello!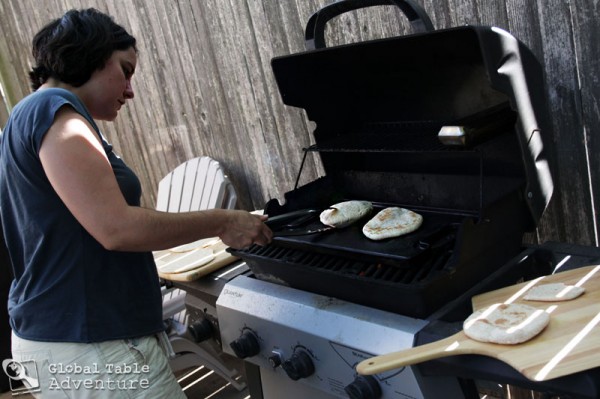 Slice and serve immediately.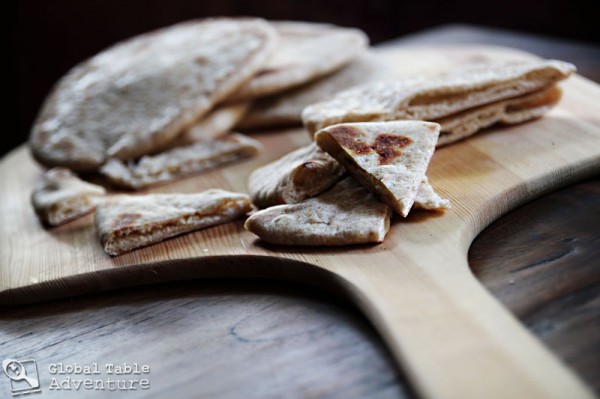 Eat with a smile, a friend, and a laughing cat.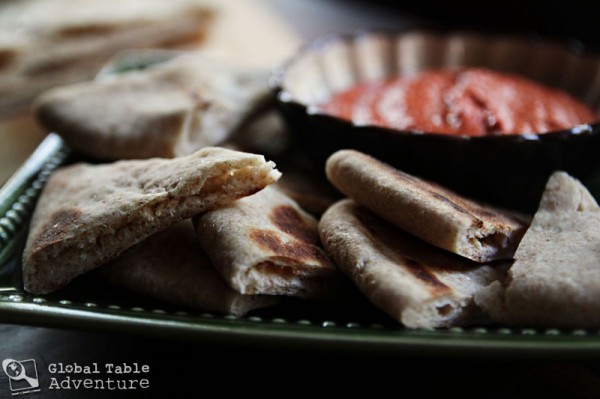 Preferably while admiring a stunning view.
Like this one.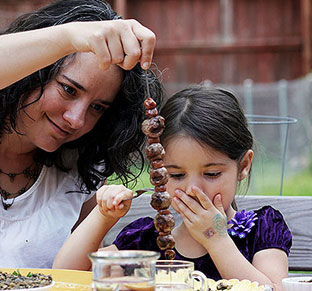 Hungry for more?
Be notified when National Geographic releases my memoir.
Simply fill in your details below.