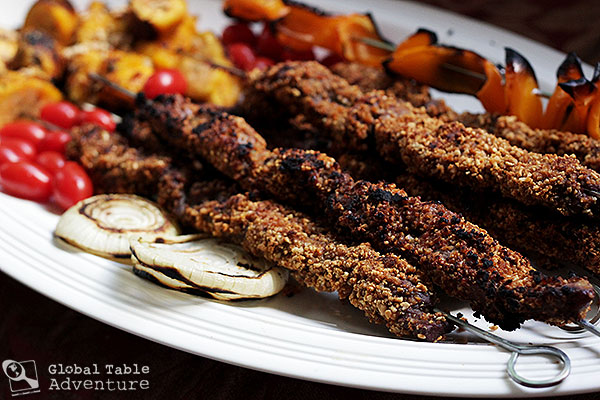 My pantry's name is Patty.* She's actually just a shelf in the laundry room, above the vacuum cleaner and mop, but I love her all the same. Right now she could use a diet – she is packed with boxes upon boxes of noodles, rice, 8 kinds of oils, soup, 4 bags of coffee from around the world, 4 kinds of dried chili peppers, and fishy bouillon cubes I bought 2 years ago for one of our Global Table meals and promptly forgot to use (I'm going to go ahead and presume they aren't good any more).
Just the other day I unearthed three bulk bags of peanuts in the back corner of the shelf. This is what happens when Patty is in disorder. When I don't clear through her clutter.
I've never been happier to have too many peanuts in my pantry. It means I get to make Suya, west African Peanut Kabobs.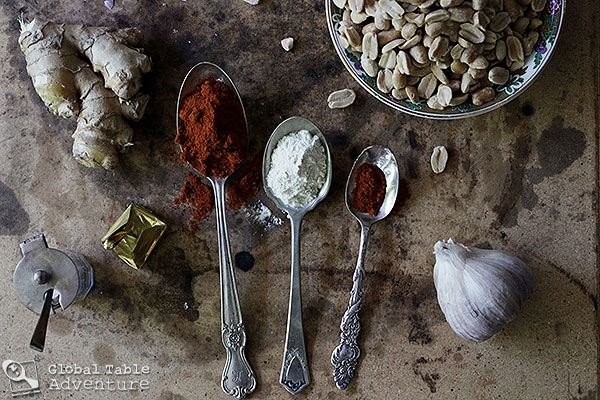 These kabobs, ever-so-popular in Nigeria, crackle with the most addictive crust – ground peanuts seasoned with fresh ginger, garlic, paprika, onion powder, and – as is so common in sub-Saharan African cooking – a bouillon cube. As strange as that sounds, just do it. Trust Nigeria. You're going to love the salty spice it adds.
A word of warning: don't make this unless you have the appetite of an Olympic runner. Once you start, you won't be able to stop eating.
Trust me.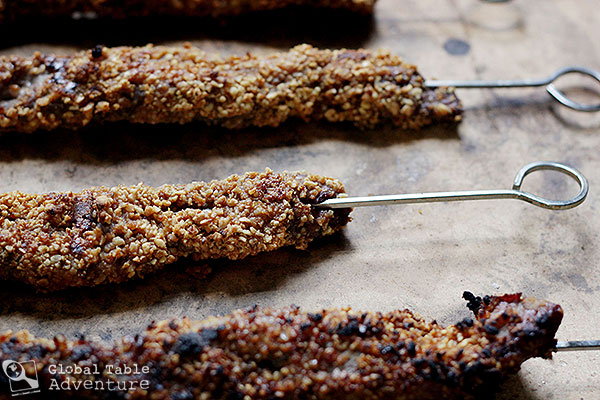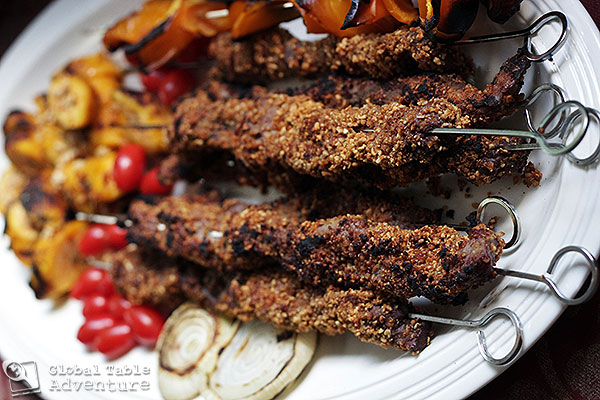 The most traditional recipes call for blending the peanuts, pressing out the oil between paper towels, shaping the resulting powder into balls, deep frying them, cooling and then grinding it into a powder again.
Phew.
Lots and lots of work. Good for a rainy day or when you want to space out and obsessively think about something or someone (my favorite time to cook).
But this is summer. This is the time to run and play and throw a quick meal on the grill without breaking step.
No worries – there's a ultra-quick version of Suya (even Nigerians use it) and that's what we're doing today.
As far as I'm concerned, this is the best 10 minutes bang-for-your-buck out there.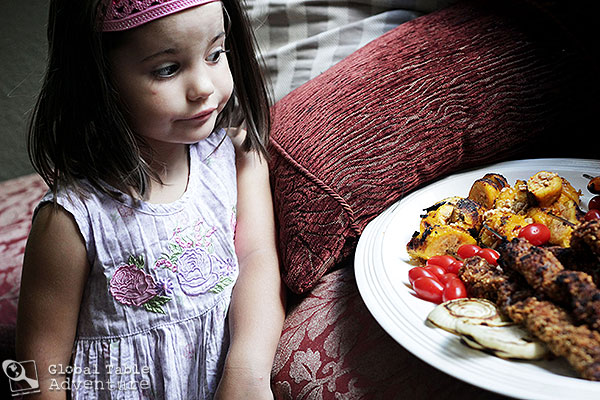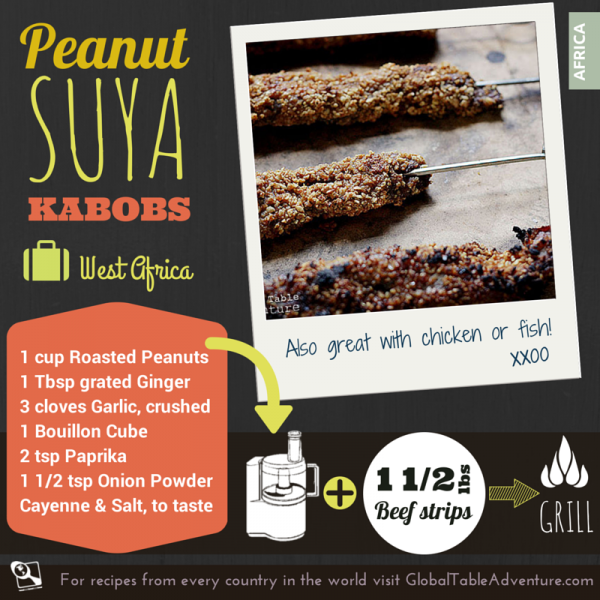 Adapted from The World Cookbook for Students.
Makes 6-8 skewers
Ingredients:
1 1/2 lbs Beef, chicken, or fish (I used top sirloin)
1 cup roasted peanuts
1 Tbsp grated ginger
3 cloves garlic, crushed
1 bouillon cube
2 tsp paprika
1 1/2 tsp onion powder
cayenne, to taste (optional)
salt, to taste
Method:
First, find somewhere in Nigeria to get cooking. Here are a few options, one for every personality. I'll be at the wibbly-wobbly house,  myself.
Blend the peanuts in a food processor until crumbled but not pasty (you might be able to do this in your blender, too, although I haven't tried it).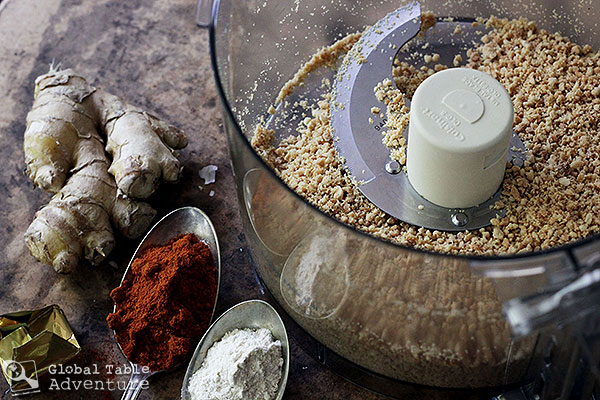 Sprinkle on the remaining ingredients,  being sure to crumble up the bouillon cube. You know what to do with that goodness that gets stuck on your fingers.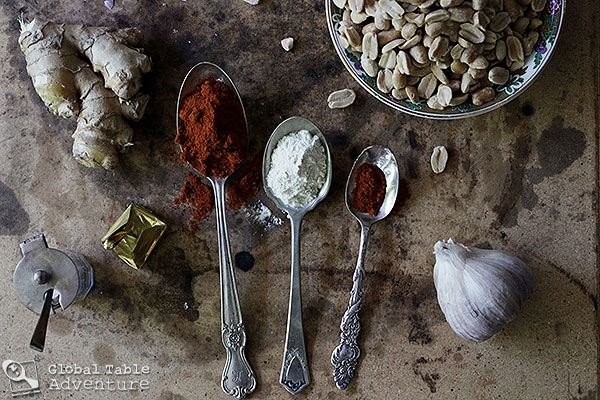 Pulse until combined. For every pulse, send a little love into the universe.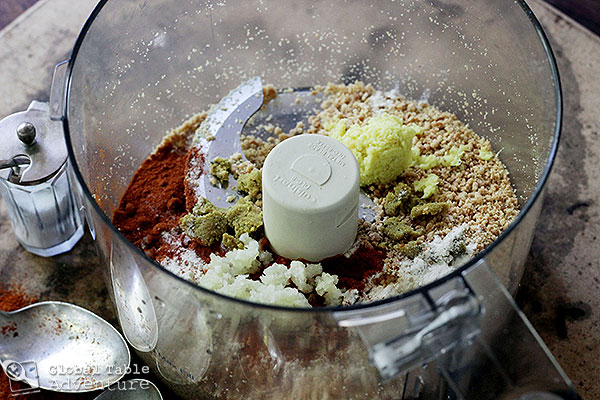 Beautiful. Nibble some straight from the processor – enjoy its garlicky, gingery peanut glory.  If you want it spicier, add more cayenne and pulse one more time.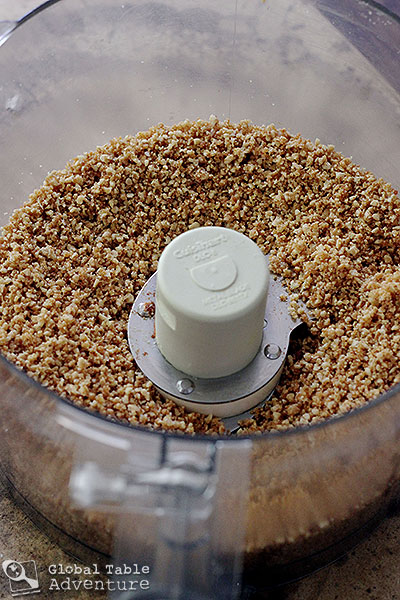 Now for the fun. Gather your skewers (presoak if using wooden ones). Slice your meat in long strips.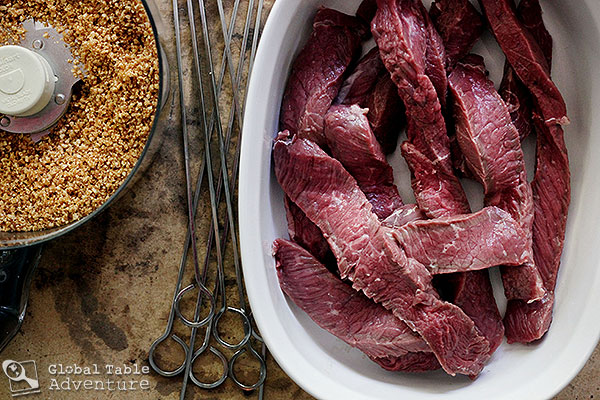 Thread the meat onto skewers and press the peanut mixture firmly into the meat. Refrigerate for 30 minutes or several hours to let the flavors infuse the meat.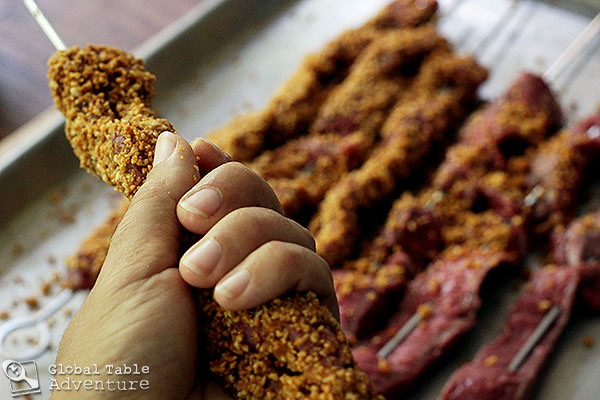 Cook on an oiled grill over medium heat to desired degree of tenderness. Be careful not to move these around too much – you don't want to knock off the coating.
The aroma is amazing. Your entire neighborhood will come running.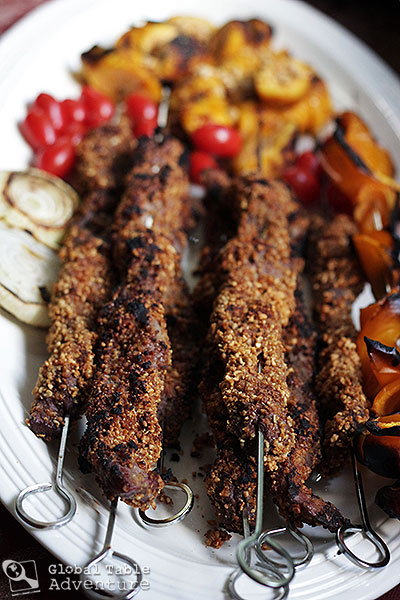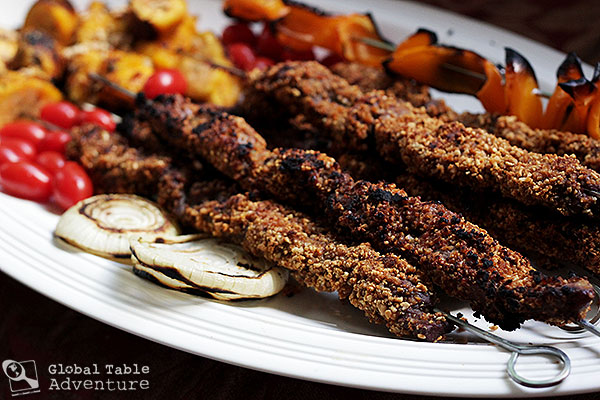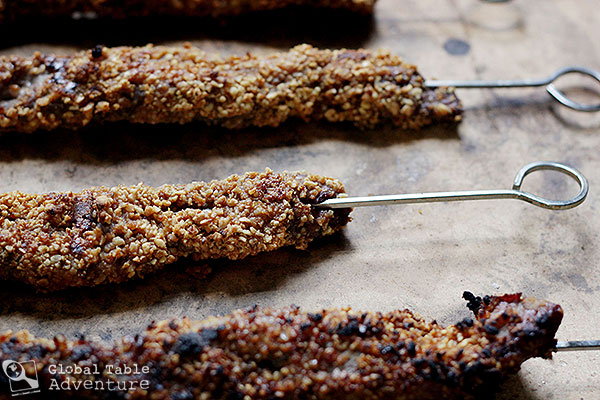 Share with good friends. Enjoy with a smile in your heart for Nigeria.
P.S. Have you entered to win this week's giveaway?
*Perhaps she'll one day come to life, like the Tardis as the Doctor's Wife in Dr. Who.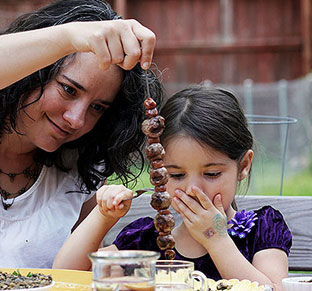 Hungry for more?
Be notified when National Geographic releases my memoir.
Simply fill in your details below.