Serves 6-8
These spicy kabobs are wonderful for lunch or a light dinner. The cayenne provides medium heat, add up to a 1/2 tsp more to make them spicy.
Ingredients:
1 3/4 lbs ground lamb
2 medium onions, grated
4 cloves garlic, crushed
1 tsp ground cumin
2 tsp dried mint
1/4 cup chopped, fresh parsley
1/2 tsp cayenne pepper
1 1/2 tsp salt
1 tsp pepper
1 tsp paprika
Optional Accompaniments:
Lavash flatbread
Pita Bread
Sliced red onion
sliced tomatoes
fresh sprigs of parsley, mint, and tarragon
yogurt and/or yogurt sauce
Method:
1. In a small bowl, combine grated onion, garlic, cumin, mint, parsley, cayenne, salt, pepper, and paprika.
2. Add ground lamb to a large mixing bowl. Add onion mixture. Knead into the lamb, making sure to evenly disperse the spices and ingredients.
3. Shape lamb onto skewers, making sausage shapes. I found it easier to use 2 skewers per sausage because the meat has a tendency to roll around just one skewer. Flat skewers can help, but I didn't have any. The colder the lamb, the better they hold their shape.
NOTE: At this point I refrigerated the lamb overnight. The flavors had time to mingle and the meat set up nicely. I just "perked them up," by pressing with my hands, tightening the sausage shape.
4. Preheat the grill over medium. Place skewers and grill until browned. Flip and repeat. Ground lamb can be lean, so do not cook too long or they can get dry (although if some are a little dry, just add more yogurt as you eat).
5. Serve hot meat with optional accompaniments. Make wraps, pita sandwiches, or just enjoy dipped in yogurt.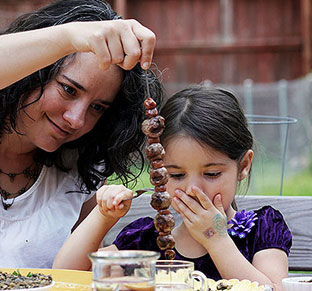 Hungry for more?
Be notified when National Geographic releases my memoir.
Simply fill in your details below.