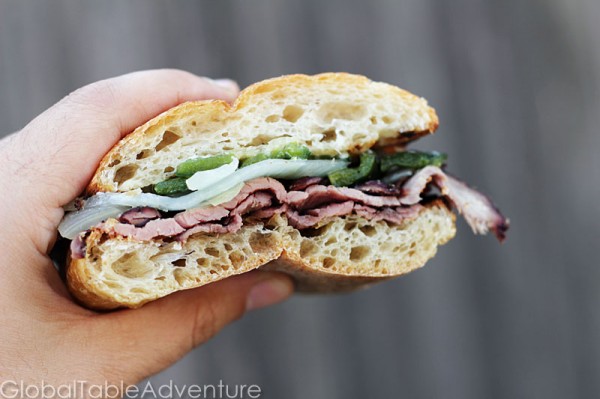 Serves 4
Barbecue, called coupé coupé, is all over Africa. This sandwich is inspired by Gabonese love for smoked meats piled into crusty baguettes.  I posted this recipe in diary format because, well, it was a little bit of an Adventure.
Ingredients:
1 1/2 tsp garlic powder
1 1/2 tsp powdered chicken bouillon
1/4 tsp cayenne
salt
pepper
1 1/2 lbs flank steak
grilled poblano peppers, skinned and cut into strips
1 onion, sliced and grilled (I grilled in foil with olive oil)
1 baguette
2 cups hickory wood chips
Method:
8:00 am
Woke up to a perfect day. Methinks one should always smoke meat under a blue sky and budding trees.
8:01 am
Realize we don't have any wood chips. Keith runs off to get some. I go back to sleep, ignoring blue skies and budding trees.
8:30 am
I wake up to my hero, sneaking in with arms full of hickory wood chips, aluminum trays, and cat food. Nice. (Cat food for cats, not for sandwiches. Double nice).  Soak wood chips for about an hour. Spent the next few hours blissfully distracted. Forget all about smoking meat.
11:00 am
Got back from baby dance class. Ava clapped and spun around like a wind-up doll. No more distractions – time to start smoking.
Drain off water and place tray of woodchips directly on the flame guard. Cover back up. Wonder if this will really work. Preheat the grill on medium until chips are smoking. Reduce heat to a constant 200-225 F. Only have left and right (or just left) burner on. The middle should be off and reserved for the meat. Place a foil tray of water on the right side. Keep grill closed and fingers crossed.
Take it from me, don't rush this process. It can take 15 minutes or more for the chips to start smoking.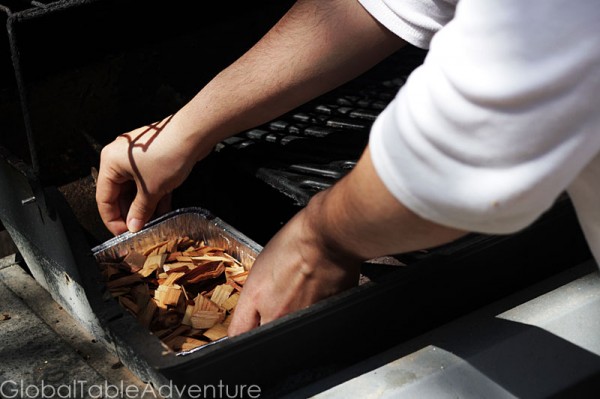 While waiting for the chips to smoke it helps to A) Ponder the meaning of life …. and…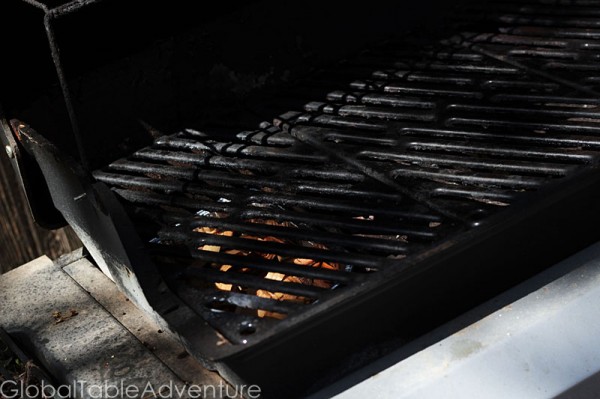 B) Get the flank steak ready.
Mix together the chicken bouillon, cayenne, and garlic powder. As strange as it seems, chicken bouillon is classic in Africa, even on red meat.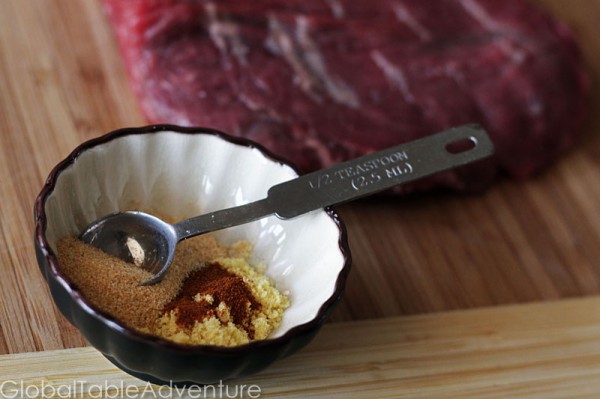 Sprinkle heavily onto steak. If you like it spicy, double or triple the amount of cayenne. This mix is mild.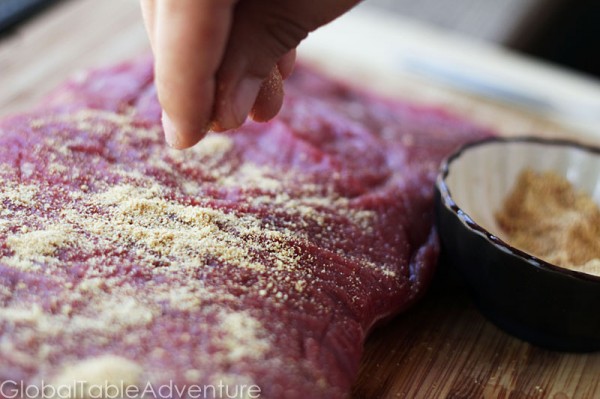 Add some lovely coarse ground salt and pepper.
11:30 am
Place flank steak on grill. Find yourself slightly disturbed at the lack of sizzle. Quickly close the grill cover again. Go read a book.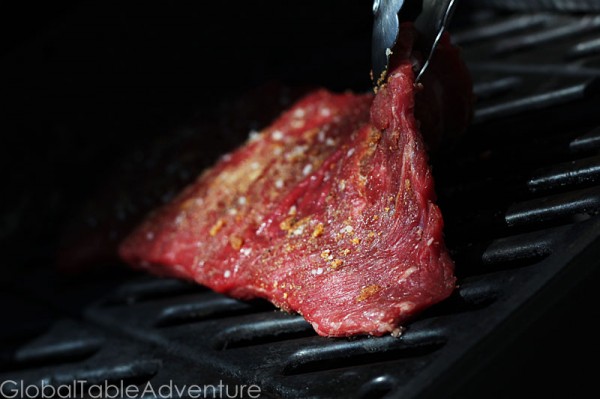 12:30 am
After an hour it looks like this….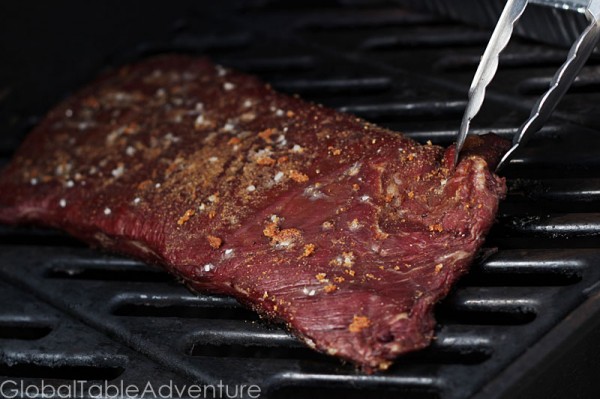 Which is when I noticed the chips weren't really smoking. So, after some debate, I lit some chips on fire. They all burst into flame which seemed wrong, so then I put the fire out and returned them to their designated spot. Not sure I made any progress with the wood chips.
Flip the meat. The bottom looks like this…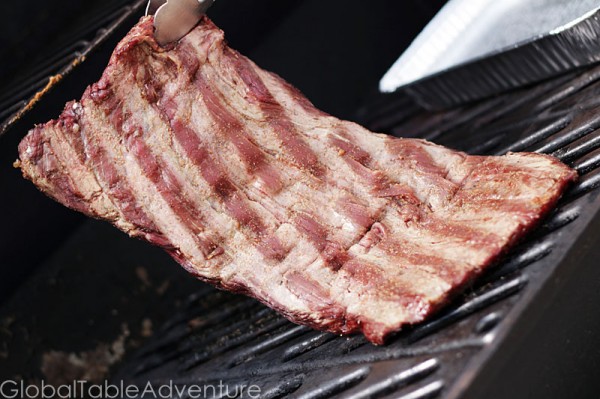 Weird. Those aren't grill marks. Those are … raw marks.
After flipping, close the lid. Every once in a while, check the temperature, just in case it is creeping up or down.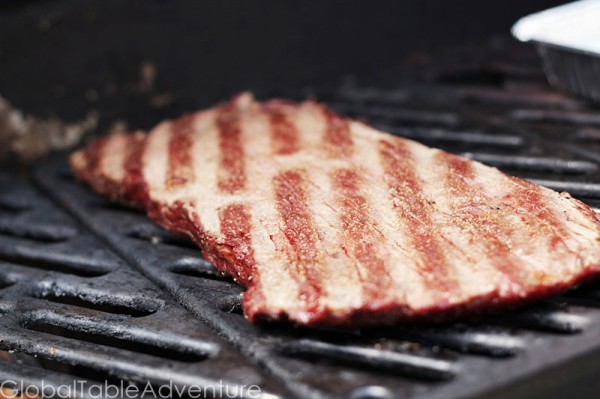 2:00 pm (at the earliest)
After soaking up the sun, picking dandelions and listening to our stomachs growl, the food was finally ready. Spent at least five seconds thanking the daffodils that we own an instant read thermometer with a remote and alarm.
When your instant read thermometer beeps like crazy, telling you it has reached 160F, stop picking flowers, and go check on the meat. Poke it in a few different spots to make sure the reading is consistent. Here's the deliciousness that awaits you…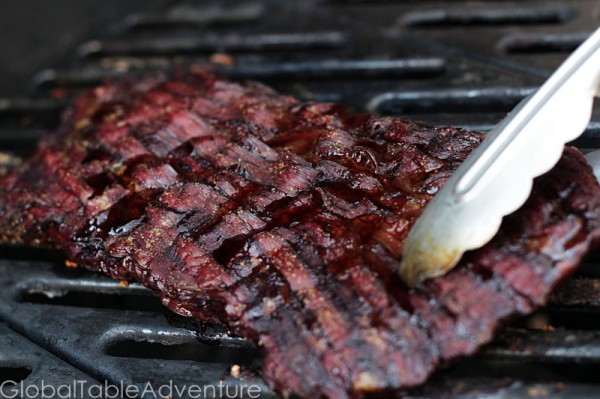 Moist, lightly smoked, and well-seasoned. This is medium. You could go for medium rare. But I wouldn't go for well done. No way.
Let rest 5-10 minutes.
Slice thinly across the grain. I snuck five bites within seconds of taking the picture below. I almost burned my tongue five times. Was worth the risk.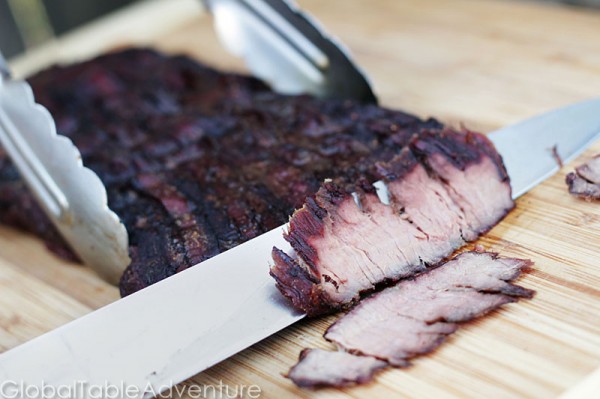 Oh my word. Now it's sandwich time. Brush a baguette with olive oil and toast on the grill.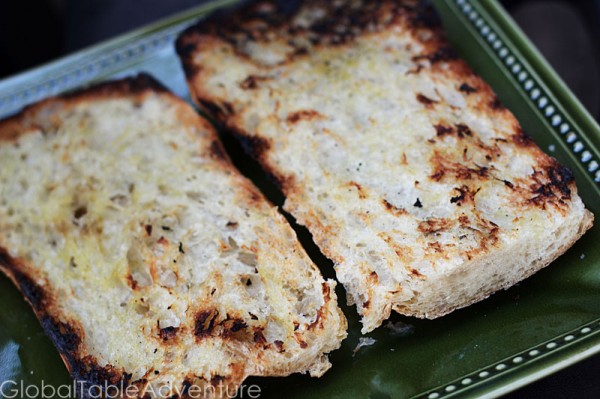 Spread with a little mayo. Ignore Mr. Picky's whining about how "gross" mayo is.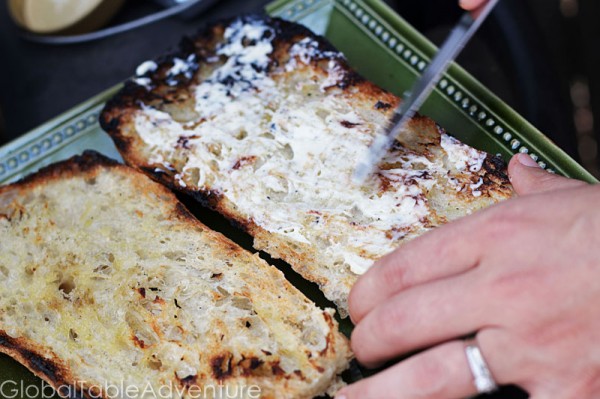 Add on grilled poblano and onion strips.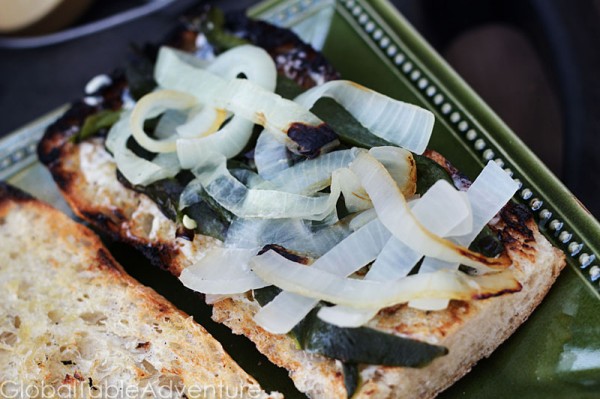 And top with thinly sliced meat. Hello, my pretties!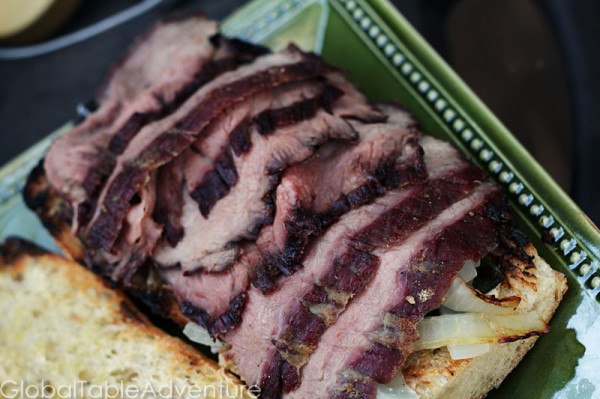 Realize you assembled the sandwich upside down. Laugh, because laughter is the best medicine.
Then, flip the sandwich over and slice in half.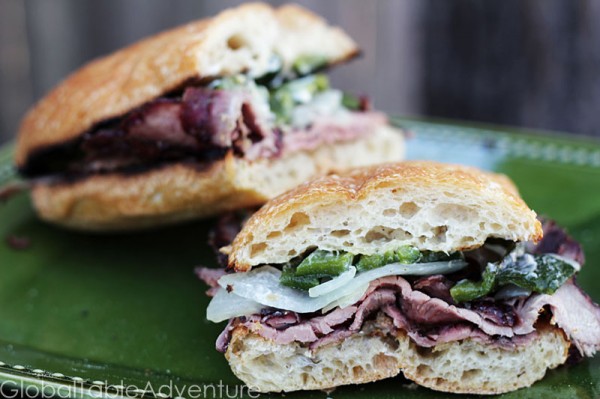 Dinner for two!
I ate this half.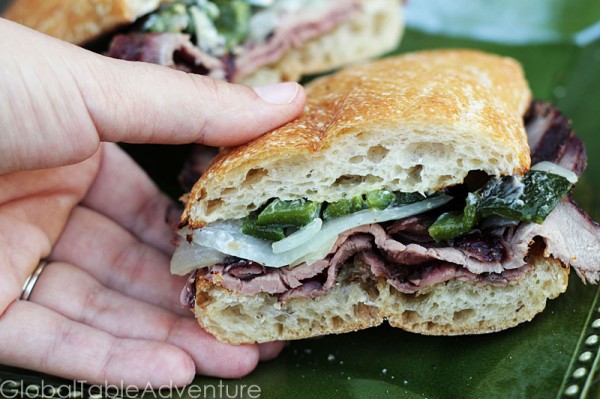 And I ate it twice as fast as Mr Picky.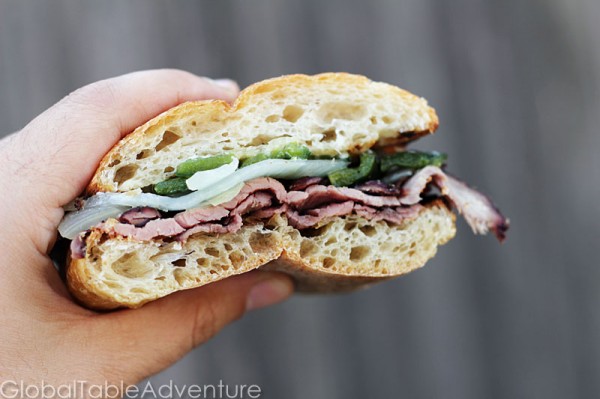 There's enough for 4 small sandwiches like this one. Enjoy!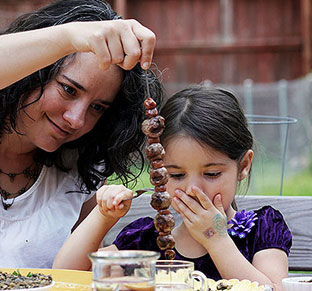 Hungry for more?
Be notified when National Geographic releases my memoir.
Simply fill in your details below.