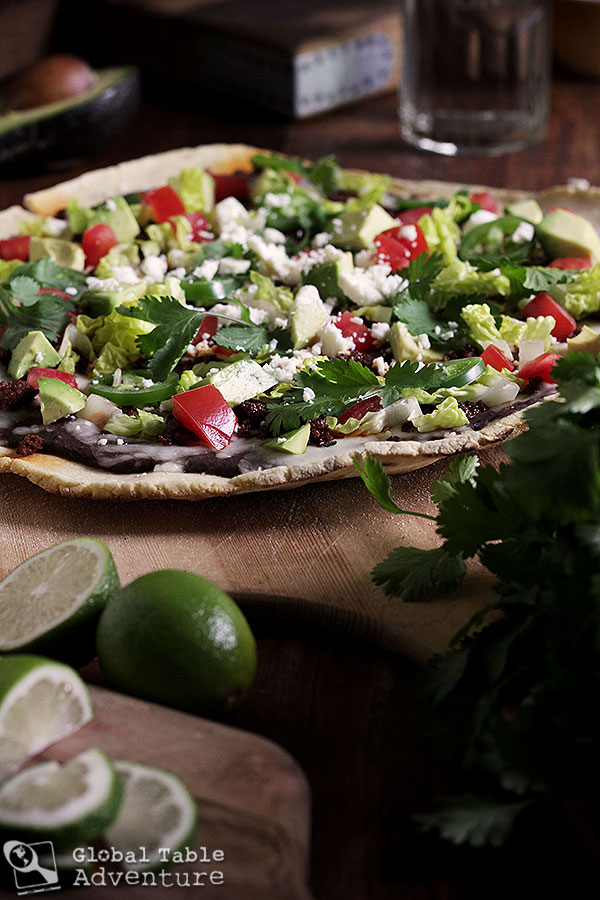 Sometimes I want it all:
A clean house and a lazy weekend.
A good night's sleep and a Doctor Who marathon.
Salad and pizza.
Mexican and Italian food.
I might not be able to balance out the former two, but as for the latter?
Yes and yes. 
The biggest tortilla in town.
Tlayuda is Mexico's answer to pizza. But don't expect tomato sauce and basil leaves.
This popular Oaxacan street food is made on an enormous tortilla and spread thickly with black beans (Take note: these aren't ordinary black beans – they've been blended with a heaping of roasted garlic and onion, cumin, and chile powder). Purists will spread the tortilla with lard, too – though I prefer a light brush of vegetable oil.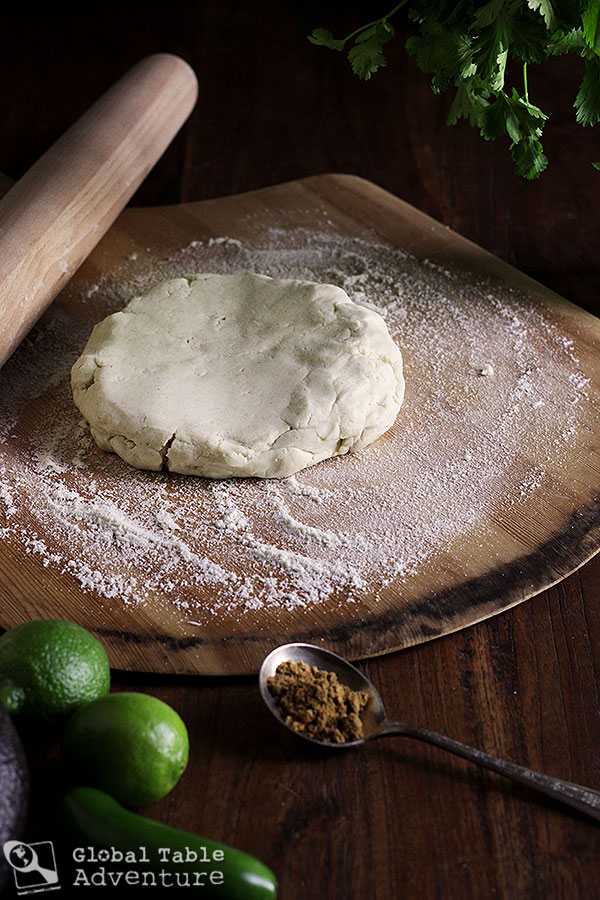 Finally, cheese is sprinkled on top, as is your choice of meat (beef, pork, or browned chorizo) and a garden's-worth of toppings (think avocado, tomato, cheese, cilantro, lettuce, and jalepenos).
It can be served open-faced or folded in half.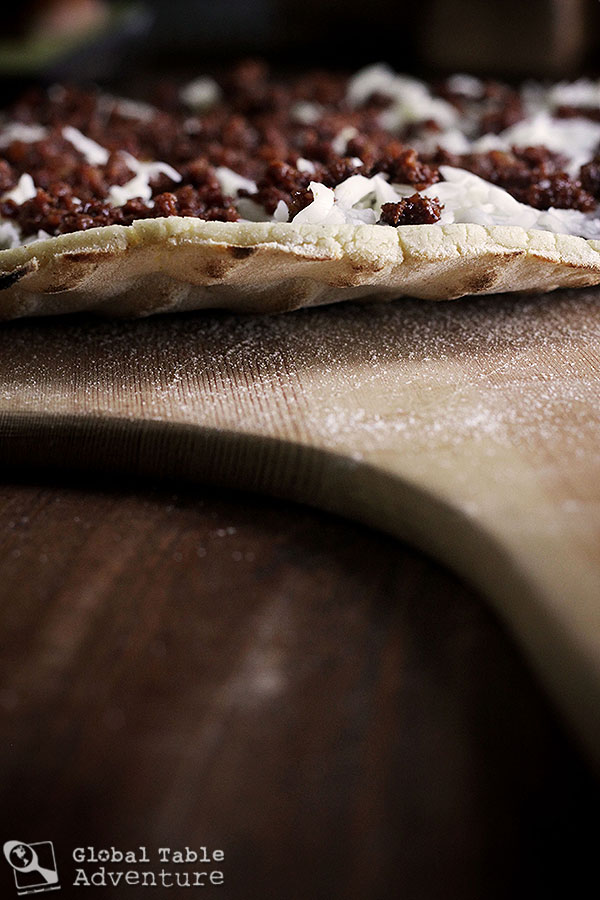 When the first hot bite passes your lips, be prepared for a flavor explosion –  especially when you add a puckering of freshly squeezed lime juice and salsa on top.
It's like eating an enormous taco… but better.
Is your mouth watering yet?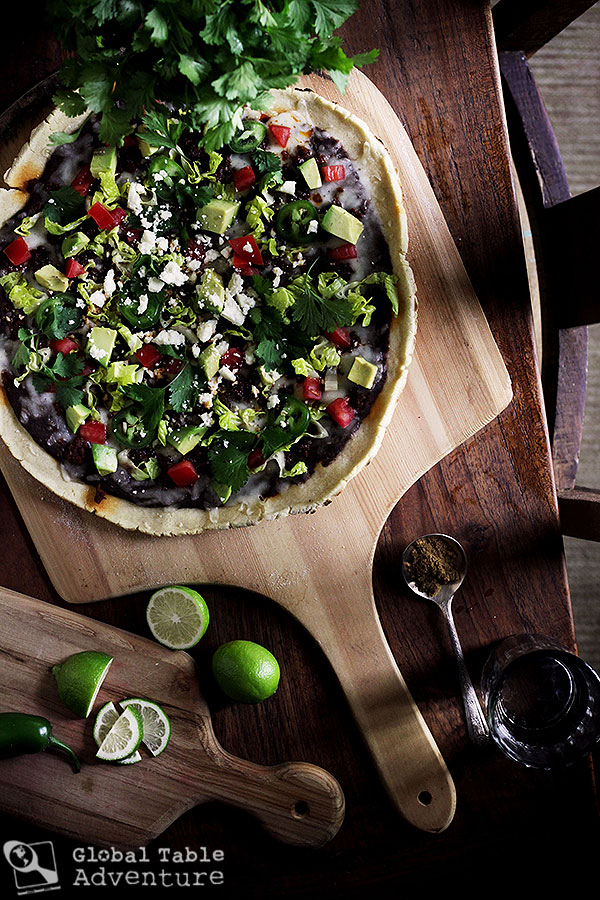 In Memoriam
I planned to send my grill out in style by making just such a mouth-watering Tlayuda in honor of Cinco de Mayo.
The grill was gifted to me seven years ago by a friend. Most grills only last a handful of years, so ours was quite geriatric. Recently the drip pan rusted through, the ignitor failed twice, and two of three grates had crumbled into oblivion. We've spent more in replacement parts than the grill's original worth.
After  my first two attempts the Tlayuda tasted pretty good, so I sent the grill off to our industrious and free-spirited neighbors, the Bearded Boys. They offered to baby the rusted box through a final season before it goes where all old grills go.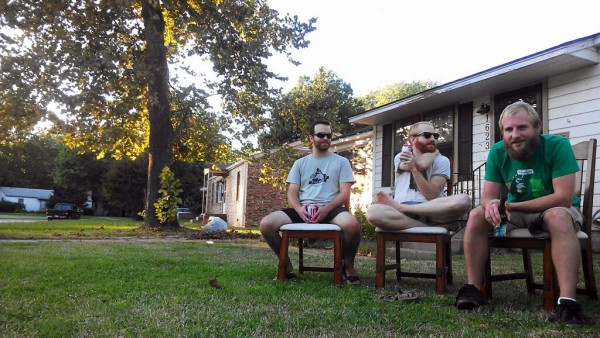 And then I did what all bloggers should do before they hit publish: I reviewed my recipe and photos. 
Oh my.
The post was totally unusable – the steps were too complicated and most of the pictures looked completely unappetizing. Has this ever happened to you? There's nothing worse than yucky photos of a delicious treat!
So I tried again. This time with my new grill.
So you'll see pictures of the old and the new today.
All for cinco de mayo.
What's the story with Cinco de Mayo?
What everyone likes to say is that Cinco de Mayo is about Mexican freedom – about how they defeated the French at the Battle of Puebla in 1862.
But there's much more to the story than that…
A year after the famous Cinco de Mayo victory, the city of Puebla in Mexico was still under siege.  The first Cinco de Mayo celebrations were held in California, on the first anniversary of the Puebla victory… so as to drum up support for the ongoing struggle. 
You see, California had only become a part of the USA back in 1848 – less than 20 years earlier. The chicano population was vibrant and passionate.
Today, fierce Chicano pride has continued to keep the celebration alive in the United States. And all of Mexico observes May 5 as a holiday. As to be expected, the city of Puebla hosts special events and celebrations.
Today the holiday has grown to encompass fiestas, dancing, and amazing Mexican food.
Bite into the Celebration
There's no better way to celebrate the cross-cultural celebration Cinco de Mayo than a tlayuda, or Mexican Grilled Pizza. I've adapted the traditional recipe somewhat, making a thicker corn tortilla base, rendering this recipe more like a thin-crust pizza – and serve it in wedges. You could also slice it in squares.
Or… you can roll it thinner and fold it, as they do in Mexico!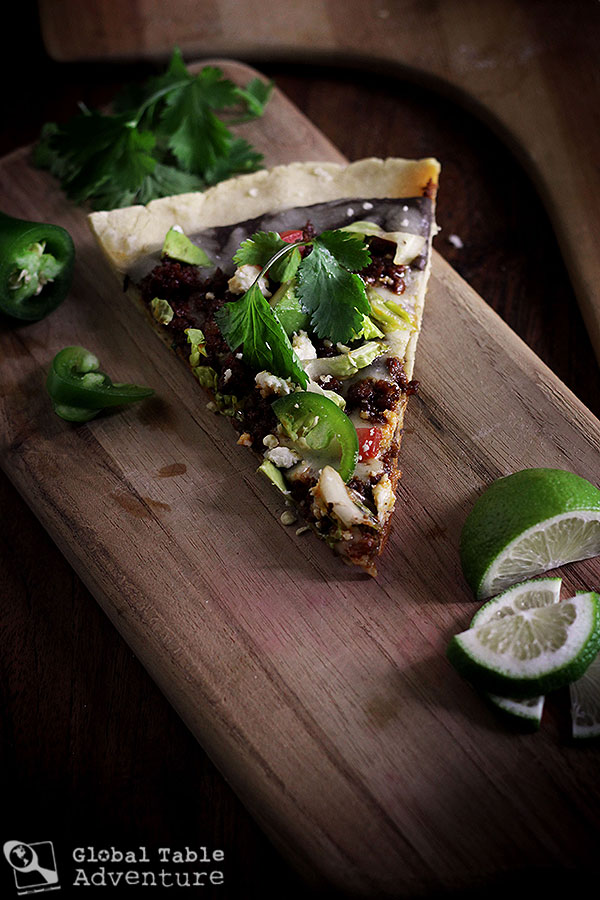 Serves 4-6
Ingredients:
4 ounces fresh chorizo sausage
For the black bean spread:
5 large cloves garlic, unpeeled
1 small onion, peeled and sliced in thick rings
One 15 ounce can of black beans
2 tsp chili powder
1 tsp ground cumin
salt, to taste
One 13-inch homemade corn tortilla (or several store-bought)
8 ounces Oaxaca, Monterey Jack, or mozarella cheese
Toppings (as desired):
handful sliced lettuce or cabbage
small handful fresh cilantro
1/2 avocado, peeled, pitted, and chopped
1 fresh jalepeno, sliced (optional, for heat)
1 tomato, chopped
queso fresco, crumbled
salsa
lime wedges
Method:
Preheat the grill to 450F.
Brown the chorizo sausage in a skillet. Set aside.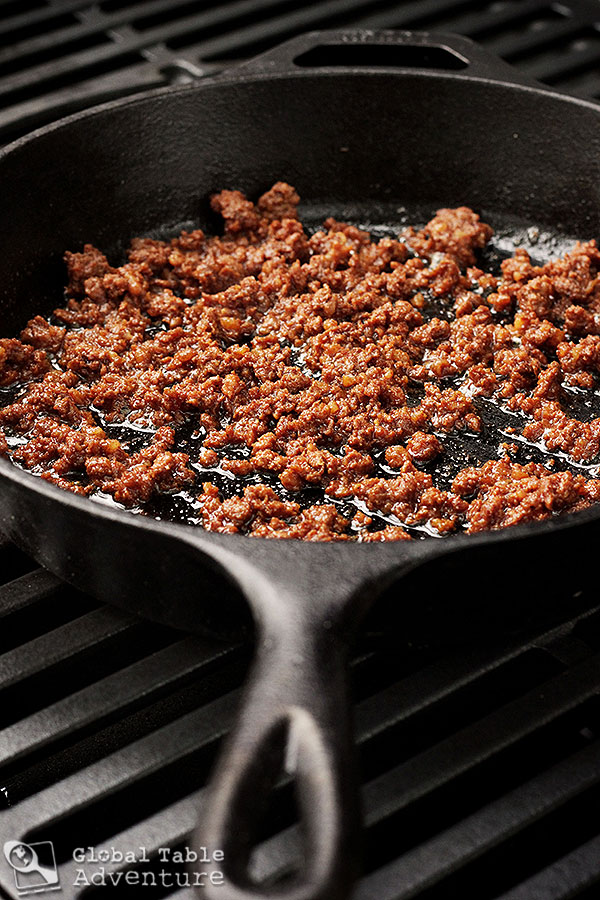 Add the garlic and onion to the grill and cook until browned and softened, turning once (if the garlic is too small and threatens to fall through the grates, simply put them on a piece of foil). Set aside.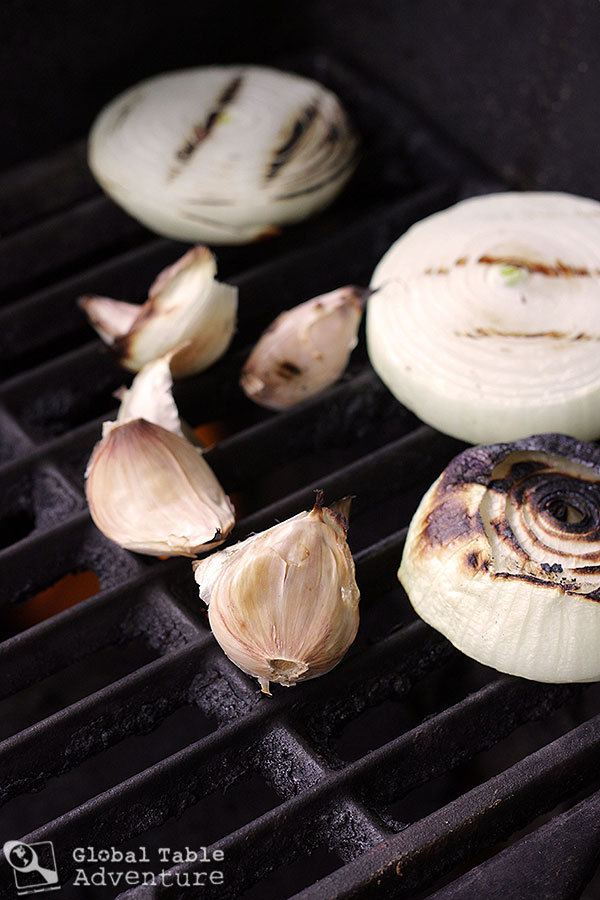 For the tortilla:
If preparing your own corn tortilla, follow my recipe – but instead of making several small tortillas, make one thick 13-inch tortilla. Corn tortillas can be fragile; to minimize handling I recommend rolling the dough out on a pizza peel that has been heavily dusted with masa harina. Do not flip. While rolling, occasionally press with your hands on the top edge and side to crimp back together any jagged bits. Brush the top of the tortilla with vegetable oil.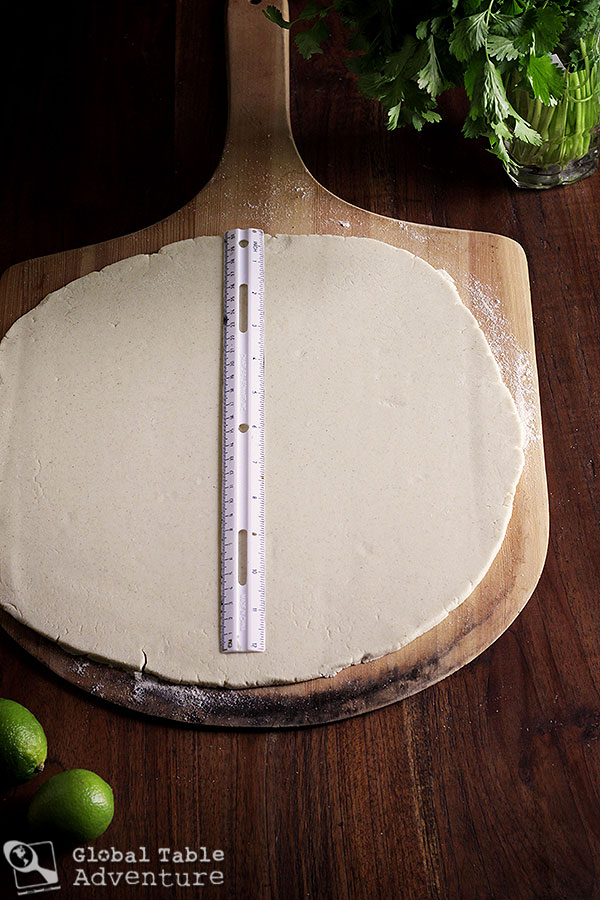 Slide  tortilla onto a well-oiled grill. Cover and cook 5-8 minutes. Keep on the pizza peel, under a damp (not wet!) cloth until needed.
For the black bean topping:
Add a can of black beans with their liquid, chili powder, cumin, and salt to a blender or food processor. Peel the grilled garlic and onion and them to the mix. Pulse until mostly combined.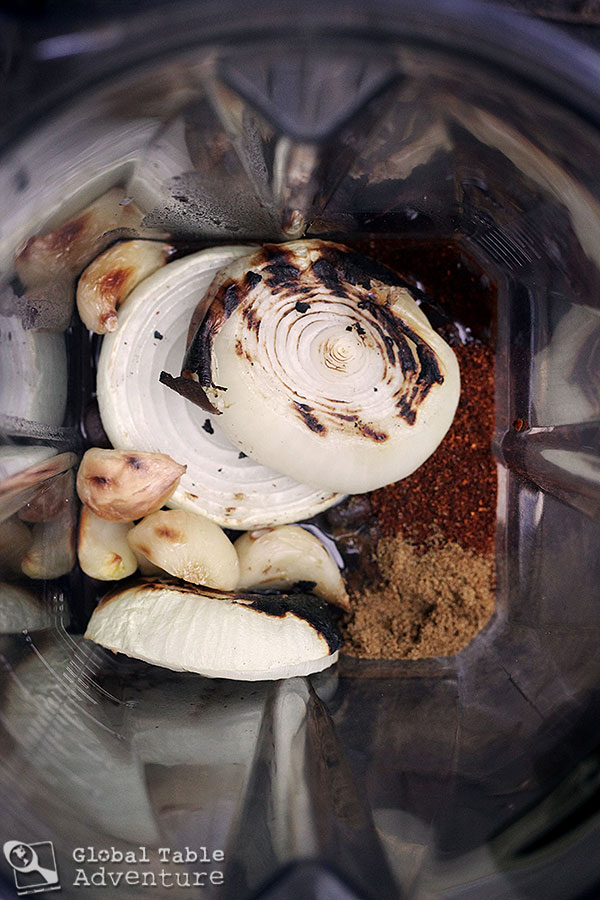 Assembly & cooking:
Spread the tortilla(s) with black bean spread (there may be a little leftover – it makes a great dip). Sprinkle on the cheese and cooked chorizo sausage. Grill for a few minutes until very hot.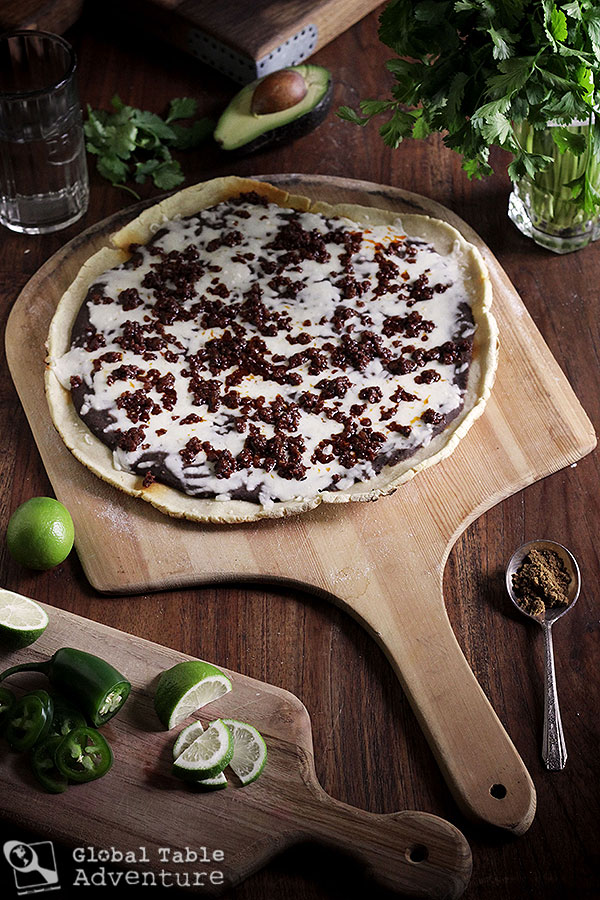 Garnish as desired with chopped lettuce, cilantro, avocado, sliced jalepeno, tomato, queso fresco, and/or salsa. Squeeze lime wedges over the top.
Enjoy with a contented sigh and too-big bites.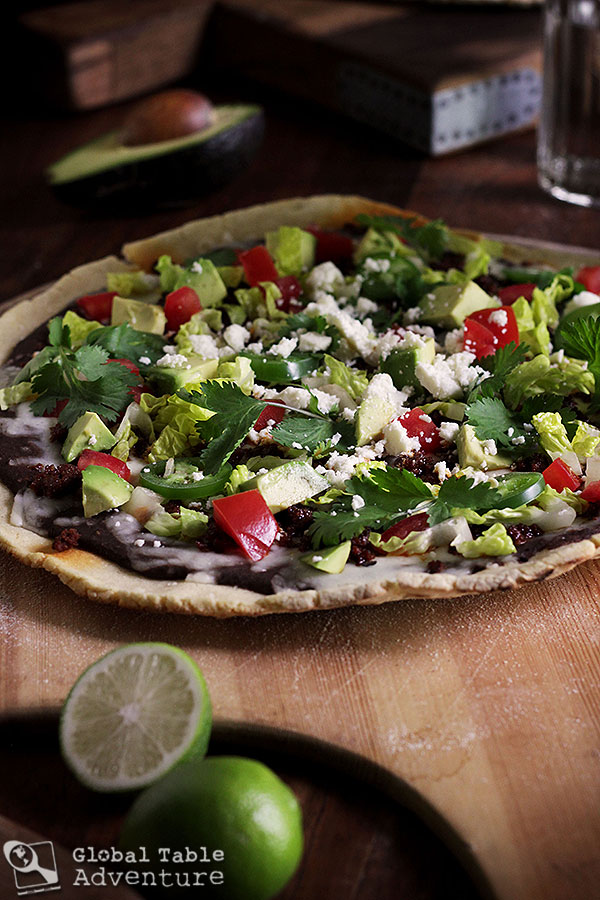 A few more Cinco de Mayo Menu Ideas: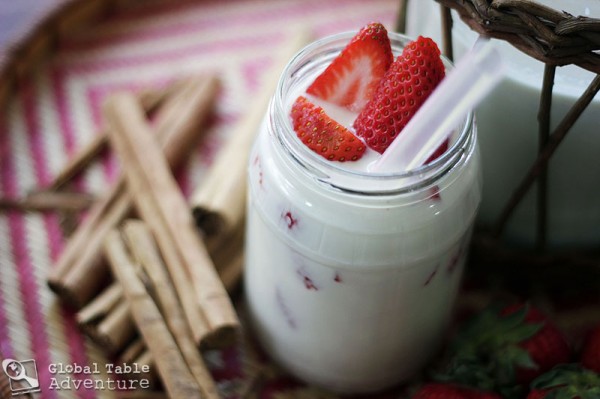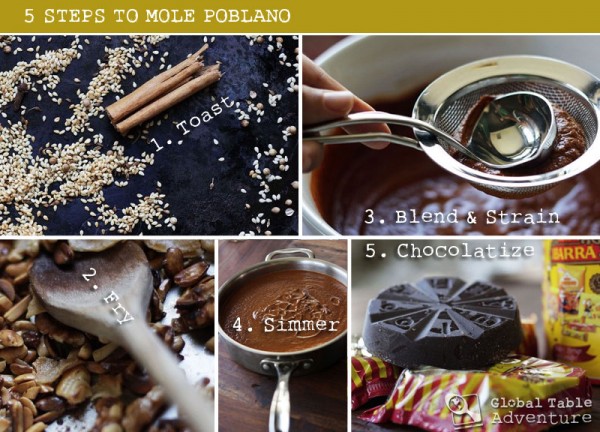 Cheesy Roasted Poblanos (Rajas con Crema)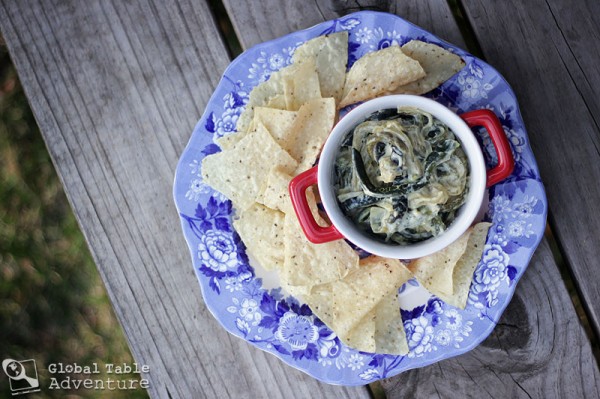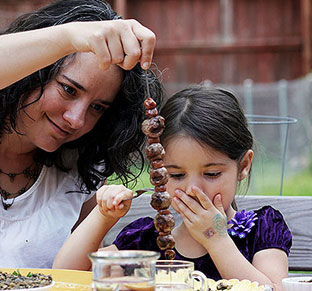 Hungry for more?
Be notified when National Geographic releases my memoir.
Simply fill in your details below.