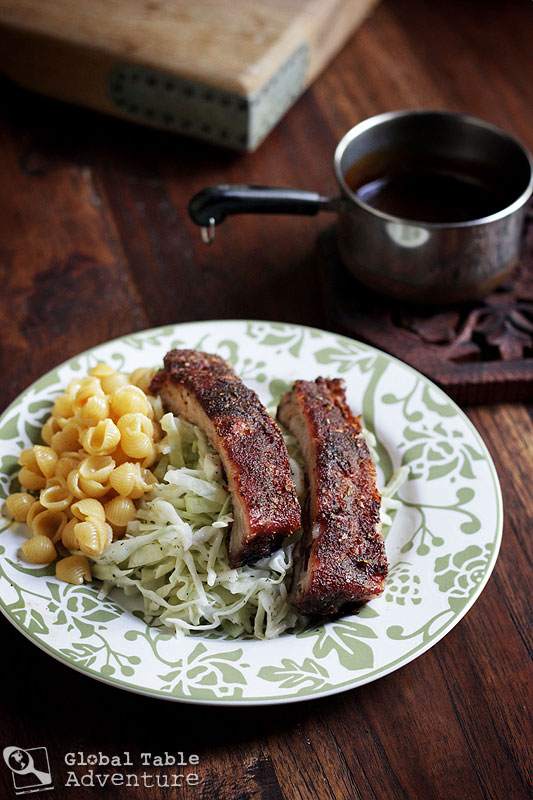 I've heard that finger-lickin' is not allowed in finer circles. Rumor has it, you should only order foods that are easy to eat during business dinners. No spaghetti, no lobster, and definitely no ribs. The same goes for when you meet your in-laws for the first time.
Is this true? I don't know.
But I do know that, when you find yourself face to face with a rack of ribs, you aren't getting away from them without a little finger lickin.'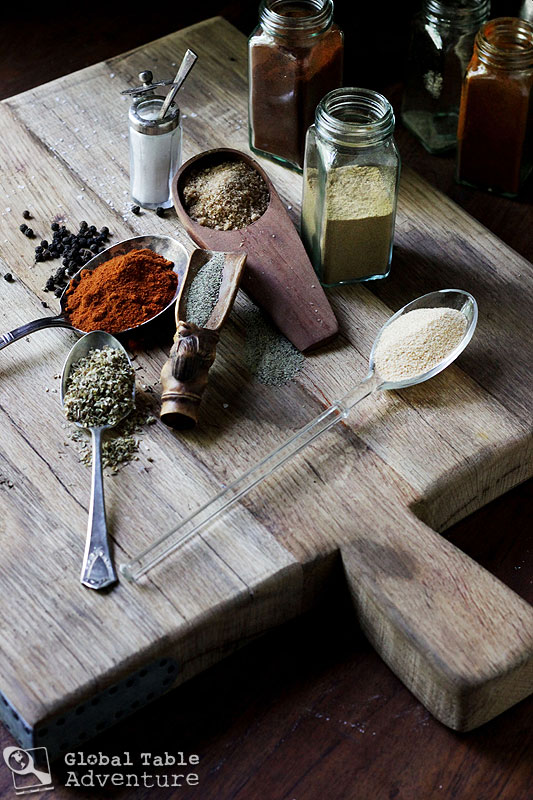 Barbecued pork ribs can be made any number of ways, depending on the part of the USA you're emulating. Some ribs are prepared as wet BBQ, meaning they are brushed with barbecue sauce throughout the cooking process, while others use a simple dry rub of assorted spices, as is popular in Memphis barbecue.
Even though I'm American, I really don't have much experience cooking ribs, so I looked at The Best Recipe by Chris Kimball for inspiration. He suggested going with a dry rub, then brushing BBQ sauce over them at the end.  I played around with a few combinations and came up with something we all loved.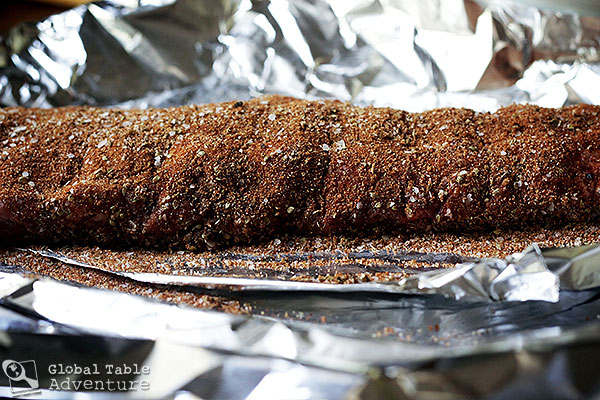 Let me tell you something: I'm never looking back.
These ribs were beautifully spiced, ultra tender, and, yes, they were finger lickin' good.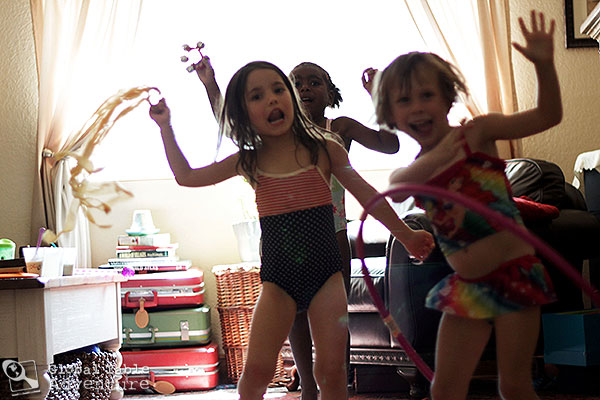 And, if you use hot paprika, these ribs have the perfect mild-medium burn.
Speaking of which: When I asked Amanda Hesser what she thought the biggest change was in American cooking over the last century+, she said the addition of chili peppers (and spices in general). That's good news for these ribs.
Awesome (and yum).
Ingredients:
2 racks of pork ribs (I used baby back, but you could also use full ribs)
2 cups hickory wood chips, for smoking (optional, but delicious)
Dry Rub:
2 Tbsp paprika (hot or sweet, as desired)
2 Tbsp kosher salt
2 Tbsp brown sugar
1 Tbsp chili powder
1 Tbsp cumin
1 Tbsp oregano
1 Tbsp granulated garlic
1 tsp cayenne pepper (optional if using hot paprika)
1 tsp fresh peppercorns, cracked (optional, for extra bite)
1 tsp black pepper
1 cup of bbq sauce, for brushing
Method:
Soak the wood chips an hour before grilling.
Meanwhile, mix together the spices.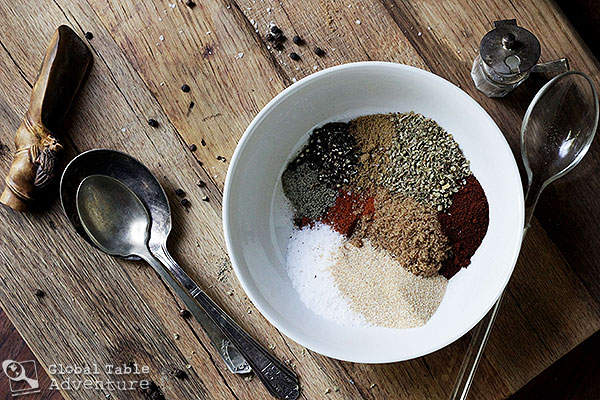 Prepare the ribs by making sure the thin membrane on the underside of the rib is peeled away (often referred to as silverskin). Often the butcher has already done this (or can, if you ask nicely).
Rub the dry mix all over both racks of ribs (or you could just cook one and reserve half the spice rub for next time).
Let the spiced ribs set at room temperature for about an hour (or refrigerate up to one day before grilling).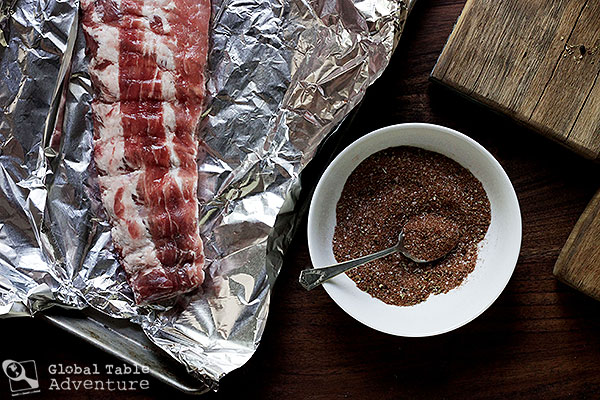 Place the drained woodchips on the left side of the grill. Turn all burners to high and leave this way until the chips start smoking heavily. This will take about 20-30 minutes.
Turn off all the burners except the left one (with the wood chips). Lower the left one to low barbecue, or wherever it needs to be on your grill to get the heat come down to 225F.
Once the temperature stabilizes, add the ribs directly to the right side of the grill (off the heat, no foil) and cook for about 3 hours, turning every 30 minutes. Check the temperature every once in a while just in case.
Remove the ribs from the grill to a tray. Cover tightly with foil, then saran wrap. Let rest about an hour before cutting. This steams the meat and makes it ultra tender.
Brush with barbecue sauce as desired.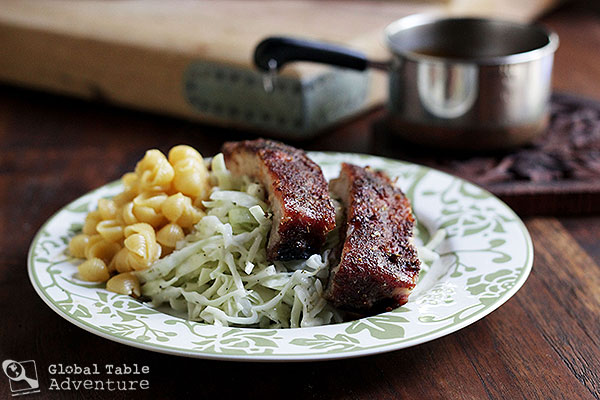 Then there's just one thing left to do:
your happy dance!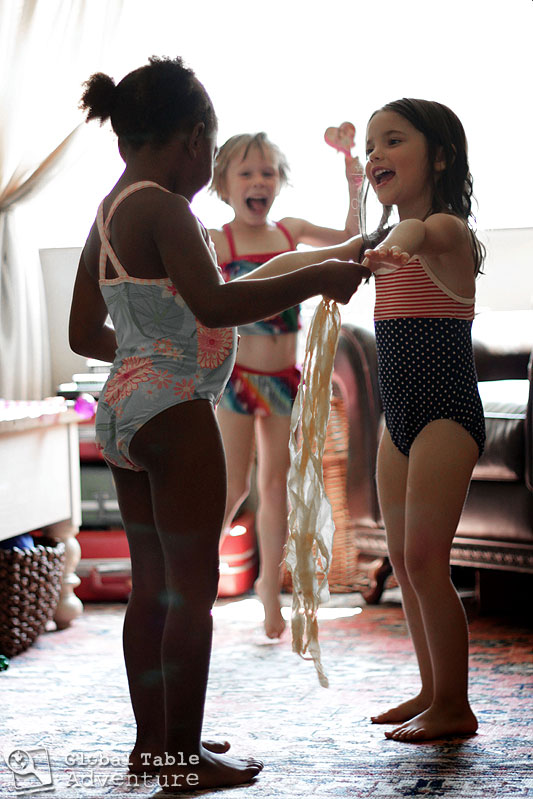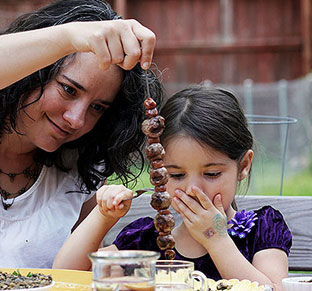 Hungry for more?
Be notified when National Geographic releases my memoir.
Simply fill in your details below.