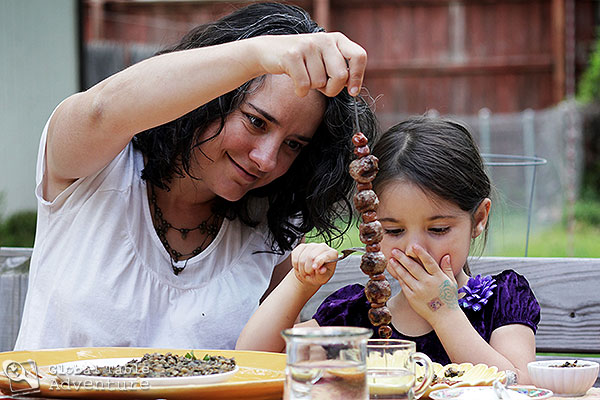 I can almost hear it; the hiss and sizzle of grills waking up from their long winter naps. It's warm in Oklahoma and we're ready to move our kitchen outside, into the sparkling sun.
Today's inspiration comes from Syria and the pucker of sour cherries, which will be in season sometime in the next few weeks, depending where in the world you live.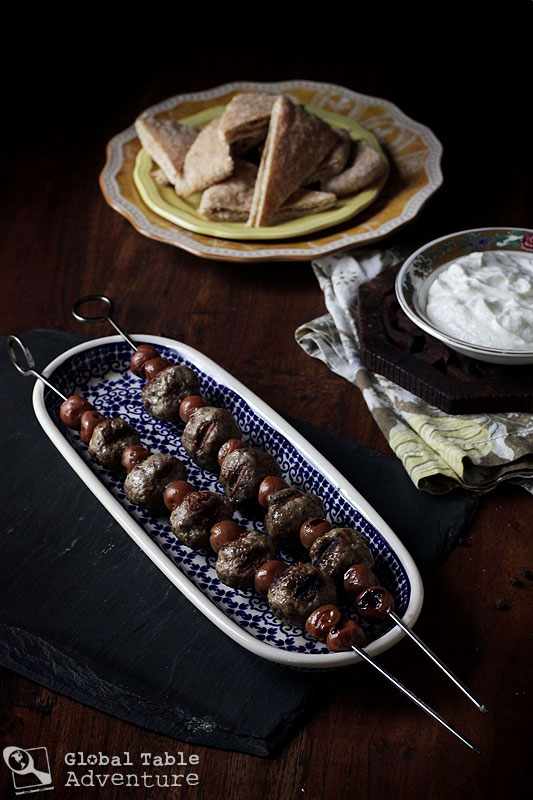 Syrian Lamb Kebabs with Cherries can be made two different ways. The first is easy – you string up the meat along with the sour cherries. The second involves creating a gravy of sorts with the sour cherries and serving the whole shebang on a platter over pita bread. The latter is more of a winter dish, so we're going all summer, all the way.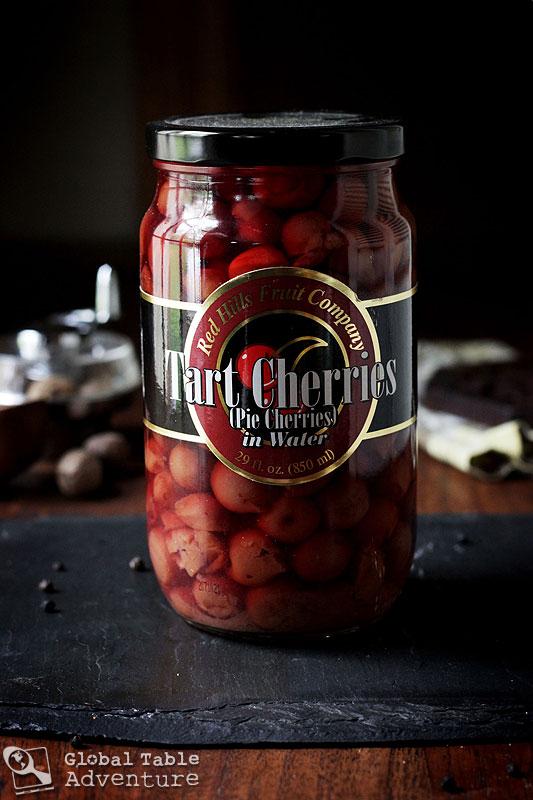 The distinctive seasoning in these kebabs is baharat (we'll have that recipe posted very soon), but if you don't have time to make any, add some pepper, allspice, and cinnamon, plus a pinch of clove and nutmeg  to this recipe and you'll be good to go.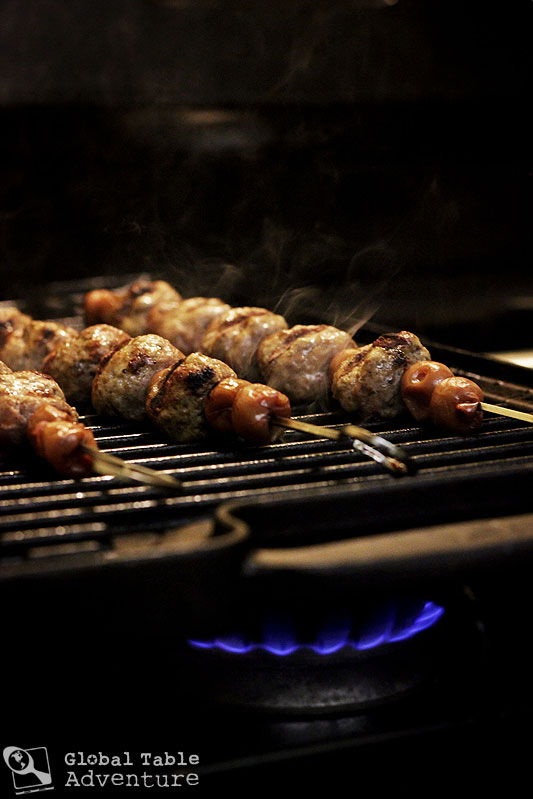 Makes 6 skewers
Ingredients:
1 lb ground lamb
2 tsp homemade baharat
1/2 tsp ground cumin
1/2 tsp ground coriander
1/2 tsp ground cinnamon
salt & pepper
1 jar sour cherries, fresh or jarred
skewers, for grilling
Method:
Let's build some towers. Like this… but with meat:
To get started, thoroughly mix the lamb with the spices. The best tool for the job is your hands. Really work it. Then cover and refrigerate at least an hour, but overnight is fine, too.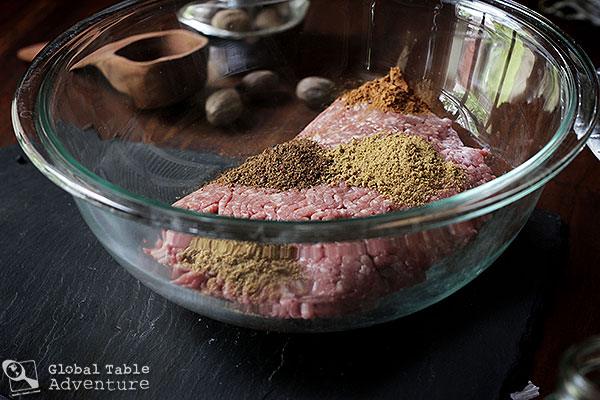 Shape into balls and thread onto skewers , alternating with the sour cherries.
"Look, mama, you made a pattern!" said Ava, at this moment.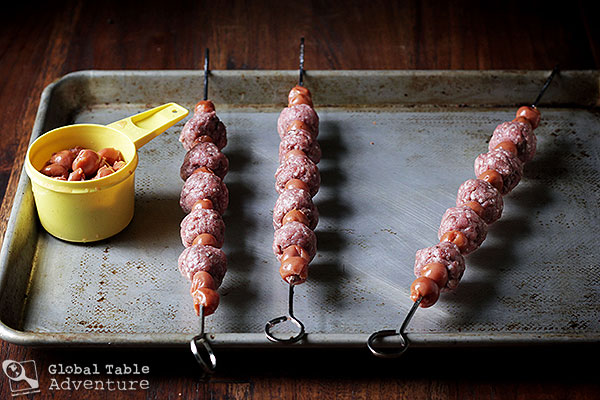 Cook on an oiled, medium-hot grill, turning once, until the meat is cooked through. You can also make these inside on a grill pan, if your door happens to be blocked by a giant table. You know, if that's where you happen to take your blog photos …. (ahem).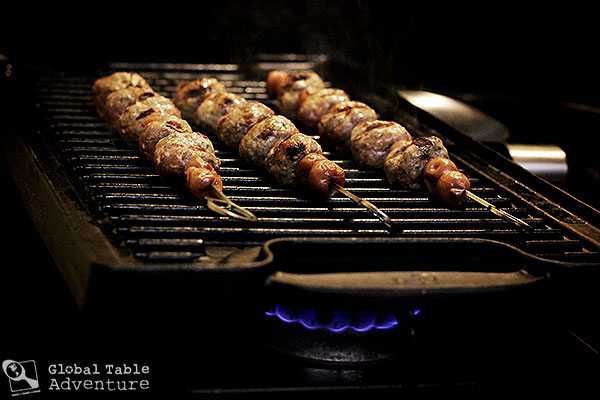 Enjoy with some crazy, curly hair.
Seriously. When did that happen?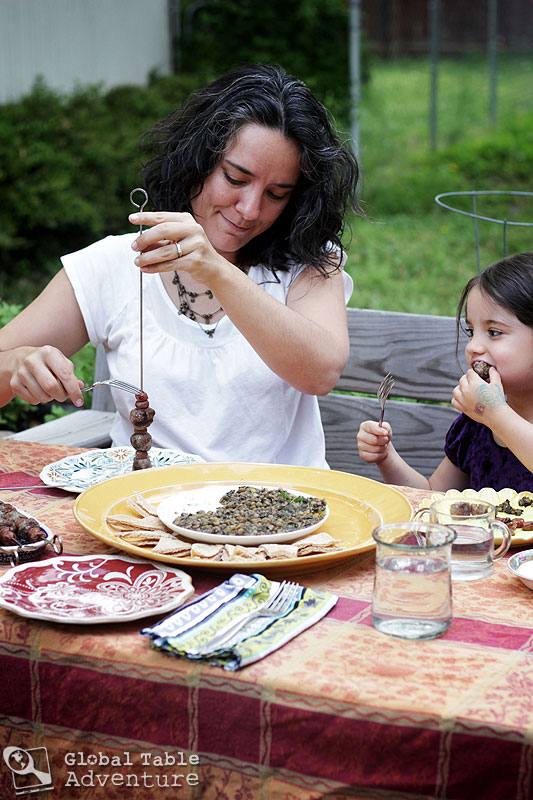 Enjoy kebab bliss.
Are you ready to fire up the outdoor grill yet, or is it too cold where you are?
Also, do you see this kebab as a special occasion treat or something you'd make any ol' day?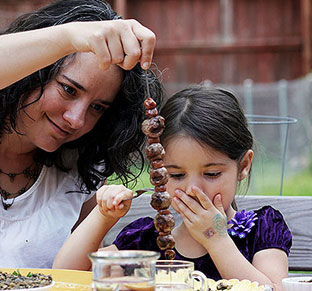 Hungry for more?
Be notified when National Geographic releases my memoir.
Simply fill in your details below.