While I am a stuff-my-face-with-turkey-and-gratitude kind of gal, I'm decidedly not a get-up-at-three-am-to-go-shopping kind of gal. Still, I love the satisfaction of finding just the right gift for just the right person. After all, what's better than a moment like this, when you open up an entire world with a simple book …
… or when you can practically smell the flowers of the world when you turn the page…
… or when you get lost in a dream of snuggling in a hammock bed…
… yes, just the right gift is worth a little looking.
But can we just do it after breakfast, please? Or maybe next week?
Thanks.
YOUR  VERY GLOBAL GIFT GUIDE
(Click the titles for more information) 
Welcome to my list of globally inspired holiday gifts. It's a hodge-podge of items, with a heavy emphasis on gifts for the very young child. Because, let's face it, that's my life right now.
P.S. See if your local shops carry these items. You might be surprised.
I purchased a carbon steel comal griddle at my local Latino market for $7.00 – a total bargain. I use it all the time, whether to make tortillas and chapati, char tomatoes, chilies and garlic for salsas and pepian, or even to make pupusas. It doesn't take up hardly any room and gets used quite often. Bottom line?  This is a great, affordable gift any cook would love. Even better? It's not the obvious gift, like a crock pot or toaster oven.
2. FLAGS OF THE WORLD STICKER BOOK
Readers have been telling me something fantastic. They've been having Global potlucks. I'm totally over the moon about this.
I have a cute tip for you. Use this book of stickers for your next potluck. There are over 200 flags for every nation in the world. With them, you can mark the items on your Global buffet.
Everyone will know what and where they are eating.
Now that's something to get excited about.
If you haven't tried making your own spice blends, this is the year. There are lots of brands, and this is just one of them. Shop around and find one that'll work for you. Making your own garam masala, Georgian Five Spice, Bebere, or curry is totally the bees knees. Also, you can use it to grind sugar into caster sugar, for our most delicious tiramisu. Yes, please.
4. STICKY RICE STEAMER POT & BASKET
I really wanted to get one of these when we cooked Laos and the sticky, sticky rice. I ran out of time to order one, but at less than $15, I would love to try it for our next batch.
Ava loves, loves, loves this memory game. Since she's only 2 1/2 we play the cards face up. She likes to search through the faces to find two that look alike.
While we play we also talk about where the children are from, what they are wearing and what they might like to do.
It's a fun imagination game. When she's older we'll turn them over and play traditional memory.
Ava really likes to play dress-up with these foam people, especially because the clothes, hair, and shoes are stickers, making it easier for her little hands to keep everything together. Here's some people from the kit she dressed up a few months ago:
7. WORLD PUZZLE by Melissa and Doug (48 pieces)
We have this on the list for when Ava gets older. It's a really cute floor puzzle with children and flags of various countries.
I always loved puzzles growing up and I think this would be great fun, trying to match the different outfits and flags.
Hmm, maybe this one is really for me.
8. THANK YOU, WORLD by Alice McGinty
This is one of Ava's favorite books. Every page has something else to be thankful for – like the wind, the rain, the moon and more. There are  tons of beautiful illustrations of on each spread, showing the item in various countries with different scenes.
I particularly like the page with all the different beds and children being tucked in – there's a picture of it in the beginning of this post. Some kids are in beds, while others are in hammocks, on the floor, etc. A very sweet book.
This book is another favorite of Ava's. The pictures are strange and full of bold color which totally captivates her, and did way back when she was just a baby.
The general message is that, even though our homes, schools, hair, eyes, and clothes might be different, we all laugh, cry and hurt the same. Perfect, simple message for young toddlers, like Ava.
10. AROUND THE WORLD IN 80 POEMS by James Berry
This book is full of beautiful poems from various countries and traditions around the world. I can't say too much more about it because it's on our list for this year.
I'm really looking forward to mixing up the traditional Mother Goose offerings.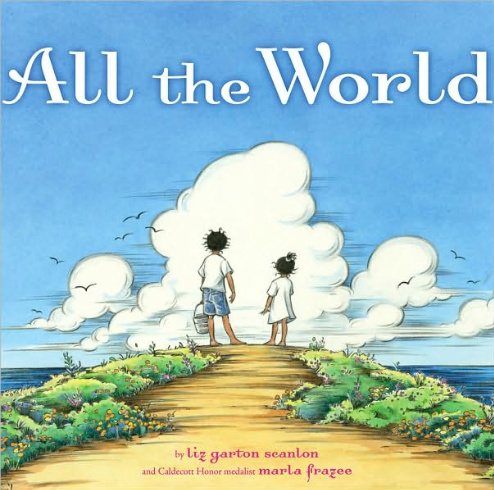 11. ALL THE WORLD by Liz Scanlon
This is another one that's on our list for Ava this holiday. It depicts the most adorable beach scenes and teaches the importance of the biggest and smallest things in the world.
I can't wait to see Ava's face when we read it to her.
There's a lot more great, educational gifts out there – but this list should get you started.
Happy holidays, with love and hugs from my family to yours.