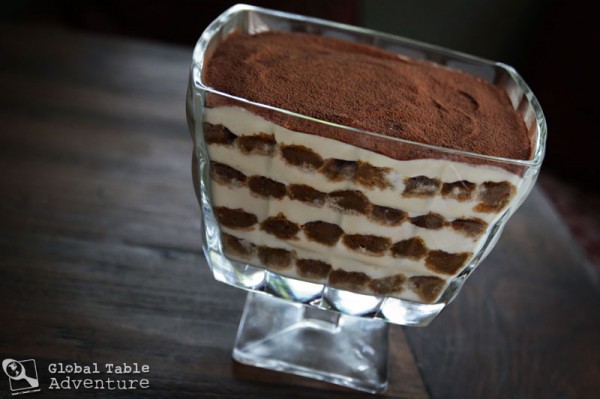 Makes one large trifle (Serves at least 8)
Your day was hard. Maybe you have a party coming up. Or you are out of ice cream. Perhaps your favorite DVD  got scratched. Or your 20 lb cat left a 1lb hairball on your favorite sweater.
I have the answer for everything: make tiramisu. Trust me. After a hard day, tiramisu is easy. It's the perfect dessert for fancy parties and casual parties. Plus, you won't ever crave ice cream again. Well… not while tiramisu is hanging out in your fridge. After one taste, you'll be so in love that you won't care about the DVD or  the sweater. It's just stuff, after all. Tiramisu, however, is glory on a spoon. Glory that you can scoop up at midnight, when no one is looking.
Plus I have a few little secrets that'll make it the prettiest tiramisu you've ever seen (or tasted).
NOTE: Please start this recipe the night before you need it. Also, you can make caster sugar (aka fine sugar) by putting some in a coffee grinder or blender and pulsing.
Recipe adapted from Loredana Moccia, who offers private Italian cooking lessons in here in Tulsa. Contact Loredana. 
Ingredients:
4 eggs, separated – the freshest you can find
1/3 cup caster sugar
3, 8 oz tubs marscapone cheese
40-60 lady fingers (Italian Savoiardi)
2 tsp dark cocoa powder
For the dipping liquid:
NOTE: Considering I like my tiramisu dry (not squishy and soggy), this makes a ton extra – feel free to cut it by half or more.
2 cups water
3 Tbsp instant espresso
3 tablespoon rum
Method:
Take a deep breath. Everything is going to be okay.
You are going to put love in your world by making tiramisu.
First, mix up the instant espresso with warm water and rum, preferably in a small bowl.
The espresso will jump start your heart. The rum will warm it.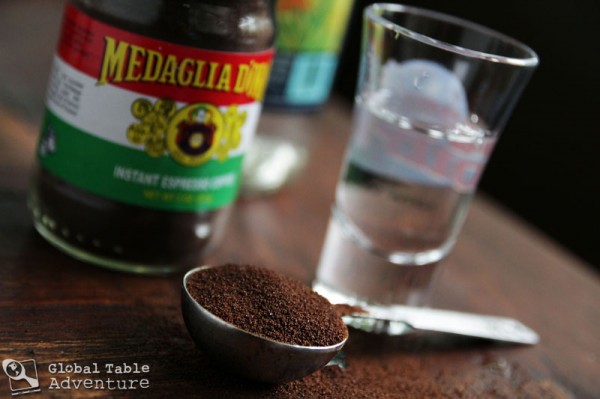 Next, divide the egg whites and yolks into 2 separate bowls (the larger being for the yolks). Whip up the egg whites with half the sugar, until it looks like a soft cloud.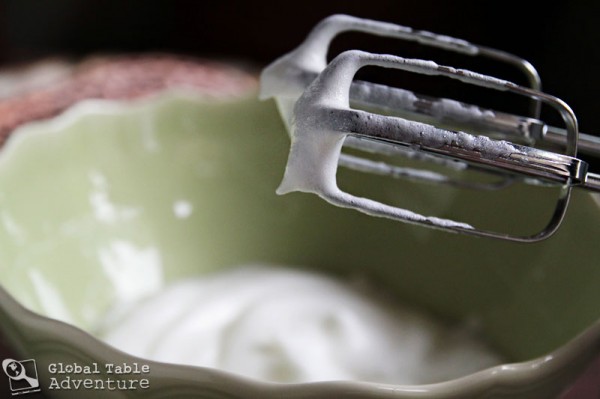 Then – without washing the beaters – mix the rest of the sugar with softened marscapone and egg yolks. Softening the marscapone on the counter makes it whip up smoother, so you don't get lumps. Lumps in tiramisu are about the only way you can mess it up. It'll still taste good, though.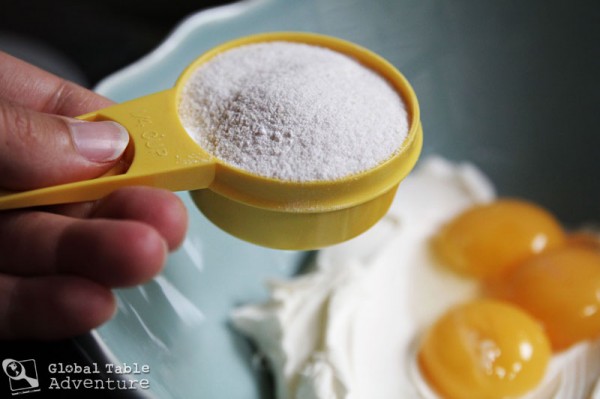 Next, fold the whipped egg whites into the marscapone mixture.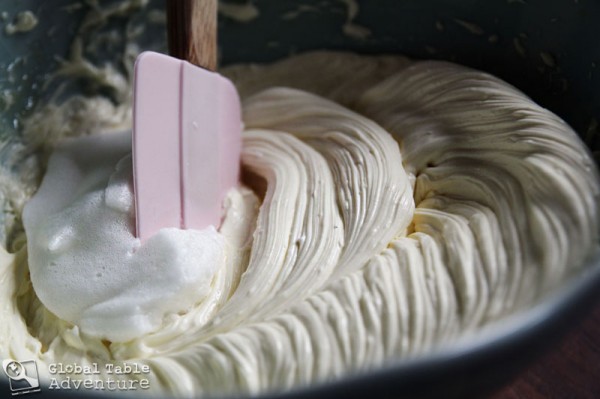 Once it's light and fluffy, get your trifle bowl out and begin layering the tiramisu. You're aiming to make a layered dessert as beautiful as the Colosseum. I believe in you. Your heart is good. Let's do this thing.
First put a layer of the whipped marscapone mixture into the bottom of your trifle bowl.
Then add a layer of lady fingers… each lady finger gets dipped into the coffee mixture before going onto the tiramisu.
Now, here's the thing. You don't want soggy tiramisu. If your tiramisu squishes and oozes coffee when you cut it, you dipped the cookies too much, for too long.
I recommend kissing each side of the cookie to the surface of the coffee – that way the lady fingers soak up just enough coffee flavor, without making the tiramisu soggy. So, go ahead, let your cookies kiss the coffee.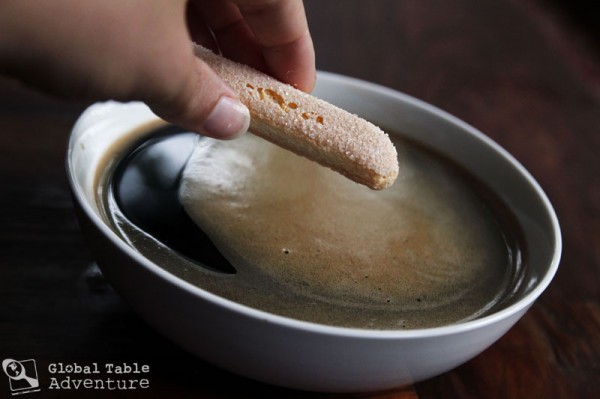 Now, here's another important lesson for you. If you layer the cookies like I do below, they'll taste good but they won't show up on the outside of the glass.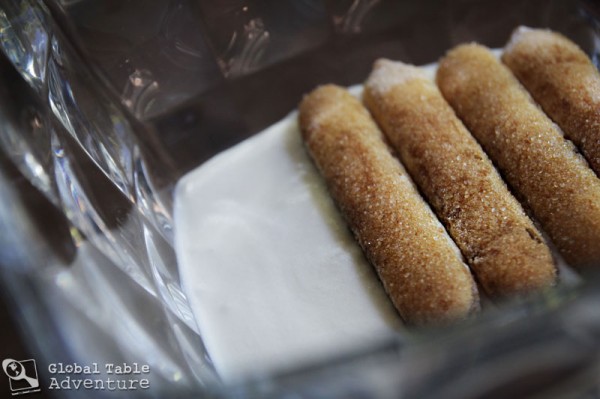 To make the outside look good, you'll need to break the lady fingers in half, dip the cut end into the coffee mixture and press it against the glass, making a seal, so the custard doesn't leak over it.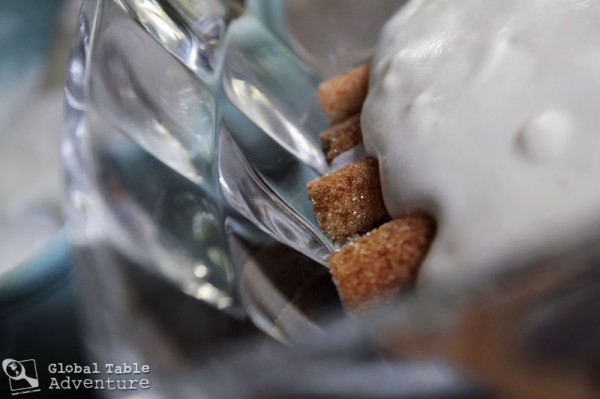 Keep alternating between a cookie layer and a marscapone layer, until the trifle bowl is filled. Finish with the marscapone mixture and a dusting of unsweetened cocoa powder. Refrigerate overnight to let the flavors develop.
You'll end up with the prettiest tiramisu trifle. (Especially after you dust the top heavily with unsweetened cocoa powder).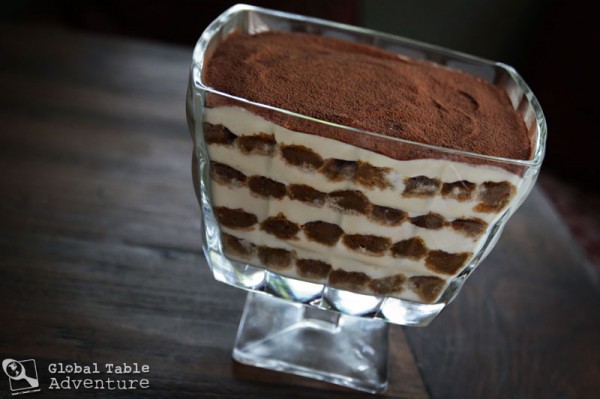 It's your own personal Colosseum.
Your own personal love trifle.
It's your instant happy in a bowl.
Share with friends, family, and not yet friends.
And, always, eat with a smile.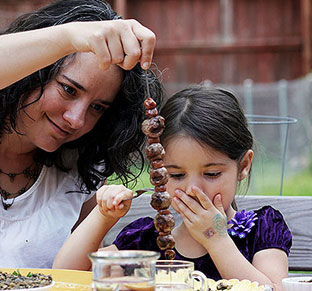 Hungry for more?
Be notified when National Geographic releases my memoir.
Simply fill in your details below.