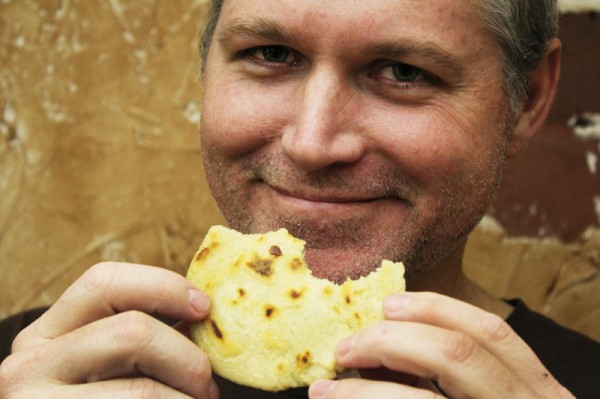 Makes 6-10 pupusa
Take a big bite of El Salvador with cheesy pupusas. Many locals eat pupusa several times a week – some are filled with beans, others meat. But, no matter how you fill it, there's an art to shaping the mighty papusa. Here's Martha Stewart's demonstration:
Here are four things I wish I knew when I got started:
Make your dough fairly moist. Play with the consistency. You don't want a lot of cracking on the edges. The one Keith is holding is perfect. My others (pictured in the recipe) were a little dry and as a result, not so great.
Rub vegetable oil on the pupusa before you put it on the griddle. This will keep it from – ahem – drying out. It will also give it a pretty, golden color. The one Keith is holding is nice and golden. The others are pale because I forgot this step.
Make the pupusa thinner for a cheesier effect.
Use salt. It really pulls the flavors together.
By making sure I did these 4 things I went from mediocre pupusa to one of the most enjoyable dishes I've had on this Adventure.
Ingredients:
2 cups masa harina (maseca)
1 3/4 cups water (0r as needed)
1 tsp salt, 0r to taste
4-6 oz shredded queso quesadilla
Method:
There's a very scientific approach to pupusa-making.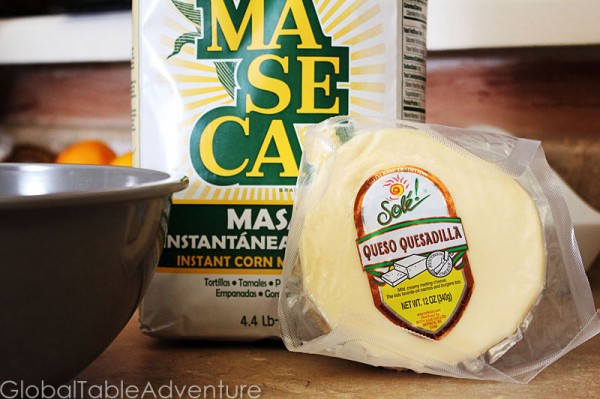 First, add water and salt to the maseca. You need enough to get it to clump together into a moist ball.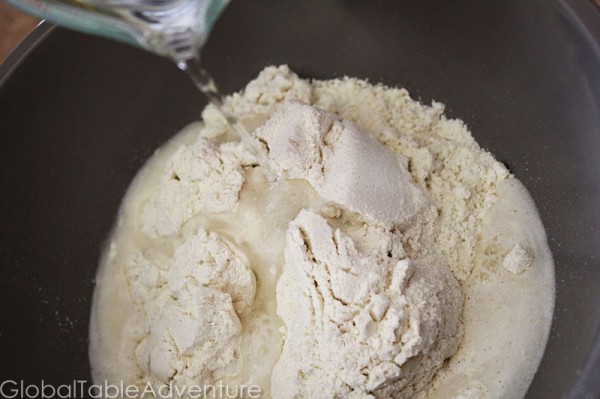 You want the dough to squish easily between your fingers when you squeeze it.
See? Very scientific.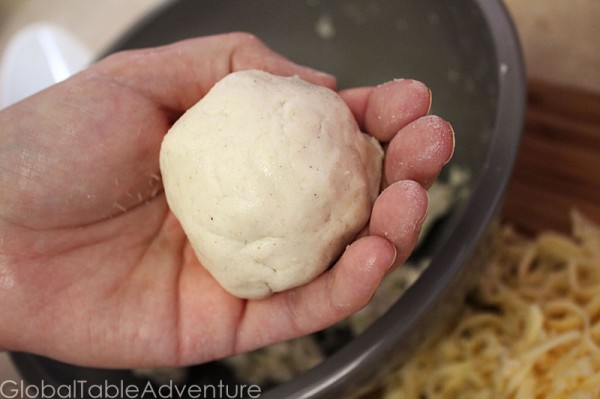 Next, flatten the ball into a patty. Dip your hands in water to keep it from sticking to you.
Add a pinch of shredded cheese. And, by pinch I mean as much as you can squeeze onto your patty. I think for this amount of dough I should have doubled the cheese. Or used less dough.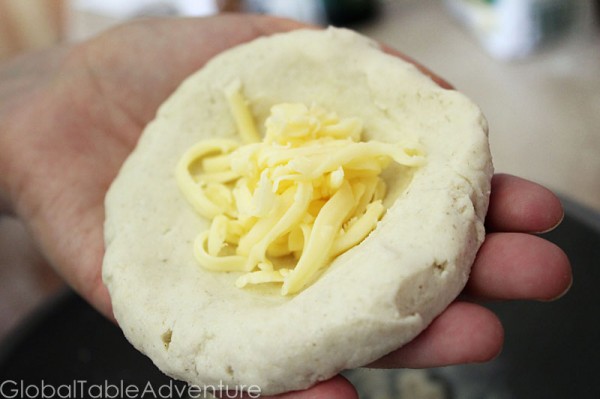 Fold the dough up around the cheese and seal it back up. By doing so you will form another ball, hiding the cheese inside.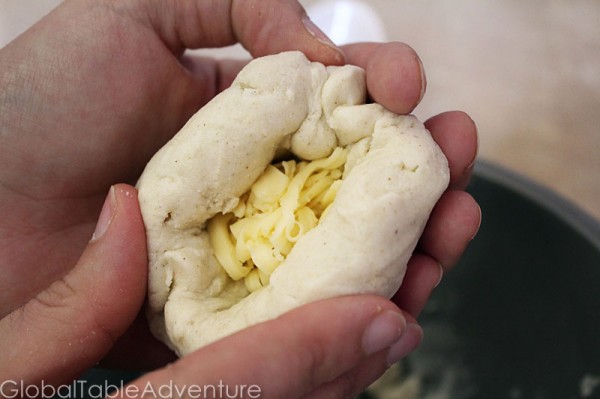 Flatten this ball out into a patty by repeatedly patting with your flattened hand.  Rub with some vegetable oil and …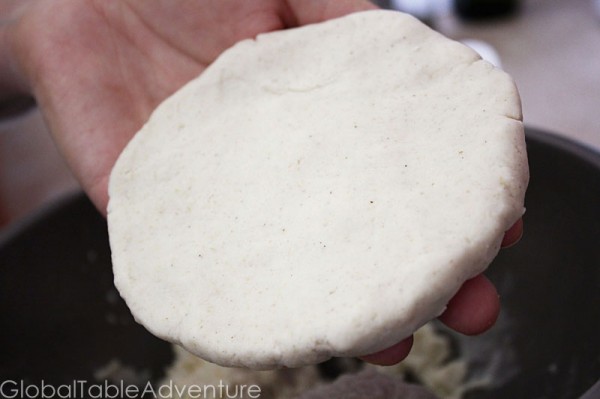 Place on a lightly greased medium-hot griddle.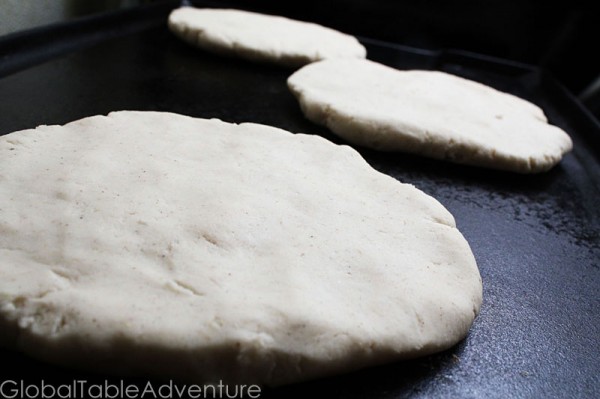 Cook each side until sun spots appear, the cheese is bubbling, and the dough is cooked through. Sun spots are the scientific name for the golden brown and black spots on the surface of the pupusa. Or so I hear.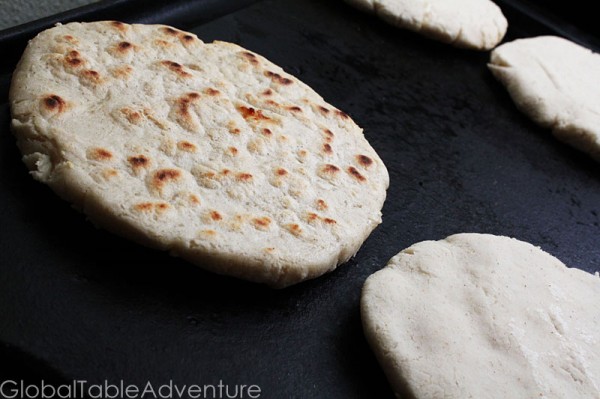 Serve immediately with curtido and salsa (a simple tomato puree will do).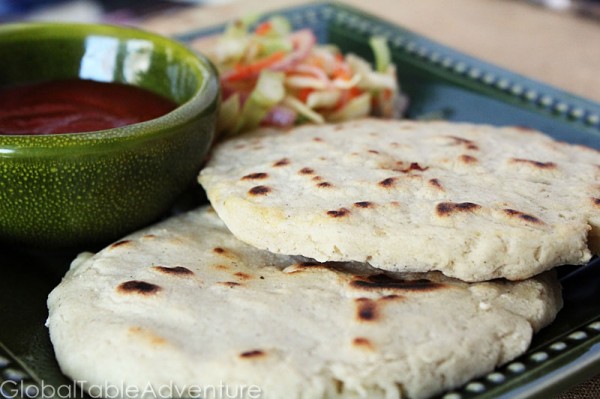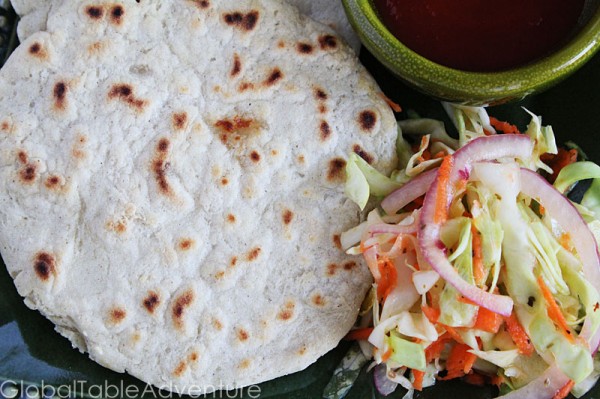 To best enjoy pupusa: pick the dough apart with your fingers, until you see the cheese strands ooze around. Munch to your heart's contentment.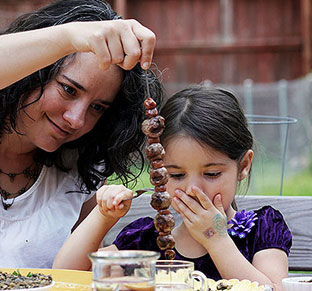 Hungry for more?
Be notified when National Geographic releases my memoir.
Simply fill in your details below.