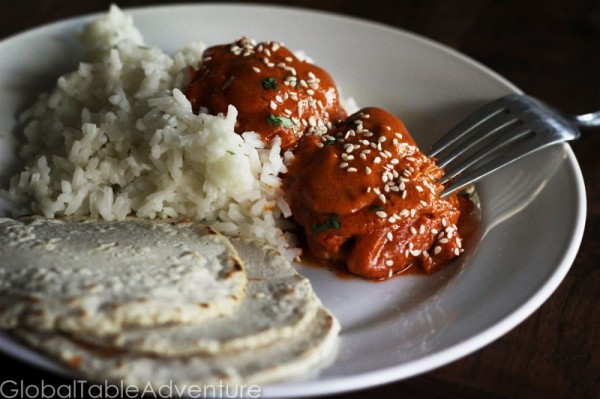 Makes 3 cups
Is your blender lonely? Do you want to blast away from boredom? Try pepian, a thick mole-like sauce from Central America and beloved in Guatemala. With a quick whizz-whirr in the blender, this vegan sauce (a.k.a. recado) blends the smoky flavor of roasted, toasted seeds and other goodness with a half stick of cinnamon and dried chili peppers. If that sounds like a lot of different ingredients, don't worry, pepian is so balanced that even the pickiest eaters in your house won't realize what they're eating. The smooth, complex flavor makes me happy – especially when I'm in a cooking rut.
Serve over vegetables or stew with chicken.
Our recipe is adapted from our friends over at Uncornered Market (where you can watch a great video of Pepian preparation in Guatemala). They used guaque and pasa chilis; we could not obtain these so we substituted the closest we could find. The result was a completely mild pepian. Enjoy!
Ingredients:
2 ounces sesame seeds, toasted
2 ounces pumpkin seeds, toasted
5 large roma tomatoes, roasted
4 large tomatillos, peeled & roasted
1 dried guajillo chili, seeds removed & toasted
1 dried pasilla chili, seeds removed & toasted
10 peppercorns
1/2 stick cinnamon
1-2 cups water (or stock), as needed
1 pan frances or 2 hot dog buns
Method:
Greetings! Today we're flying our magic carpet over to Guatemala where we'll slurp up a healthy burst of local flavor. Just look at the goodness…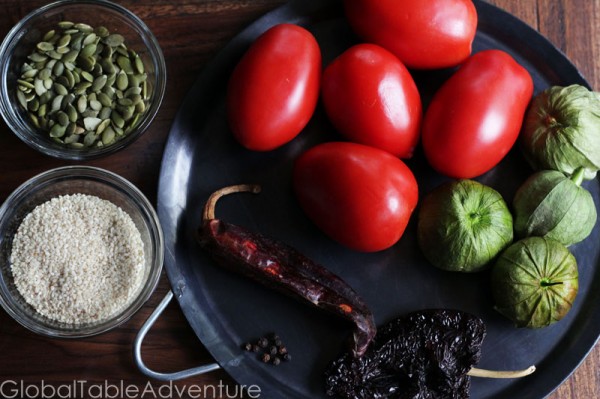 I like this recipe because you to burn stuff on purpose. You see, the key to Pepian is getting all the veggies blackened. While these ingredients are tasty on their own, they are even better toasted – and all that char makes for a more complex sauce.
Let's get to work – first, roast everything in a happy, ungreased comal (you could also use a dry skillet) over medium-high heat. Start with the tomatoes, tomatillos, dried peppers and peppercorns. Set them aside once they are blackened.
Next, reduce the heat to medium-low and toast the pumpkin and sesame seeds. Keep everything moving so they don't burn. My mouth waters when I see toasted, charred food. It's like flavor on adrenaline.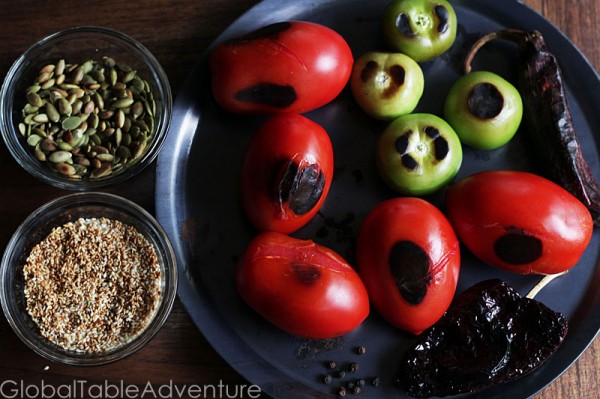 Now for the fun. Grab your blender and grind up the toasted, cooled seeds in the blender.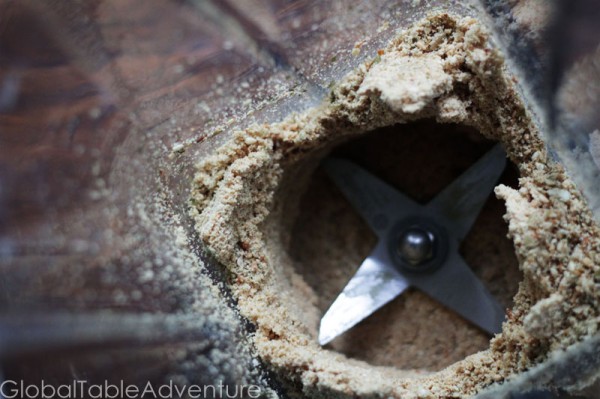 Once you get a nice, fine grind, pile on the rest of the ingredients… don't forget the peppercorns, cinnamon stick and water (or stock). If you're blender is a bit on the weak side, you might want to chop things up a bit first to help it along.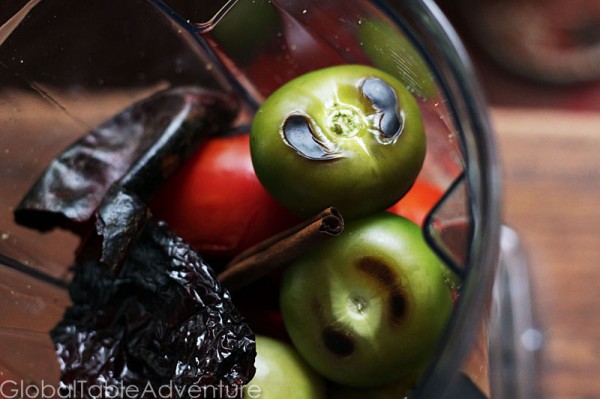 Once the sauce is fairly smooth, add in the bread and process again.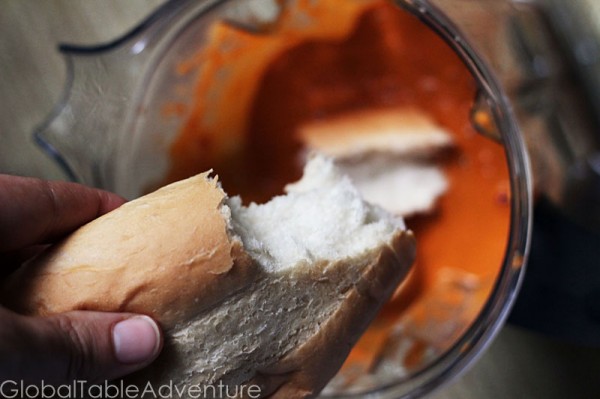 Add more liquid if necessary – you'll want to end up with a smooth sauce that…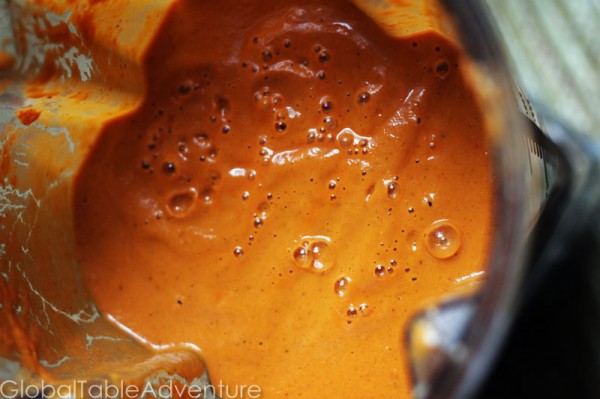 … has body, yet still slowly drips off the spoon. Season with plenty of salt.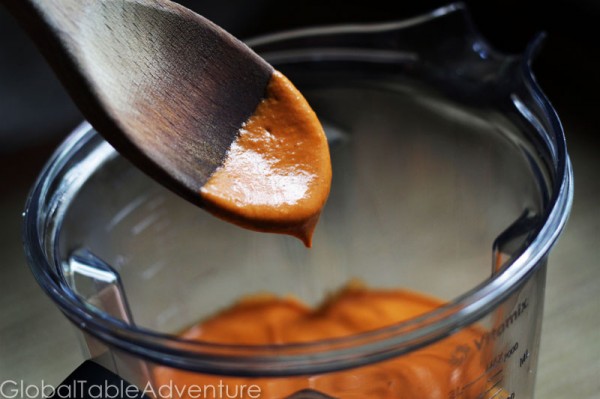 To complete the meal:
Brown boneless chicken thighs or veggies in vegetable oil over medium high heat (in batches, as necessary).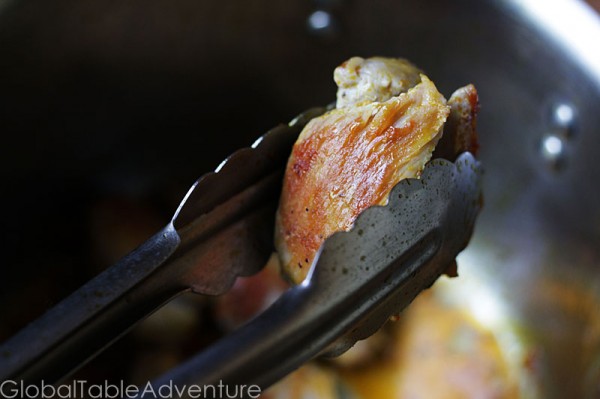 Cover with pepian sauce and simmer gently for about thirty minutes.
Serve hot with rice and homemade corn tortillas.
Take a second to sprinkle the finished dish with sesame seeds – it's like mascara for tired eyes.
Or sunbeams on a cloudy day.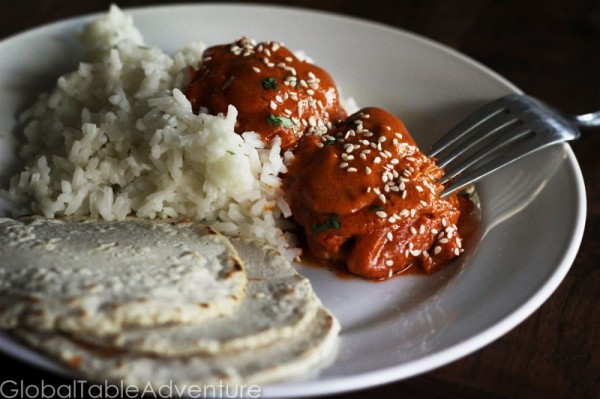 Serve with a big cup of laughter – loud and booming.
And a little Guatemalan bell-shaking.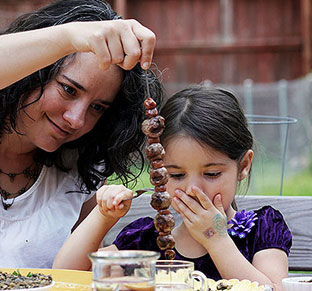 Hungry for more?
Be notified when National Geographic releases my memoir.
Simply fill in your details below.