Hi Friends!
This week we're taking a break from our A-Z cooking Adventures for the week.
I'm not sure what to make of that. I feel sort of exposed.
Vulnerable.
Like I'm in one of those dreams in which I am not dressed appropriately for the situation. Like… at all.
At this point, 2 years into the Adventure, I feel like I should constantly be cooking something crazy wonderful for you to enjoy – for us to enjoy! But, here's the thing… we have several important matters to attend to this week and I want to give each matter it's proper due.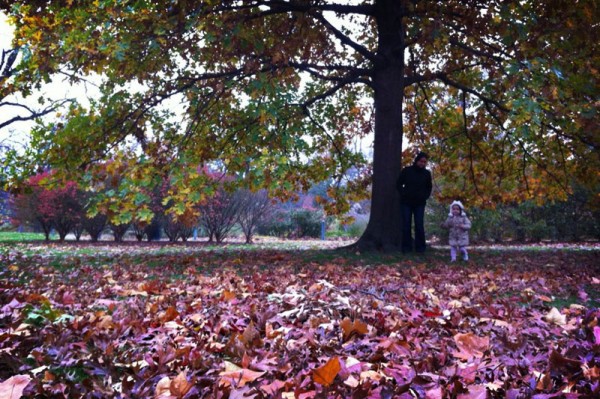 This is the big one! We're coming up on our halfway mark! We're rounding the corner to the downhill treck! It's amazing and you're amazing for being a part of this journey. I so appreciate you and your support.
We have a super-cute winning gingerbread house from Tulsa to celebrate (don't worry, you can still enter for the big prizes!). I can't say too much, but you are going to love, love, love it.
Holiday shopping. What would this week be without a little Black Friday, Global Table Edition? I'm putting together a list of my favorite global gifts for this holiday season.
Turns out many readers are curious what I'll be making for Thanksgiving and if any of those items are from Global Table Adventure. My answer is yes, yes, yes…
Today we're going to work on that last item. Tune in all week for the rest of the list!
OUR GLOBAL THANKSGIVING
1. Crazy potato goodness.
For the second year in a row I'll be making the Argentinian wonder "Mashed Potato and Corn Casserole", a.k.a Pastel de papa con eliote. This casserole of creamy mashed potatoes topped with a sweet corn puree was a huge hit last year.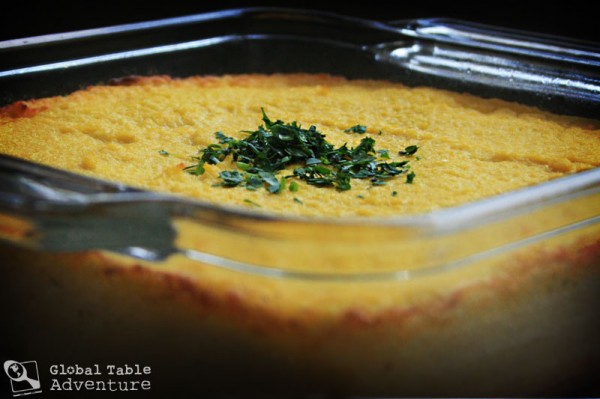 Preparation was extra easy because I assembled it the day before Thanksgiving, adding a little extra milk to keep it moist. I refrigerated the casserole overnight and just popped it in the oven to bake until browned (step 4) with extra butter on top. It worked out great!
2. Tricky Turkey Time
I'm venturing into the world of the unknown.
I'm taking a popular technique for making Kuwaiti machboos and applying it to my Turkey. That is to say, I'll be simmering my completely thawed 12 lb turkey in a large stock pot with loads of spices, salt, and herbs until done. This will flavor, brine, and cook the turkey, all while making a light stock for the gravy and the stuffing (and whatever else I need). Then I'll move the drained, dripped-dry Turkey to a roasting pan, rub it all over with olive oil and herbs, then brown it.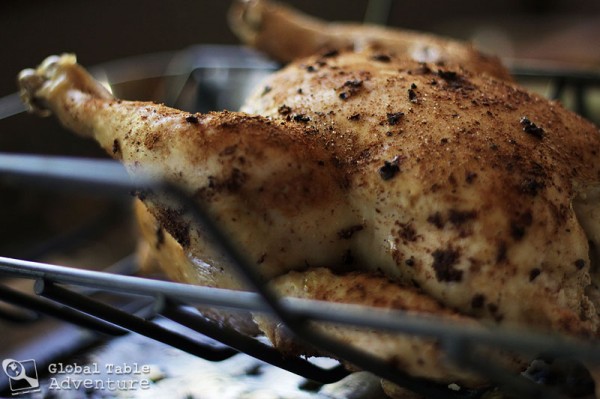 I'll be honest, I'm a little scared.
One of two things will happen. The Turkey will fall apart when I try to remove it from the pot, in which case we'll all have Turkey soup. OR I'll have the best darn Turkey in the world, thanks to Kuwait. Fingers are crossed for the latter.
3. The silly simple Baltic Cranberry Sauce
I'm making this super easy cranberry sauce today (!) and then placing the sweet-tart goodness in a sealed container and refrigerating until game day. The flavors will mingle and get happy all week long. I'm planning to go extra crazy and add a cinnamon stick to give the sauce a bit of earthy flavor as well. Even with this extra step, the recipe will be done in less than 15 minutes, start to finish. Awesome-sauce!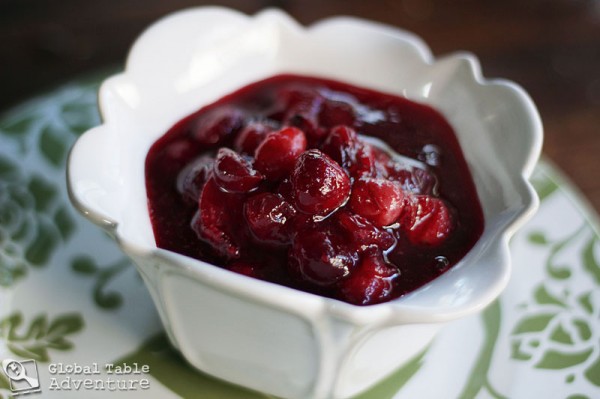 4. Italian Sweet for my Sweets.
Ever since I made Tiramisu for our Italian Global Table I've wanted an excuse to make it again. While it certainly isn't traditional Thanksgiving fare, it won out for two reasons – 1) I can assemble the trifle the day before, refrigerate and be done with it (it's so, so much better the next day). 2) It easily serves a happy, hungry crowd and is a great potluck-style dessert.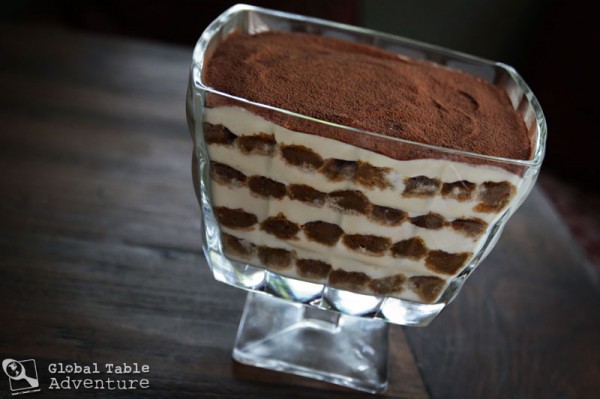 Oh yes, and it is the prettiest trifle I ever did see!
5. Pumpkin
For those of you looking for the pumpkin, have no fear. My mother-in-law is bringing the pie. If she weren't, however, I'd totally make this Cuban pumpkin flan. It is pumpkiny, creamy and with a light caramel sauce, I believe you'll find it's absolutely the bees knees.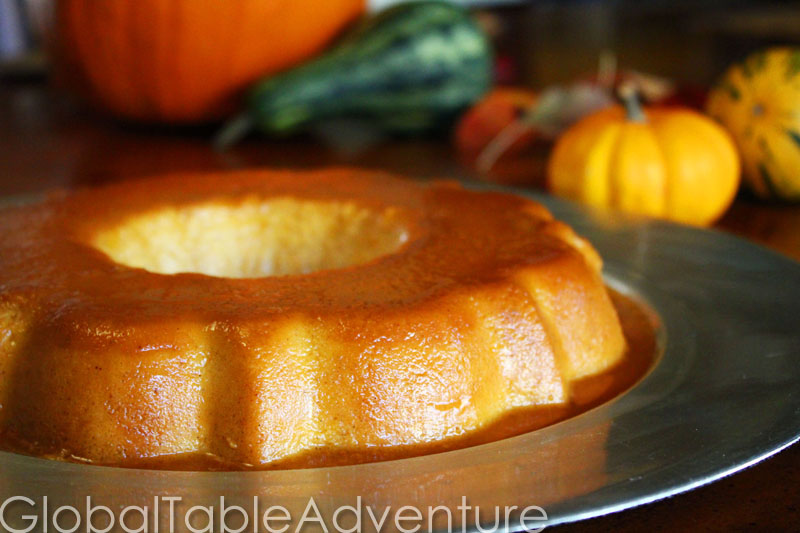 So those are my top recommendations for a Global Thanksgiving. Other fun ideas include wild rice from Canada, Red Red from Ghana, ratatouille from France, Congolese mushrooms with fresh lemon juice, Apple Empanadas from Ecuador, Whole Apples Simmered in Spiced Syrup and Red Wine Potatoes from Cyprus.