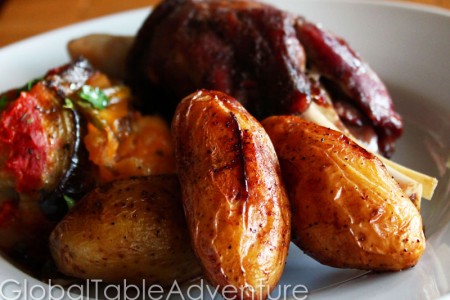 While Afelia commonly refers to a pork dish, the term can also refer to any number of ingredients stewed/roasted in red wine and sprinkled with coriander seeds. Yum!
In Cyprus, the most popular variants include mushrooms, potatoes, and artichoke hearts (all of which are vegan).
Most recipes add a sprinkling of coriander seeds at the end of cooking (ground or cracked is best).
Serves 4
Slowly roasted in olive oil and red wine, these potatoes are so rich you won't need butter. A typical recipe from Cyprus and Greece.
Ingredients:
2 pounds fingerling potatoes (or any small potato)
1/2 cup red wine
1/2 cup olive oil
salt
pepper
ground coriander seeds, to taste
Method:
Put on some music from Cyprus. Then, preheat the oven to 375F
Meanwhile, rinse and slit the potatoes (about 4 slits per potato – this allows the wine and oil to seep in and flavor them)
Douse with olive oil. Don't be shy. Some recipes I saw from Cyprus and Greece actually cover these with oil. Wow.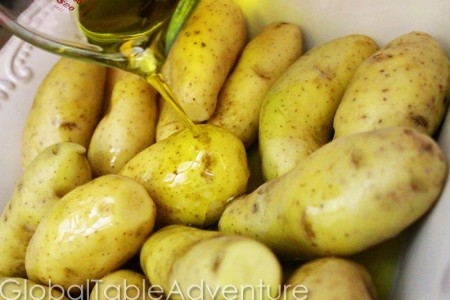 Splash on the red wine – choose a yummy one and treat yourself to a glass while you're at it.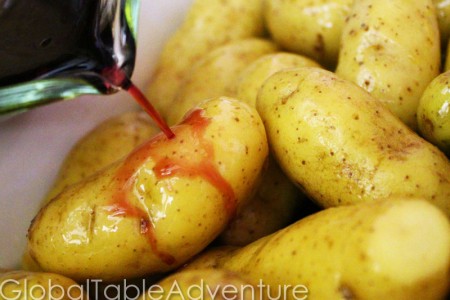 Sprinkle on salt & pepper – be generous!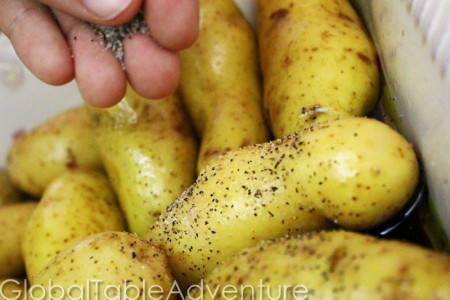 Roast for 1-1.5 hours, or until soft inside and a bit crusty on the outside. (Turn once or twice during roasting).
When serving, be sure to scrape up any crusty bits and toss with potatoes. Then, sprinkle on some coriander seeds and enjoy with Roast Lamb Shanks and good friends.
Plan time for a nap. You'll need a long one after eating these potatoes!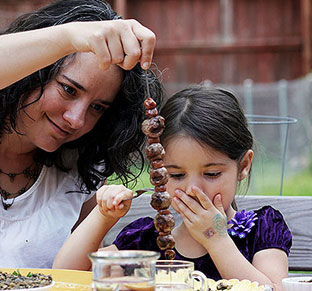 Hungry for more?
Be notified when National Geographic releases my memoir.
Simply fill in your details below.