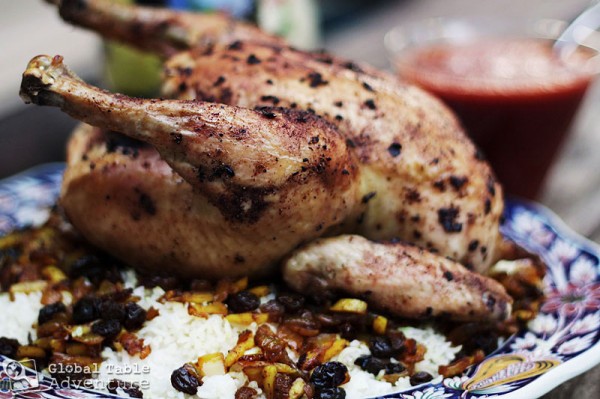 Certain times call for celebration. Babies. Birthdays. Finding the love of your life. Daydreaming about the love of your life. When a light turns green at the exact right moment, before you have to apply the brakes. For those times, I present Machboos.
Take a dive off the deep end with this beloved Kuwaiti dish that boasts warm hits of cinnamon, turmeric, saffron mingled with sweet caramelized onions and raisins. We made ours with chicken, but you can also make it with fish or lamb. If you get a big enough chicken it can feed a happy collection of people (about 4-6).
For our version the traditional preparation involves simmering the chicken in fragrant water (which is then used to make the rice). Next, we rub the chicken with more seasoning and pop it in the oven to brown. All kinds of flavor goodness.
It took me to happy town, and it can take you there, too.
Ingredients:
To simmer the chicken:
1 whole chicken
2 bay leaves
1 cinnamon stick
3 cloves
3 cardamom pods
salt
Onion Topping:
1 large onion, chopped
vegetable oil
1/4 tsp ground cardamom
1/4 tsp ground cinnamon
1/4 tsp ground pepper
1/4 tsp ground turmeric
1/4 cup raisins
1/4 cup slivered almonds
For the rice:
2 cups basmati Rice
vegetable oil
2 3/4 cup hot chicken stock (from the chicken's cooking broth)
salt
1/2 tsp saffron, soaked in 1/4 cup hot water
Spice blend for roasting the chicken:
vegetable oil
1 tsp black lime powder (optional, but delicious – available at Middle Eastern markets)
1/2 tsp cardamom
1/2 tsp cinnamon
1/2 tsp salt
1/2 tsp pepper
Serve with Duqqus, Kuwaiti tomato sauce (recipe will be up this weekend)
Method:
It's going to be a happy day, if you're making Machboos. It is therefore appropriate to turn on some happy music from Kuwait.
Step 1:
Add chicken with bay leaves, cinnamon stick, cloves, and cardamom pods to a large pot. Cover with water and bring to a simmer. Cover and maintain a simmer for 30 minutes.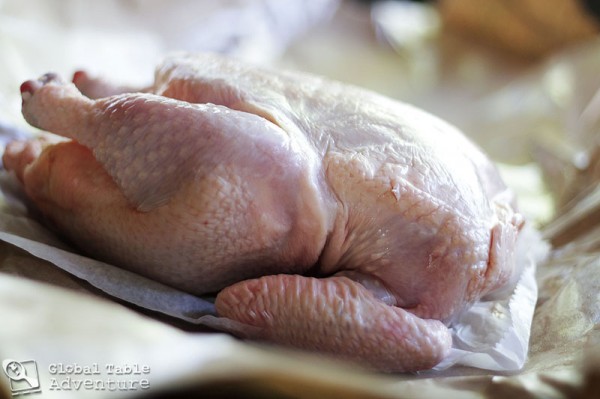 Be sure to crack open the cardamom pods for maximum flavor. And if you add a nice heaping of salt, it'll naturally brine the chicken. Mmm, moist and fragrant chicken. I do believe we're on the right track.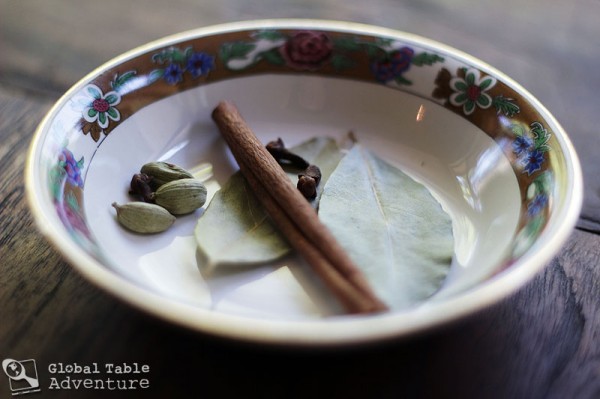 Step 2:
This one's easy. Soak saffron and raisins in hot water. Step 2, done!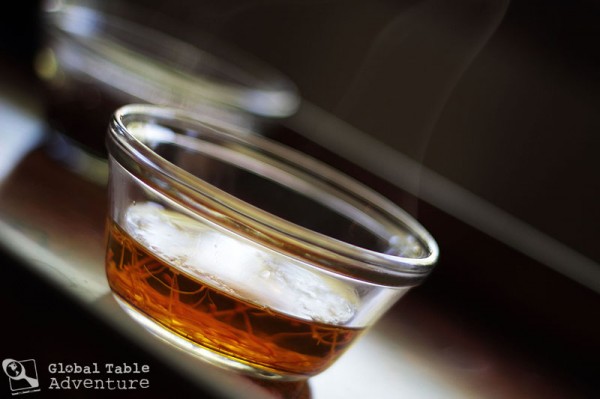 Step 3:
Fry the chopped onions in a large skillet with vegetable oil over medium heat. Once browned, add glorious spice mountains.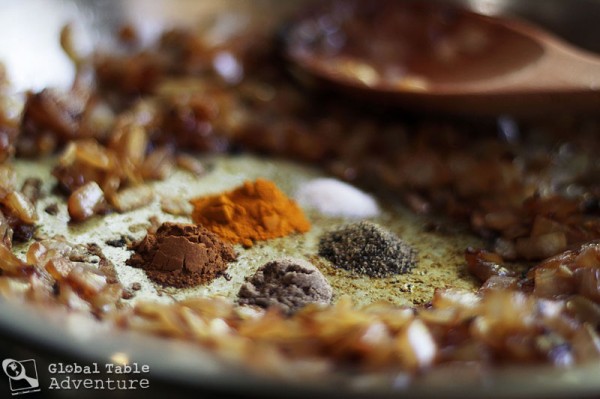 Toss with drained raisins and slivered almonds. Set aside. Use golden raisins if you have them – it's more authentic.
Oh goodness. I could just eat this topping straight up. But I won't.. I'm trying to get to happy town.
Preheat the oven to 400F.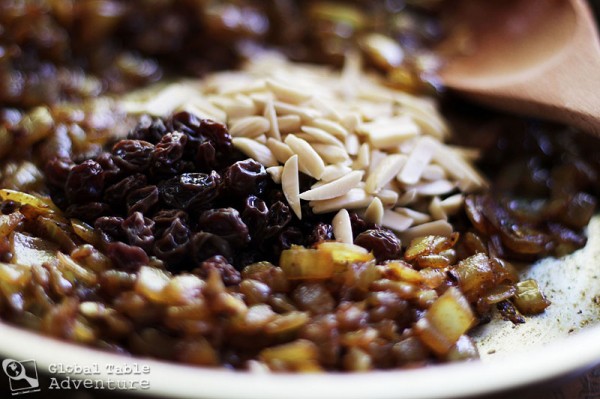 Step 4: 
Rinse rice in cool water until the water runs clear, about five times. Then soak 30 minutes.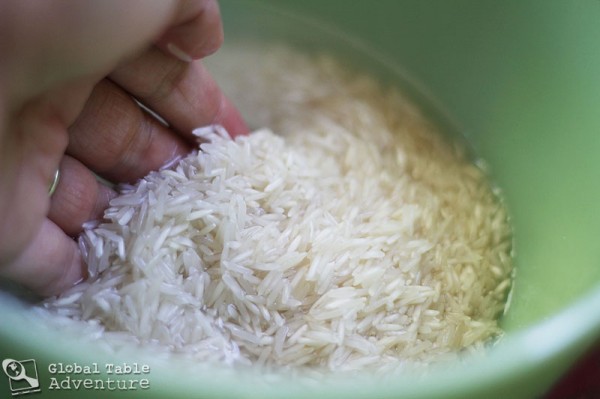 Step 5:
Meanwhile, mix together the cardamom, salt, cinnamon, pepper, and black lime powder (optional). Black lime powder adds a tart, salty flavor which goes wonderfully with chicken.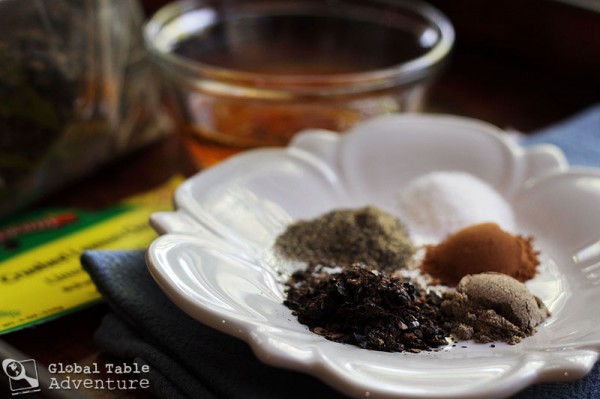 Rub the chicken with vegetable oil and the spice blend. If you have extra spices, feel free to throw some in the cavity of the chicken. Roast for 30 minutes, or until skin is nicely browned.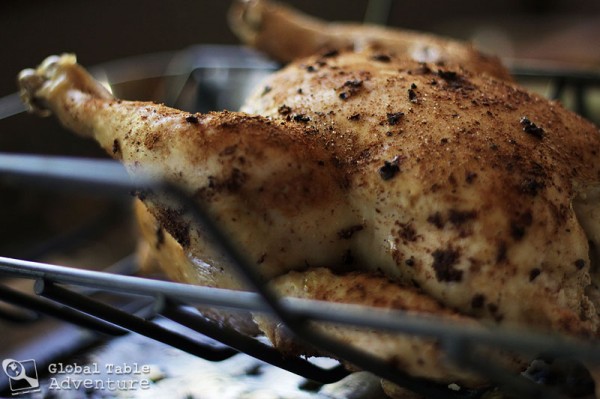 Step 6:
While the chicken is roasting, gather a medium pot. Add drained rice and hot chicken stock (2 3/4 cups). Boil covered until most of the liquid is absorbed (keep an eye on it -should just take a few minutes. Sprinkle on the saffron water and reduce heat as low as it can go. Cover and cook 30 more minutes.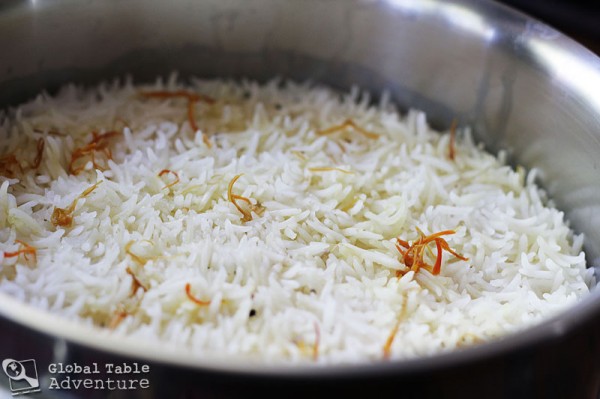 TO ASSEMBLE THE MACHBOOS, A.K.A. Arriving in happy town.
Layer rice, onion topping and then chicken (note: this is only about half the rice – my platter wasn't big enough to hold all the ricey goodness)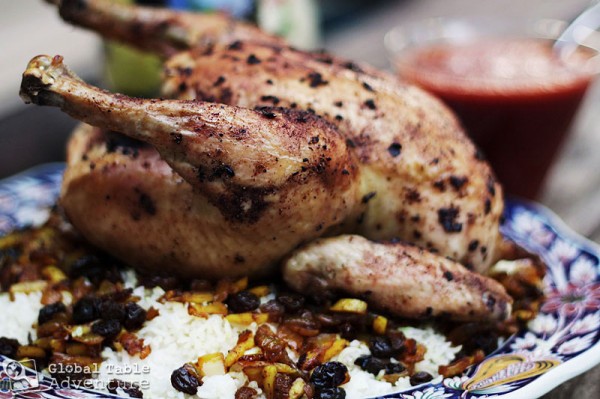 Serve with Kuwaiti tomato sauce, duqqus, on the side and the most delicous smile you can muster.
Share with old friends, new friends, and not yet friends.
Enjoy every little celebration.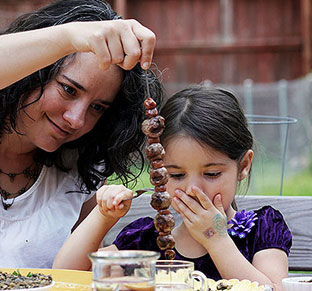 Hungry for more?
Be notified when National Geographic releases my memoir.
Simply fill in your details below.