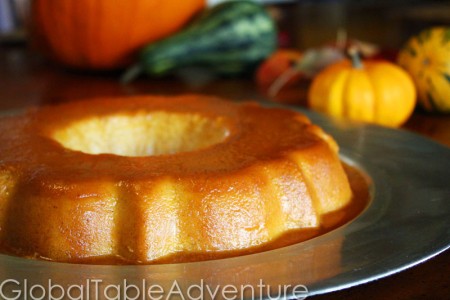 Makes one 10″ bundt pan

Cubans love flan in any shape, size, or flavor. This week we're cooking a pumpkin flan in honor of American Thanksgiving. This is the creamiest, sweetest, most luxurious pumpkin dessert ever.
There are several tips for making excellent flan
use high quality ingredients
strain the flan mixture to get rid of all the little eggy bits and other yuckies that get in the way of perfect smoothness
cool completely to allow the flan to set up firmly (it helps to make it the day before you need it)
cook in a water bath
follow important, high tech jiggle procedure to loosen the flan from the pan (see detailed instructions in recipe below).
have a tall lipped plate to catch all your caramel. Don't ask me how I know this.
if you're taking the flan to a pot luck, wait to unmold it there. That way there's less of a chance of damaging the beautiful form.
Ingredients:
For the caramel
1 cup sugar
1/4 cup water
cream of tartar, pinch
For the flan
1 1/2 cups heavy cream
1 cup whole milk
5 eggs
2 yolks
1 cup sugar
1 15 oz can pumpkin puree
1/2 vanilla bean, scraped (or 1 tsp vanilla extract)
1/2 tsp cinnamon
1 pinch allspice
Method:
For the caramel:
Add one cup sugar to a small saucepan over medium-low heat.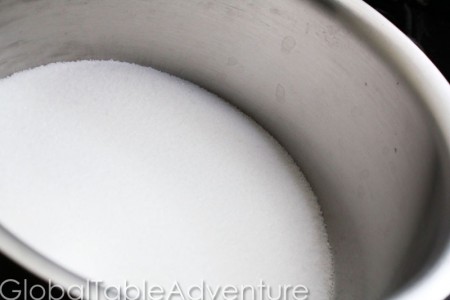 Splash in a quarter cup of water and …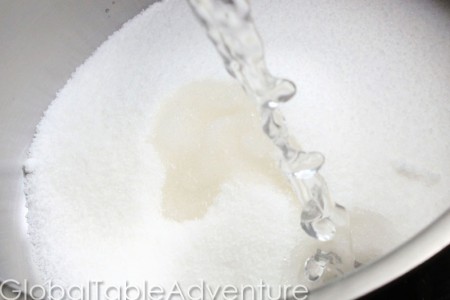 A pinch of Cream of Tartar. Cream of tarter will prevent crystallization which is when you get giant snowflakes in your water, instead of caramel. Don't ask me how I know this. Let's just say there's nothing like making caramel three times to learn the hard way.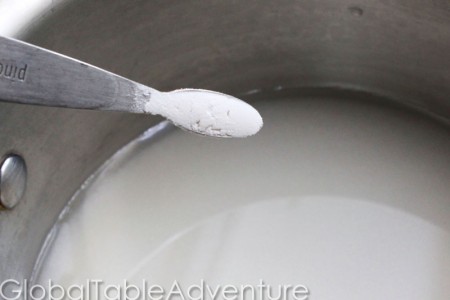 Cook until light golden brown.
Meanwhile…
For the flan:
Preheat the oven to 350F. Put a large lasagna pan in there, half full of water (for a water bath to keep the heat gentle on the flan)
In a small saucepan over medium heat, cook some milk…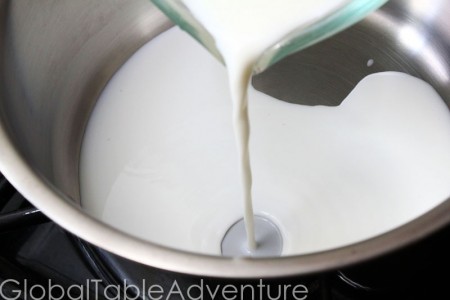 … and a "little" cream…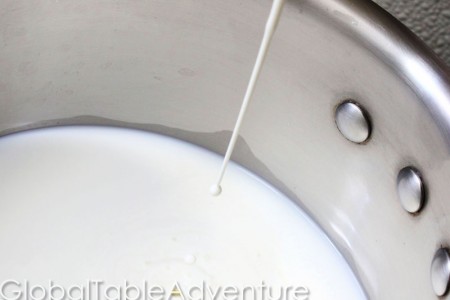 … with the scrapings of a vanilla bean. Vanilla beans hide the teeniest tiniest black pearls inside. If you've never used vanilla beans, now is the time. Simply cut it in half lengthwise, and then use the back of a knife to scrape the seeds into the milk mixture. The flavor is unreal. Of course, a splash of vanilla extract is okay too.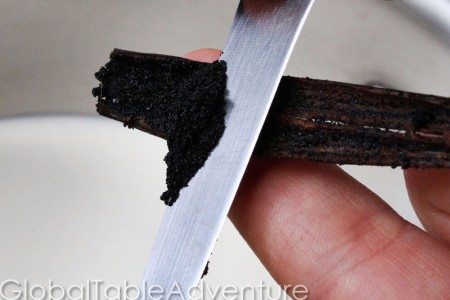 However, if you do use a vanilla bean your life will immediately improve and you'll have seven years good luck. Throw in the bean pod too (or you can stick it in a jar of sugar to make vanilla sugar). That's all good flavor which your family will adore.
Ok. Getting off my vanilla bean soap box now.
Heat everything over medium until the milk is scalded, or just nearly boils. Then, remove from heat and cool to room temperature.
Meanwhile, crack 5 eggs into a large bowl as well as two egg yolks. The two egg yolks take this dessert over the edge in creaminess. Trust me on this. You'll faint when you eat it. I did.
NOTE: Please ignore the freakishly large egg yolk in this picture. I'm not sure what that's about. I promise yours will taste great, even if you don't have random, freakishly large egg yolks.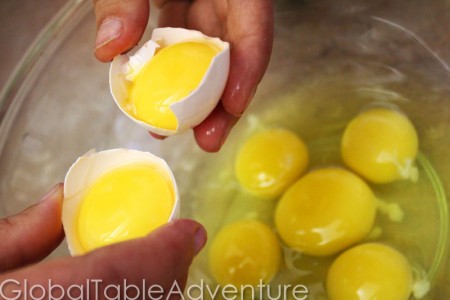 Every good dessert should have a landslide of sugar.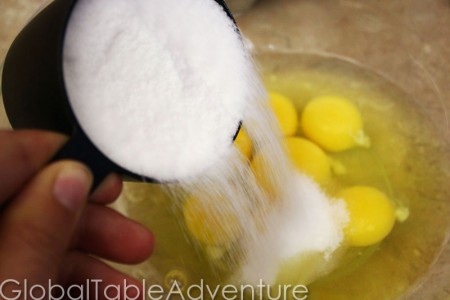 Add in your pumpkin puree. Don't be shy – use the whole can! I used plain ol' pumpkin puree, because I wanted to sweeten and season it myself. I get pleasure out of the simple things. Plus I'm a little bit controlling. Shh. Don't tell.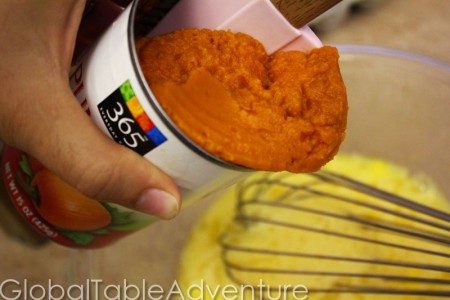 For this version, I used a little cinnamon and a dash of all spice. Get creative and try a hit of nutmeg if you dare!
As you can see, I also poured in the cooled cream mixture, but forgot the action shot – yikes.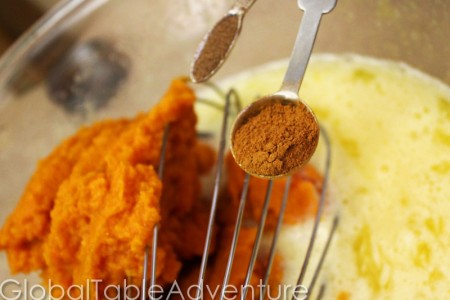 Whisk everything together until smooth and well combined.
Now, here's the exciting part. Pour the caramel into your bundt pan while still hot. By the way, your caramel should not be as dark as mine. I let it go too long. Pull it off the heat when light golden brown – perhaps half as dark as my mixture.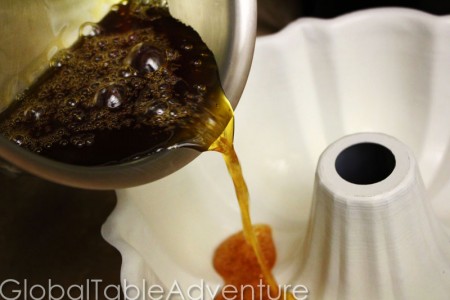 Swirl it around in the pan to coat the sides. Be careful, the pan gets hot! You might need pot holders.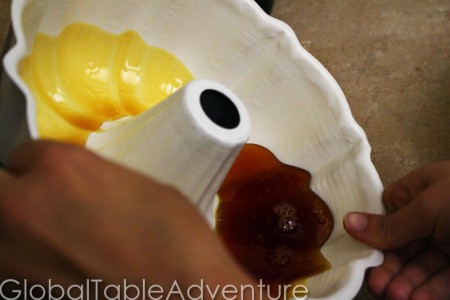 I only went partway up the sides because the flan doesn't fill the entire bundt pan.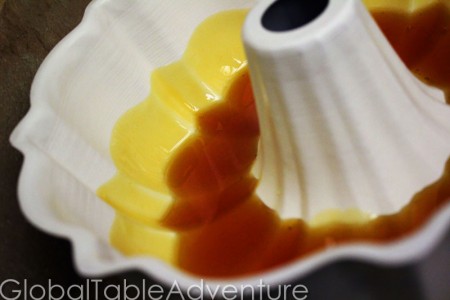 Strain your gorgeous flan mixture into the pan (or, if you find it easier, strain into a bowl first). I just hate making more dishes that I have to.
This part takes some patience and the back of a wooden spoon – especially if you have a fine strainer like I do (which is totally over the top for this recipe, but it is all I have). Just keep telling yourself about the luxurious dessert you will be eating soon! Toss all the yuckies left in your strainer down the sink. Feel no guilt.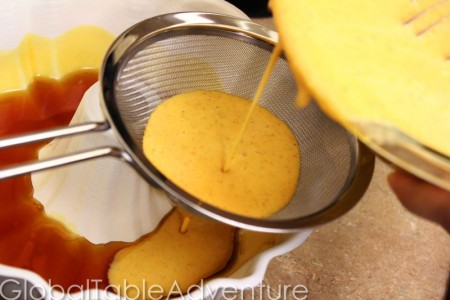 After straining, here's the filled bundt pan of flan. Can you smell the pumpkin and spices? Perfection!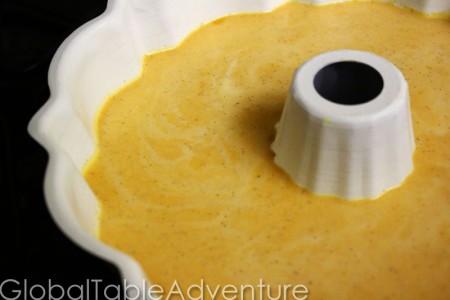 Bake in water bath for one hour and ten minutes, or until an inserted knife comes out clean. Stunning.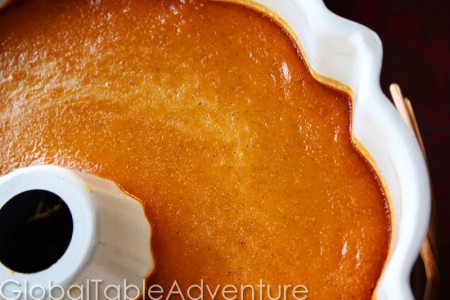 Let cool and refrigerate about six hours (or overnight). To unmold, run a knife along the top of all edges to break the "seal." Then – this is very scientific – jiggle the bundt pan from side to side, until the flan begins to wiggle free. Some caramel should ooze up and out when you tip it to the side a little.
You might dip the pan into some hot water for a few seconds to help loosen the caramel at the bottom.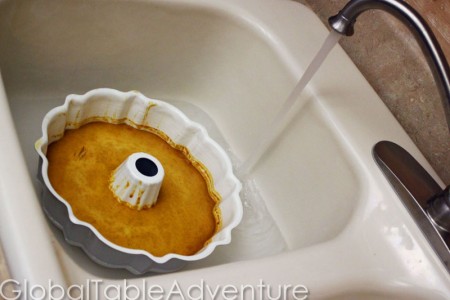 Now, for the big finale…
Carefully invert the flan onto a large platter with lip (so the caramel won't overflow).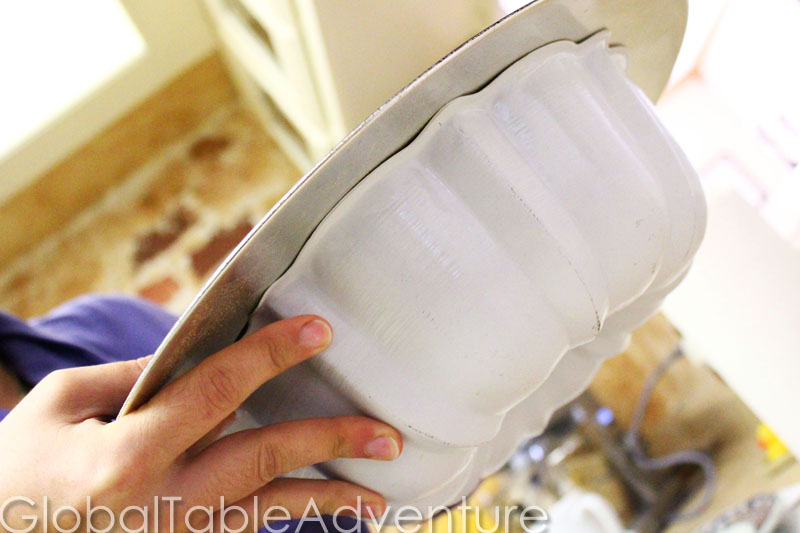 You can do this!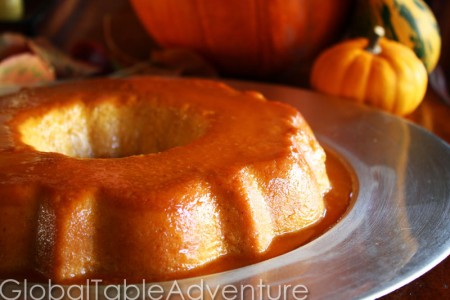 Slice and serve to your mother in law and she'll love you forever and ever.
Especially if you serve her a slice first. And that's a promise.
(serve cool, but not ice cold)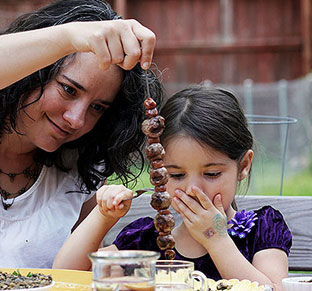 Hungry for more?
Be notified when National Geographic releases my memoir.
Simply fill in your details below.