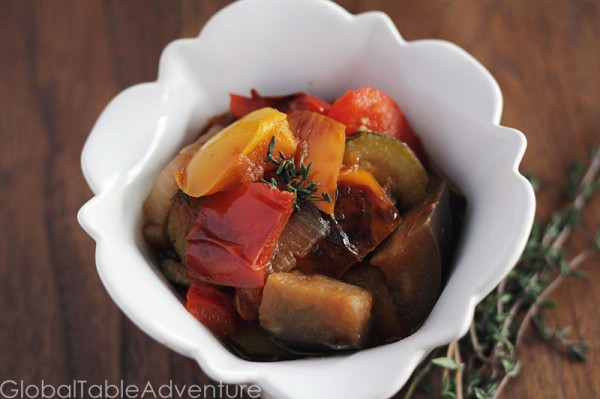 Serves 4
When I was little, mom made ratatouille all the time. We ate it hot in the winter and cold in the summer, but always with loads of garlic. She's half Italian, half Hungarian so – naturally – I figured ratatouille was a dish from our own, personal heritage.Later, when I moved to France, ratatouille turned up everywhere. Who knew? Ratatouille is French, French, French.
Most popular in the south of France, around Nice (one of the hotspots for rich and famous folk, on the French Riviera), ratatouille means "to toss food together."
They key to great flavor is browning the veggies. With summer on the horizon, I dream about grilling each ingredient and tossing together into a ratatouille inspired salad.
Ingredients:
1/3-1/4 cup olive oil (as desired)
1 large onion, sliced
1 red pepper, cut in 1″ pieces
1 yellow pepper, cut in 1″pieces
6 cloves garlic, sliced
1 1/2 lbs zucchini, sliced into rounds
1 small eggplant – about 1 1/2 pounds – cubed
4 roma tomatoes, chopped
1/4 tsp chopped fresh rosemary
1 tsp chopped fresh thyme
salt
pepper
Method:
First get inspired by the Colors of Provence, where you'll see beautiful landscapes, towns, food markets, and more.
If color = health, these are the healthiest veggies I've seen in a long time. Time to get choppin'…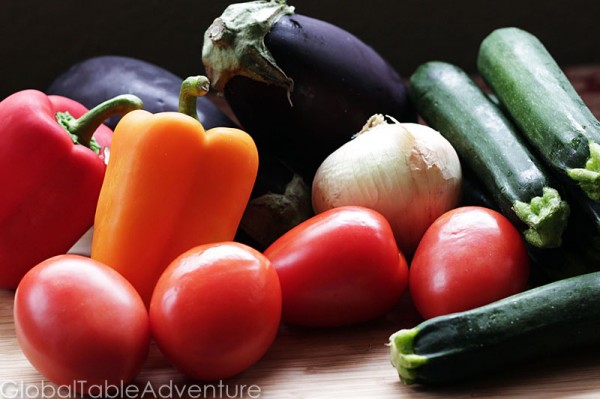 Next, heat a large pot/skillet until very hot. Add olive oil, sliced onions, and peppers. Cook until browned and the whole house smells sweet.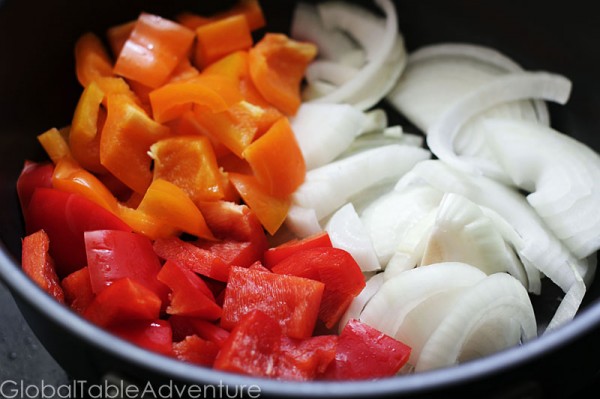 Toss in sliced garlic. I love biting into bits of softened garlic. If you are more of a vampire type, crush them. They'll totally disappear into the stew.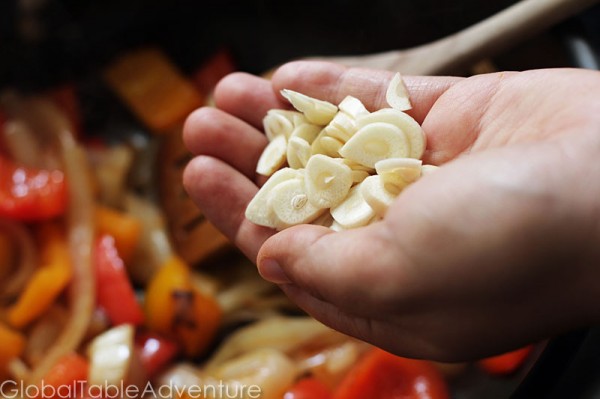 Now, if you were a proper Frenchman (or woman), you would fry each ingredient separately, getting each vegetable brown and lovely before tossing them together. I didn't have time, so I cranked the heat as hot as it would go, added some extra olive oil, and went to town with the zucchini…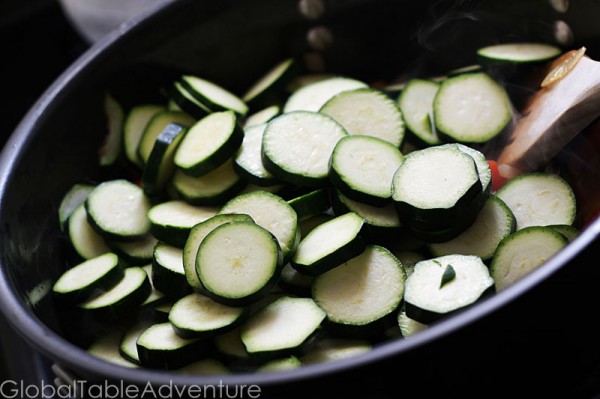 … and eggplant. I managed to get about half of it browned. It still tasted wonderful.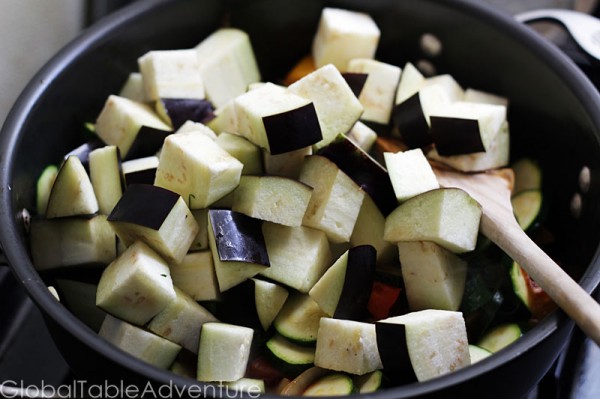 Next, toss in the tomatoes…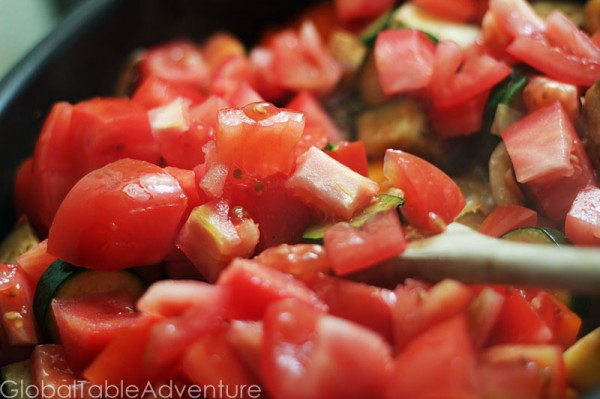 And some herbs. First the chopped rosemary. I normally don't enjoy rosemary, but this is a very subtle amount.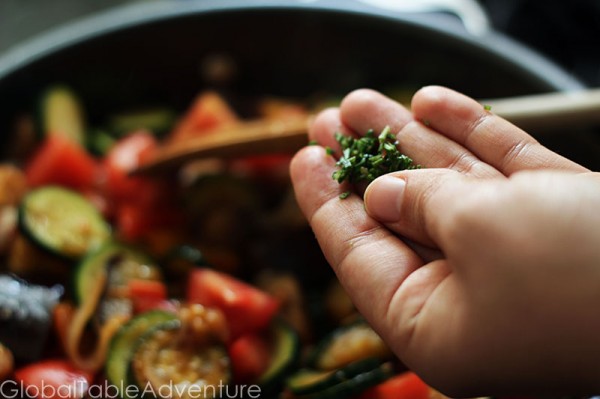 Next, a bunch of thyme. Thyme makes the world go round. You could safely double this amount, if desired.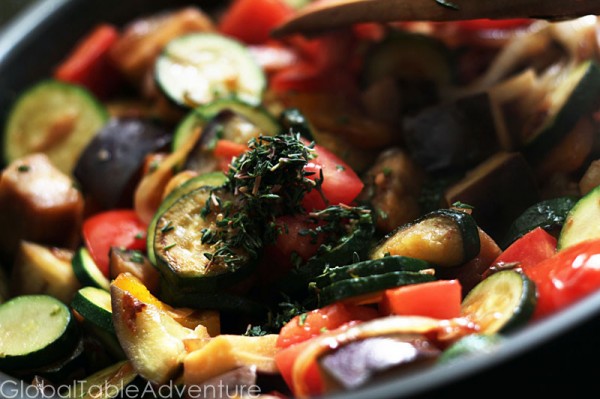 Season with plenty of salt and pepper.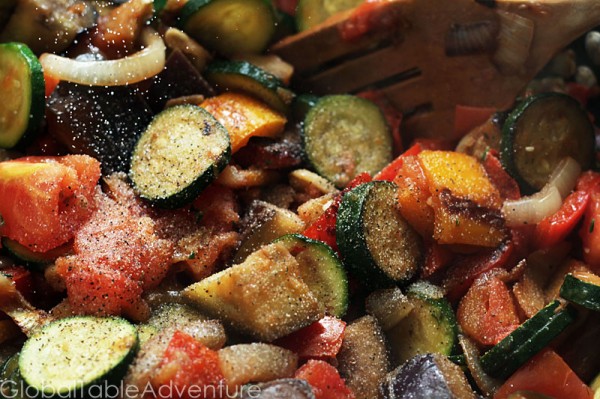 Serve chilled or hot, depending on your mood. And the weather.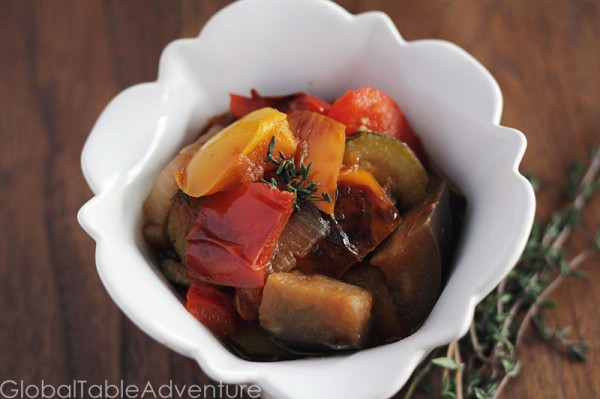 It was chilly the day we made the ratatouille, so we ate it piping hot.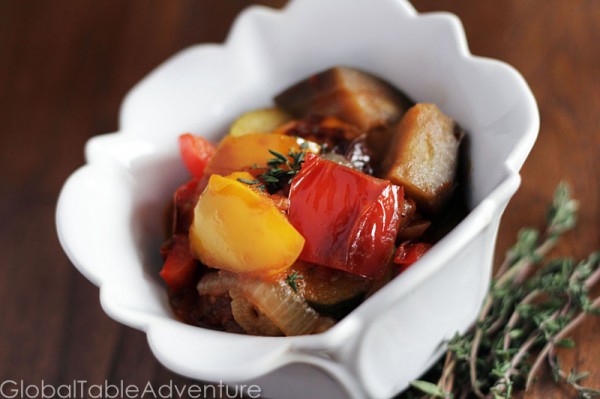 Eat with loads of soft, yet crackly artisan bread. Or an omelet, if you want to be really French.\
Have a brilliant day.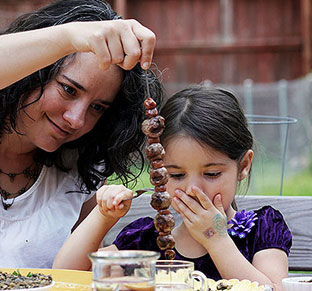 Hungry for more?
Be notified when National Geographic releases my memoir.
Simply fill in your details below.