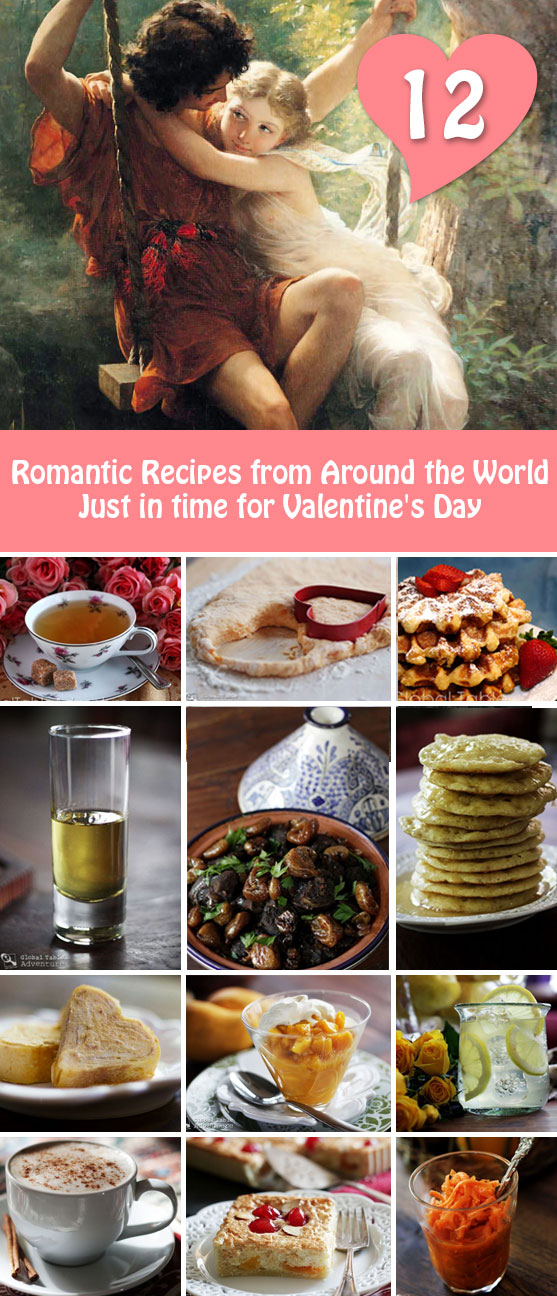 Valentine's Day is almost here, and there's no better way to show love than to bump hips in the kitchen, or, at the very least, to deliver an edible prize to the champion who stole your heart.  While you're at it, why not take your love on a mini vacation, via stovetop travel? Without leaving your own global table, they can experience Egypt, Belgium, Morocco, Malawi, and beyond. And you can go with them, in the most sensual way possible: with your taste buds.
It's all here, for the ravishing, so go on, eat your way around the world.
PART ONE:
5 Unique Ways to Give Your Sweetheart Flowers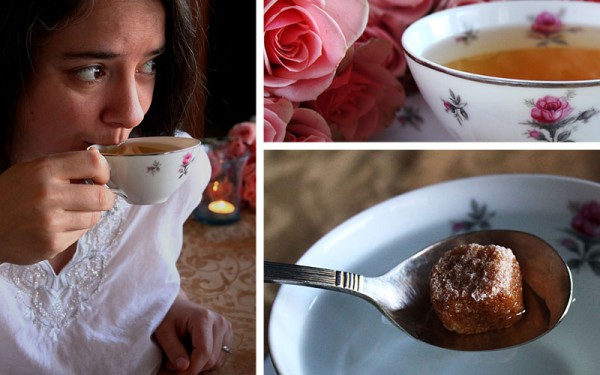 Mix hot water with rose water, made from thousands (millions!) of rose petals and  a little sugar, and you'll have a caffeine-free way to warm up next to your sweetheart.  A great drink for late night cuddling, since it won't keep you up past your bedtime.
Unless you want to stay up past you bedtime.
2. Moroccan Honey Buttered Semolina "Crater" Pancakes with Orange Blossom Water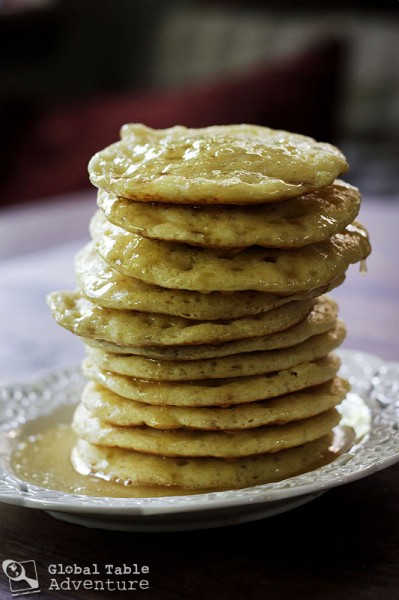 Need an idea for a romantic breakfast? Go Moroccan… with Beghrir. The combination of yeasted pancakes made with semolina flour is amazing in its own right, but combined with a syrup made of honey, butter, and orange blossom water? Forget it. This is love at first bite.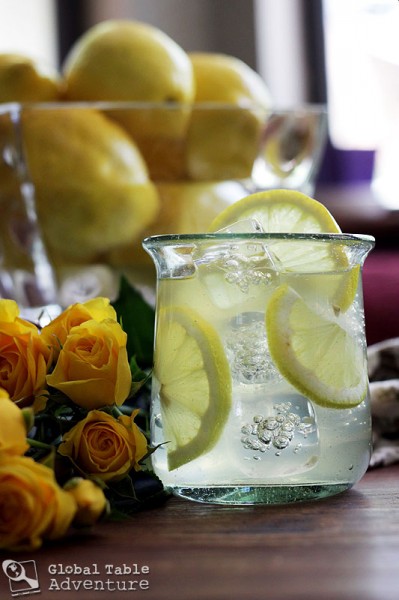 Has a date ever called you last minute, wondering what you're up to? If you keep a bottle of lemonade and rosewater handy, you can invite guests over at any time for rosewater lemonade! You'll find this refreshing sipper all over the Middle East, although we made it for our Omani Global Table. While you can make fresh lemonade if there's time, you can also just keep a bottle of good quality lemonade around, preferably organic, and a little bottle or rose water (it lasts forever). Splash the two together and add some sliced lemon for fresh flavor, and you're good to go.
P.S. This one's really good for bridal showers and baby showers.
4. Moroccan Carrot & Juicy Orange Salad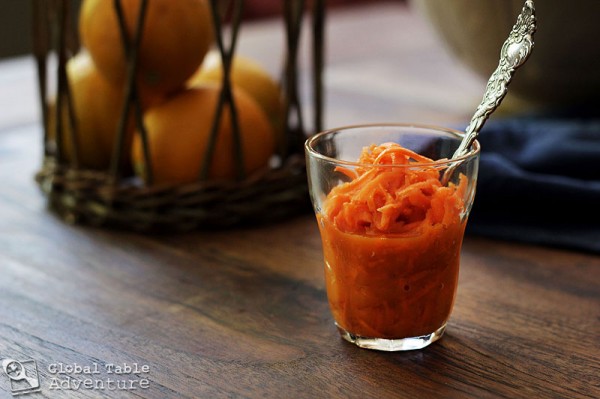 If you and your sweetheart are  a little on the adventurous side, you might want to invite them to nibble on this seductive, yet quirky salad from Morroco. In each bite, you'll experience fresh carrot, orange juice, orange blossom water, and even a smattering of sugar. This tastes great with any sort of steak, and the orange blossoms make it ultra romantic.
5. Lamb Tagine with Sweet Honey Figs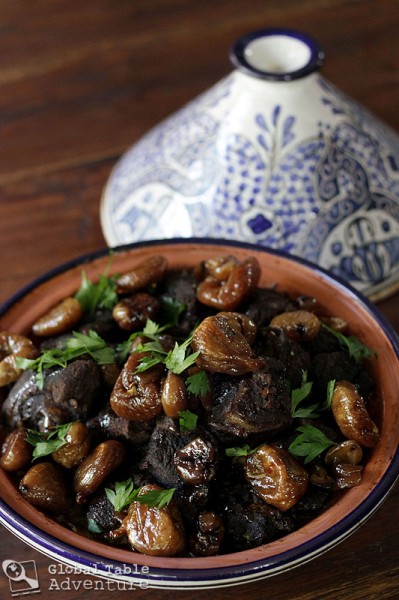 Match your morrocan carrot salad with this amazing lamb tagine, seasoned with cinnamon, saffron, honey, figs, and chestnuts. It's all sprinkled with a splash of orange blossom water, so need to buy flowers. The best part? This meal should be shared from the tagine, enjoyed with your fingers and a bit of bread – one of the most seductive ways to eat in the world.
PART II:
Two Sippable Gifts for your Sweetheart
1. DIY African Tea Gift Set, including the Red Love Latte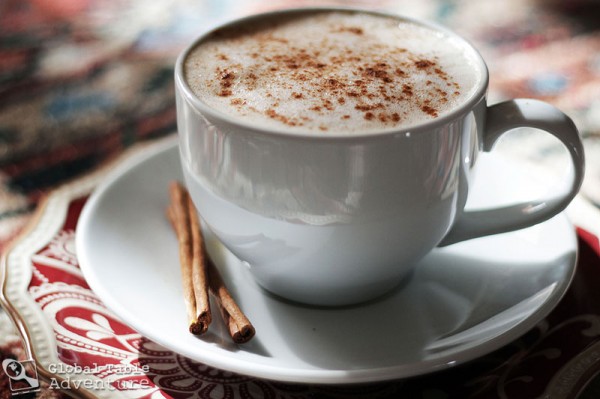 If your sweetheart loves to read, they probably love to sip warm, cozy drinks in their jammies. In this case, try making them a little homemade gift basic with a  tin of rooibos tea, a beautiful mug, a package of cinnamon sticks, and a little milk frothing wand.   Rooibos grows in Southern Africa, known for its wonderful antioxidants and for being caffeine free. The flavor is warm and round, just like a good hug.
2. Lithuanian Honey Spirits (Krupnikas)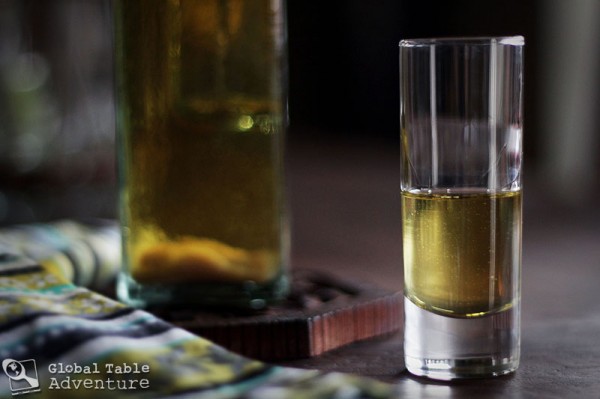 Looking for something a little stouter this Valentine's Day? Make a batch of Lithuanian Honey Spirits and bottle a bit for your sweetheart. The recipe hails from the bitterly cold, northern reaches of Europe, where shots would be savored to warm cold bones. Heck, you could even make this together. What a great icebreaker!
PART III:
World-class Love Starts with Breakfast in Bed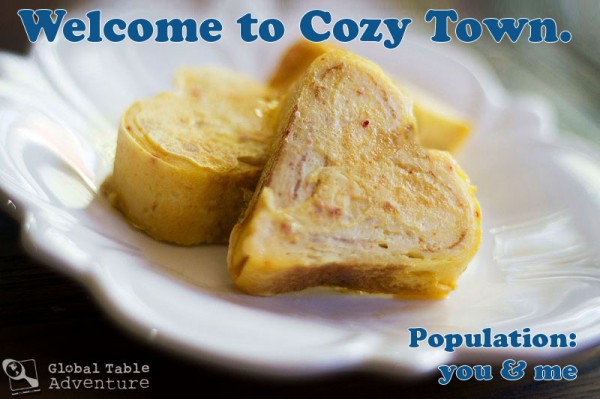 Learn how to shape an omelet into a heart for your sweetheart. The idea comes from Asia, where food is art to be savored be the eyes first, then tasted. I actually made this for when we cooked North Korea.  What a surprise this would be for a small child to find in their lunchbox or for a spouse to enjoy on a tray next to them in bed? This one happens to be seasoned with homemade kimchi, although you could use anything you like, like grated carrots or bits of green onion.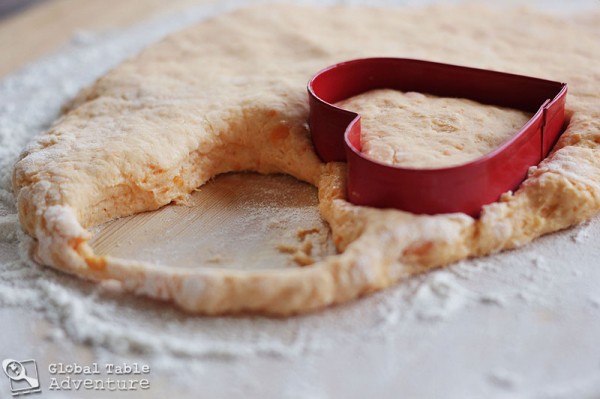 Take a tip from Malawi, and serve your loved one something that tastes good and is good for them: sweet potato biscuits. Inside their's just a slight hint of ginger which most people won't be able to pick out, yet it'll leave their mouths happier than before they ate these amazing treats. Tip: Cut them out with a heart-shaped cutter for optimum cute-factor.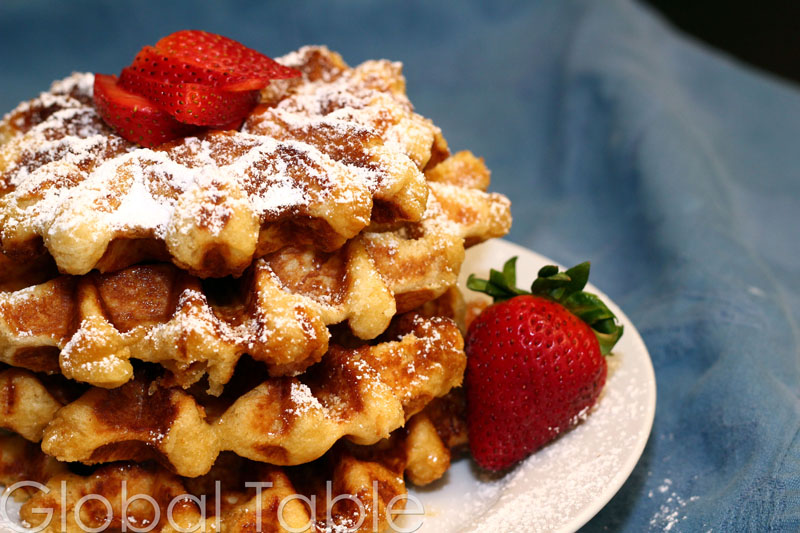 The Beligian waffle is different from any other, thanks to the addicting crunch of crystalized sugar that can be found in every bite. These are dense, chewy, and thicker than most waffles you know.
(Psst, consider getting your sweetheart a Belgian Waffle Maker for Valentine's Day – they just might help you whip this treat up!)
PART IV
Something for Show offs and the other Guys alike. 
1. Candied Cantaloupe & Cherry Almond Tart (Galapian)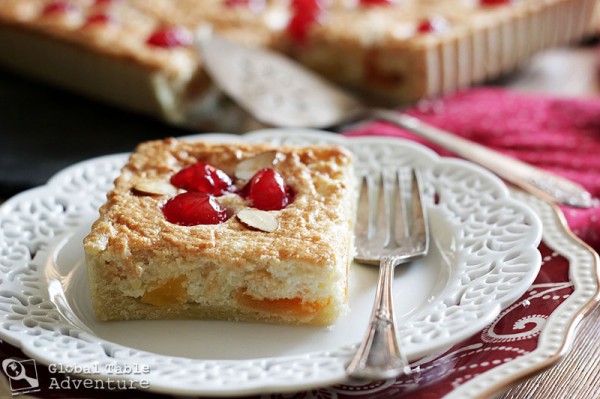 This delicate almond, candied cantaloupe, and cherry tart is the ultimate in refined desserts. It hails from the southern reaches of France and Monaco. It tastes like love and gold. If you take the time to put this one together, you'll not only impress your date, but you'll likely be giving her a treat she's never come close to tasting before.
2. Snuggly warm mango with cream and a hint of clove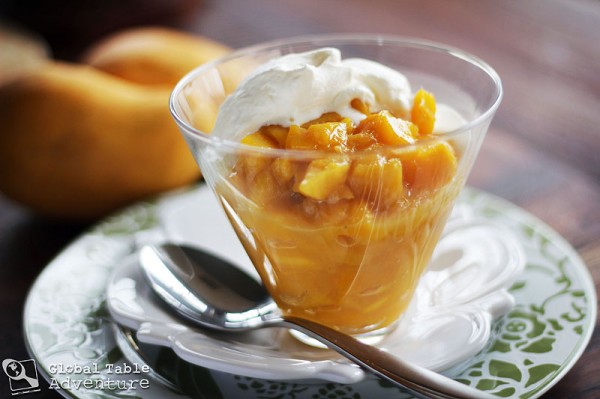 For those of you who still want a dish that's unique, but don't have the time to spend on the Galapain, this recipe is a quick fix and irresistable. The warm mango infused with a hint of clove reminds me of pie, without the crust. Serve this to your loved one on a chilly night, and you'll be cozy in no time.
Be with the one you love, my friends!
Happy Valentine's Day
xo Sasha