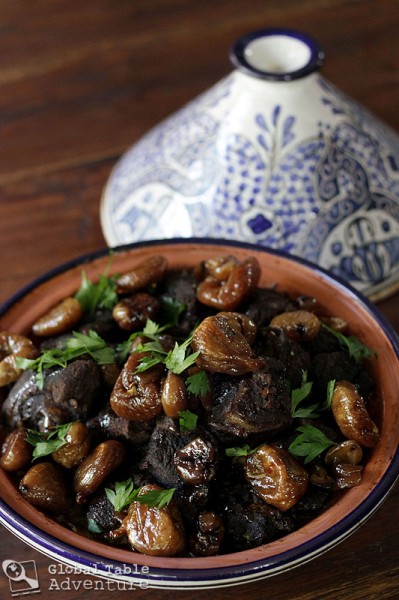 Today I'm taking you to a special place where family and friends gather around the dinner table with happy hearts. Silverware is optional, but bread is not. Settle into this sacred space, where tagine of lamb meets chestnuts, figs, cinnamon, honey, and orange blossom water. Pause for a moment to celebrate this crazy wonderful combination, to feel the hot air blow through your hair, then dig in and scoop up the glory with a handful of bread. When you're done, cozy up to an evening of conversation so good you wish you could bottle it.
Tagines are Moroccan party food – each nibble is filled with glorious, cheerful flavor; a festive bite of beauty; a deep, dark bowl of goodness, glimmering like the Moroccan night sky.
To be honest, there was a time when the word "tagine" sent shivers down my spine. The very word sounded terribly exotic which, in my mind, translated to "extraordinarily difficult to make."
If I only knew how wrong I was.
I've since learned that many Moroccan tagines, such as this lamb tagine, are simply braised meats slow cooked with a bouquet of spices, topped with sweet, dried fruit. While there are more complicated versions (and even ones with preserved lemons and olives, instead of the sweet note I've chosen to take on), the most common recipes don't even call for browning the meat.
Talk about doable.
I mean, really. If there's one thing I can do, it's cook meat low and slow. And, if there's one thing Mr Picky loves, it's slow cooked meat.
It's like this meal was written in the stars.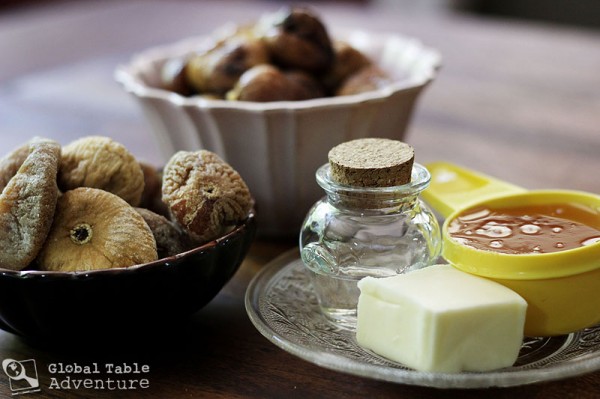 My recipe is a combination of several recipes.  To start with, I browsed Paula Wolfert's recipe books. This woman is a powerhouse of all things Mediterranean and is aptly described by Maroc Mama as the Julia Child of Moroccan cooking. I also looked through Claudia Roden's Arabesque. With the help of these ladies, as well as tidbits from half a dozen other cookbooks, I culled together the best of the best, of the best.
The result?
A tender tagine good enough for Sunday dinner, but easy enough for every day.
The highly fragrant lamb, dried figs and sweet chestnuts makes for pure love when combined with the honey and cinnamon. Amazingly, this tagine still tastes majorly savory, thanks to the saffron, ginger, and garlic.
It's all kinds of good.
NOTES: While a ceramic tagine is ideal for slow, moist cooking, you can also make a great tagine in a heavy bottomed French oven. If you use a ceramic tagine, be sure to soak it overnight in water to keep it from cracking. Also, never heat it over medium heat. You can eat tagine with a fork, if you'd like, or you can scoop it up the traditional way – with flatbread or even French bread. Orange blossom water is available at Middle Eastern markets.
Ingredients:
For the meat tagine:
1 red onion, sliced in half moons
2 Tbsp vegetable oil
4 lb lamb, cut in large chunks (I used a boneless leg of lamb)
2 cloves garlic, crushed
1 Tbsp ground cinnamon
2 tsp ground ginger
1 tsp saffron threads
salt, to taste
1 1/2 tsp pepper
water, as needed
For the fig and chestnut garnish:
7 ounces of dried figs
1 cup of jarred, roasted chestnuts
2 Tbsp Butter
1/3 cup honey
1/3 cup water
1 tsp orange blossom water, optional
parsley, for garnish
Method:
First, put on a little Moroccan music. Then, layer the bottom of a tagine with sliced onion and vegetable oil. Gently heat over medium and cook to soften the onions.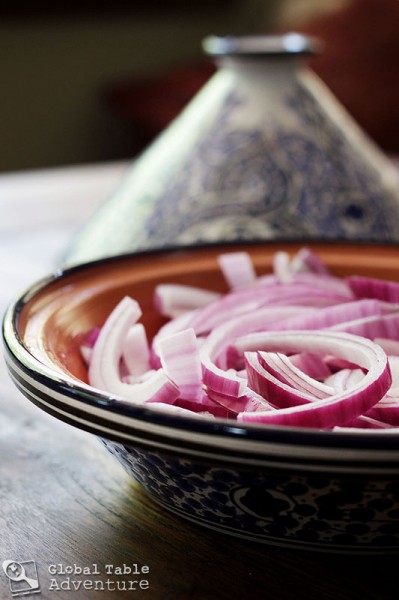 Meanwhile, gather your spices. Saffron lends the most haunting flavor to the tagine, while ginger and garlic give it kick. And cinnamon makes everything better.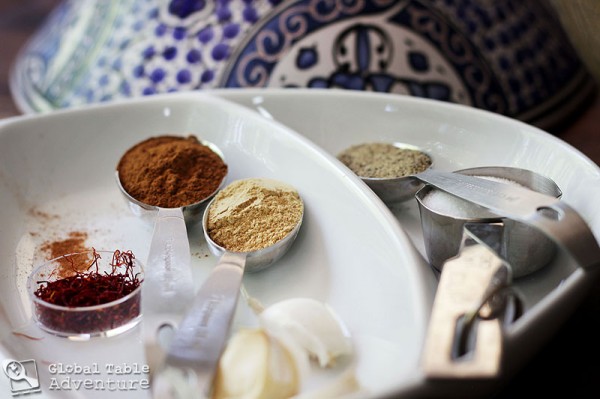 Cut the lamb in large chunks and toss with spice mixture.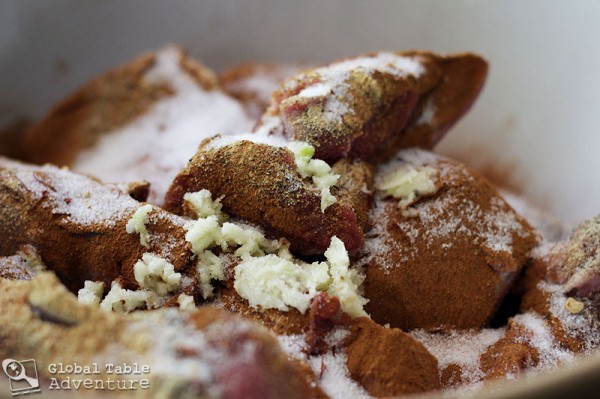 Add to tagine and cook until tender (I cooked mine at a gentle simmer from 1:00pm-5pm and it was outrageously good. You can cook yours for just 2 hours and still have good results).
Meanwhile, take a little stroll. On a camel, if you'd like.
A note on water:
I found that I didn't need to add any water to my tagine, as the meat and the onion released quite a bit of juices and the tagine could barely hold them all. That being said, most recipes recommend adding 1/2 cup of water. If yours seems dry, just drizzle a bit of water down through the hole in the top of the tagine. This way the cold water will cause the steam to condense and drip back down over the meat.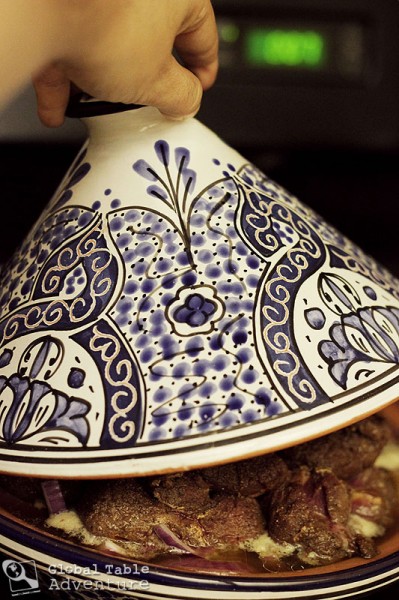 While the meat is cooking, filling your home with the scent of "good," get to work on the special honey fig and chestnut garnish.
In a small pot, toss the figs with butter, water, honey, and orange blossom water. Simmer for 15-20 minutes, until caramelized. Remove from heat and stir in the chestnuts.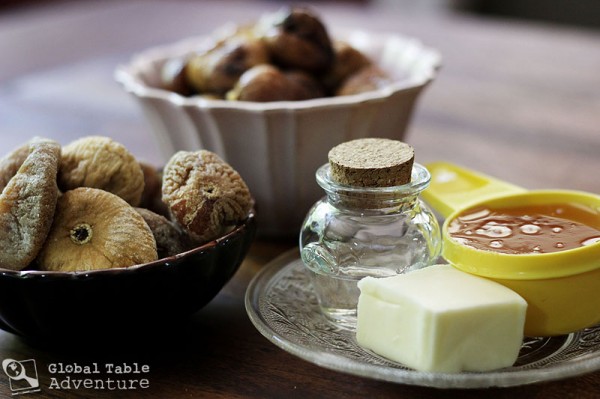 They become ooey, gooey and absolutely irresistible. In fact, I recommend making some extra so you can sneak a few, guilt-free. That's what I did!
Set the rest aside and add to the tagine in the last five minutes of cooking.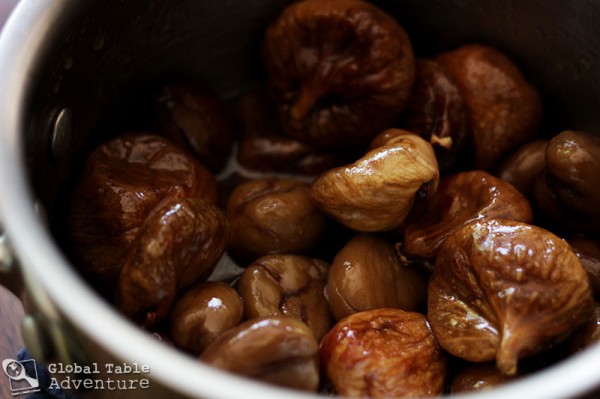 Some people like to roll the figs in sesame seeds, but I couldn't wait to eat!
Garnish with torn parsley for a little blast of color.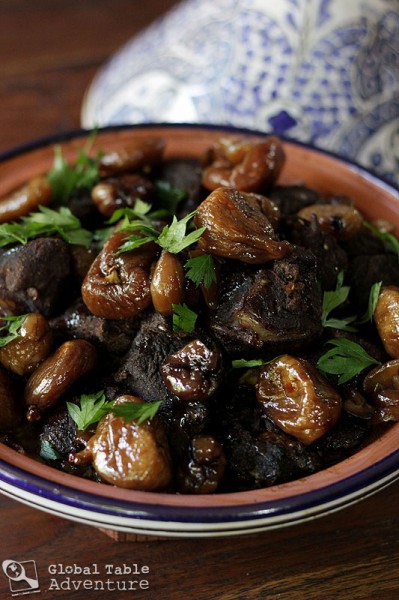 Step back a moment and enjoy that beauty… wow.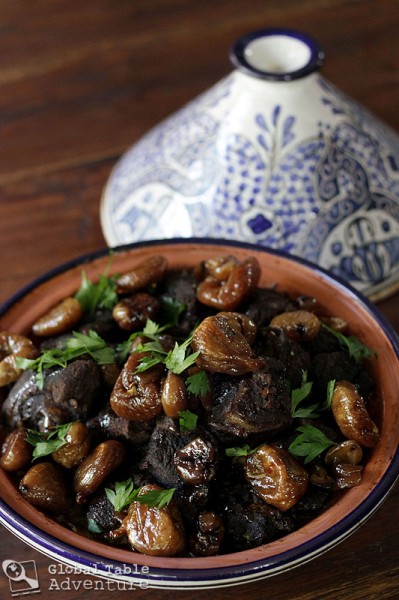 It's just like a sparkling Moroccan night, but in your very own kitchen.
We ate outside while listening to the chirping birds. I've never had such tender meat; there was no need for knives.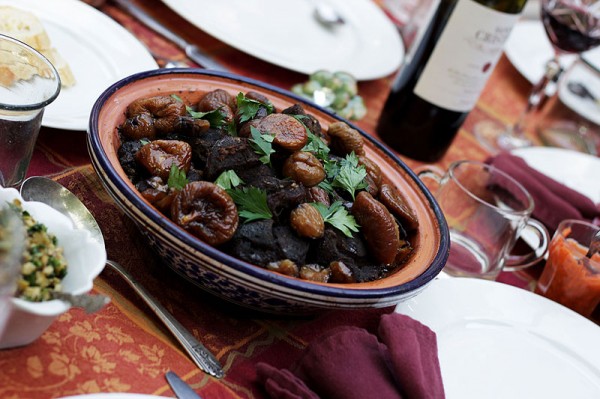 There's something about eating tagine outside with friends that makes me feel like I'm on vacation.
Like anything is possible.
I wish the same for you.
Wishing you all the beauty of a easy, breezy day.
Happy stove top travels!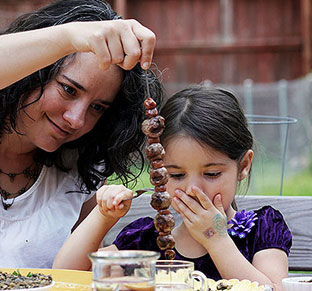 Hungry for more?
Be notified when National Geographic releases my memoir.
Simply fill in your details below.