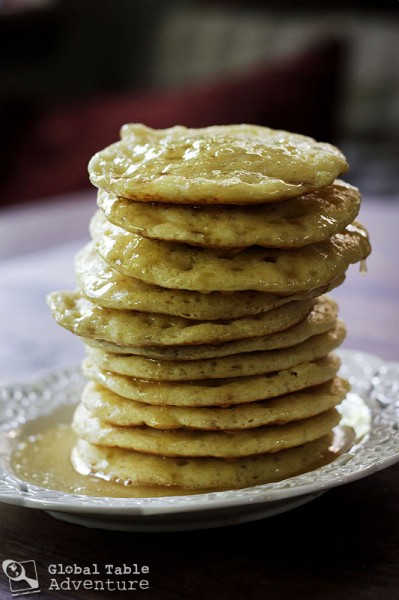 Oh, goodness. Where do I even begin? Do you see that honey dripping off the edge of the crater cakes? Each drop is perfumed with the haunting aroma of orange blossom water and butter.
Hello. I mean, really.
I'm pretty sure I can just pack up and go home now. My job is done. Talk about good-glorious-eats!
But, for those few who aren't yet sure if this Moroccan treat – officially called Beghrir – is right for their breakfast table, let me continue.
These semolina pancakes aren't really pancakes. They are fried on one side only. The other side is utterly soft and yeasty, and pocked with thousands of holes. The bottom is crispy, while the top is light and airy. They're like a crumpet's long lost cousin.
The holes are perfect for catching pools of orange blossom honey sauce, by the way. While some like them almost as thin as crepes and as large as a dinner plate, you can also make them smaller and a bit on the thicker side, as I did. The choice is yours.
For those of you who are lucky if they can see in the morning, let alone measure out ingredients, feel free to mix this batter up the night before and refrigerate overnight. In the morning, all you'll have to do is roll out of bed and start frying.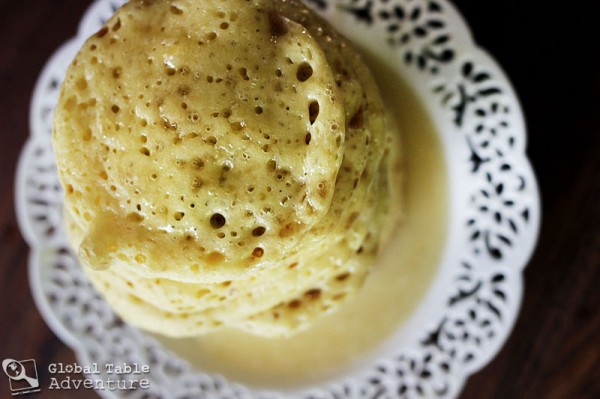 Makes 3 cups batter (Serves 4)
Ingredients:
3/4 cup semolina
3/4 cup flour
1 tsp active dry yeast
1 tsp sugar
1/2 tsp salt
1 egg
1 cup warm milk
1/2 cup water, to thin or more as needed
vegetable oil, for cooking
For the sauce:
1/4 cup honey
1 Tbsp butter
1 tsp orange blossom water
Method:
This is a dump-and-go recipe, meaning all you have to do is dump everything together and whisk.
There are two ways to do this. (And no matter how you do it, do it in an orange Moroccan sky.
Make the beghrir in a bowl:
First, with a bowl. Dump everything together, whisk, cover and let sit at room temperature 1-2 hours, or overnight in the refrigerator.
Easy peasy, although you might struggle to get the lumps out.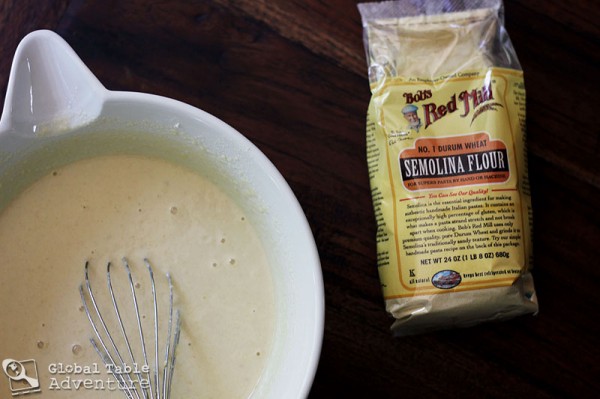 To make the beghrir in a blender.
Add wet ingredients first, then dry. Blend until combined, scraping as needed. Cover and let sit for 1-2 hours, or overnight in the refrigerator.
Just look at this bubbly double batch (risen in a warm kitchen for 2 hours)! Crazy town…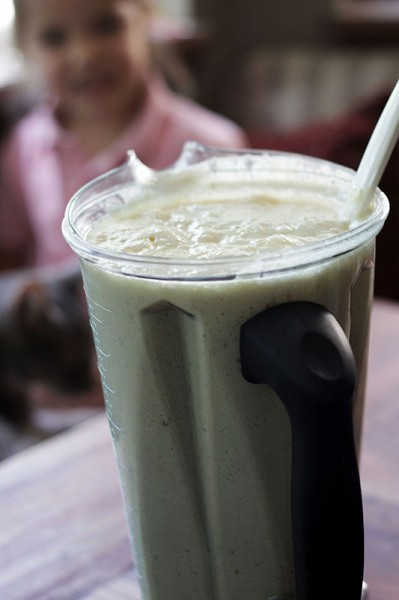 Special notes:
You need to add enough water that the batter is pourable, but not as runny as a crepe.
Either way you make this, the flavor is wonderful, like freshly risen bread dough.
To cook:
If you refrigerated your batter overnight, let sit at room temperature for 15-30 minutes. Meanwhile, wash your face and comb your hair. When ready, lade the batter into a hot, oiled nonstick pan. It should form a nice circle without the need for swirling.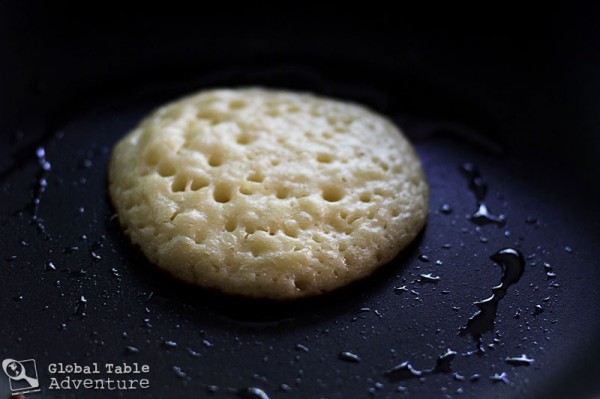 Play around with the heat to make it cook perfectly (mine was set to medium/medium-high). The pancake is done with the top side is dried out and the bottom is…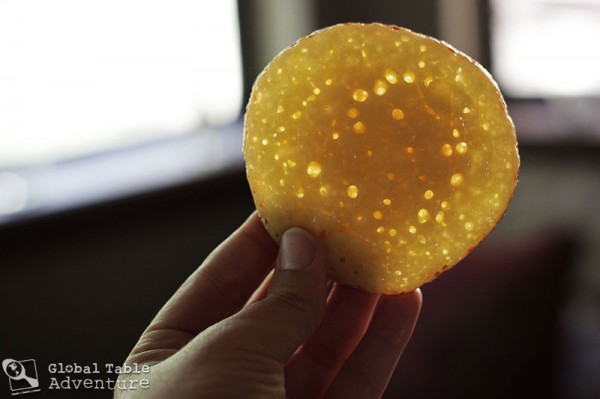 … golden brown and just a bit crispy.
If it burns before the top dries out, lower the heat. If holes don't form, raise the heat.
Talk about addicting!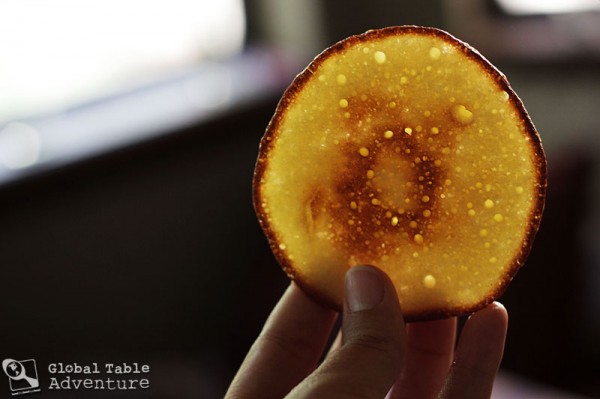 As you cook the pancakes set some butter, honey and orange blossom water to melt together on the stove.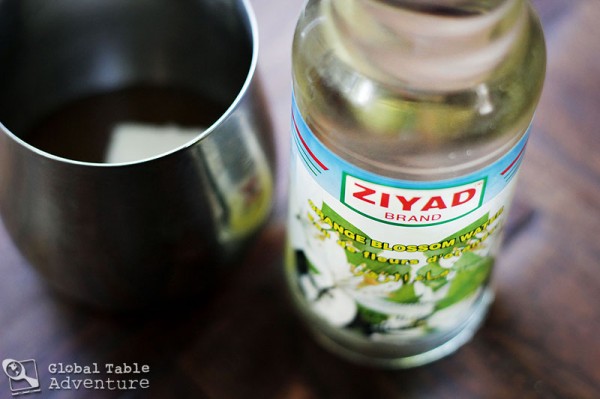 When you're done cooking,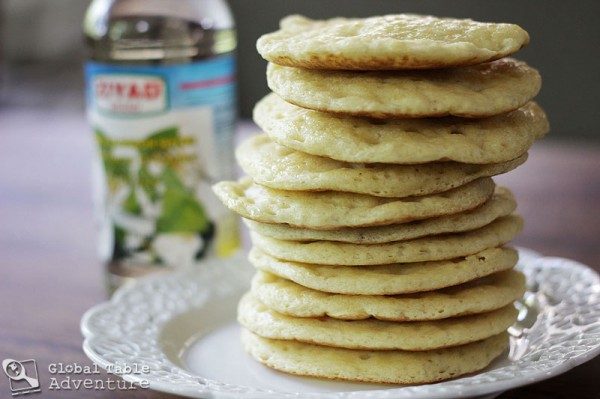 Stack them up,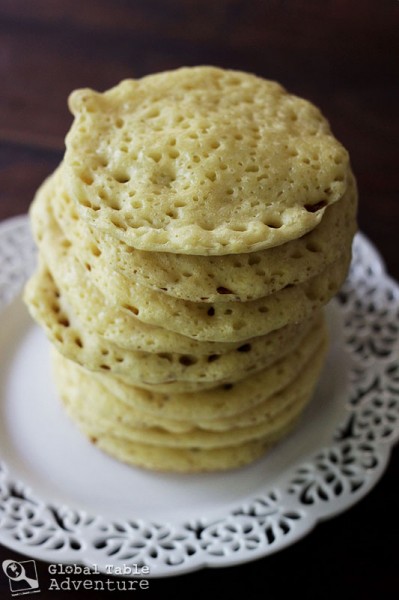 And drizzle with the crazy, happy honey mixture.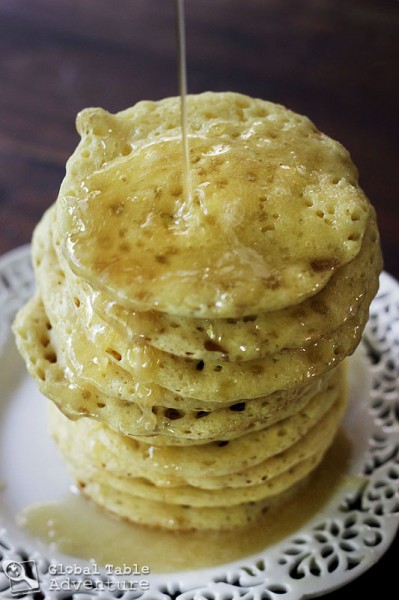 Oh, glistening goodness.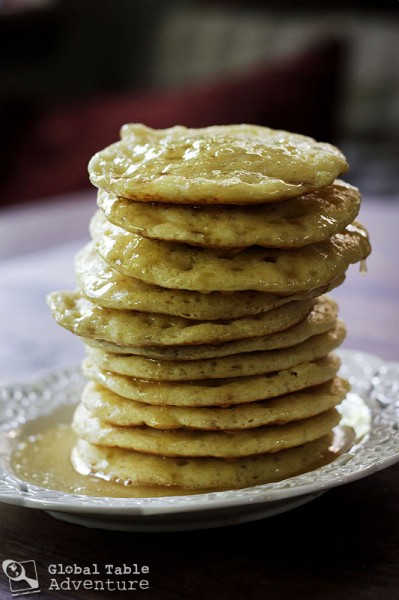 This is what life is all about.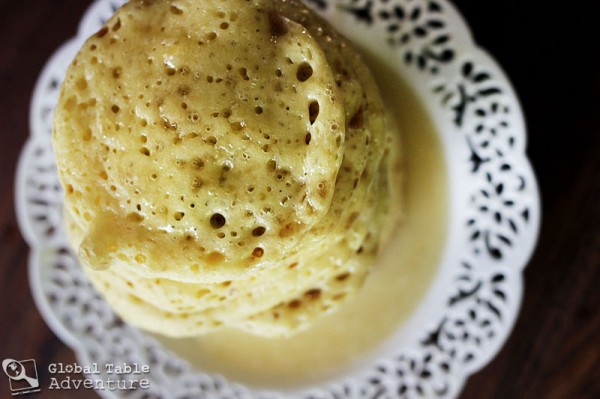 Happy breakfast to you and yours, from my Moroccon Global Table to you!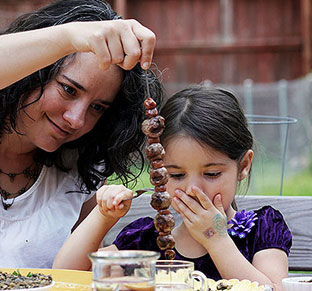 Hungry for more?
Be notified when National Geographic releases my memoir.
Simply fill in your details below.