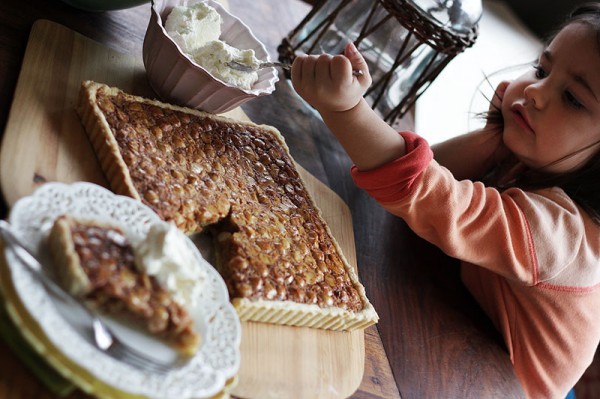 THE SCENE
Things are getting a bit hairy on this Adventure. I've tried not to mention it – to just carry on as if everything is ship-shape, flowing easily. Unfortunately, it's not.
Somehow, over the last month or two, I find myself buried in an avalanche of unfortunate circumstances. I already told you about when I burned my hand, which thereby postponed the making of the Maltese cookies. But there's been more drama that I've shared here, if only because I thought it was all just a temporary drag in performance. Now that it's added up I feel as though I have to share – the five times Ava was too tired to try the food. Or too cranky. Or too full. The handful of times when Keith had to work late and I found myself sitting down alone to a dinner for four. The times when I burned the food and had to make it all over again.
It feels like a full moon all the time. Like the project is short circuiting.
So what to do about this, week after week?
My natural reaction was to make the food twice to be sure we could all try it. Of course, this stinks. It sucks up time when our family could be doing something else – like going to the park, zoo, or even on a hike. It's emotionally draining to redo work every week for the last couple of months. That being said, I do think it is the honest thing to do; I want my entire family to try the food – this Adventure is not just about me, and never has been.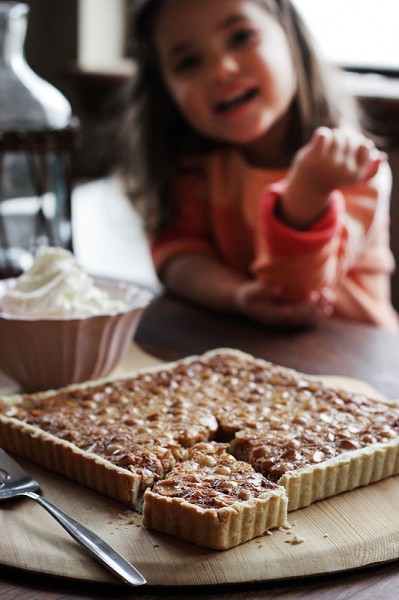 Well, even though I've been treading onward, these hiccups put my morale on the project at an all-time low, especially when this week it happened again. I made a feast and there I was, home alone until 9 pm while Keith was out, dealing with work.
Believe me when I tell you, Keith has no choice. Think of his work as helpdesk for the 911 phone calls you make… those calls that just might save you or your loved ones' lives. He definitely has to go into work, rain or shine, regular hours, or after hours.
Even though I hate when he has to work late, I really can't argue with saving lives.
Still, this week I didn't really take his late work night in stride. I felt overwhelmed at the thought that I'd have to make some of the food again.
As much as I hate to admit it, I even cried.
Little did I know that making the food again was the greatest thing we could do. Let me explain.
Instead of simply buckling down to eat the meal by ourselves, we invited over our newly engaged friends to sample the papaya dish. I'd thought about also offering the macadamia pie, but it had been lurking in the back of the fridge for 3 days. It was questionable at best.
We ate and ate on the papaya. Finally, we gals migrated to the living room to catch up on wedding plans and other bits of our lives. As we sat there, we got thirsty, so I made a pot of Vanilla Ginger Bissap from Mali. Even the guys drank some, as they sat around the table, catching up on work, camera gear, and who knows what else. About an hour later, we opened up the last bottle of Lithuanian Honey Spirits and each sipped a shot (so much for saving them for next year's Christmas presents – I have to make more).
As I sat there, full and happy, I realized I had just consumed food and drink from three countries. Without even trying. I realized that, even though the individual meals weren't always going as planned, something much greater was happening.
I was starting to live a real Global Table.
Earlier that week I had made the Luxembourgish Green Bean Soup for dinner, and a few days before that the Pupusa from El Salvador. Then, there was the Saturday we all woke up to a hot cup of Red Love Latte from Lesotho (or tea with bubbles and cinnamon, as Ava likes to call it) served with Sunrise Biscuits from Malawi.  One day I made the Greek salad and served it with Froga from Malta.
An on, and on.
Turns out, as we steadily work our way through this Adventure, I am changing. We are changing – our entire family.
And not just on the days when we cook for the blog. On all the days.
Little by little, the recipes make their way into our daily repertoire. The experience is becoming more integral. We live it. We breathe it. My household is immersed in a fluid expression of international deliciousness.
In the end, I realized, it doesn't matter so much if the weekly meal doesn't happen exactly when we want it to – because, in the grand scheme of things, the Global Table is our daily reality now.
I'm not sure when that happened.
But I love it.
Sweet Potatoes & Fried Bananas [Recipe]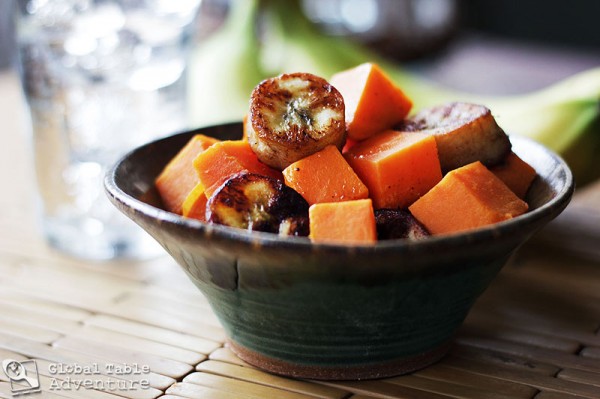 What I loved most about this dish:
I adored the fried, buttery bananas with the comforting sweet potatoes. The dish is easy to make and would work well with nearly any meat dish, especially barbecue pork. A couple of readers suggested a sprinkling of toasted coconut on top and I think this would be a lovely addition.
What I loved least about this dish:
Nothing.
Baked Papaya with Coconut Cream [Recipe]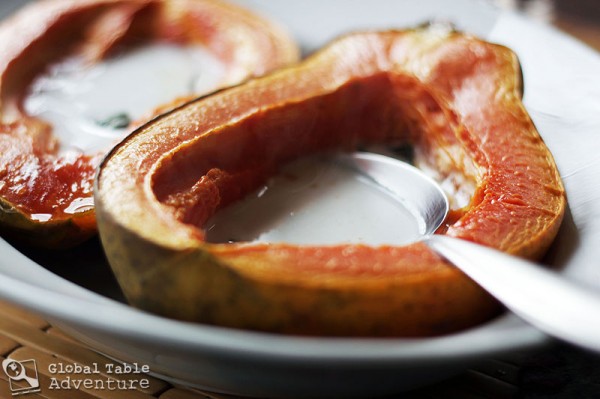 What I loved most about this dish:
This was such an unexpected delight. The warm coconut milk goes perfectly with the hot fruit, and the pandan leaves add just the slightest hint of unusual, floral flavor.
What I loved least about this dish:
I think next time I'll try even more pandan – it was a bit too subtle for my tastes.
Sweet Macadamia Pie [Recipe]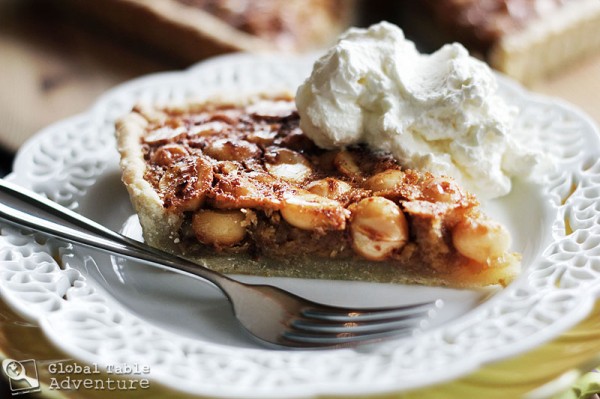 What I loved most about this dish:
I think this is my new Thanksgiving dessert (this past year I had Tiramisu). I adored the natural goodness of honey and brown sugar as sweeteners (so many of these pies use corn syrup instead). Our friends Alan and Michelle actually did try this pie, despite being three days old, and mistook it for a professional, bakery pie. I cannot tell you how happy this made me because, unlike other desserts, there was practically no effort involved in the making of this pie.
What I loved least about this dish:
The bits of shredded coconut aren't my favorite, but I've always had trouble with that texture. No one else seemed to mind.
Ava's Corner: