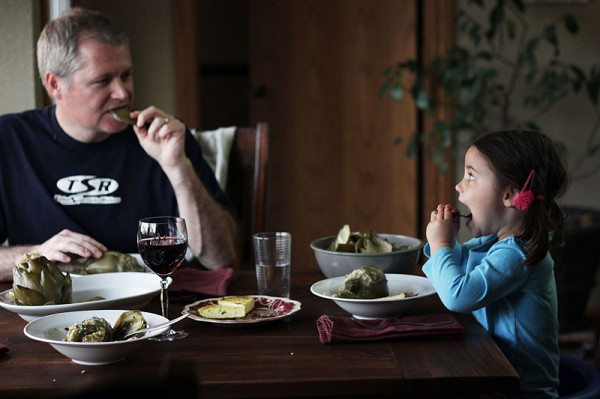 THE SCENE: My Misadventures
I slide the skillet of Froga out of the screaming hot oven. This is Malta's beloved mixture of angel hair pasta and eggs. Frittata.
Beautiful. Puffy in the center and crisp on the edges.
But my mind is elsewhere.
I glance over at the counter. It is covered with small, brightly colored chocolate eggs, a giant bag of powdered sugar, fresh lemons and oranges, almond paste, and all my decorating tools. I cannot wait to make Malta's sweet Easter cookies. I imagine Ava's face, how she'd light up with delight when she saw the pretty shapes – a flower or perhaps a butterfly, so colorful they seem to leap off the plate.
My mind continues to wander as I hoist the skillet and attempt to transfer the frittata onto a large platter. Unfortunately, my hand meets with four hundred degrees of hot, sizzling metal.
I leap back from the pan, dropping it with a clatter back onto the stove top, but it is already too late. I am badly burned.  My skin reddens immediately.
I run to our bathroom looking for something to wrap my hand. I find the burn gel, but no guauze. I run my hand under cold water while I think. From fingertip to wrist I am on fire.
Finally it hits me. I run back to the kitchen and pull open the drawer with a hurried bang.
Cheesecloth.
Yes. Cheesecloth.
For the better part of a week I wear that cheesecloth, carefully wrapped around my hand, biding my time until I can make the cookies. Every day I stare at the bag of chocolate eggs, wishing my husband would open them so that I could pretend to be mad and then eat some.
Finally, when my hand heals, I am ready to work.  The house fills with the aroma of fresh citrus, almonds, and sugar cookies. As they cool, I prepare the frosting. I rummage through my cabinets but I only have one piping bag. I need three (one for each color). In a pinch, I do what my mom recommends – I grab a few sandwich bags. As I press gently with my newly healed hand, to release the frosting, I feel a weird hiccup in the first bag.
A moment later I look like this: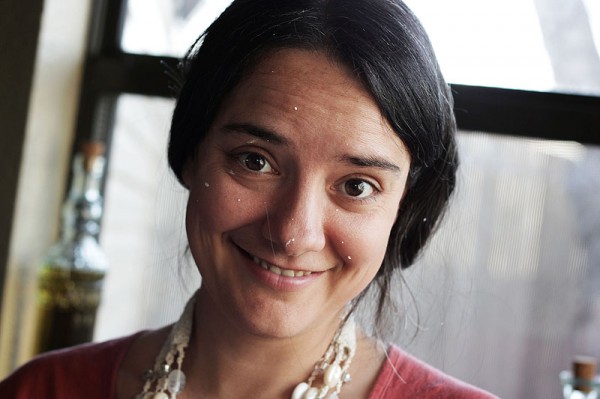 The frosting covers my shirt, too. See under my thumb? Whoops.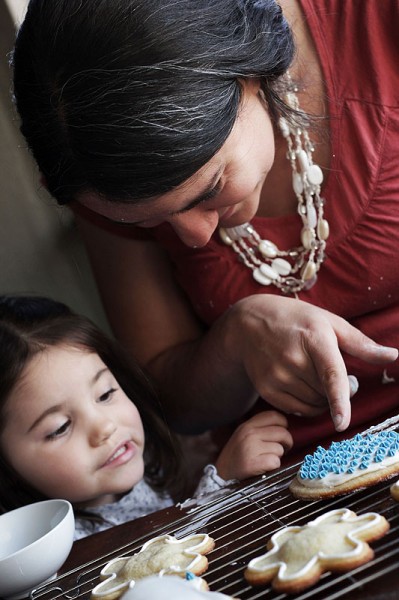 Whether it's cheesecloth bandages or plastic bag frosting equipment, it would seem that improvisation is the key to survival on this Adventure.
This is my life.
Surely I can't be the only one "making it work" Macgyver-style.
At least, I hope not.
THE FOOD:
Vermicelli Fritatta (Froga tat-Tarja) [Recipe]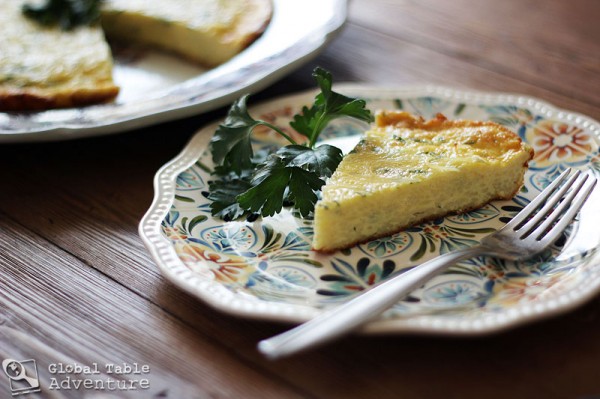 What I loved most about this dish:
I was thrilled to share this treat with Miss Ava and Keith (a.k.a. Mr. Picky)… how fun is pasta with eggs? Where has it been all of my life? Keith liked it and, of course, asked for some bacon or ham to fill it out.
What I loved least about this dish:
I thought for sure Ava would love this fritatta. Apparently the idea of spaghetti in her eggs was confusing to her toddler sensibilities. And to think I expected it to be appealing! The good news is that she changes her mind daily, so I'll definitely be trying this one again.
Maltese Stuffed Artichokes (Qaqoċċ Mimli) [Recipe]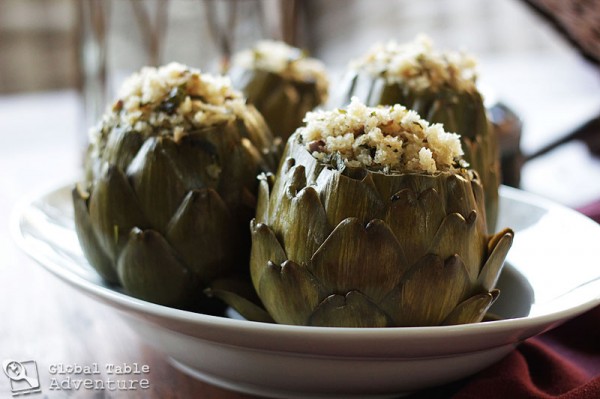 What I loved most about this dish:
While I didn't expect to enjoy this filling, I made myself try the anchovies by themselves. Turns out they taste like salty, oily fish. Not so bad, really. Once they were in the artichokes, I definitely couldn't taste them, but was able to detect the way that they "amped up" the rest of the flavors. Ava ate a ton of hers, although went light on the stuffing, I think because it was crumbly.
What I loved least about this dish:
Not much. Keith wasn't a huge fan of the stuffing, but that was my fault. After I burned my hand, I needed his help cutting the ingredients. He admitted that if he didn't know there were olives and anchovies in the artichoke, he'd probably like it more. He said the flavors were "intense." As he said it, he opened his eyes wide. I couldn't help but laugh.
Marzipan Easter Cookies from Malta (Figolla) [Recipe]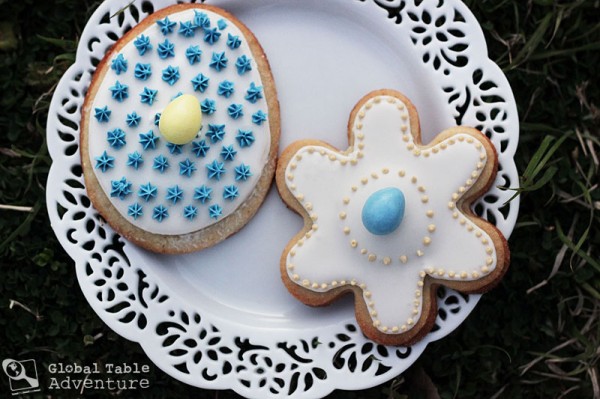 What I loved most about this dish:
Maltese cookies for the win! These sweet treats are bright with the fresh flavor of citrus, but the almond paste filling really steals the show. While they take a little time to put together, they are definitely worth it and would make for a great cookie decorating party.
What I loved least about this dish:
Nothing, although they are really sweet with all the frosting I used. Next time I'll make the cookies smaller, so I can eat more!
Ava's Corner: