In the Balkan nation of Serbia you'll find sleeping giants. They lounge under thick forested coverings, along murmuring streams and shimmering lakes, with nothing but winding roads and wildflowers upon them.  In flatter areas, carefully stacked stone walls, forgotten castles, and sagging huts live happily shackled to sunflower fields and lush grasses.
Places like this will find a permanent home in your dreams…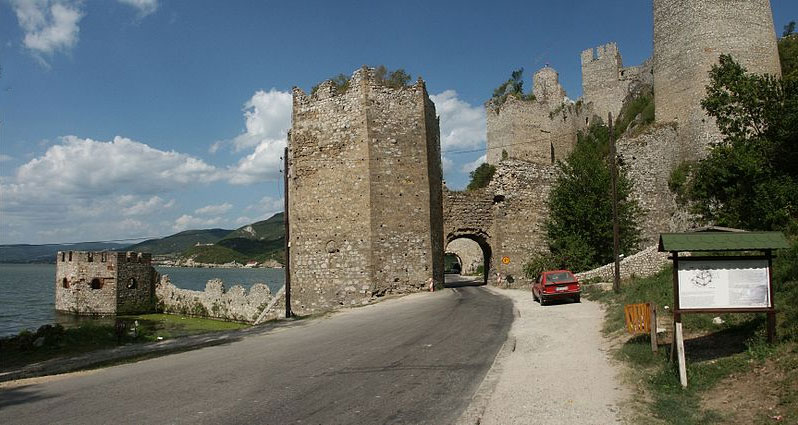 In this cool, sometimes foggy land – this is where you'll find hearty country food. Food that fuels. Prebranac, for example – baked beans with paprika and sometimes sausage (something we've already enjoyed once on this Adventure), keeps traditional hearths warm. Soft, polenta-like corn bread sops up the juices, perhaps of stuffed peppers or even roasts.
Goodness, how her cities clamor up the hillsides.
In many ways, I have a sense of deja vu this week, as though I've tasted Serbia before. As you can see by all the links, many of her favorite spreads we've made before (although, certainly, Serbia has her own variations on these regional favorites). You can add stuffed cabbage, ajvar pepper dip and spread, cevapi (a..k.a. finger sausages), and pljeskavica (a.k.a. giant hamburger city) to the list.
For something new (to this blog), perhaps a bite of Musaka (a layered meat and potato casserole variation on the Greek standby made with eggplant) [Recipe] with a fresh Serbian salad topped with shredded cheese [Recipe]? Or find yourself seduced by a chocolate and cream sponge cake (called Ledene Kocke) [Recipe].
And finish it all off with a good shot of strong coffee.
And… cue the music. I'm hungry.