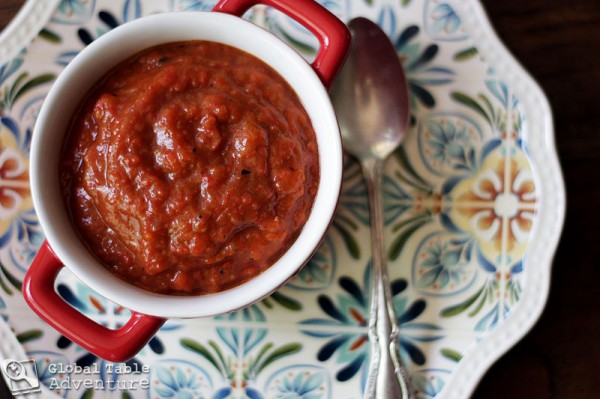 Some days I dream about reinventing myself – pulling myself up, out of the ordinary into the wildly wonderful. On these ornery-sorts-of-days, I imagine myself strutting around in a bold color I've never worn before, like mustard yellow.
On really good days I actually make these dreams happen. I become a mustard-wearing queen.
Other days I just end up wearing mustard. Literally.
That's the way life goes: sometimes change works, sometimes it doesn't. The fun is in the trying.
Are you willing to reinvent yourself – even just a little?
What about your eating habits?
Today, in the spirit of trying something new, we're going to reinvent our ketchup eating habits.
Here's how it's going to work: instead of slathering our food with globs and globs of ketchup, we're going to be bold, sassy, and totally Balkan. We're going to slather it in Ajvar.
Ajvar is a pepper spread popular all over the Balkans. Typically made with fresh, roasted paprika peppers and (sometimes) eggplant, the bright garden flavor goes great with all manner of meat, especially burgers. The versatile spread can also turn into a sauce for pasta, pizza, or a sandwich. Some make it spicy while others make it mild – the choice is yours.
As I don't have access to fresh paprika peppers, I went totally mild with bell peppers and loved every bite. To kick yours up a notch, feel free to add red pepper flakes or a roasted hot pepper of choice.
There are countless Ajvar recipes out there. This one is my own design. For another option check out this really garlicky one from the NY Times.  Major.
Ingredients:

6 red bell peppers
1 small eggplant
2-4 cloves garlic, to taste
1/4 cup olive oil
salt
pepper
Method:
The first step in making ajvar is singing a little song. Perhaps one that also gives you some exciting new outfit ideas (gotta love YouTube)?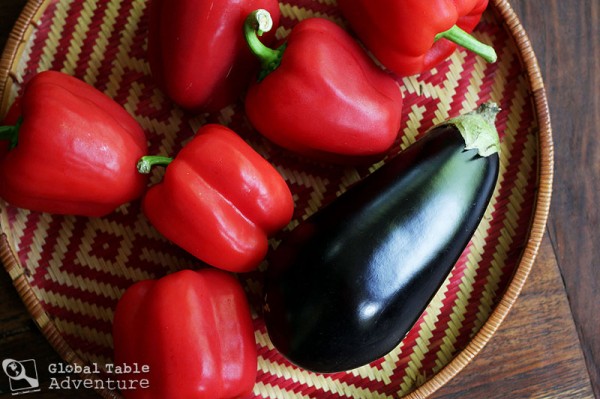 Once you've made your selection, get all gussied up in your fancy new outfit and preheat grill to medium. Meanwhile, poke holes in the eggplant to get it ready for grilling. The tiny holes create a vent-space – somewhere for all that steam to go, so it doesn't burst.
We all need some vent-space sometimes.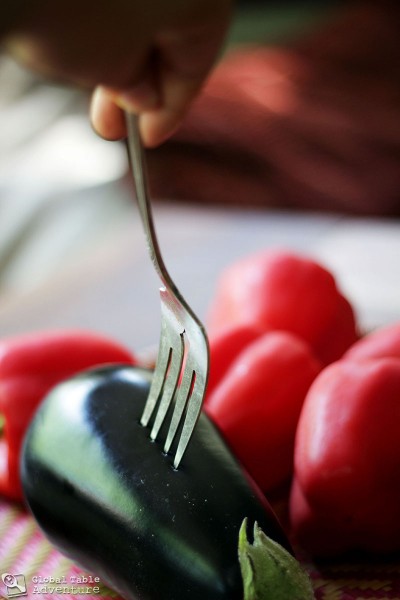 Now, grill the peppers and eggplant, rotating every 10 minutes or so, until the skin is blistering and blackened. The peppers took about 20 minutes and the eggplant about 30.
Meanwhile, write a postcard to someone you love. Perhaps your mama. After all, it is nearly Mother's Day!
Yum…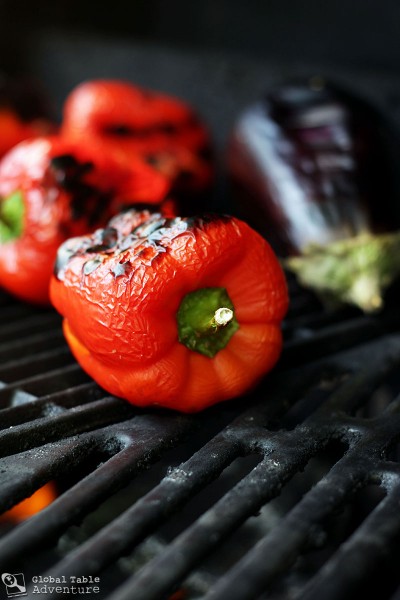 Roasted peppers. Yes. This is what it means to be happy.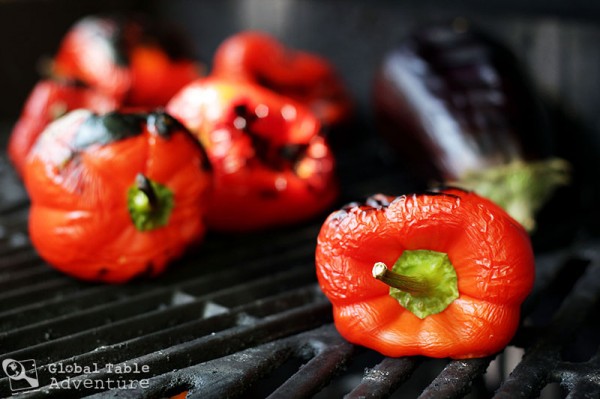 Now, set the cooked peppers aside in a covered bowl until cool enough to handle. They will steam themselves which helps separate the skin from the flesh.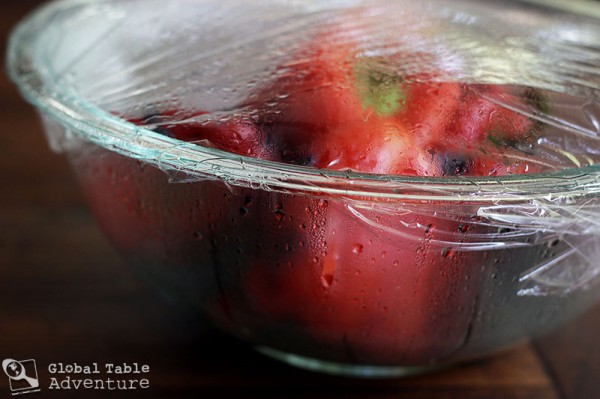 Meanwhile, when the eggplant is cool enough to handle, cut in half lengthwise and use a spoon to scrape eggplant flesh into processor (leave out the skin and most of the seeds). Puree with garlic in food processor until smooth (about 30 seconds to a minute).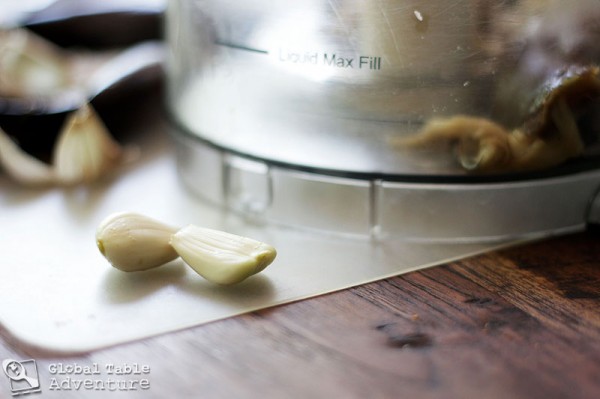 Next, peel the peppers and remove seeds and any liquids. Combine with the pureed eggplant in the food processor. Stir in olive oil, salt and pepper.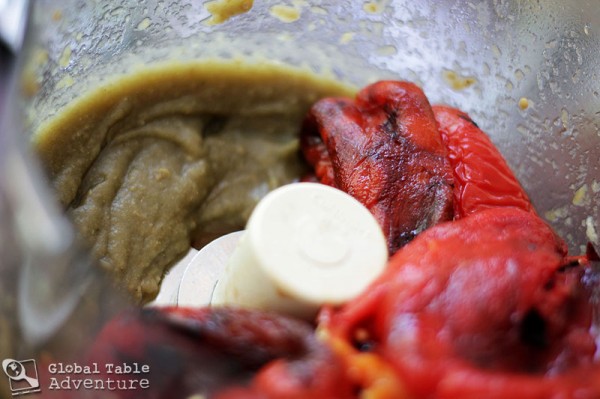 Pulse the peppers until you form a coarse mixture, somewhere between ketchup and chunky tomato sauce. It's really up to you and what makes you smile.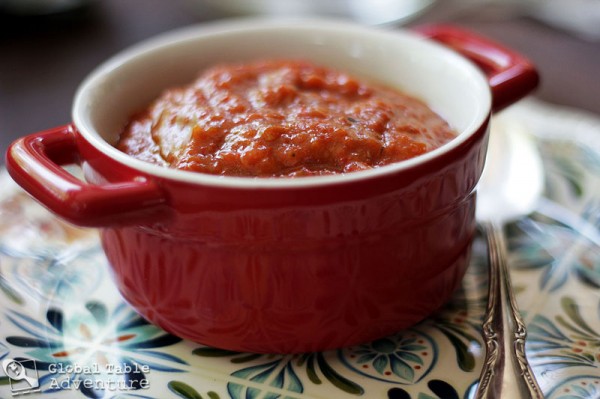 I could eat this for dinner, just the way it is.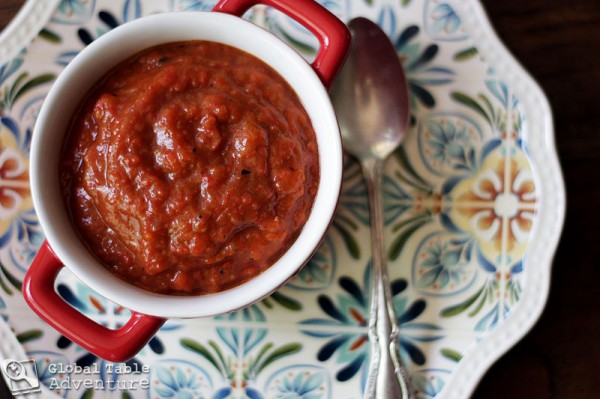 How about you?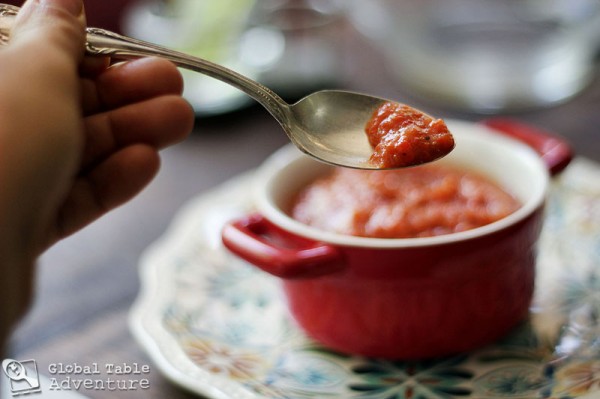 Of course, I'd be happy to slather it on my next Balkan burger!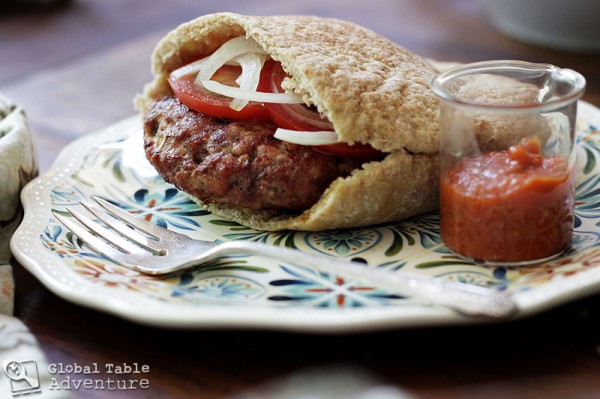 That recipe will be up by Sunday. Stay tuned!
Have a great day, friends.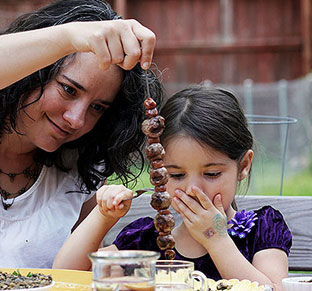 Hungry for more?
Be notified when National Geographic releases my memoir.
Simply fill in your details below.