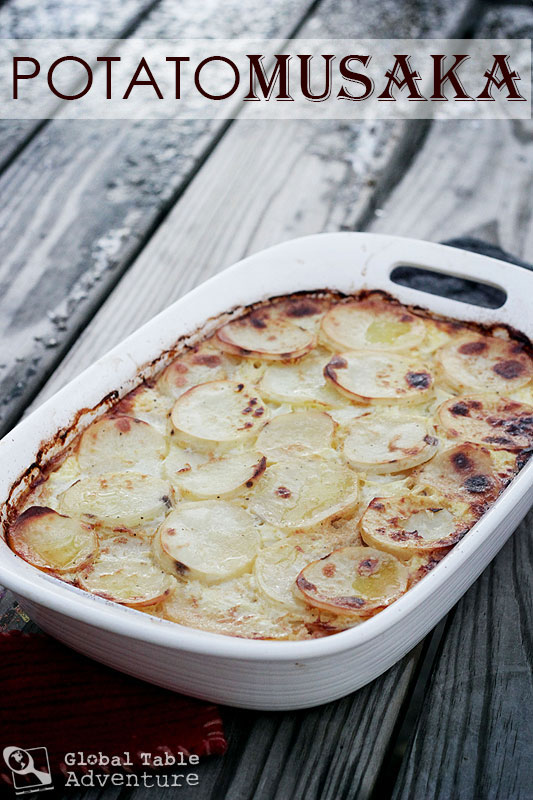 Every once in a while we need chow down on good, ol' fashioned home cooking. The kind that reminds us of mom, checkered aprons, and creaky kitchen chairs.
We all need this edible comfort, especially when the wind chill drops down into the single digits.
Keith informed me that, against all odds, I happened upon one such recipe when I selected Potato Musaka for our Serbian Global Table.
"This is kind of like my mom's 'Hobo dinner,'" Mr Picky said, after his first taste.
"Hobo what?" I asked, brow furrowed.
I need not have worried. Clearly this was a good thing; he forked bite after bite of the layered potatoes and ground pork into his mouth, working quickly, looking more like a teenager than a 40-something who generally shows more restraint around food than I can fathom.
After scraping his plate clean, he went back for seconds.
Then thirds.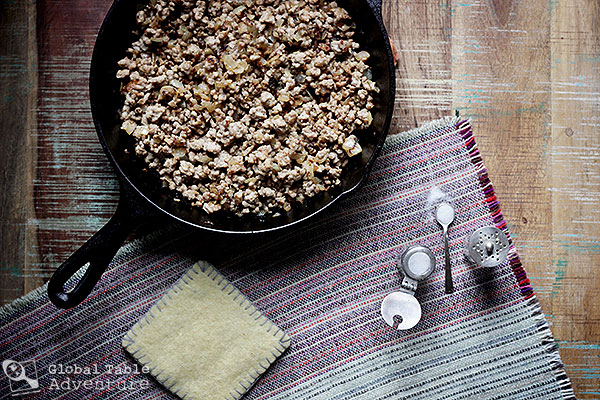 He's in good company. Potato Musaka is much beloved in the Balkans, especially in Serbia. She's quite similar to her somewhat sloppier cousin, Eggplant Moussaka which can be found all over Greece (and originates from there, too). A yogurt and egg mixture bind together the real superstars: gently fried onion, ground pork, and potatoes.
The sweet spot is that it contains your meat, potatoes, and dairy, so the only other dish you need to prepare is your veggie.
It's a comfort food quilt.
Direct from one mama to another.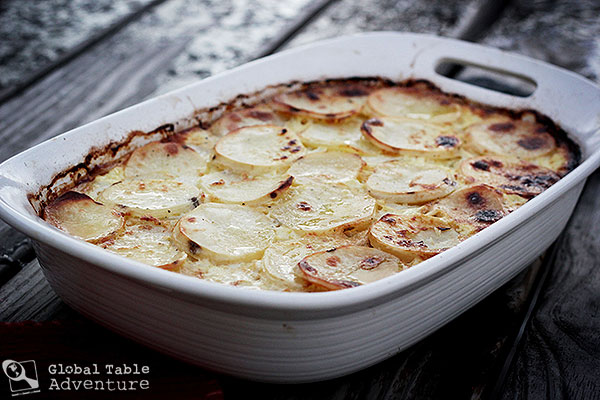 P.S. Learn from my mistakes. The casserole pictured above was made immediately after assembly. The one below was refrigerated overnight, then baked. The taste was still good, but the yogurt mixture separated and certainly doesn't win any beauty pageants.
Lesson learned.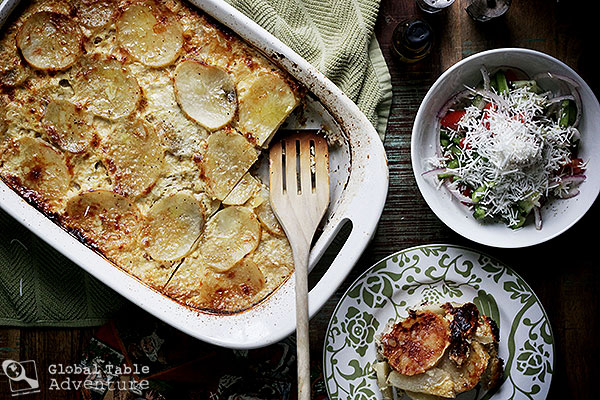 Serves 6
Ingredients:
4 lbs of russet potatoes, peeled & sliced in 1/4″ thick rounds (no thicker or cooking times will be affected)
1 lb ground pork or beef
1 onion, chopped
1/4 cup olive oil
salt & pepper
For the topping
4 eggs
1 cup yogurt or sour cream
2 cups milk
salt & pepper
Method:
First, wind your way along babbling brooks and towering cliffs, until you find a beautiful cooking spot.
Perhaps something like this… (bring your boat over, we can cook together!)
Once you settle in, brown the onions in the olive oil. Add in the meat, salt and pepper. Continue to cook through until your house smells amazing. Remove from heat and set aside.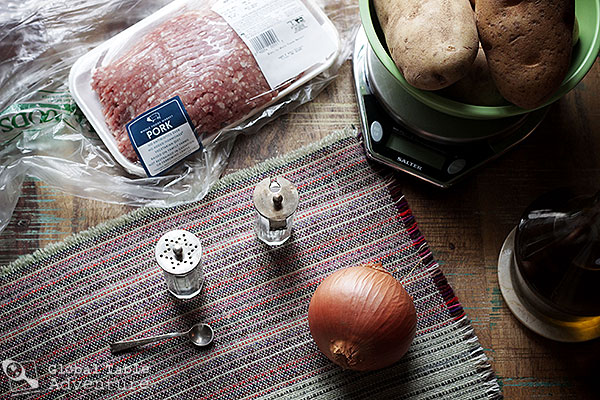 Next, preheat the oven to 400F and slide some olive oil over on the bottom of a casserole. Cover the bottom with two layers of sliced potatoes. Sprinkle with salt and pepper, then spoon on the meat mixture. Sneak a few nibbles of the browned bits at the bottom of the pan.
Yum.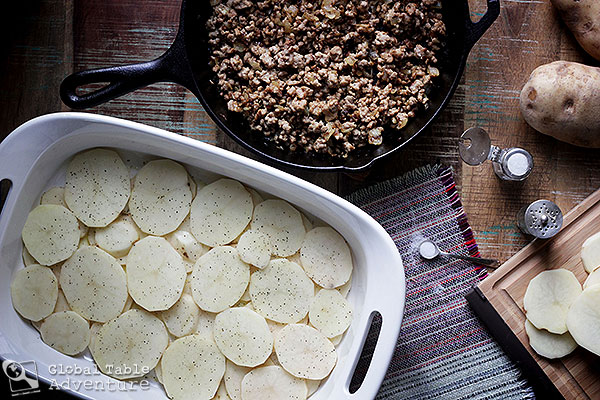 Next, add another double layer of sliced potatoes.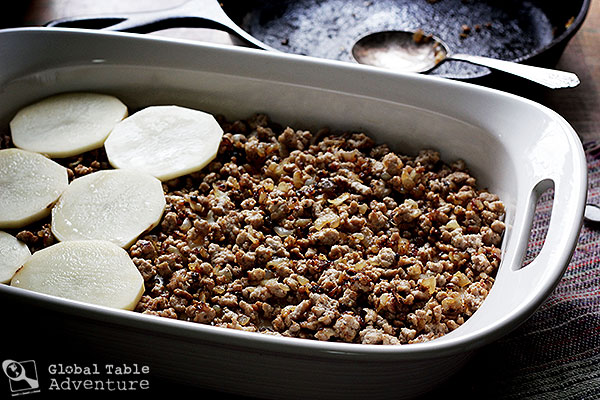 You're almost done, my friend!
Mix together the eggs, yogurt, milk, salt, and pepper. Be sure to use plenty of salt, as the potatoes really soak it up.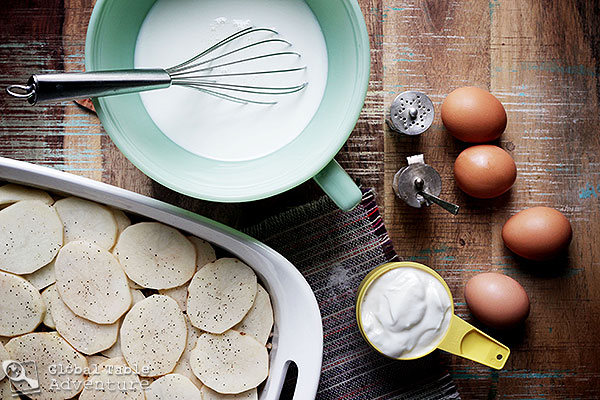 Pour the topping into the casserole, stopping when the yogurt mixture stops just shy of covering the top layer (see below). Depending on the size of your casserole, you may have a few tablespoons left over, or you may use it all.
By keeping the top layer of potatoes exposed, they brown up beautifully.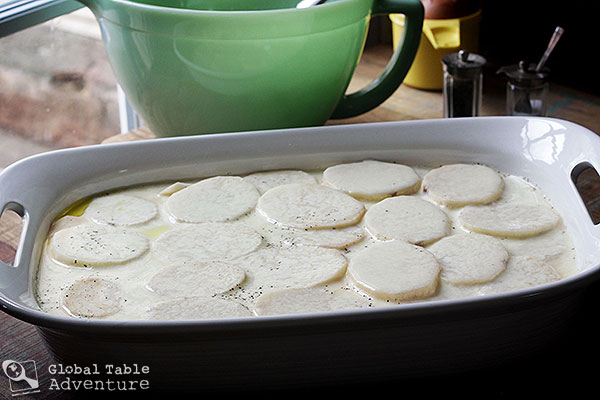 Bake about an hour, or until the potatoes are tender and beginning to brown (you can check them with a knife to be sure).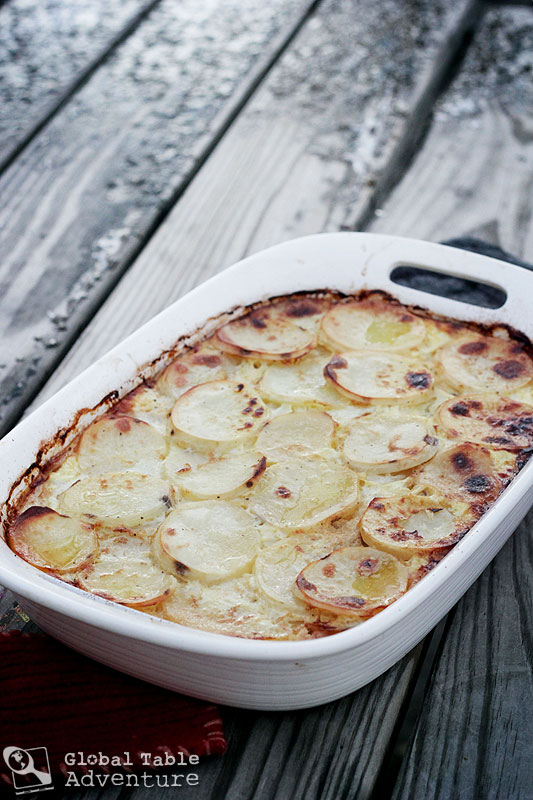 If you want the casserole even browner, place it under the broiler for a few moments until crispy and bubbling as desired. I've seen some that looked like terra cotta potato chips.
Let cool for a few moments before slicing and serving.
Maybe watch a few clouds roll by while you wait…
Enjoy, my friends.
If you need me, I'll be floating on that puffy, white cloud in the center.
TGIF.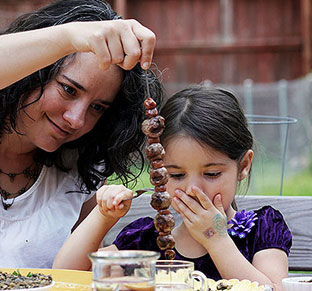 Hungry for more?
Be notified when National Geographic releases my memoir.
Simply fill in your details below.