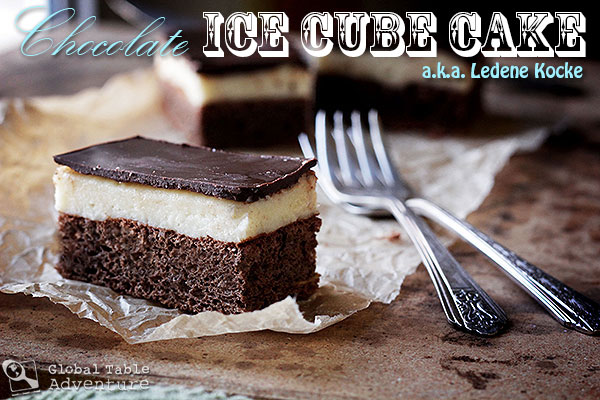 If there was a giant table strewn with every cake, brownie, custard, and pie, ever, I'd be the first in line. But I wouldn't be there to eat them. Not initially. I'd be there to soak in their beauty, to enjoy the geometry.
Circles, rectangles, towers of truffles. Cubes, even.
I'd languish to revel in the colors – chocolate browns, raspberry reds, vanilla-cream whites, mint-leaf greens, passion fruit golds.
I'd eat with my eyes until ever bit of my spirit was nourished. Then I'd sink my teeth into the sweetness.
When I happened upon Ledene Kocke, I fell immediately for the geometry; a grid, stacked in shades of cocoa and cream. Little did I know, translating the recipe would hold it's fair share of challenges. I so wanted to make the recipe, though.
With cold, hard stubbornness  I powered through and, in the words of Tim Gunn, I made it work.
Let's start by talking about the name. Ledene Kocke. Translators generally make this "Ice Cube Cake" which is completely adorable. It was only after I thought about how the cake is made, that I realized this may be a faulty translation.
Cube and box are the same shape.
Could this cake actually be an "Ice Box Cake", as in, the cake spends quite a bit of time chilling out?
(If we have any linguists in the crowd, I'd love your input on the matter.)
Either way, I went with Ice Cube Cake, because the name makes me hungry and smile, all at once, and that's what great recipes should do.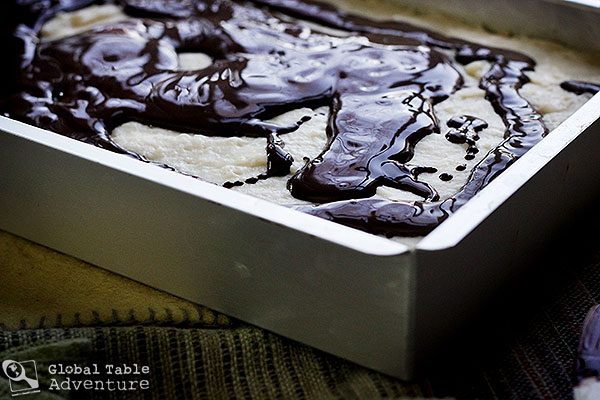 So what is Ledene Kocke?
She boasts a light, chocolate spongecake base that's drunk up a happy amount of orange blossom infused syrup. For those of you with Valentine's Day on the mind, rose water is another traditional addition. Either way, this is a garden of goodness for your mouth. She's then topped with a thick vanilla custard. Finally, she's got a deep, dark chocolate topping (in a pinch, a dusting of cocoa powder works great here, too).
While there are lots of recipes for this cake, I found watching this video to be helpful to understand the procedure (despite the fact that it's not in English)
Makes 1 13×9 cake
Ingredients:
For the custard topping
3 cups milk
2/3 cups sugar
1 Tbsp vanilla extract
2/3 cups flour
16 Tbsp unsalted butter (2 sticks)
For the cake
6 eggs, separated
1/3 cup sugar
1/3 cup unsweetened cocoa (sifted, then measured)
1/3 cup flour
1/2 tsp baking powder

butter, for greasing pan
For the syrup
1 cup sugar
1 cup water
1/2 tsp rose water or orange blossom water syrup (optional)
For the chocolate topping
8 oz semi sweet baking chocolate
6 Tbsp vegetable or canola oil
Method:
First, find a dreamy sort of spot to make a cake. Somewhere that makes your heart smile.
Let's make this cake in stages.
For the custard topping:
Heat up the milk, sugar and vanilla extract until steaming. Meanwhile, ladle enough milk into the flour to create a thick slurry. Pour it back into the milk mixture and heat until it resembles thick vanilla pudding. Be sure to whisk well as you go, so that lumps do not form.
Let cool completely, then beat in the butter.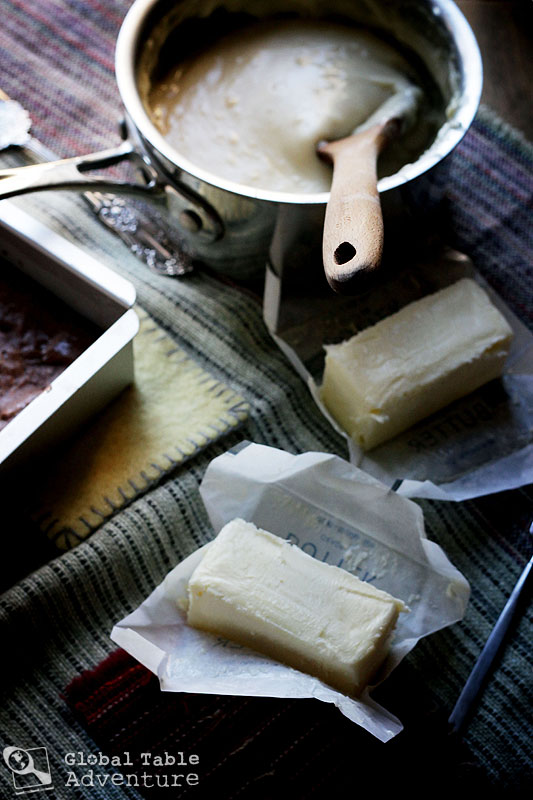 For the cake:
Preheat the oven to 350F. Grease a 13×9 cake pan generously with butter. (You can use a smaller pan, but you'll have to increase the cooking time)
In a large bowl, whisk together the cocoa, flour, and baking powder.
Next, Beat the egg whites until foamy, then gradually add the sugar until glossy, stiff peaks form.
Do your best not to do laps in those luscious white waves.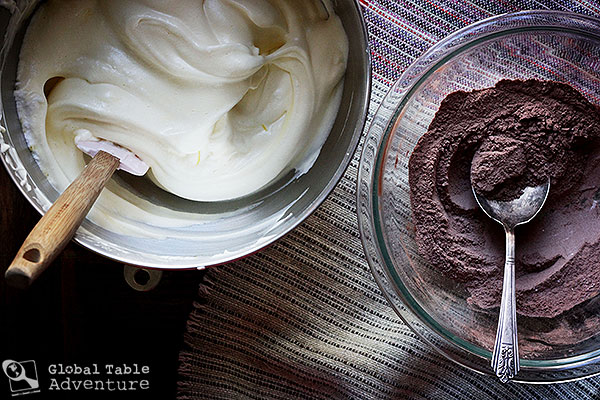 Next, fold the golden balls of sunshine, a.k.a. egg yolks, into the egg white mixture.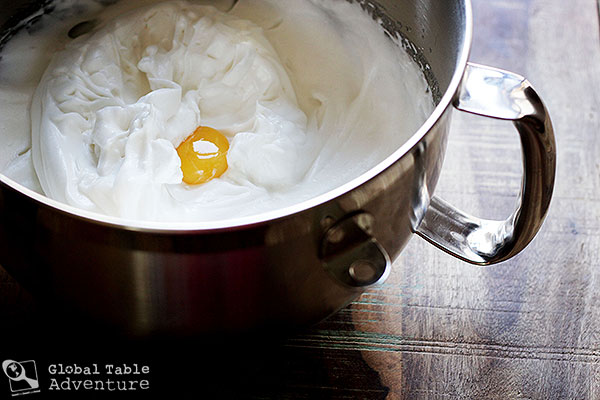 Are you hungry yet? I am.
Now, fold the cocoa mixture into the egg white mixture. Spread the thick, fluffy cocoa brown batter into the cake pan.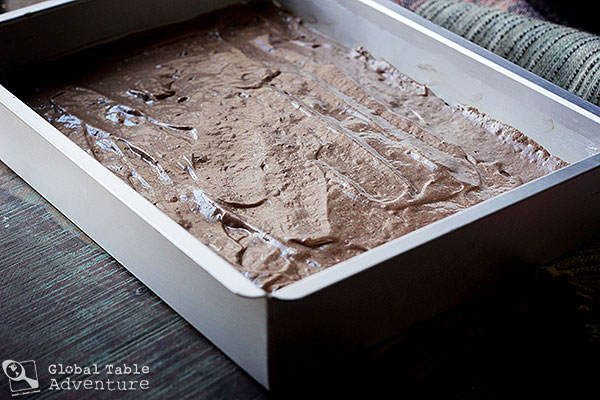 Bake about 25 minutes. Meanwhile, write a thank you note to someone you love. It'll make their day!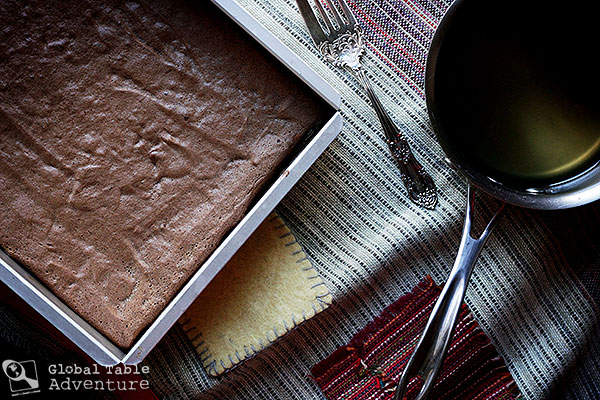 For the syrup:
Simmer the sugar, water, and orange blossom water (or rose water) until the sugar dissolves, about five minutes. Sneak a taste of this sweet elixir.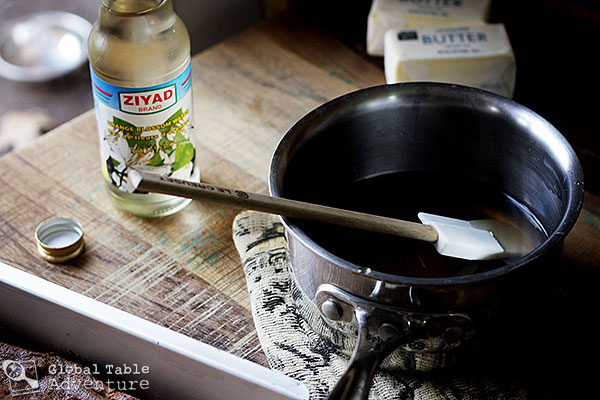 Then, use a fork to poke a few holes on the cake. Pour the syrup over the hot cake until…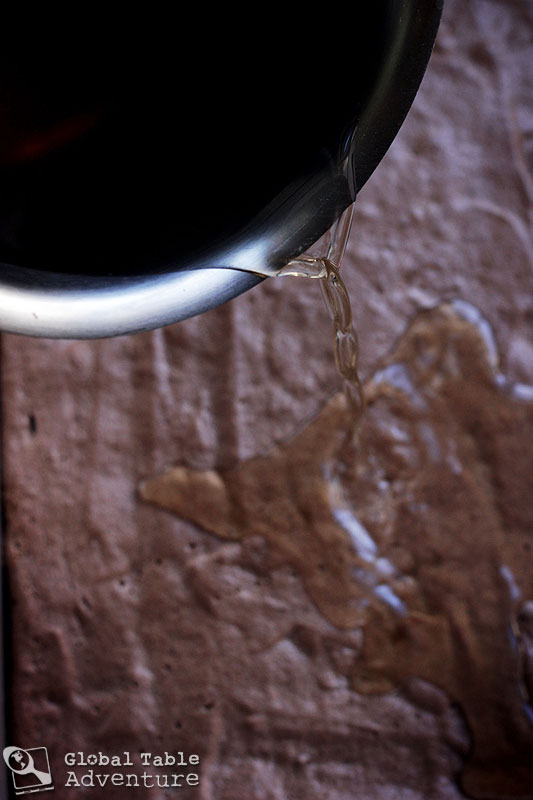 … you have your very own swimming pool. Let sit until completely absorbed.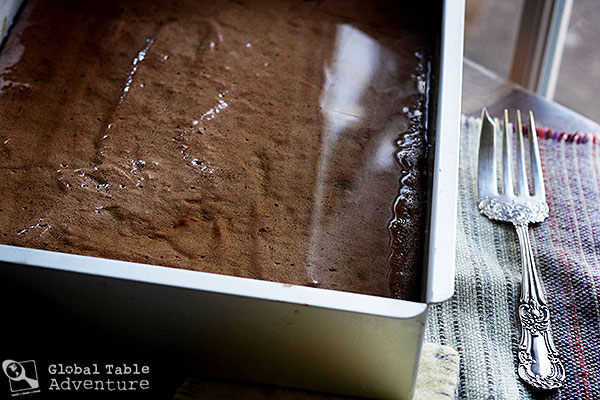 For the chocolate topping:
Melt the chocolate over a double boiler and stir in the oil.
NOTE: The first time I made this cake, I didn't use enough oil, so it was too brittle to cut nicely (that's what I get for trying to be healthy!). I adjusted the recipe, so your topper might look a little different than mine.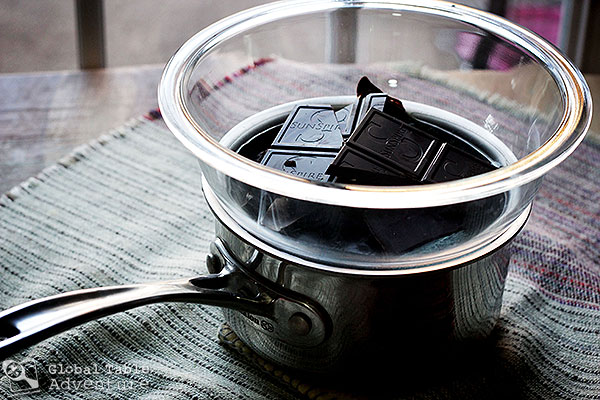 To assemble:
Top the cake with the cooled custard cream, spreading it out evenly with a spatula. Then pour on the chocolate topper and smooth it out. Deliciousness.
You can also just dust on cocoa powder if you don't want to mess with the chocolate (it will look like the top of a piece of Tiramisu).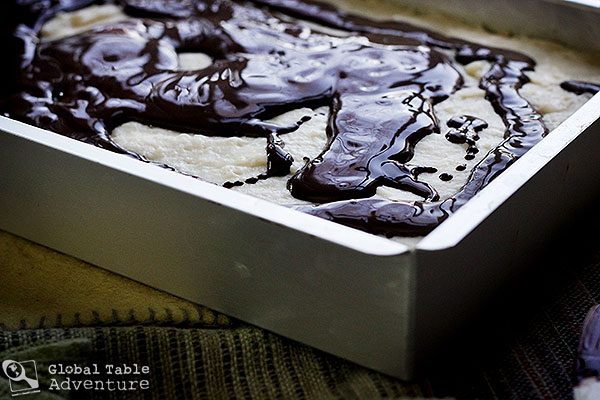 Refrigerate until the chocolate sets, then slice into squares.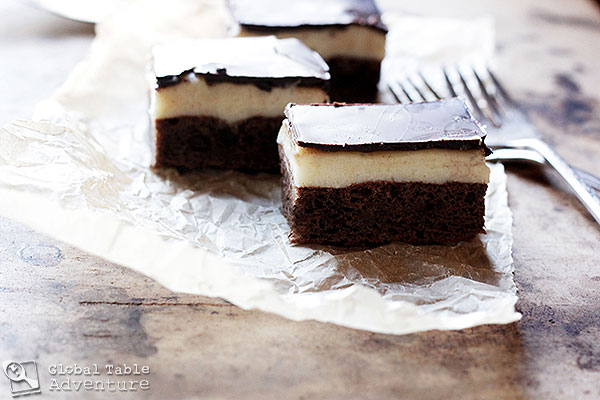 This beautiful cake will serve a crowd…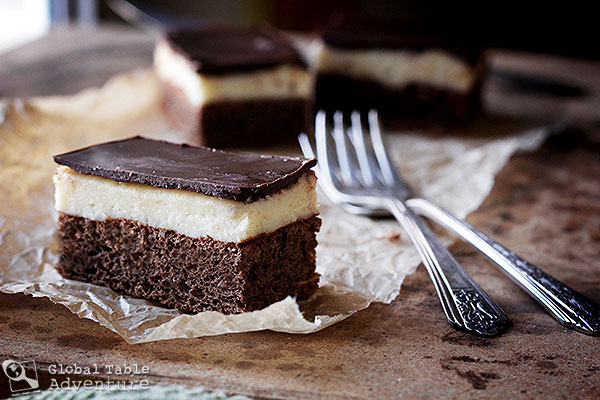 … so, go on, have a party!
Love to you, my friends…  have a beautiful day!
xoxo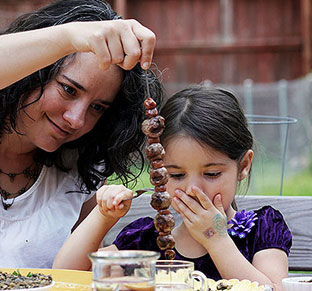 Hungry for more?
Be notified when National Geographic releases my memoir.
Simply fill in your details below.