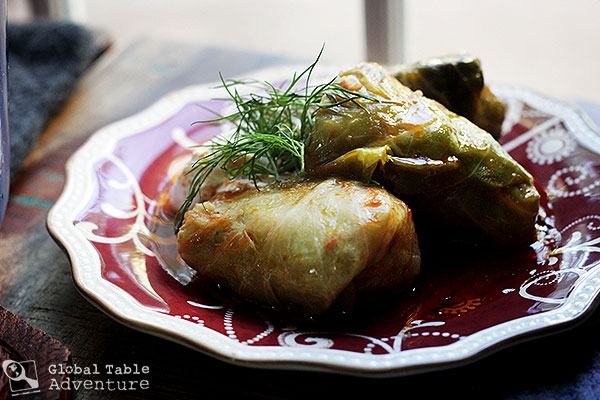 Cabbage patch kids always seemed creepy to me when I was little. What kind of baby grows out of a cabbage? Could you still eat the cabbage once you harvested the baby? This doll raised lots of questions. Not to say this stopped me from wanting a cabbage patch doll more than Rainbow Brite leggings, because I did. The urge was major.
Now that I am a couple (few) decades older, I know exactly what was going on – mostly because it's starting to happen with Ava. I wanted those dolls because all the other kids wanted them. They were collected in the 80's quicker than Michael Jackson gloves. As a rather "thrifty" family living in a "thrifty" part of Boston (I slept in one corner of our apartment's living room while my brother slept in the other), I wanted nothing more than to play with these dolls that rich kids littered their deluxe playrooms with. It all seemed so fancy and grand. And I thought maybe having a doll would make me popular – like the kids who had them.
By the time the dolls entered the thrift stores – our usual shopping grounds – the allure had all but faded away for the rest of the world. The closest I ever got to the doll was a few beat up trading cards which I paraded through the playgrounds with pride. But they weren't the dolls, so the kids didn't care.
It was a hard lesson at a time when the only thing that seemed to matter was what mattered to everyone else.
Sometime later, while scouring the rich neighborhoods for any good "finds" (a habit of my mom's which never ceased to make me cringe) we happened upon a trunk full of someone's old dolls placed on the curb, just waiting for someone to claim them. I remember ducking down so no one could see me.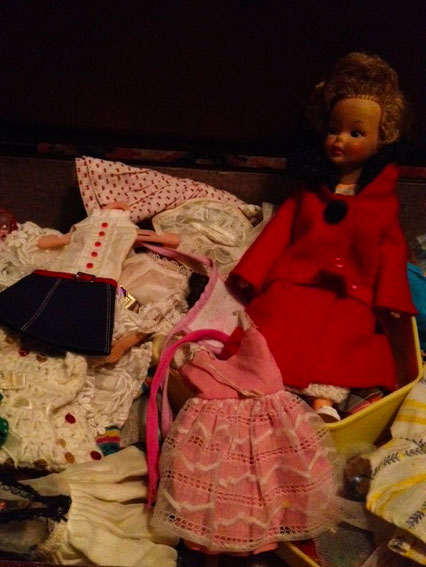 Time changes everything though. This collection had dozens of outfits from the 60's and 70's – full of beautiful, quality stitching. I played for hours upon hours with those dolls. And when I went off to live with my foster family for nearly a decade, my mom saved them – still dressed in the last outfit I'd put on them. She gave them back to me last Christmas and I was shocked she'd kept them for more than 20 years. We now store them in Keith's Grandfather's old work briefcase (Ava's Great-grandfather).
I'm proud of those dolls and what they represent. And I'm even more proud to say that Ava plays with them, too. I can't wait to tell her the "thrifty" story behind them.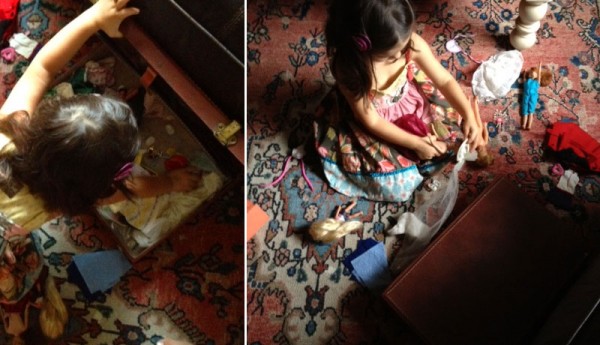 But back to the cabbage. (Amazing how one little word can bring back so many memories.)
The funny thing is, while I was pining away after those silly cabbage patch dolls, I had an even better gift right in front of me, on a regular basis: my mom's homemade stuffed cabbage. Thankfully, this particular version of cabbage did not involve babies. But it did involved love, a dash of thriftiness  and all kinds of comfort.
If we lived in Romania, we'd have been right on trend (on all counts). And this would be the right kind of trend – good, comforting food, to be shared with the ones you love.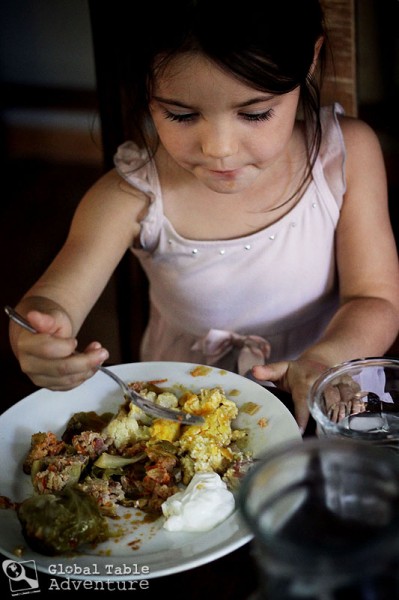 In Romania, they call stuffed cabbage "sarmale". Usually they are filled with ground pork, some sort of bacon product, onion, the odd vegetable (like carrot), and a tomato sauce mixture. You can find little ones and huge ones – the size varies by region. In Moldavia they are smaller, while in the west and south they are bigger (like in Transylvania). In honor of a very Global Halloween, we went big with our sarmale in hopes that they'd please Dracula himself.
This is the first time I've had stuffed cabbage since my childhood. And I'm so glad, not just for this dish, but for the memories. Thanks, Romania.
Ingredients:
1 large head cabbage
6 oz bacon, diced
1 onion, chopped fine
2 carrots, grated
1/2 cup long grain rice
3/4 cup water
1/2 tsp paprika
salt & pepper
2 lbs ground pork
15 oz can tomato sauce diltuted with 1 can worth of water
ham hock
extra water, if needed
a few sprigs of fresh dill
Garnishes:
Sour cream
Fresh Dill
Method:
The first step to making sarmale is to soften the cabbage so that it is supple enough to wrap.
You can either…
A)  submerge the head of cabbage in boiling water for half a minute until outer leaves are soft (then remove the soft leaves and repeat procedure)
OR
B) a couple of days before you want to make the sarmale, freeze your cabbage. Then place in refrigerator to thaw the night before you plan to make the sarmale.
I tried both ways and happen to prefer the boiling method myself , although you'll need a large scoop to get the cabbage in and out of the water easily.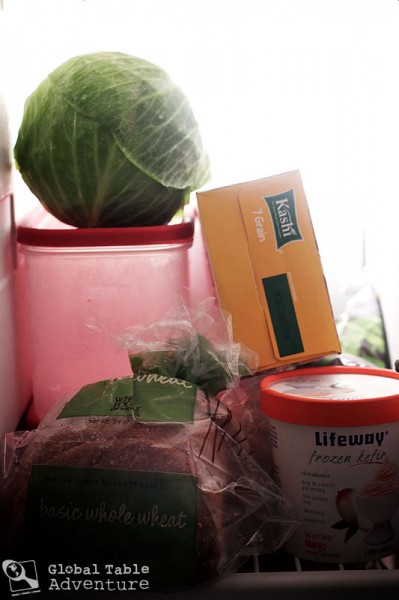 The next step is the yummy-tummy filling. I mean, seriously. Major.
Here goes…
In the same pot you'll cook the Sarmale in, fry up the bacon to render the fat, but not to brown it. This very act makes any house smell like a home. A place I, for one, want to be.
Next, dump in the chopped onion, grated carrot, paprika, salt and pepper. Cook until everything is happy and soft. Then stir in the rice and water.  Simmer about 10 minutes or until the water is absorbed, stirring occasionally.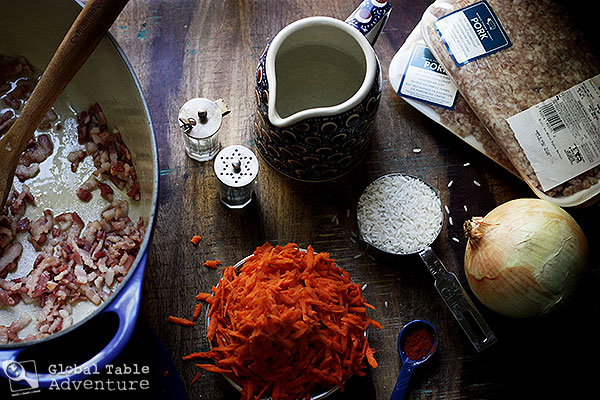 Combine the meat and the rice mixture in a large bowl (If you aren't cooking these right away, you'll want to cool the rice mixture before combining it with the raw meat).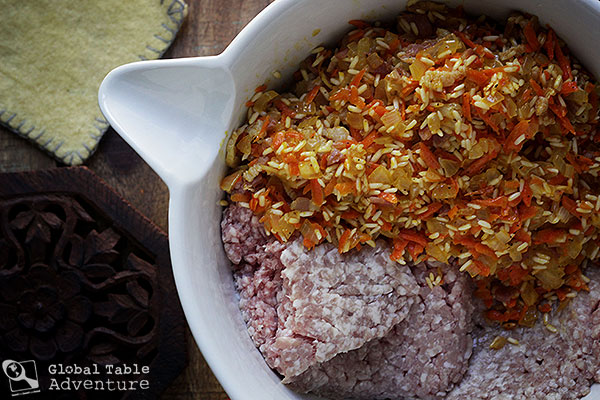 Place a large spoonful in each softened cabbage leaf.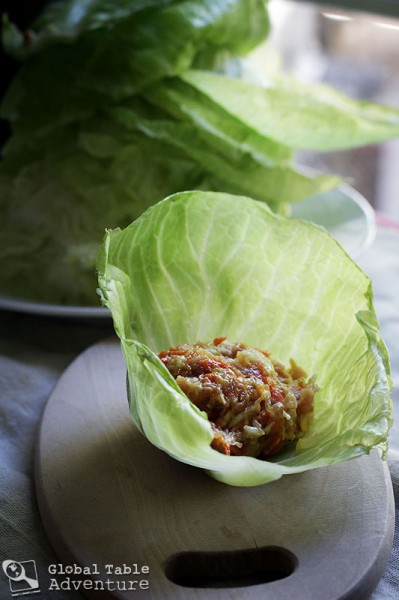 Fold the right side in, then roll up from the stem end.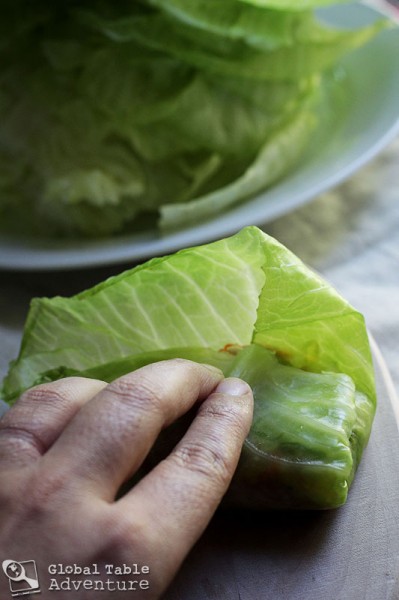 Finally, press the left end in, making a deep belly button of sorts. This will hold the entire package together.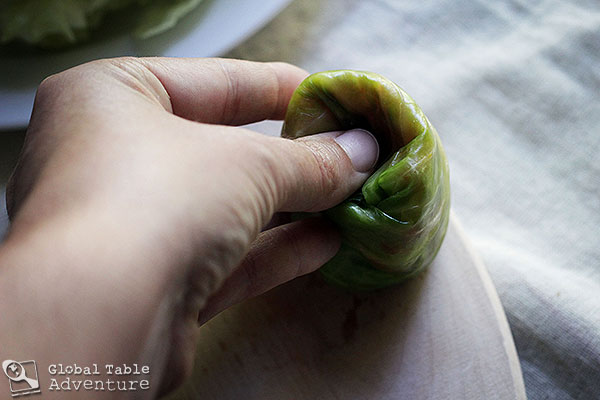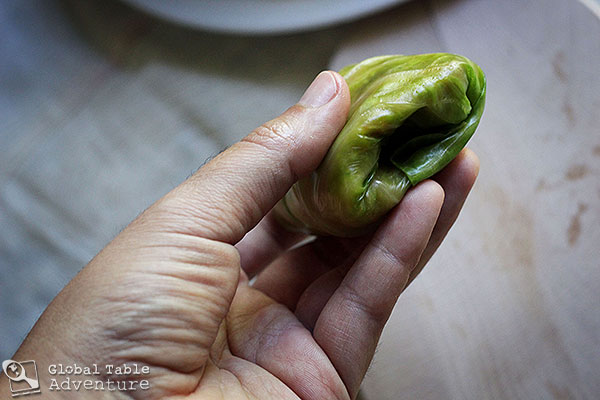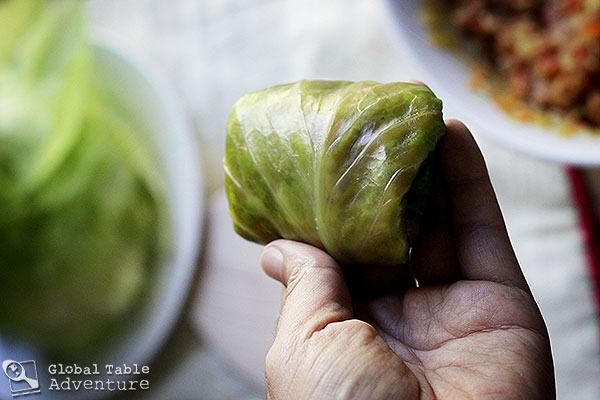 To the bottom of your dutch oven (or large pot), add a splash of oil and a few scraps of cabbage. Place a ham hock in the center and lay the stuffed cabbage rolls around it, packing them pretty tightly.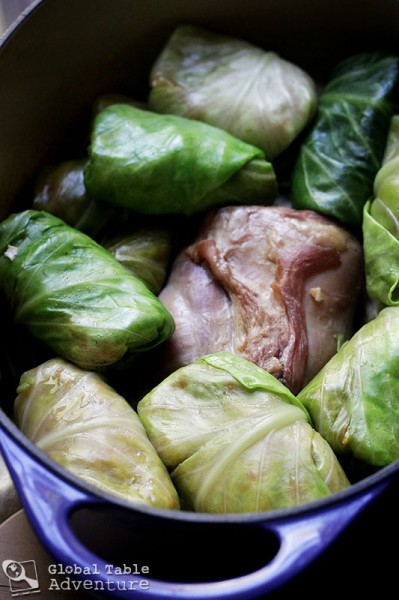 Whisk together the tomato juice and water (plus more salt and pepper, if desired). Pour over cabbage rolls and make sure the liquid goes up to the bottom of the top row (add more water as needed – I didn't need any). You can add a few sprigs of dill for extra flavor, if you like.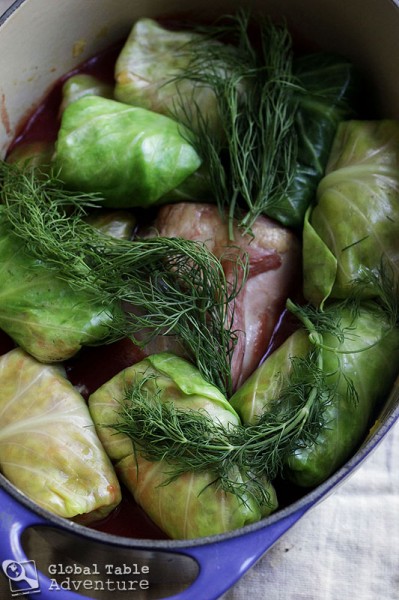 Top with loose cabbage leaves, pop on the lid, and bake at 275F for about 4 hours.
Meanwhile take a stroll through Transylvanian spring.
When you get home, it's time to eat.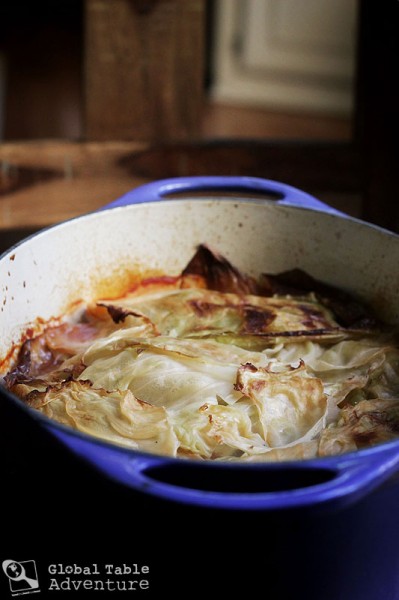 After peeling back the crusty layer of cabbage, we find this goodness inside. Just look at that rusty sauce. Glorious. With a spoonful of sour cream and a few sprigs of dill? Yes.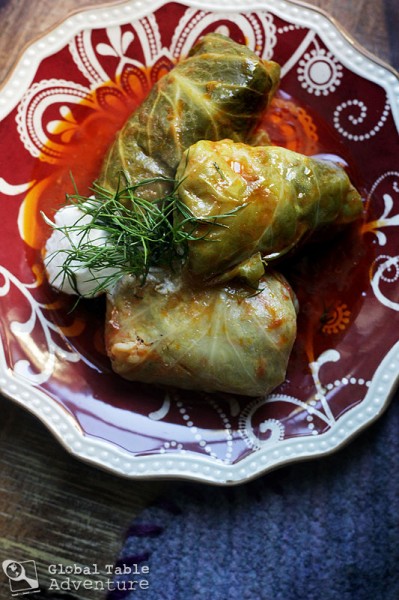 Kid tested …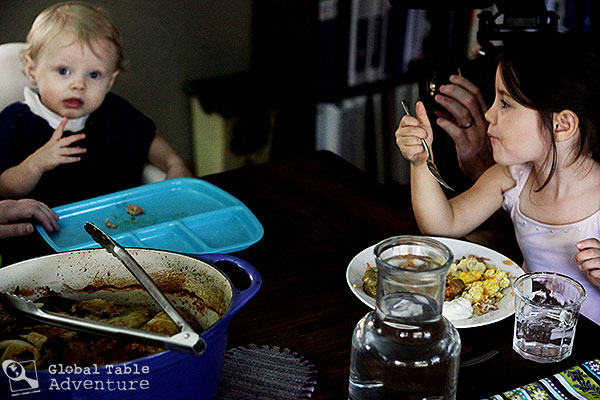 … and mother approved.
(Hi, Alexis and Kaiden! P.S. Kaiden is Ava's nephew and Alexis is his sweet mama.)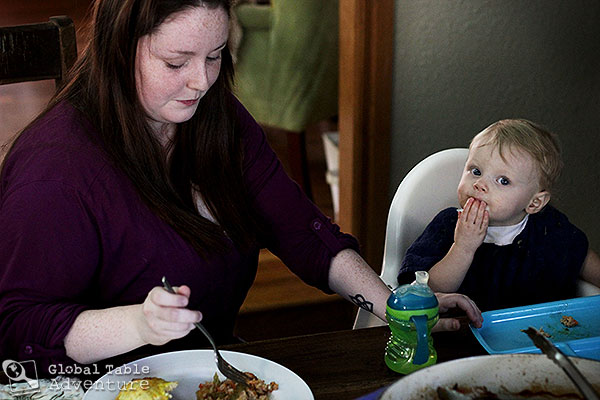 P.P.S. Super extra thanks to our Romanian reader Laura, who sent me her very detailed family recipe to work off of. I made a few changes, but the spirit remains the same. Cheers to you, Laura!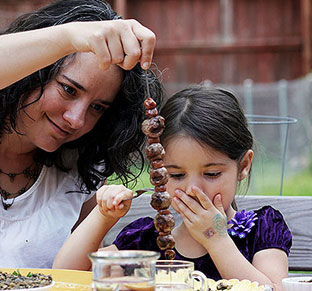 Hungry for more?
Be notified when National Geographic releases my memoir.
Simply fill in your details below.