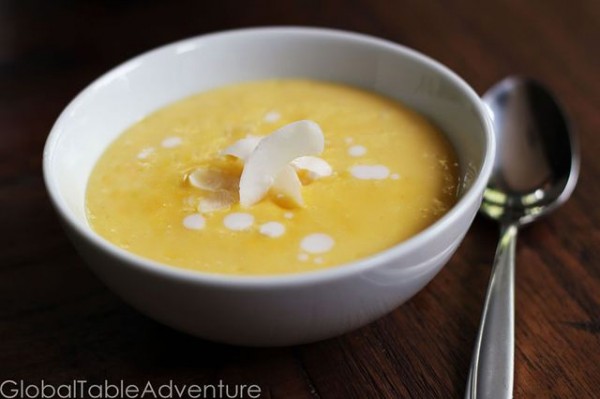 Serves 4
Hello summer, nice to see you again. This year let's stay cool, no overheating, no frustration, no sweaty t-shirts. I have to admit I don't think you're playing fair – soaring above 100F in June, but I'll take drastic measures to keep the peace, if need be. I can curl up in an ice bath. Thankfully, however, there's something better and tastier: cold soup. Inspired by the Guyanese in South America and their love of Caribbean flavors, today's special is mango and coconut-tastic.
I'm ready to do laps in this chill goodness.
The flavor is light – thanks to the coconut water – silky, even. This is high class – good for breakfast, lunch or dinner. Eat it by itself or eat it as a starter or eat it as dessert. Just eat it.
Ingredients:
4 medium ripe mangoes (about 3.5 cups chopped)
1 1/3 cup coconut water (1 can)
1 cup yogurt
1/2 cup coconut milk
1/2 cup milk
1 Tbsp rum (white or dark)
honey, if necessary ( I didn't use any)
For garnish:
coconut milk (to drip-drop on top)
coconut chips (or shredded coconut)
Method:
This recipe is a good excuse to wear a flouncy skirt, if you're into such things. Put on a little makeup, even. This soup is special.
First step: scoop out the golden flesh of four sweet, ripe mangoes. Sing a little song.  Perhaps a mango song.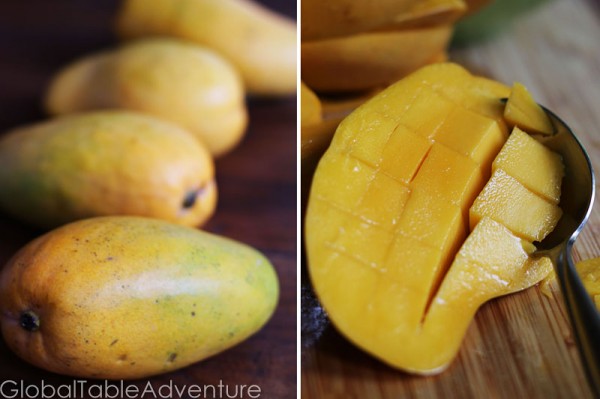 You'll want about 3.5 cups of mango. Throw it in your blender. Shake your hips.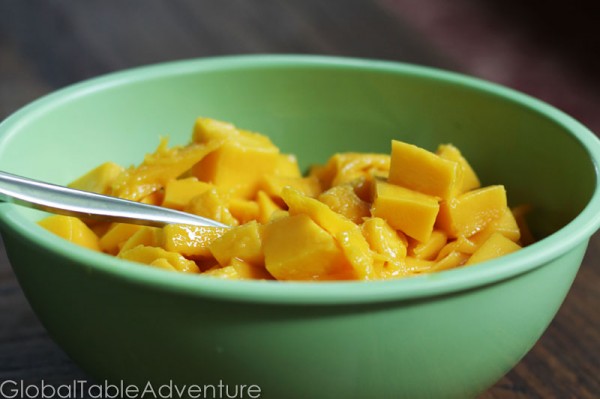 Add a cup of yogurt. Whole milk is best for that creamy, luscious texture.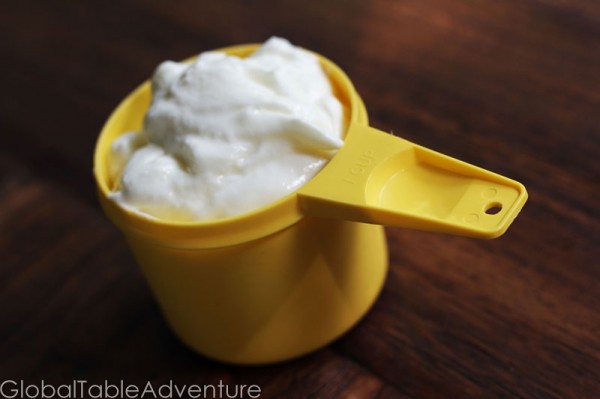 Next add the liquid. Coconut water (a.k.a. coconut juice), a can of coconut milk, and regular cow's milk. Again, whole milk makes it taste like "good."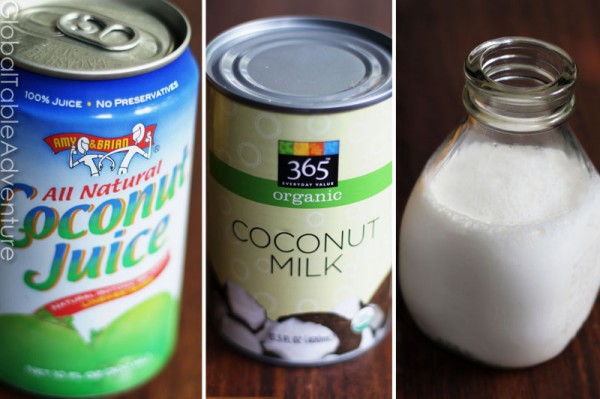 This next step is for those who are child-free or have grown-up children: add a splash of rum. You're not trying to make it boozy, but just enough to give it a little Caribbean-style fact lift.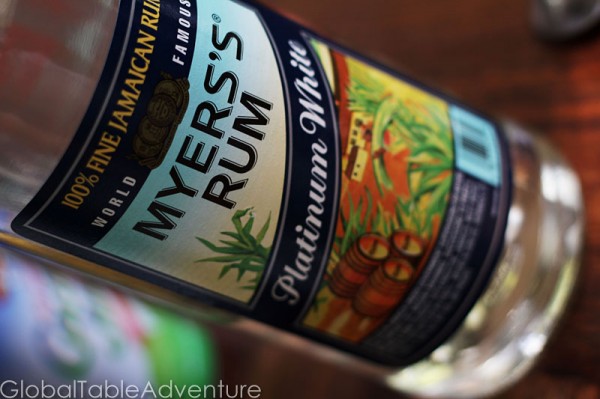 Give all this goodness a buzz-whir in the blender. Once everything is smooth as a moonlit kiss, give it a chill-out in the fridge for an hour or two. This not only makes the mixture nice and cold, it also allows air bubbles to rise up and pop, making the soup even smoother.
To serve, pour into chilled serving bowls. Top with drip-drops of coconut milk (just dip your spoon into liquid and then let it drop on top of the soup. It will float. Then sprinkle with coconut chips (I found these at Whole Foods) or shredded coconut, as desired.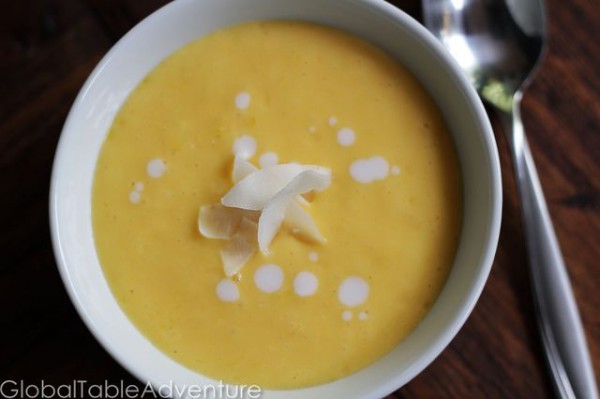 Serve to artistic friends, with a cool fan on a hot day. Don't forget that ruffled skirt.
It really makes all the difference.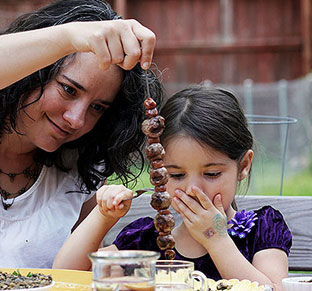 Hungry for more?
Be notified when National Geographic releases my memoir.
Simply fill in your details below.