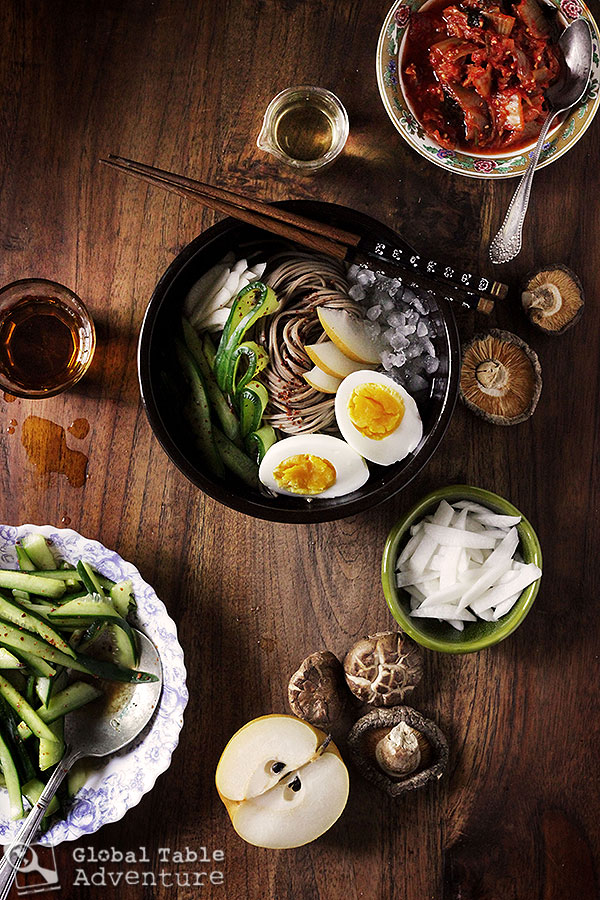 Perhaps you've had chilled soup, but have you ever had soup on ice?
Korean naengmyeon is just that – a brothy, noodle soup topped with spicy cucumber, Asian pear, daikon radish, hard-boiled egg, and ice. While the soup starts out mild in flavor, adding vinegar, mustard oil (or paste), and even a spoonful of kimchee takes the soup to a whole new flavor profile – the catch is this seasoning is usually done at the table, so everyone can control how their naengmyeon tastes.
Do you want it spicy? Sour? Heavy on the pear? The choice is yours.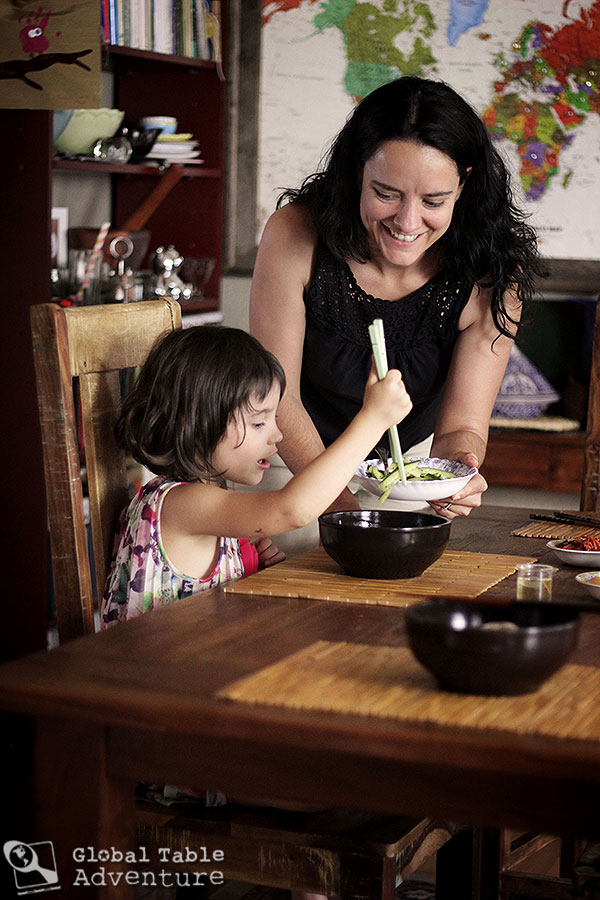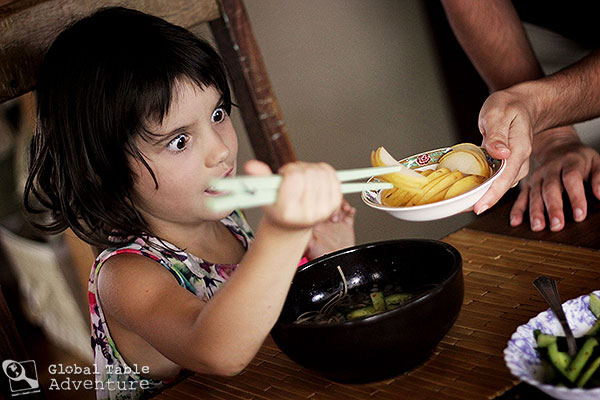 Have you ever had Asian pear?
I love Ava's face, here! She wasn't sure about the Asian pear, but ended up eating nearly an entire pear herself by the end of dinner. While you could substitute bosc pears or just leave them off, crisp Asian pears are incredibly floral as compared to standard pears… they remind me a lot of star fruit in that way.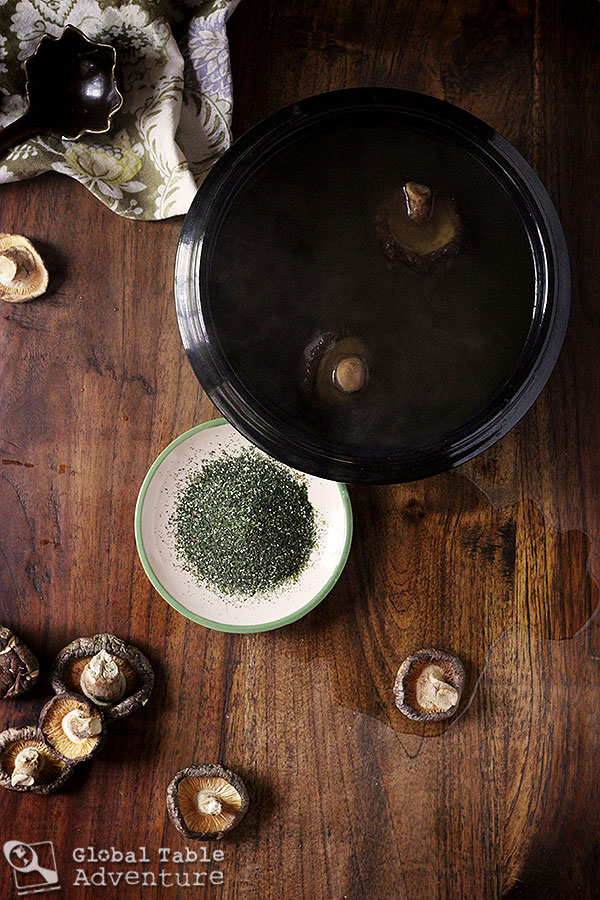 Tips:
– I made my own seasoned broth, adding dried mushrooms and kelp powder, but if you're in a hurry you could just use regular beef broth and call it a day. Doing this would make this a super fast weeknight meal.
– I got all the ingredients for this soup at my grocery store – the noodles and kelp powder were on the international aisle, the kimchee was refrigerated, and the daikon and asian pear were in the produce section.
– Try not to cut your noodles – slurping them whole is considered good luck. When purchasing the noodles, look for a combination of buckwheat and sweet potato flour – they provide the characteristic chewy/snap that makes the dish so fun to eat. In a pinch, regular buckwheat noodles can be substituted.
– You really don't need all the toppings – that's up to you. The key is to have fun and let your personality shine!
Serves 4
Ingredients
one 9-ounce package Buckwheat noodles
crushed ice
For the broth:
2 quarts beef broth
1/2 ounce dried shittake mushrooms
1-2 teaspoons kelp powder
salt
Toppings:
4 hard boiled eggs
1 cucumber, seeds removed and cut into sticks
1 small daikon radish
1 Asian or bosc pear, cut into sticks, optional
sugar
rice vinegar
salt
ground chili flakes, to taste (optional)
kimchee (optional)
Garnishes:
mustard or sesame oil
rice vinegar
Method:
Add the dried mushrooms and kelp powder to the water and bring to a boil. Cover and simmer about 30 minutes, until flavorful. Refrigerate until cold (go ahead and leave the mushrooms to steep longer). After chilling give the broth a taste – cold food loses some flavor – you may need to add some seasoning.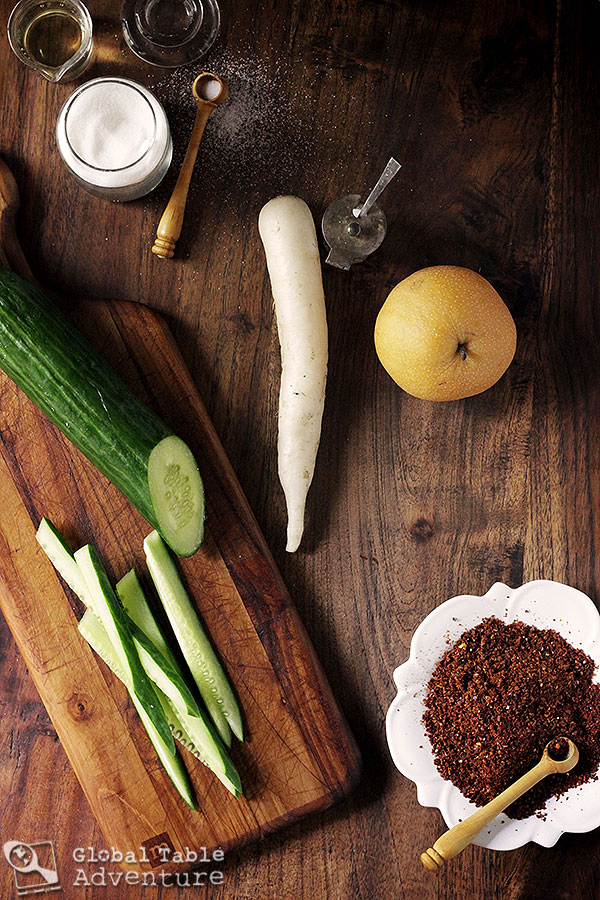 Meanwhile:
Prepare the cucumber and daikon radish garnishes. Place each in their own bowl and add the sugar, salt, and vinegar, starting with 1/2 teaspoon at a time. Keep adding the sugar and vinegar until you get the sweet/tang you are looking for. I like somewhere between 1 and 2 teaspoons of vinegar and half as much sugar.  I generally go with about 1/4 teaspoon salt.
Add chili flakes to the cucumbers until they are spicy enough for your tastes (I liked a half teaspoon, for medium burn).
Slice up the pear right before serving or slice ahead and store in lemon water so the fruit doesn't brown.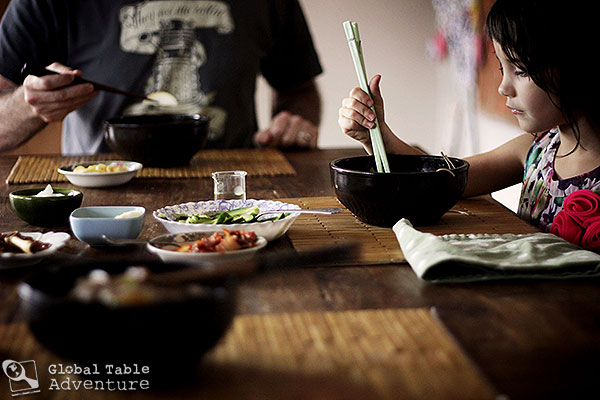 Next:
Cook the buckwheat noodles and rinse well (you're looking to cool them down and rinse off the starch so they won't be gummy).
To serve:
Divide the noodles among 4 bowls.
Ladle on the chilled broth, ice, and toppings, as desired. Season with vinegar (I like a lot!) and mustard oil or paste (I like a few drops).
Eat!!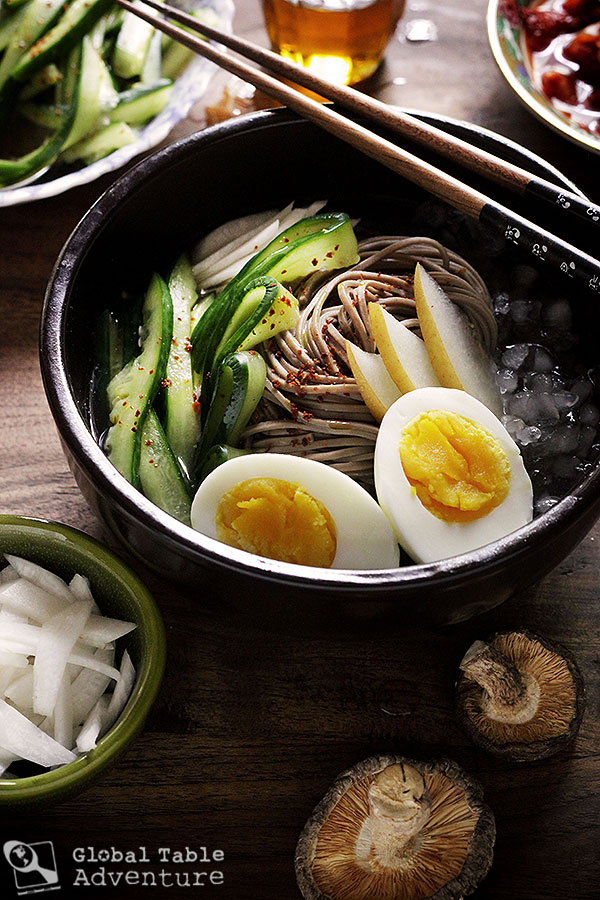 Enjoy with a view of the flowers of Korea…
… What a dream!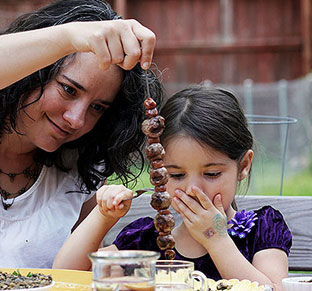 Hungry for more?
Be notified when National Geographic releases my memoir.
Simply fill in your details below.