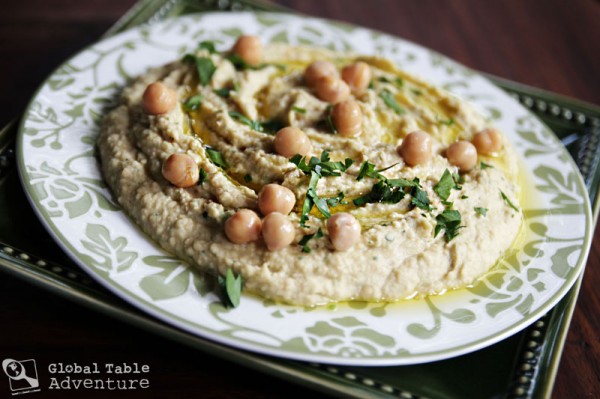 Makes 2+ cups
You know how you think you know something…. Like the earth is round. Or flowers bloom. Or hummus goes into a bowl? … only to have your vision shattered? Your dreams crushed?
Yeah. Turns out not everything is as it seems.
The earth is not perfectly round. It's a "bumpy spheroid" according to Scientific American. And flowers don't always bloom. Especially when it's over 100F for well over a month. My crispy garden is testament to that. And hummus doesn't go in a bowl. It goes on a plate. I learned that from the Israelis.
How's that for blowing your mind?
Ingredients:
2 cans chickpeas, drained (reserve 1/4 cup whole chickpeas for garnish)
3 Tbsp lemon juice (about 1 lemon, juiced and strained)
parsley, small palmful – plus extra for garnish
2 cloves garlic
1 tsp tahini, or more to taste
1/3 cup olive oil
salt
Grilled pita bread, for dipping
Method:
First step, find a nice spot to make the hummus. Perhaps while perched in the middle of a chickpea field. Mmm. Imagine all the hummus you could make with these chickpeas…
To make a happy plate of hummus quicker than a bowl of oatmeal, you just need a few ingredients. Don't forget the garlic!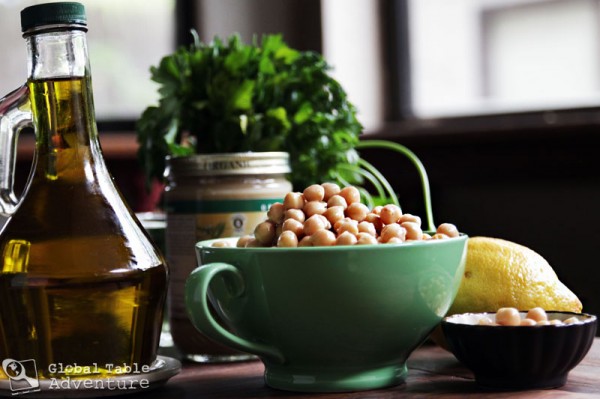 Put the chickpeas, parsley, garlic, lemon juice, tahini, salt, and olive oil in a food processor.  Phew. I remembered the garlic.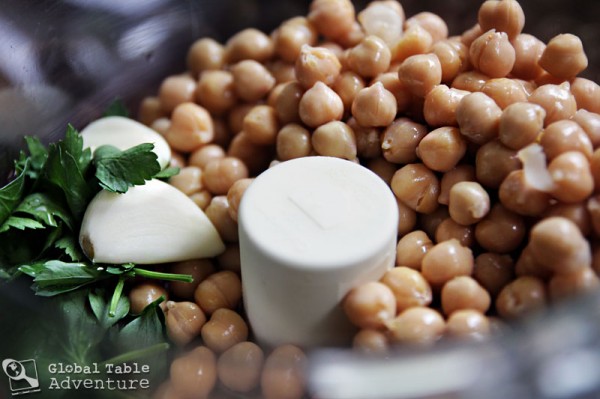 Buzz until smooth, adding more olive oil if necessary. Give it a taste and see if the seasonings need adjusted. Garnish with extra parsley, olive oil, and chickpeas. (If you use the tip of a spoon to make swirly lines in the hummus, you can make a beautiful – and traditional – olive oil river).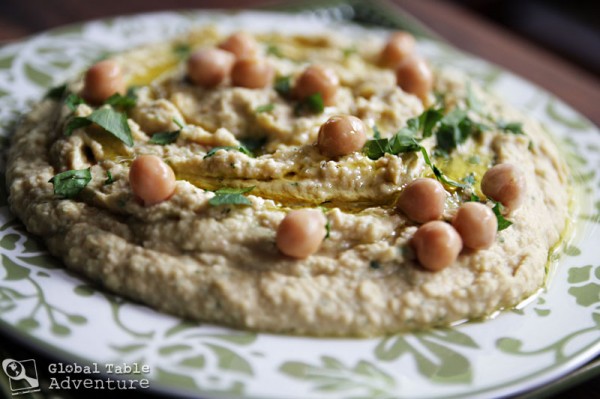 Enjoy with a smile, a friend, and a secret.

2

cans

chickpeas

, drained (reserve 1/4 cup whole for garnish)

3

Tbsp

lemon juice

1

small palmful

parsley

2

cloves

garlic

1

tsp

tahini

, or more to taste

1/3

cup

olive oil

salt
Put everything in a blender and pulse until smooth. Salt to taste.