Upon our friends, 
Our strength depends.

Uzbek Proverb
Before this adventure, it often took a personal connection to help me tune into another part of the world, and such was the case with Uzbekistan.  I never gave much thought to the long central Asian country, until college, when I became friends with a girl named Marina.
She moved to the states from Uzbekistan when she was a girl.
We jogged together, 3 miles a day, 6 days a week. We never ran so hard that we couldn't talk.
And boy did we ever talk.
She stood with me at my wedding in 2008, along with my sister and my friend Becky.
Speaking of weddings, here's a photo of an Uzbek bride I found… look at her dress! Amazing.
(As are the other women's dresses!)
Marina tells me Plov is the most traditional Uzbek food – the giant, communal pot of rice cooked with lamb and a few vegetables, rather like the Plov Recipe we tried for Turkmenistan.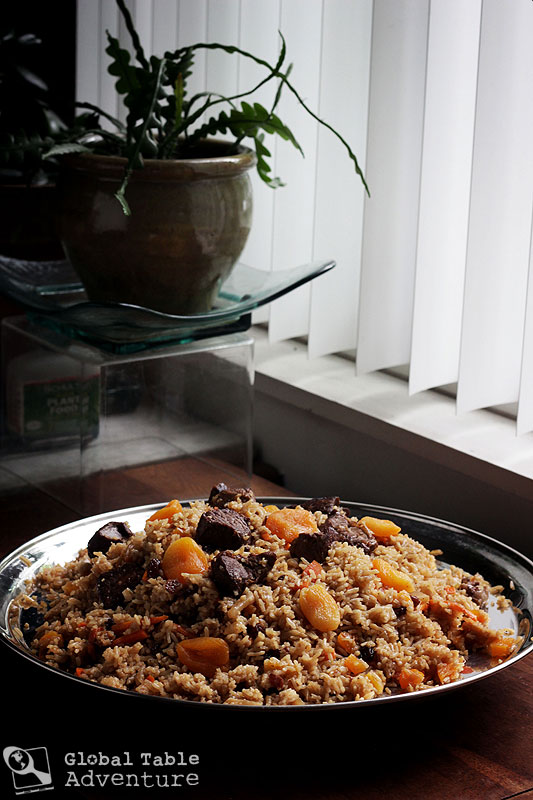 Unlike the plov we made for Tajikistan, however, Uzbek plov (also Palov), is known for it's use of saffron and for sometimes including such treats as stuffed grape leaves, chickpeas, quince and more. There's always lamb and carrots.
Marina says:
The right recipe will call for equal weight fatty lamb and julienned carrots, and a lot of barberries and cumin seeds, among other things.
She also suggests serving it with tomato and onion salad.
Three other dishes Marina recommends are the big steamed dumplings, called manti, shashlik (shish kebob), and kambocha squash samosas.  Kambocha is the green skinned "pumpkin" with pale orange flesh.
These would certainly keep me warm on the chilliest of days.
Then there's the simple, market-inspired meals. Like the Dimlama, a stewed one-pot vegetable dish often made at the end of the summer to use up garden produce  [Recipe].  A thick round of Uzbek bread, rather like the naan we made for Tajikistan, would make the perfect accompaniment.
For dessert, Marina recommends anything from the ever-loved baklava, honey cake, to even a spread of fresh fruit.
Traditional fruits include apples, quince (try it stuffed – [Recipe]), grapes, cherries, and other stone fruit.
When served with nuts, honey, and good, strong tea, all is well.