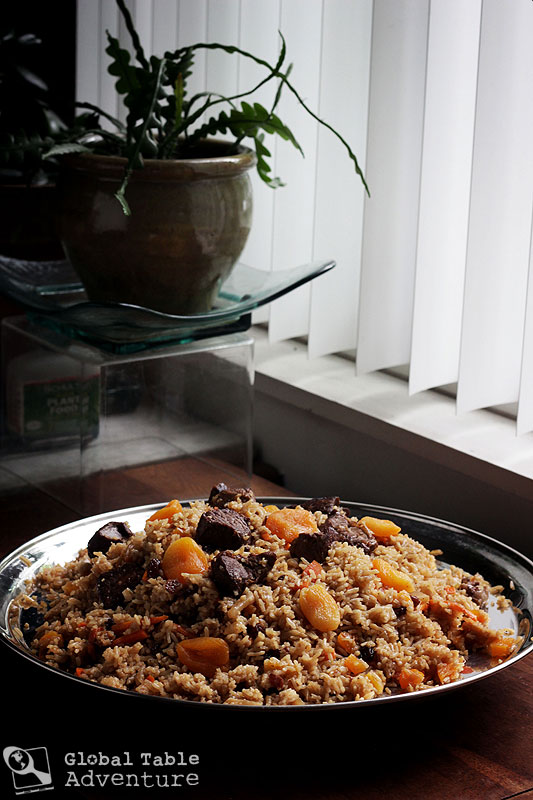 I'm an awkward girl; I'm not up on fashion trends, my slang is two decades passe, and I'd rather drink wine at home than be surrounded by 100 people I don't know. Dinner parties can really put me to the test, especially when I'm the hostess. I want everyone to have a good time, but I'm never entirely sure how to bring everyone together.
That's where Tajikistan can help.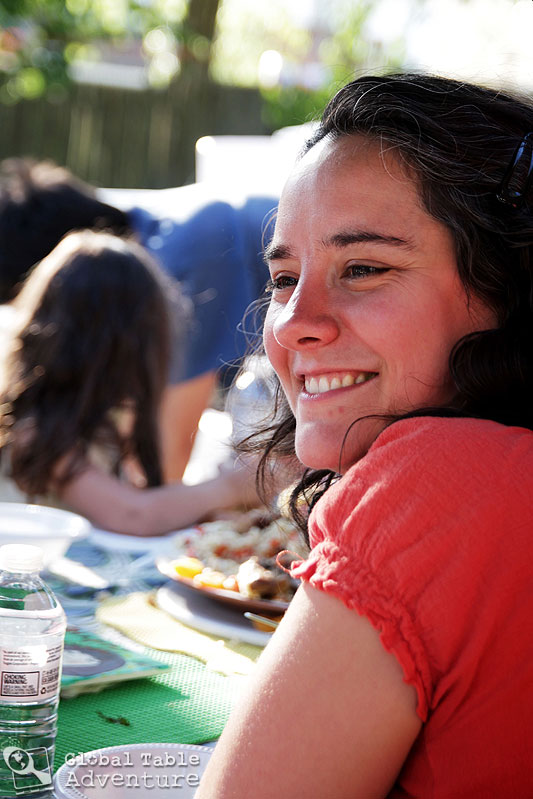 You know that moment, right as everyone sits down to eat? I refer to it as the calm before the storm. It's a little bit awkward; there's a pause while everyone gauges the mood of the room. What follows this quiet determines the success of every dinner party.
In Tajikistan, where there's a crowd, there's Plov. Pulling up to a giant communal platter of rice brings a natural closeness.  By forcing yourself to dip hands into a communal platter breaks down any barriers and is a natural conversation starter.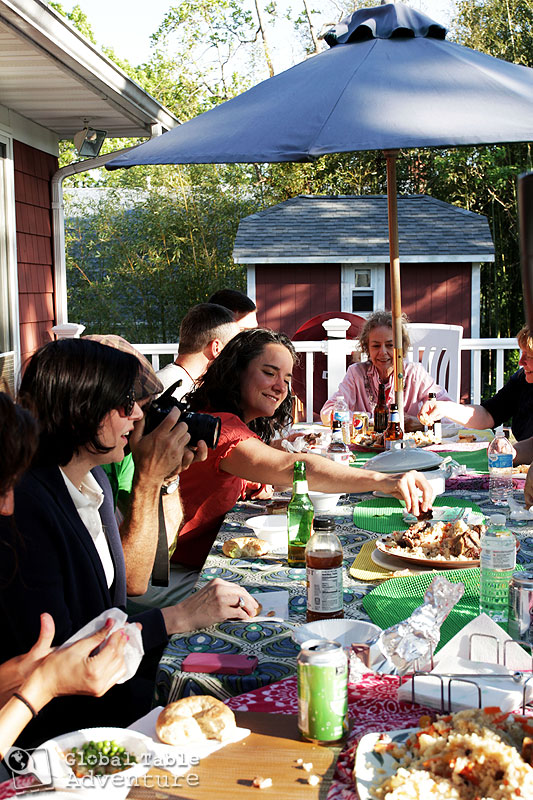 If your guests are unfamiliar with communal eating, the best thing to do is to give them some guidelines. It makes everyone more comfortable.
Top 5 Guidelines when eating from a  Communal Platter:
1. All hands must be washed. Even then, only use the right hand, as the left is traditionally used for unclean things.
2. Only eat from the part of the platter directly in front of you. Reaching to another's section is considered rude and unsanitary.
3. Don't shove your fingers in your mouth. Instead use your thumb to push the food off your index and middle fingers. This will help you neatly "drop" the food into your mouth.
4. If you have a really large group (more than 8) and are seated at a rectangular table, consider serving with several large platters. I doubled this recipe for 18 and used three medium platters, so everyone could reach.
5. Have fun and don't be too uptight. If someone has lots of trouble with their hands, offer them a spoon. If someone is sick, offer them their own plate. Remember, this should be fun, not work.
Serves 8
Ingredients:
1/2 cup vegetable oil
2 onions chopped
1-2 lbs lamb shoulder, cubed (to taste)
2 carrots, cut in strips
1 turnip, cut in strips
salt
1 tsp cumin
1/2 tsp pepper
4 cups boiling water
2 cups rice
1/2 cup raisins
10 dried apricots, diced
Whole apricots, for garnish
Method:
Put on some happy Tajik music. Let the rhythms pull you through the chop-chop-chopping.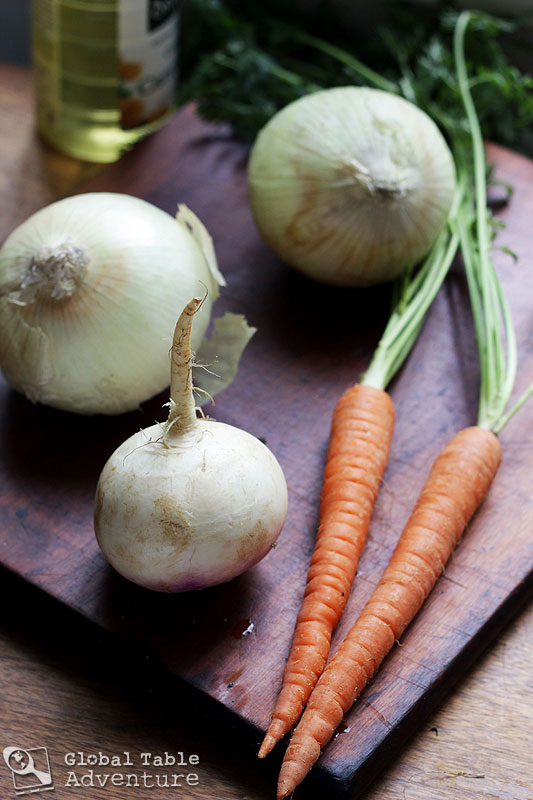 Dice the onion, then peel and slice the carrot and turnips into bite-sized sticks.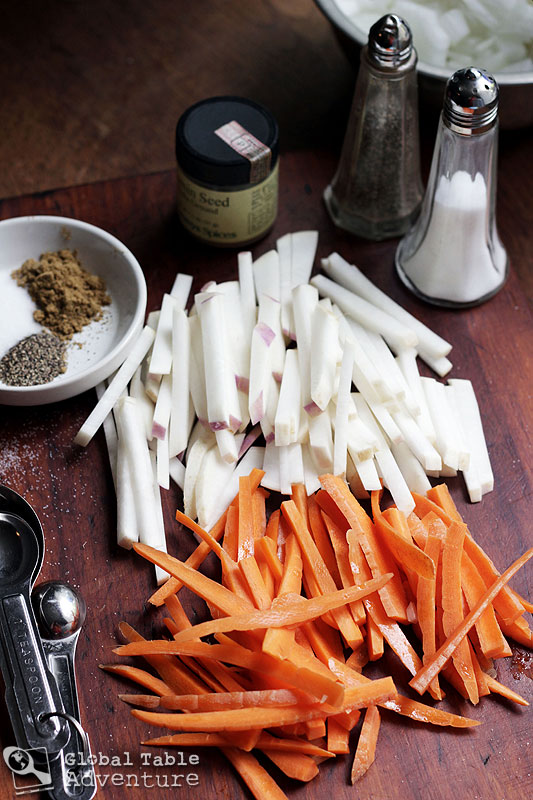 Next, brown the meat in the  vegetable oil. The recipe purposefully uses a lot of oil (traditionally, the fat would be from the mutton)… the oil gives the plov authentic, rich flavor that you'll be craving for years to come.
If there ever was a time to go for it, this would be it!
Stir in the onion and continue to cook. It might take a good ten minutes to get the onion soft and brown. By then your house will almost smell like glorious Tajikistan.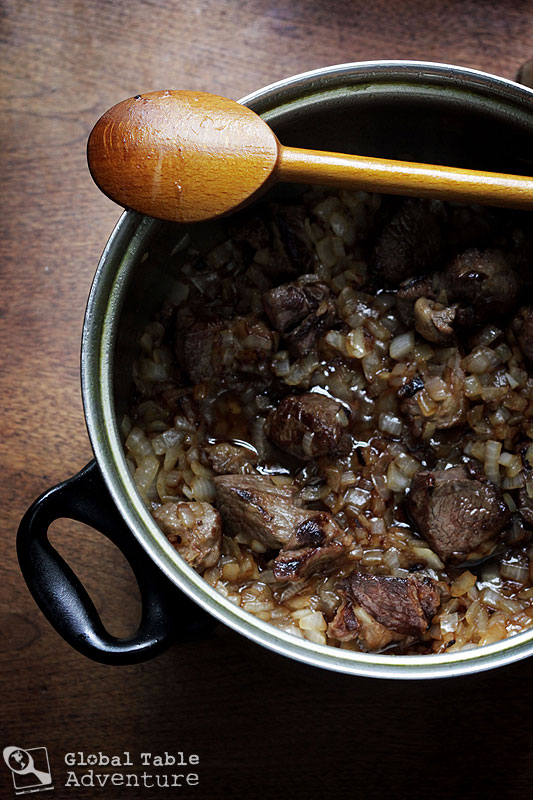 The finishing touch? Cooking down the carrots and turnips along with the cumin, salt, and pepper. While those soften, boil up the 4 cups water.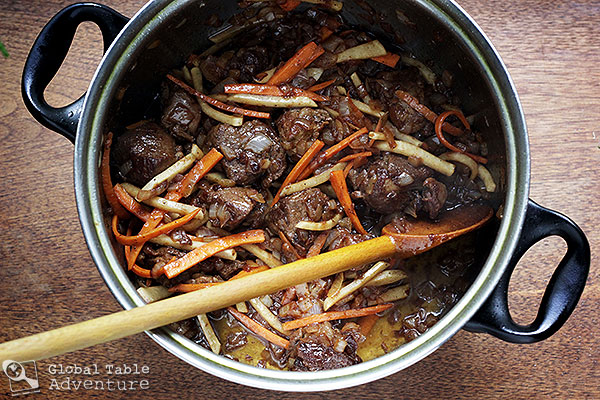 Add the hot water and rice to the lamb mixture. Simmer 15 minutes uncovered. Then add raisins and quartered dried apricots. Cover and remove from the flame. Let rest this way 10-15 minutes.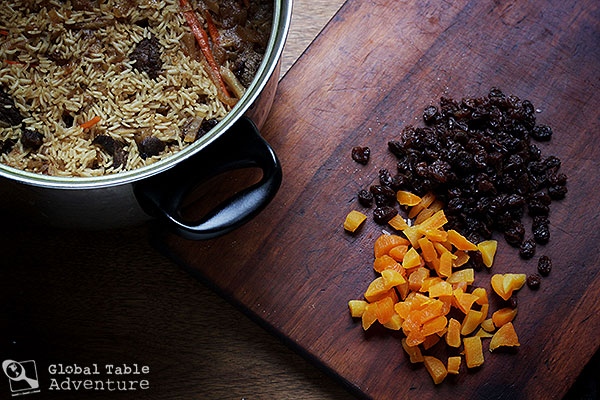 Fluff with a fork and invert onto a large platter.
Hi, brother!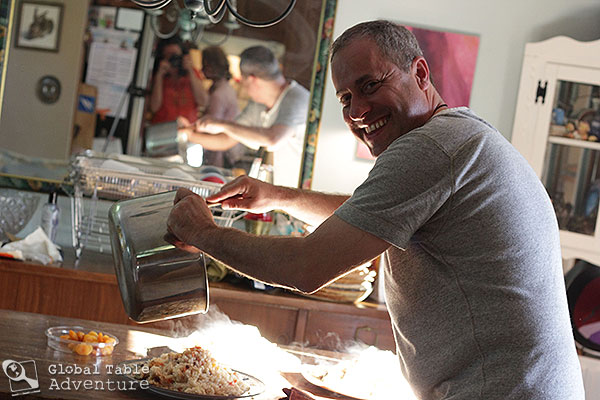 Pull the bits of lamb to the top for display purposes, and garnish with extra pieces of dried apricot, as desired.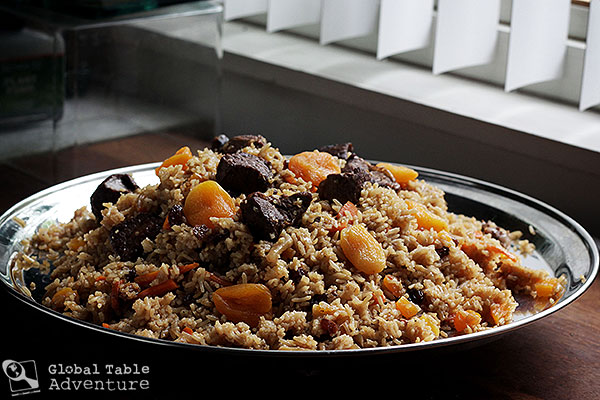 Enjoy with family, friends, and other loved ones. Use nan bread to help scoop up the food (recipe will be up tomorrow).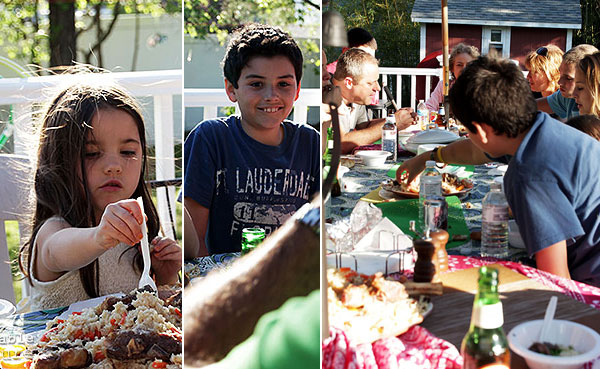 Then, instead of walking off your meal, go for a ride on your donkey.
Just because.
P.S. Have you ever eaten communally? What tips did I miss? Any techniques you'd like to add?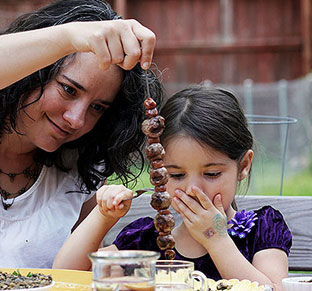 Hungry for more?
Be notified when National Geographic releases my memoir.
Simply fill in your details below.