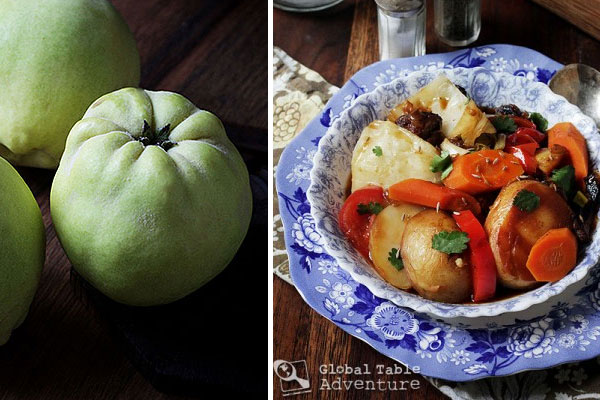 "Don't choose a house—choose neighbors. Don't choose a path—choose traveling companions."
Uzbek Proverb
This week we're going to Uzbekistan via stovetop travel and the timing couldn't be better: September is harvest time. Right on cue, my tomato plants recently produced dozens of cherry tomatoes. The look like bright like jewels against the green landscape. In Uzbekistan, when it's harvest time, the people gather up their bountiful produce and make Dimlama. Then they follow it up with stuffed apples or quince.  Delicious.
Both recipes and the meal review will be posted throughout the week. 
Lamb & Vegetable Pot | Dimlama  [Recipe]
Enjoy the garden's bounty with this layered pot of tender lamb, potato, onion, carrot, pepper, cabbage, and more, seasoned with cumin and a sprinkling of fresh cilantro.
Honey & Pistachio Stuffed Quince [Recipe]
An easy combination of honey, cinnamon, pistachios, walnuts, and roasted quince. Great with a (non-traditional) scoop of ice cream.
For those looking for a simpler option, try just adding honey and cinnamon to the quince. Also, apples may be substituted for the quince.