Any woman worth her salt is an incredible, complex specimen which takes time and love to fully understand.
But even when you think you know a woman, she remains – at her core – mysterious.
And so it is with today's Tajik naan recipe.
She's made with a blend of wheat and all purpose flour, a healthy glop of yogurt, and not much else. She gets her shine for a quick milk and egg wash. The flavor is rustic, thanks to the wheat flour, and there's a slight, yet definite tang, thanks to the yogurt.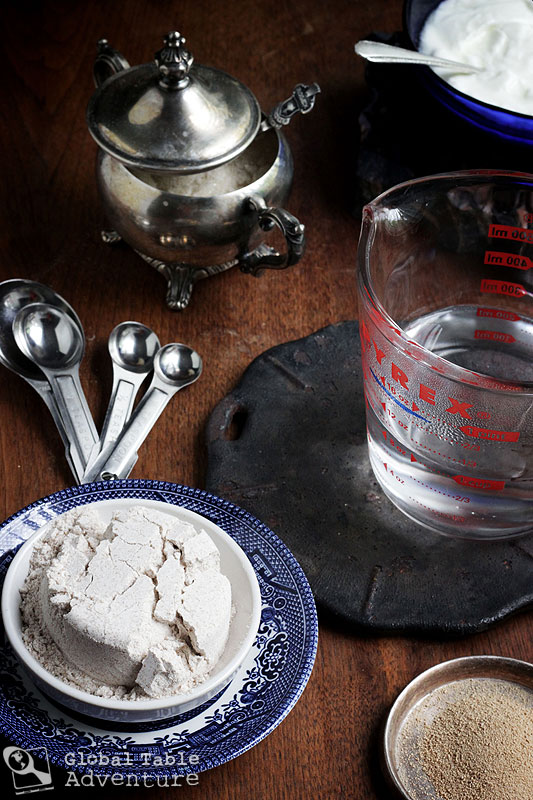 The fact that she's cooked in a super hot vertical oven makes this bread nearly an Olympic event.
Just watch these women make one of the more complex forms of this bread… for a wedding. Note the full arm "potholder" they use while slapping the bread into the oven.
Did you see that? How gorgeous is that bread!? 
Wow.
Even after several focused, heart-felt queries into her nature, I must admit I am unable to replicate the intricate, ornate designs found on the breads of Tajikistan. This is partly because, in Tajikistan, the flower designs are pressed into the bread with special tools, making their results far more ornate than anything I can manage with a simple fork.
But it's also because I could really use a Tajik granny to show me the ropes.
Still, my family and I had lots of fun trying.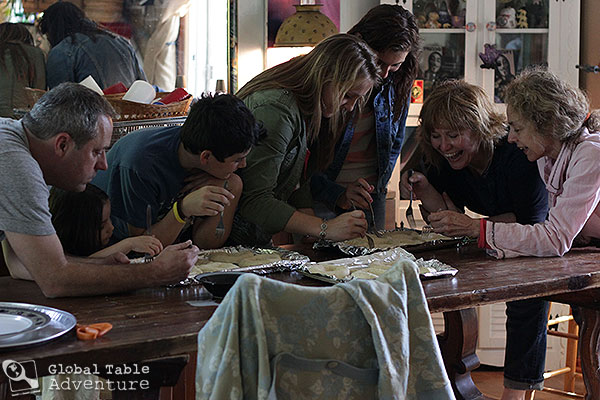 Hi… Uncle G, Ava, Cameron, Brittany, Ashley, Aunt Elisa, Grammie Sue!
At best, the first rounds I created resemble the flatter naan in this woman's hand – sort of rustic, yet charming:
Several attempts later, and I got the depression in the center figured out…. though the designs never really got showcased the way I would have liked. Either way, the flavor is great. Just be sure not to overcook them.
Makes about 8 non
Ingredients:
1 cup hot water
1 cup yogurt
1 tsp sugar
2 tsp yeast
1/2 cup whole wheat flour
4 cups all purpose flour, plus more for dusting as needed
1 tsp salt
Egg wash:
1 egg beaten with 1 Tbsp milk
Method:
Heat up some water until very hot. Then mix with the cold yogurt. This should even out to a nice, warm mixture. Stir in the sugar, yeast, and whole wheat flour.
Let it sit around about an hour, until it looks like this: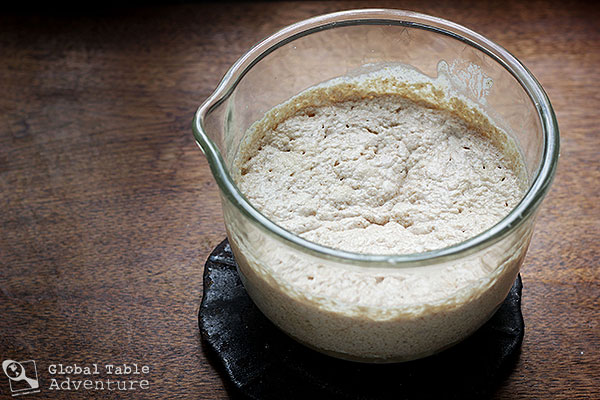 Write a thank you note while you wait. It'll make someone's day.
Next stir in the all purpose flour and salt. Knead the dough together until a smooth ball forms. If it's a bit sticky, that's okay. If it's excessive, however, add a bit more flour.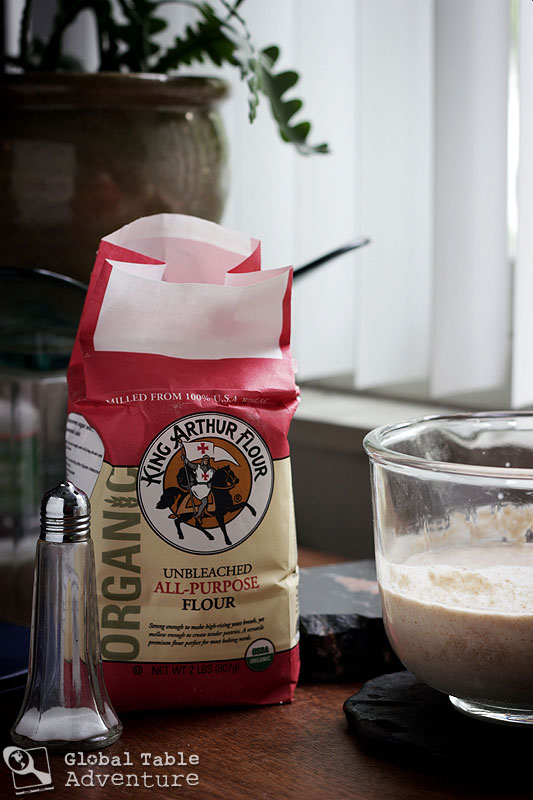 Cover with a damp cloth and let rise until doubled in bulk, about 2 hours.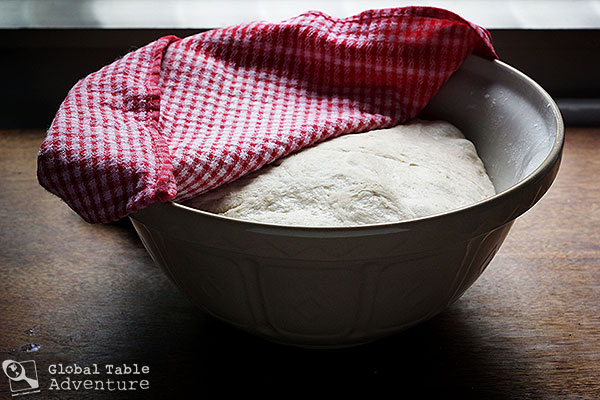 Preheat the oven to 500F. Prepare the egg and milk wash. Then, divide the dough into 8 pieces (more or less, depending on what size naan you'd like) and press flat. Dust with flour as needed.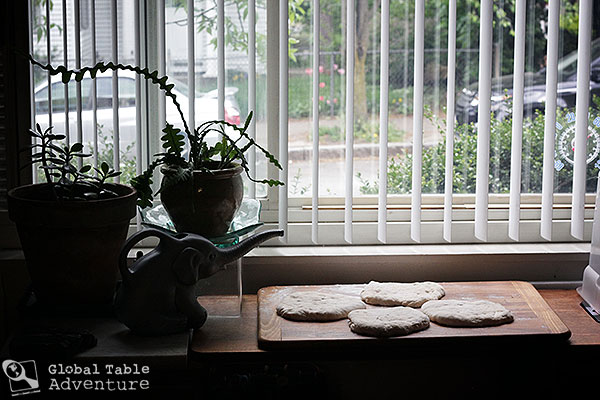 My first "rustic" attempt  were decorated with a fork…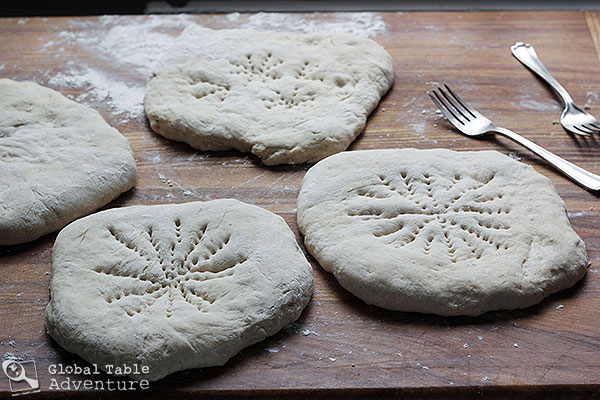 Then baked immediately. They came out pretty good after just 20 minutes.
A few things to note here – I was using my mom's oven, which is quite small and I don't think it runs as hot as a regular oven… also, these were simply brushed with milk – there's no shine because I forgot to include the egg.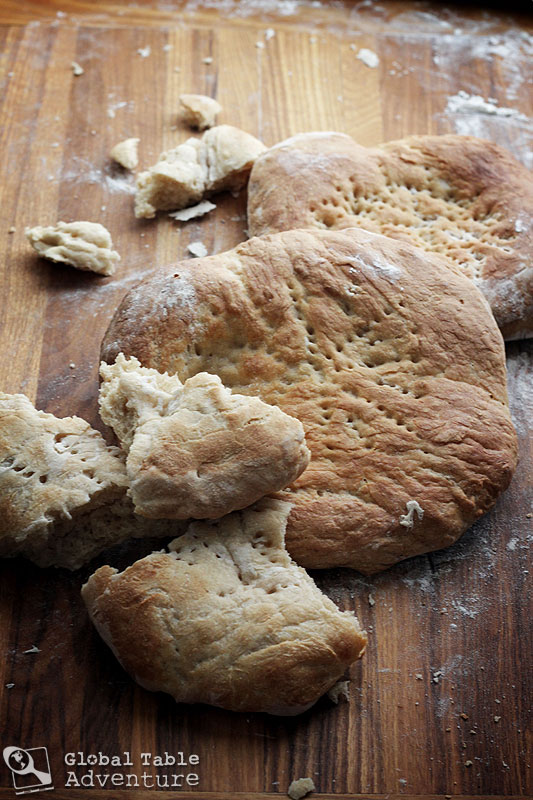 On my next batch I tried to do the indention. I found it easiest to press the middle with my knuckles until totally flat (dust your knuckles with flour, if necessary).
Again, family helped out…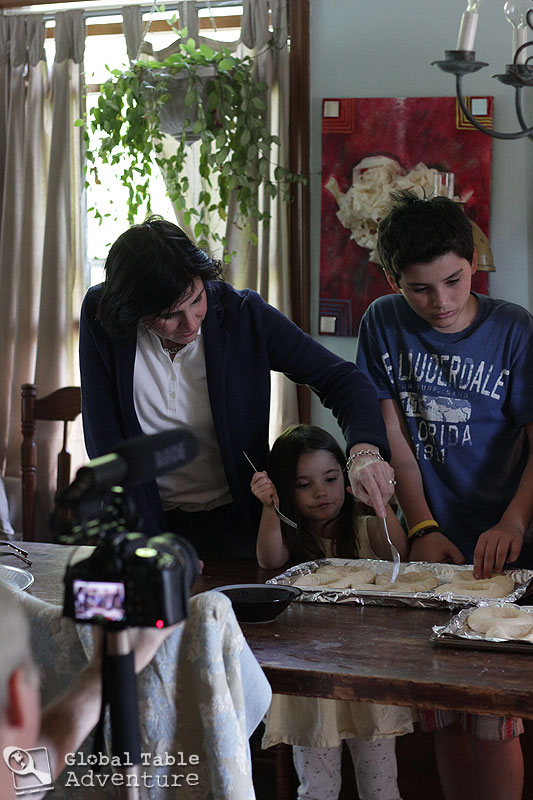 Hi, Aunt Melissa, Ava, and Cameron!
Then I brushed with egg wash, then used the fork and a sharp knife to decorate as desired. You can use the knife to make slits all the way around the edge… which I tried, but not boldly enough.
Here's how that batch came out… clearly the much hotter oven, puffed the bread up quite a bit more.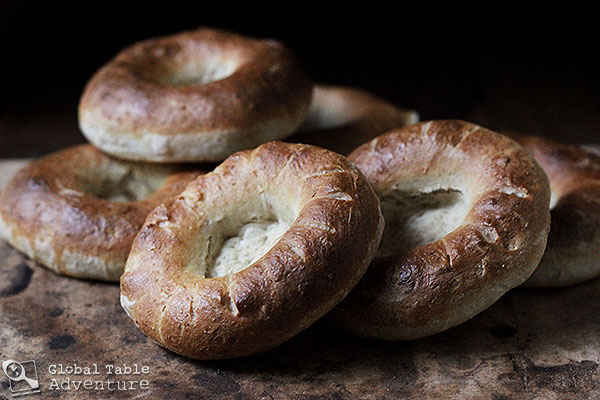 Please note: cooking times will vary greatly depending on how thick or thin you shape the bread…. At 500F, I had some cook up as quickly as 12 minutes, while others took closer to 25 minutes.
Have you ever made bread like this before? Any ideas on how to make these come out more like the Tajik women's naan?  I'm wondering if I should lower the oven temperature?
No matter how they come out, enjoy with love and light, because that's what life is all about!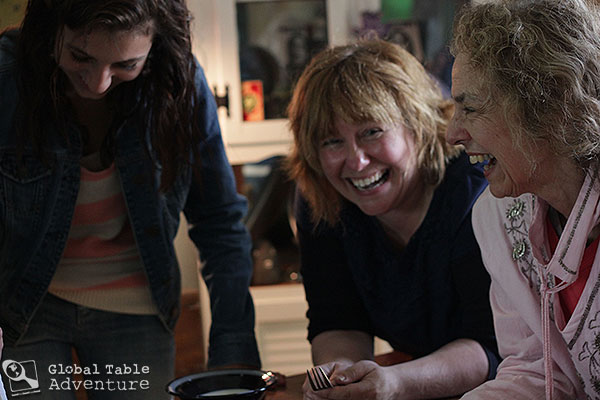 Recipe adapted from the World Cookbook for Students.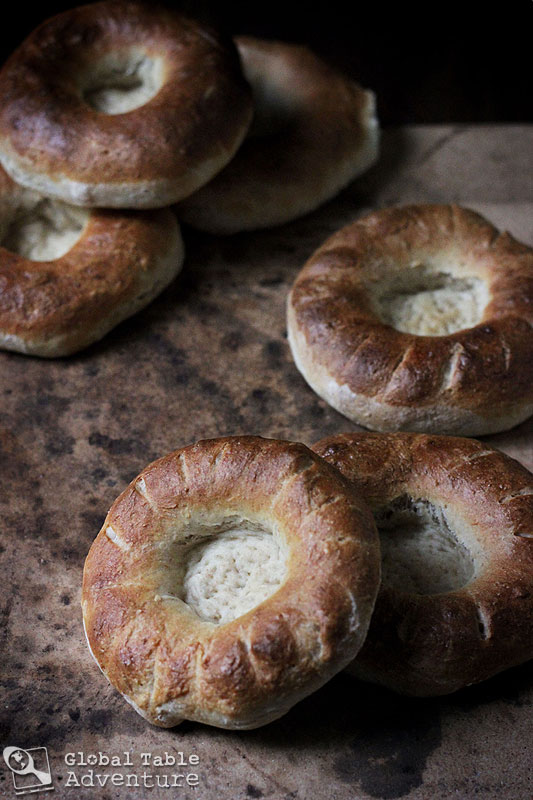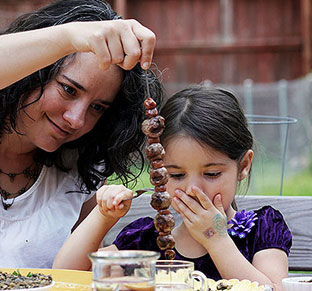 Hungry for more?
Be notified when National Geographic releases my memoir.
Simply fill in your details below.