This is meal #7 in my personal challenge to eat one meal from every country in the world.
This week I used my Great Aunt's dishes for the first time. Her name was Caterina, but we called her Lulla Rina.
Lulla Rina made two of my favorite childhood treats: spaghetti tossed with boiled potatoes and marinara, and braided challah with whole eggs baked inside. She's been gone a long time now but I still smile when I think of those unusual treats.
The day of our Argentine feast, I carefully unpacked the dishes. Many were missing or chipped, but I pulled out what I could and rinsed them under hot, soapy water. My fingers traced along the hundreds of harmless fractures that spidered across the old china, telltale signs of decades of use. She must have served thousands of meals on those beautiful dishes.
I drank Yerba Mate tea from a teacup she'd once drank from and my heart was with her.
Roasted Seasonal Pumpkin Salad with Arugula and Chevre [Recipe]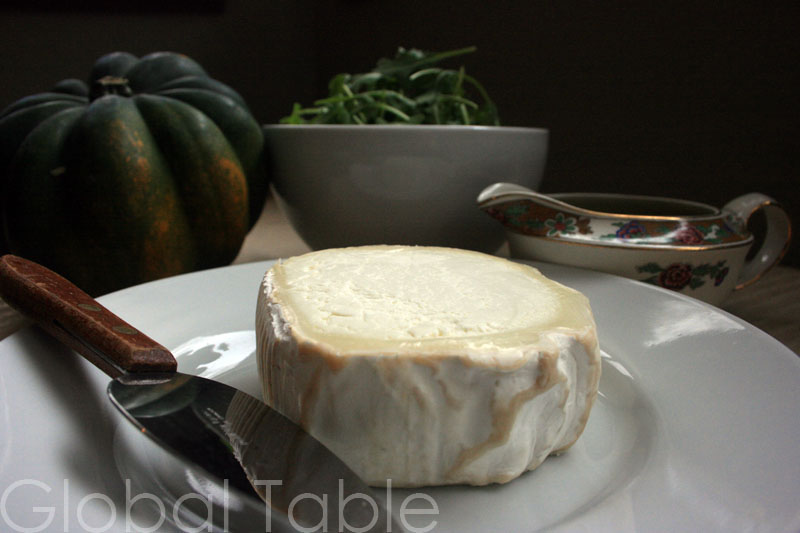 What I like most about this dish:
Imagine, if you will… aged goat cheese melts like butter into steaming roasted squash. Baby arugula wilts just slightly. Mint-oregano vinaigrette adds tang. Smashed together, these ingredients are gourmet comfort food.
Honestly, the salad is stellar. This weekend I made it with roasted acorn squash. I've always felt pretty luke-warm about acorn squash – given the choice I'd pick a butternut squash for the sweet comforting flavor. However, this salad transforms the acorn squash to craveable, talk of the town kind of food.
What I like least about this dish:
Nothing really comes to mind, so instead I'll give you a tip. Make sure you roast your squash until soft, or you'll have trouble mashing the salad together. Also, brushing with olive oil is very important if you do not want a leathery skin to form on the cut end of the squash.
Make this salad. Seriously.
Beef Empanadas [Recipe]
What I like most about this dish:
Beef empanadas have a fun "Superbowl Sunday" kind of vibe to them – a party on a plate if you will. The cayenne gave the empanadas a nice kick, while the hard-boiled egg and green onion were a nice surprise (in fact, if you are trying to sneak eggs into your kids diet, this recipe just might be the way to do it).
What I like least about this dish:
I am not usually a big beef eater, but in small packets like this I'm a fan. The most frustrating part of this recipe is how long it takes to make. For those who are not keen on making their own pastry, feel free to buy premade pie dough and save yourself an hour of trouble. I almost wished I had.
Chimichurri Dipping Sauce [Recipe]
What I like most about this sauce:
Chimichurri should be renamed "Garlic Lover's Delight." I enjoyed the fresh parsley and oregano with the garlic but do read my next comment.
What I like least about this sauce:
This sauce will easily overpower most any food. At first I found myself using only a tiny bit of the sauce, however by the end of the meal I was slathering chimichurri all over the empanadas. A bit like culture shock, this dipping sauce scared me at first but then I grew to love it!
Pastel de Papa con Elote (Potato and Corn Pie/Casserole) [Recipe]
What I like most about this dish:
This is a comfort food dish… soft ooey potatoes with sweet corn on top (pureeing the corn actually amplified the natural sweetness a hundred fold). Everyone was a big fan of this side dish – even the pickiest eater will probably be in love.
What I like least about this dish:
I found this dish incredibly filling and should have taken a smaller portion. Be sure to serve with foods with crunchy or firm texture or else you will feel like you're having baby food for dinner. I also don't like calling this dish a pie – casserole is much closer to reality.
Crepes with Dulce de Leche [Recipe]
What I like most about this dish:
I've always loved crepes. Especially filled with yogurt and fresh fruit (that's my Saturday morning go-to). I am pleased to have another trick up my sleeve (this can be my Friday night go-to).
My husband had a great idea – to fill these crepes with dulce de leche AND brown sugar bananas (from Antigua and Barbuda).
We served the crepes with hot Yerba Mate tea. I really enjoyed this tea – the flavor was a lot like green tea, but a bit smokier. I totally understand why Argentines love to drink Mate so much!
What I like least about this dish:
Instead of following my recipe, I made the crepes to order and filled as I went. As a result, the dulce de leche cooled off (I should have heated it up more after taking it out of the fridge). I wanted this dessert hot. If I'd rolled the crepes up and put them in a warm oven for 10 minutes before serving, there would be no issue.
Ava's Corner
This week Ava got her first teeth (two bottom teeth – she's 8.5 months). She's in pretty good spirits considering, but she is having a hard time eating. Normally she eats 10 spoonfuls a minute. Lately, she just takes one or two spoonfuls, chomps on her sippy cup for five minutes and then eats another couple of small bites.
Dinner takes a really long time.
It so happens that I almost forgot to feed Ava something from our Argentine meal.  When I did remember, we were already 30 minutes into dinner (I guess it's a good thing she's taking as long as she is!).
Even at 30 minutes, she hadn't really touched the potato and broccoli puree I made her. That's when it hit me – she's supposed to sample something from our meal!
I was going to have her try the meat, but it was pretty spicy and I did not want to send her to bed with indigestion. So, she got to try a little of the corn puree from the Potato and Corn Pie. This was her first time trying corn. I mixed it with the homemade puree that I'd already been giving her. She perked up and ate several bites in a row.
I think the sweet corn made her forget about teething for a minute.
Poor baby girl.