Serves 4
Got a sweet tooth? Argentine crepes with dulce de leche will satisfy. The creamy carmel like filling makes this dessert date night material.
Ingredients:
For the crepes:
1 cup flour
1 cup milk
2 eggs
1 1/2 tsp vanilla extract
butter
For the dulce de leche: Recipe
Method:
For the crepes:
1. In a medium bowl, whisk all ingredients together. Set in refrigerator overnight. This important step removes all lumps and makes for a great texture.
2. Heat a frying pan over medium heat. Add a bit of butter. When pan is hot, add about a 1/4 cup of crepe batter to the pan and swirl it around to spread into a disc shape. When the surface of the crepe no longer changes from looking wet to looking dry, turn over and cook for about 1 minute longer. There should be only light browning on the crepe.
3. Remove crepe from pan and spread with dulce de leche. Roll up and serve immediately. If serving later, line several rolled crepes in a casserole dish. Reheat in a warm oven and serve warm.
For the dulce de leche:
1. Remove label from can of sweetened condensed milk and pierce with two holes on the top.
2. Place in a small pot and fill pot with water. Heat to simmering and maintain water level about 1″ below top of the can at all times. Simmer for about 3 hours.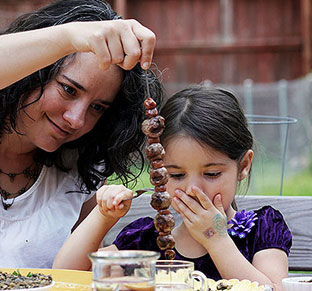 Hungry for more?
Be notified when National Geographic releases my memoir.
Simply fill in your details below.