Makes one 8×8 casserole
Even the pickiest eater will enjoy this simple casserole. What's better than mashed potatoes and corn? 
NOTE: Recipe updated November 2011 to make it richer and more epic. Depending on the size of your potatoes, you may need more or less milk/butter.
Ingredients:
5 russet potatoes (3 lbs), peeled and boiled
1- 1 1/2 cups whole milk (or as needed to make potatoes fluffy)
3/4 cup melted butter
2 tsp garlic salt
pepper
salt
2 cups frozen corn, thawed
2 Tbsp minced parsley
Method:
1. Preheat oven to 425F. In the hot pot you cooked the potatoes, add the drained potatoes. Let steam dry a few minutes (this allows even more milky goodness to get into them). Then add 1/2 cup melted butter (reserve the rest for the corn topping), garlic powder, pepper, and salt. Mash together, adding milk in small amounts until fluffy.
2. Put potato mixture in a buttered casserole dish.
3. Puree thawed corn with remaining melted butter until creamy. If your blender has trouble, add a bit of milk to get it going.
4. Pour corn mixture over potato mixture. Bake for 15 minutes. Sprinkle with minced parsley. Serve hot.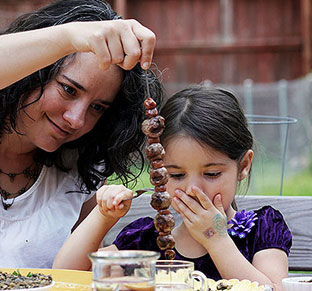 Hungry for more?
Be notified when National Geographic releases my memoir.
Simply fill in your details below.