Serves: 4
Baked bananas are delicious in brown sugar and butter. Serve hot over ice cream, making sure everyone gets a little of the sauce.
NOTE: not all rum will light. I had coconut rum on hand and it does not flambe (however, it did add great flavor to the bananas). You will need to buy Bacardi 151 for this.
Also try Benin's Baby Bananas in Orange Sauce.
Ingredients:
6 ripe bananas peeled
1/2 cup brown sugar
4 Tbsp melted butter
2 ounces coconut rum
1 ounce bacardi 151 (to light it on fire)
Vanilla ice cream
Method:
1. Preheat the oven to 350F.
2. Lay bananas in a casserole dish. In a small bowl combine brown sugar with butter. Spoon mixture over bananas.
3. Bake for 20 minutes (longer if bananas are firmer).
4. Transfer bananas to a serving dish. Pour rum over the bananas and carefully light on fire.
CAUTION: You can burn yourself. Don't do that!
5. Serve immediately with vanilla ice cream.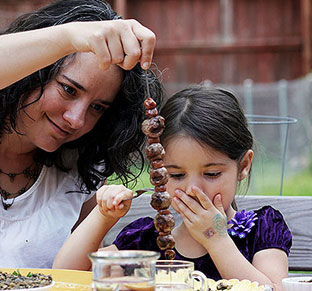 Hungry for more?
Be notified when National Geographic releases my memoir.
Simply fill in your details below.