Sometimes I have my act together. Like Thanksgiving. I was pretty well organized and knew what I wanted to make way ahead of time. I had a grocery list two weeks before necessary and practically had everything timed out to the minute. Not today. I am still desperately trying to figure out what to make for our big holiday dinner in just a few days.
Mom"s been mostly vegan these last couple of years days so I'm thinking we'll have mostly vegan and vegetarian dishes, with one or two other treats, for Keith and I.
So here are the contenders…
Side Dishes:
There's a half ton of great vegan side dishes around the world. Many of my favorites are from back before I had figured out how to take a nice picture or write an entertaining post. However,  the recipes still taste great and are worth consideration. I'll have my mom pick one or two of these: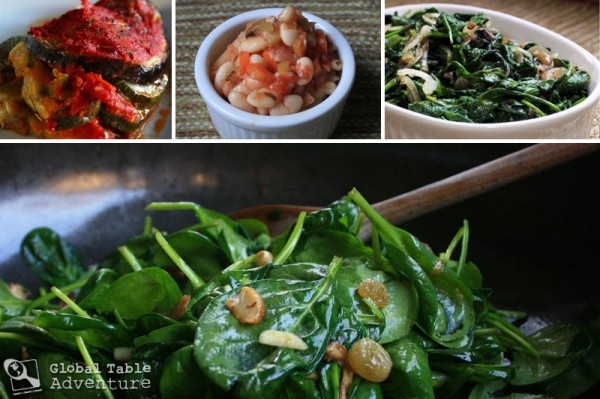 Mediterranean Roast Veggies (Briam) [Recipe]
First up is this layered casserole from our Cypriot Global Table. I love it because it's so simple to make – simply stack eggplant, zucchini, and potatoes with herbs, tomato sauce, and plenty of good olive oil. Depending on how many people you need to feed, it's easy to scale up or down. Fantastic!
Armenian White Bean Plaki [Recipe]
If ever a dish reminded me of my mother, this is it. She loves beans and this particular recipe is prepared with tons of fresh veggies, garlic and onion… good paprika, and a splash of fresh lemon juice and olive oil – all her favorite ingredients. As a bonus, it serves a crowd and is totally potluck friendly. Typically served cold in the summer, it's also very comforting warm in the winter.
Spinach Bhaji (Palong Shaak Bhaji) (Bangladesh) [Recipe]
My mom is a fan of spinach so I included two recipes for her to choose from. This first one is seasoned with a really enticing Bangladeshi five spice – basically a blend of fennel seed, mustard seed, black nigella, golden fenugreek and brown cumin seed. You can make your own or pick up a blend at your local Indian market. The flavor is so exotic – superb.
Warm spinach and mushroom salad from Andorra [Recipe]
This is a fantastic warm spinach dish, made with raisins, garlic, white wine, mushrooms and slivered almonds. Quick, easy, full of nutrients and gone in a flash. You've been warned.
Carbssssss…..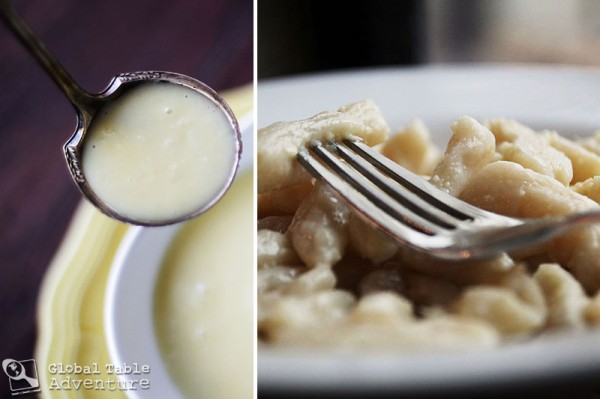 Mountain Gnocchi [Recipe]
And then there's this pretty number from Lebanon – maakroun, or mountain gnocchi with a totally vegan garlic/lemon/olive oil sauce. The sauce is perfectly creamy and absolutely fantastic – mostly because it uses an entire head of raw garlic. So make sure everyone has a little. Garlic breath is an all or no one situation, I think.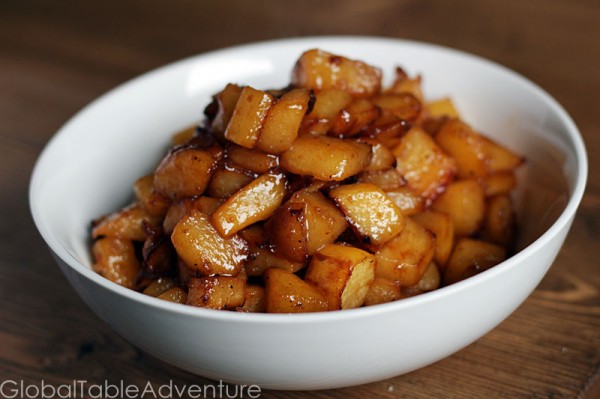 Maple Glazed Rutabaga (Finland) [Recipe]
This fab dish is vegetarian and I'm including it because it's one of my all-time favorite recipes both because of how easy it is to make as well as how fantastic it tastes. I make it with butter, maple syrup, and loads of love. It stands up to any holiday roast and is a nice change from carrots or potatoes.
So that's it… those are some of the dishes we're considering – 99% vegan and 110% good.
I'd love to hear what you're making and have made for holiday dinners.
I want more ideas…
Make my tumble rumble!
P.S. Don't forget to check out our Global Thanksgiving ideas, too.