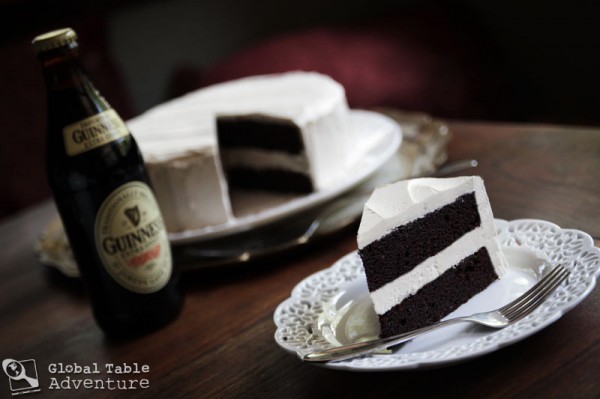 Makes an 8″ layered cake
So here we are, cooking the world A-Z… and I come across this epic Irish cake. I make this adaptation and… just like that – my life is complete.
I don't have time to do my hair or makeup, but – I promise you – I'll always have time for this cake.
It's rich and dark, like an Irish sky at midnight… brightened by sweet, sweet Bailey's buttercream, which gilds everything like moonlight.
The perfect pair. The perfect balance.
Especially for breakfast.  In my slippers. When no one is looking.
(Possibly with a big cup of Irish coffee).
Don't worry – the alcohol cooks off, and the Bailey's frosting? It simply contains the same amount of alcohol as you'd find in vanilla extract.
So, go for it, take a bite of Irish nighttime.
NOTE: You may find it easiest to bake the cake and do the frosting "crumb coat" one day, then the next day decorate it with the final layer of frosting. 
Update, March 2013: I added more powdered sugar to counterbalance all that butter. Yum, yum. Original recipe stated 3 cups powdered sugar; it now states 1 lb.
Update, March 2014: Want to learn how to serve this cake in a beer mug? The trick is easier than you might imagine.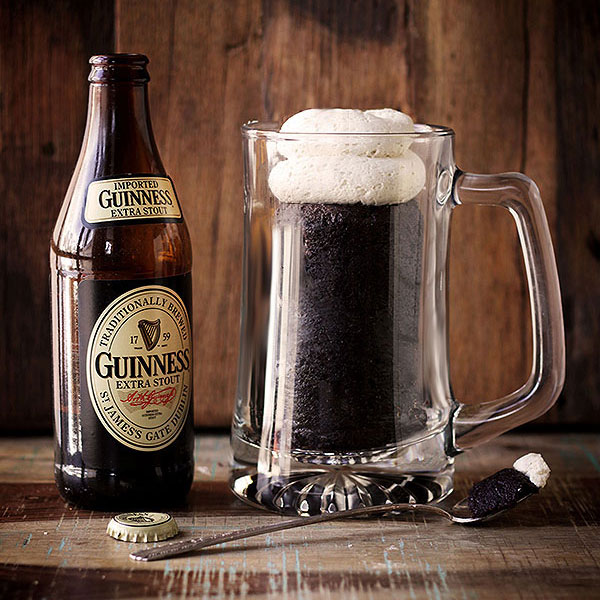 Ingredients:
1 1/2 sticks butter
3/4 cup unsweetened cocoa
1 cup Guinness Extra Stout
1 Tablespoon vanilla extract
1 1/2 cups sugar
1 1/4 cups flour
1 tsp baking soda
2 eggs
For the buttercream:
3 sticks unsalted butter, softened
1 lb powdered sugar, sifted
2-4 Tbsp Bailey's, as needed
Method:
Let's create our Irish evening sky, layered and thick. Dark and sweet.
Start off with one beautiful Irish landmark (for inspiration). Lay on your back and stare at the sky. Wait for nightfall.
Then, preheat the oven to 350F.
In a small saucepan, melt butter and whisk together with Guinness, vanilla extract and cocoa. Remove from heat.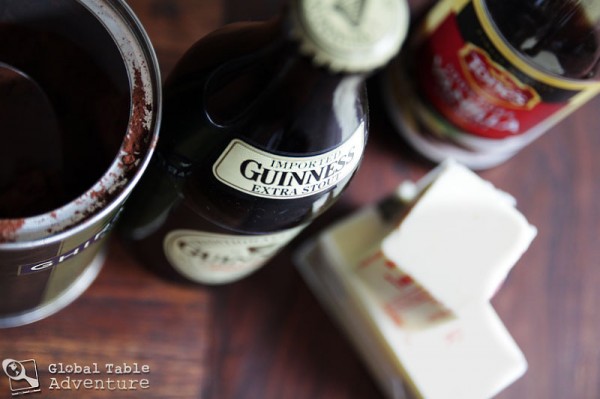 While the Guinness mixture is cooling, grease and line 2 eight inch cake pans with parchment paper. Next, whisk together the dry ingredients (sugar, flour, baking soda). Pour the Guinness mixture onto the dry ingredients, then whisk in the 2 eggs.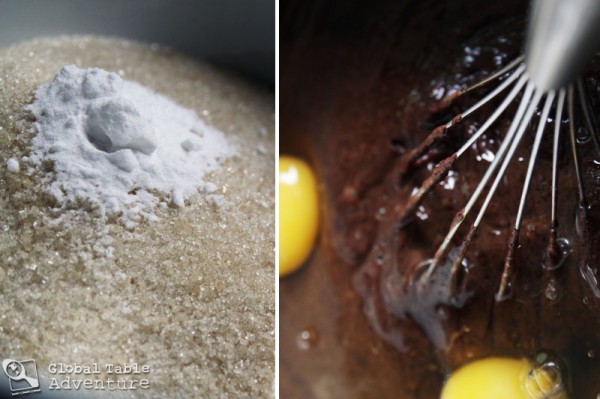 When the batter is shiny and smooth, pour evenly into two prepared cake pans. Lick the bowl when no one is looking.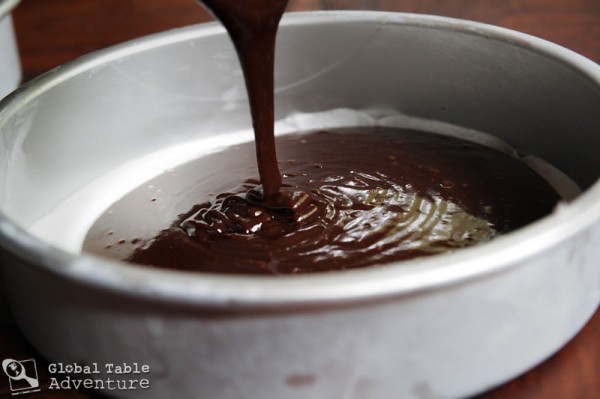 Bake for 30-35 minutes, or until a skewer comes out clean.
Meanwhile make the buttercream by whipping together the softened butter and sugar in a standing mixer, then adding in just enough Bailey's to get it loose and fluffy. The key to white frosting is to whip it a long time – the longer you whip it, the whiter it will become. I whipped this for 5-10 minutes.  I only needed 3 tablespoons Bailey's.
You know what to do with the extra.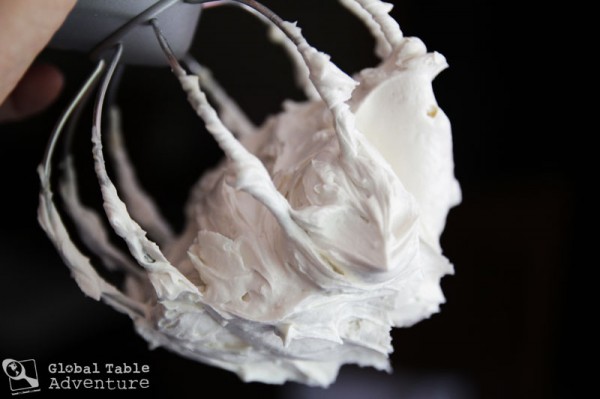 Once the cakes are done baking, cool completely.
While you wait, take a walk along an Irish road at night.
When you get home, windblown by the balmy summer air, assemble the cake (leveling the layers with a serrated knife, if needed).
First, add the frosting for the middle layer. I used about 1/3 of the buttercream.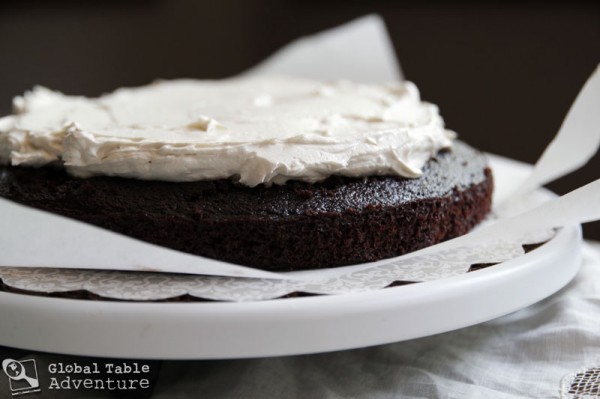 Top with second layer. Wiggle them around until they line up just right.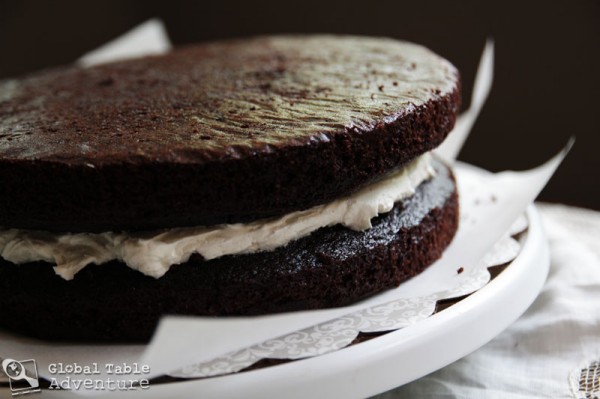 Next we'll do a crumb coat. This is optional but highly recommended, so you don't get brown crumbs in your white frosting (totally yucky).
Here's how it works.
Coat top and sides with another 1/3 of the frosting mixture.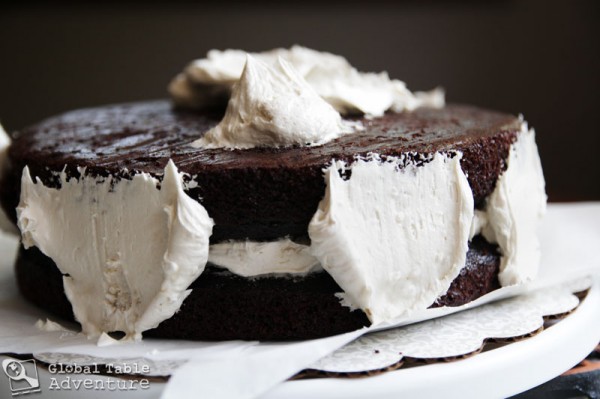 Spread it all over, nice and thin. Refrigerate to set it. At this point, you can refrigerate the cake overnight. Easy, peasy.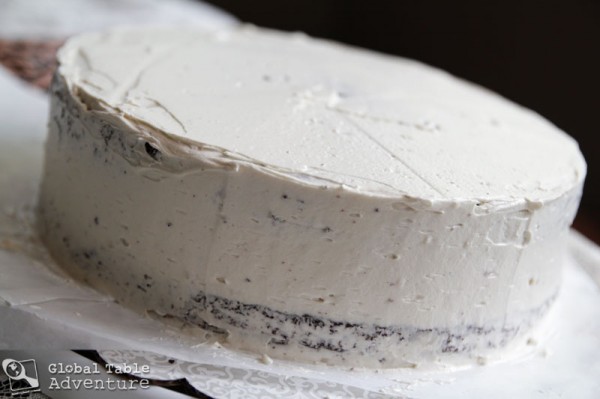 Once the crumb coat is firm to the touch, add the final 1/3 of the frosting to the cake – top first, then sides. Spread it around evenly.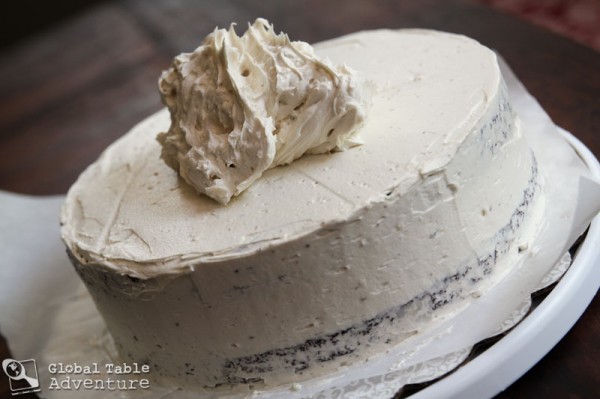 When you're done, slice and serve with an extra cold Guinness.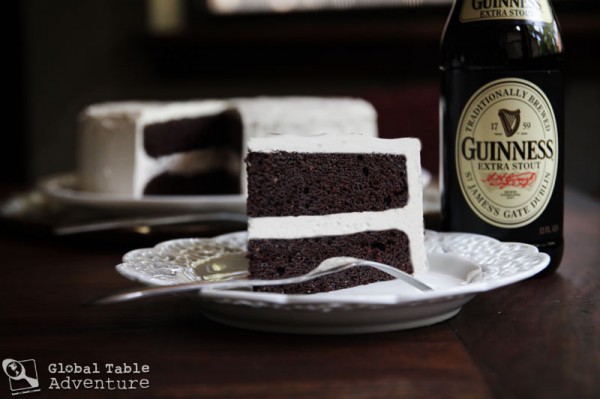 Or a glass of milk.
Mmm. Milk and chocolate cake.
Another great breakfast idea.
Note to self:
Keep this cake in the refrigerator at all times, no matter what.
Eat every day.
Forever.
Share with old friends, new friends, and not-yet friends.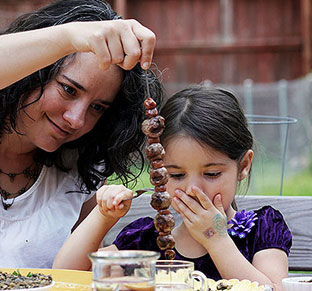 Hungry for more?
Be notified when National Geographic releases my memoir.
Simply fill in your details below.