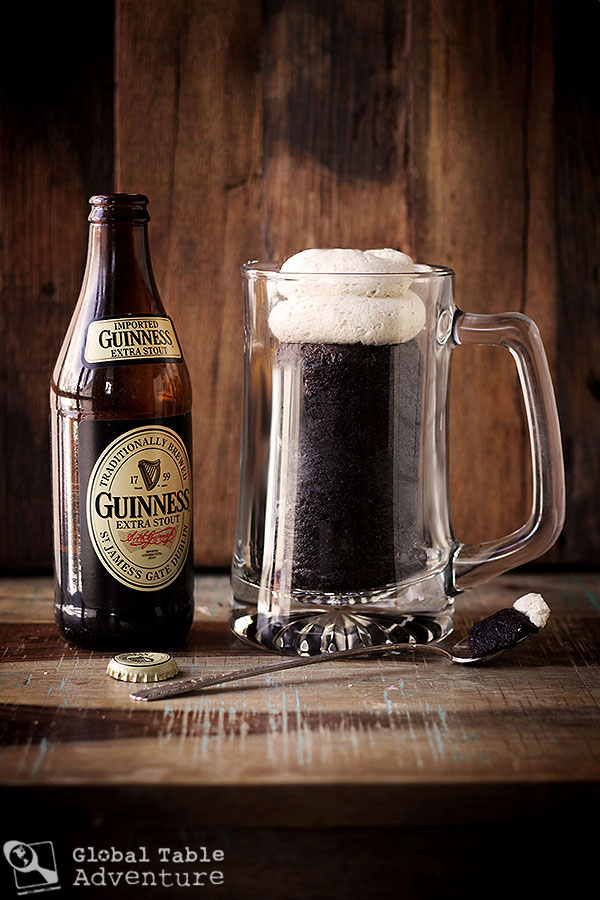 Your friends are about to come over for your annual Saint Patty's Day bash. They're expecting the corned beef and cabbage, the glittery green shamrocks on walls and hats alike. They're even expecting frosty mugs of beer. But they might not be expecting a cake they can "drink."
We've been down this road before: ultra moist Guinness Chocolate Cake with Bailey's Buttercream. But this year I gave the recipe a festive spin by serving it in a frosty beer mug. Not to worry — this isn't about smooshing cake into a cup – the trick is easier, classier, and more beautiful than you might imagine.
The only special equipment required? A few clean, dry 15-ounce cans. In winter, this problem is easily solved by having soup for dinner.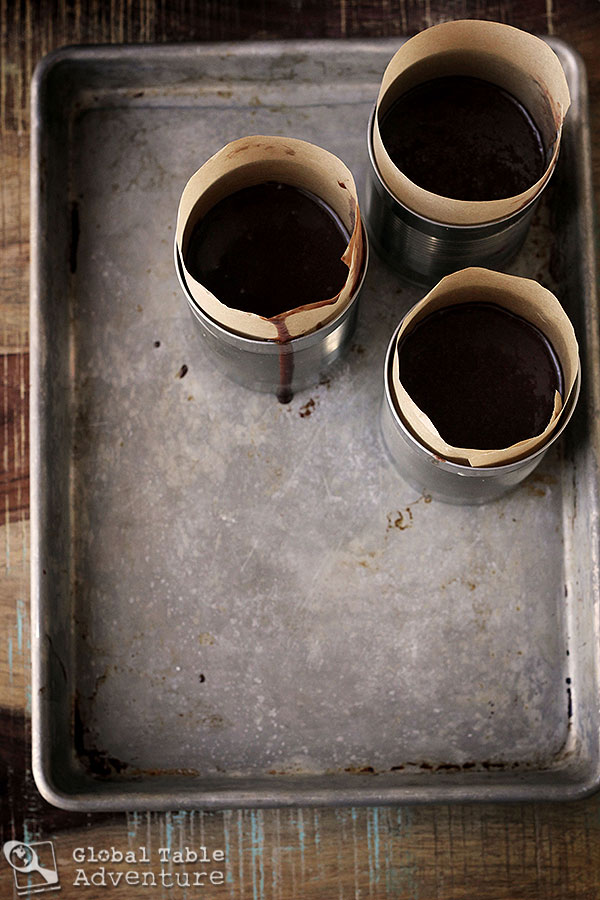 Grease and flour the cans (baking spray makes quick work of the job). Then line the sides with a strip of parchment paper (make sure the parchment sticks up 11/2-2 inches above the rim and covers the complete circumference – no need to cover the bottom).
Fill with cake batter (stop at least 1 1/4 inches from the top of the can).
Bake at 350F for 35 minutes (or until… ridiculous)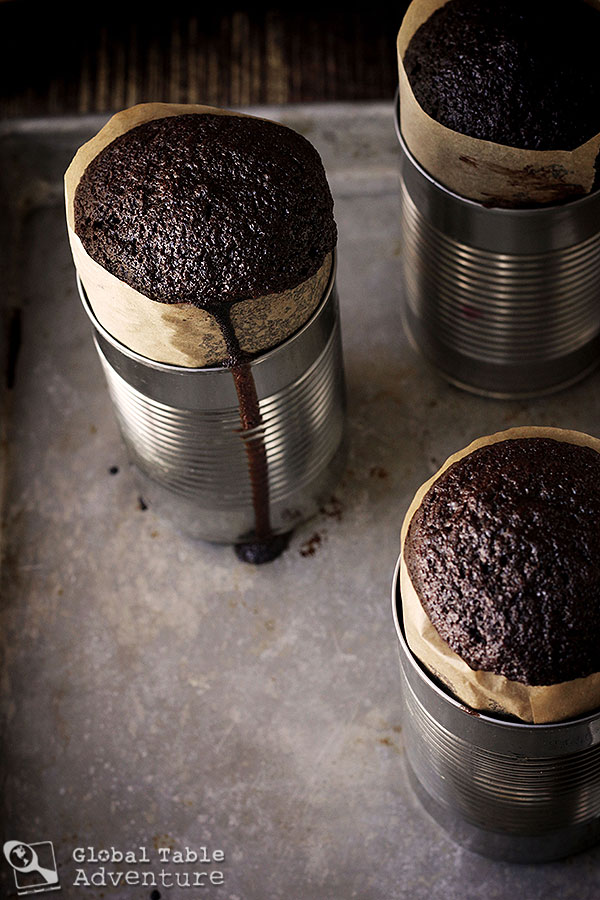 Let cool completely before removing from tin.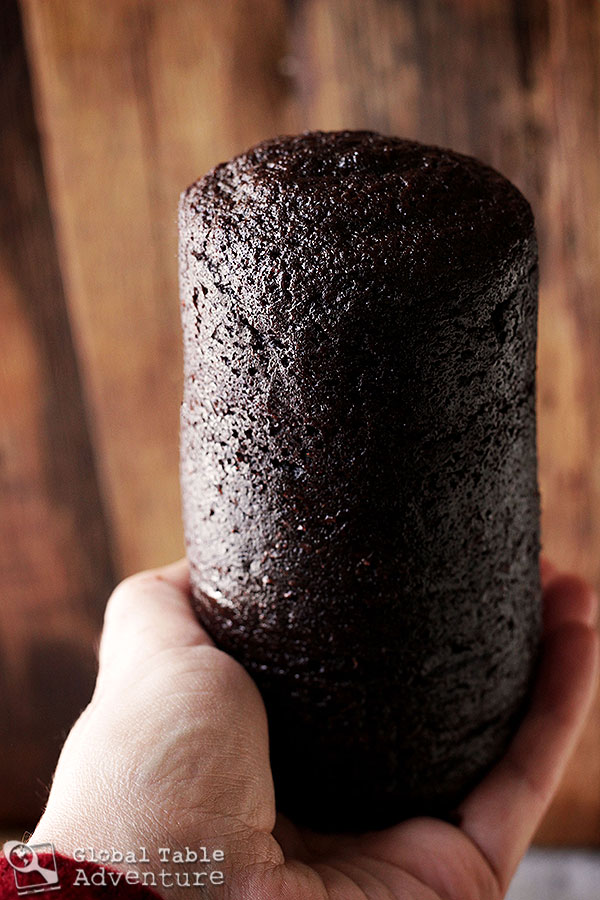 [dropshadowbox align="none" effect="lifted-both" width="600px" height="" background_color="#ffffff" border_width="1″ border_color="#dddddd" ]PARTY TIP: At this point the cake can be wrapped in saran, then a double layer of foil, and frozen for up to 4 months, OR it can be wrapped and stored in an airtight container for a couple of days at room temperature.[/dropshadowbox]
To continue, pop each cake into a mug… (chill the mug in the freezer for a frosty look).
If the cake is crooked, cut the bottom level with a serrated knife.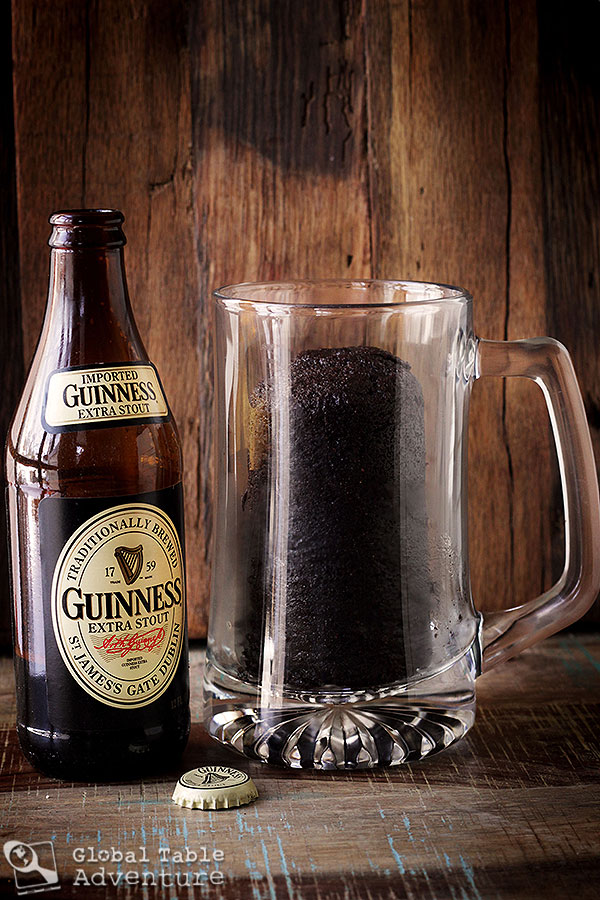 …and have fun decorating!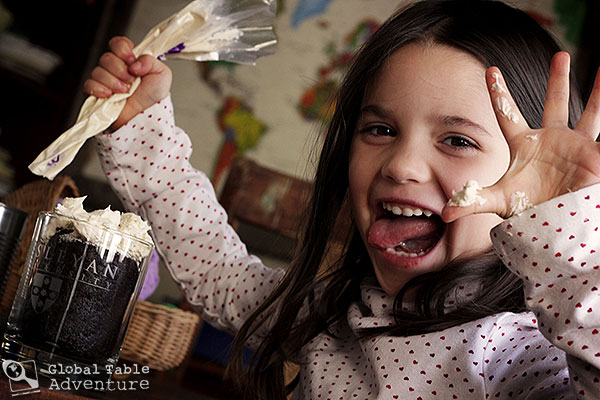 (This recipe is totally kid-friendly: all the alcohol burns off while cooking, and the Bailey's in the frosting is no different than adding a boozy splash of vanilla extract)
Here's Ava's rendition after she smoothed it all out (a.k.a. licked most of the frosting off the top):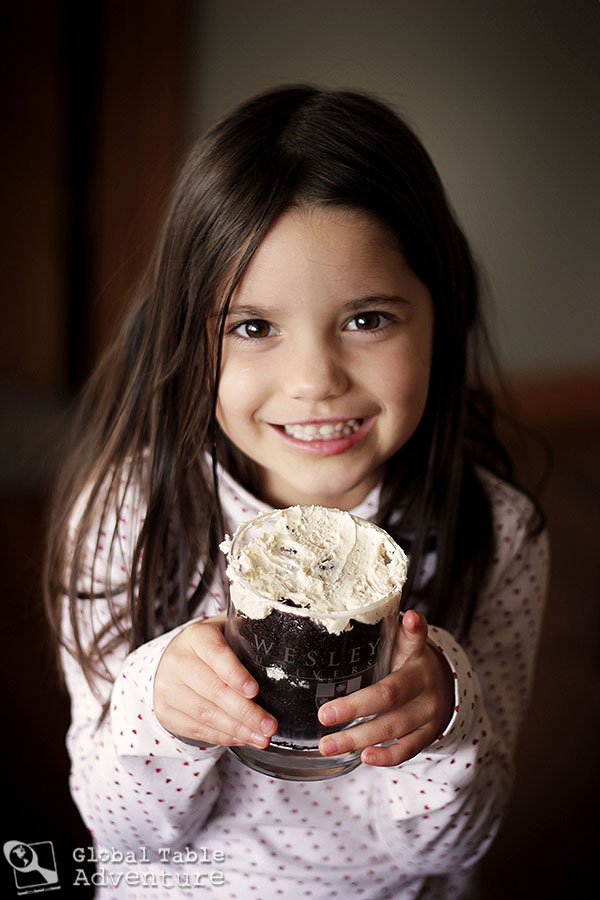 We saved you a bite…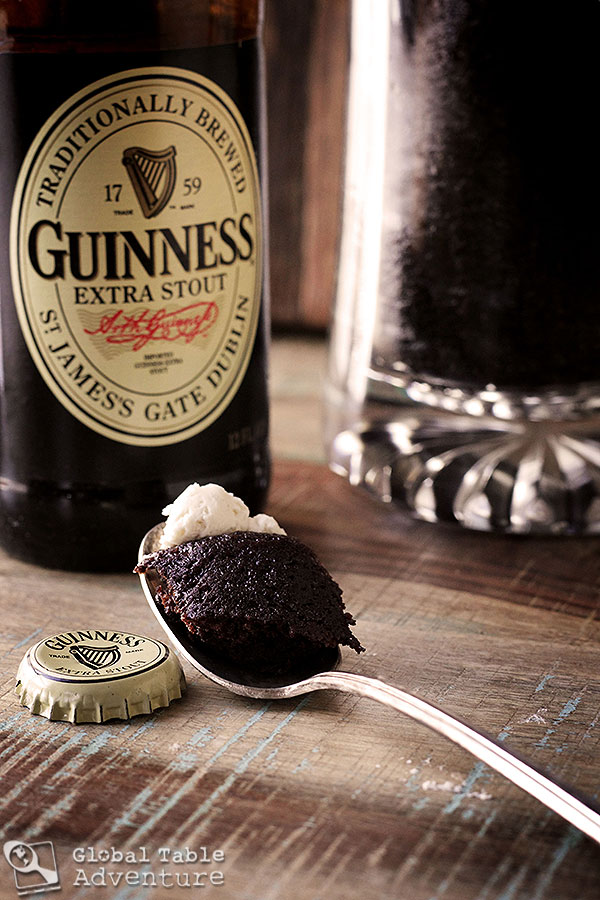 Can you taste the deep, dark chocolate with a whisper of Guinness? How about the buttercream kissed by Bailey's?
Yum and yum.
P.S. I think one mug is perfect to share with your "lucky" sweetheart, which means this recipe serves up to 6 folks.
To get started, use our classic Dark Chocolate Guinness Cake with Bailey's Buttercream recipe… and if you do make these Guinness Chocolate Cakes in Mugs, be sure to share a photo on instagram with #GTAgrams or #Globaleats so I can see!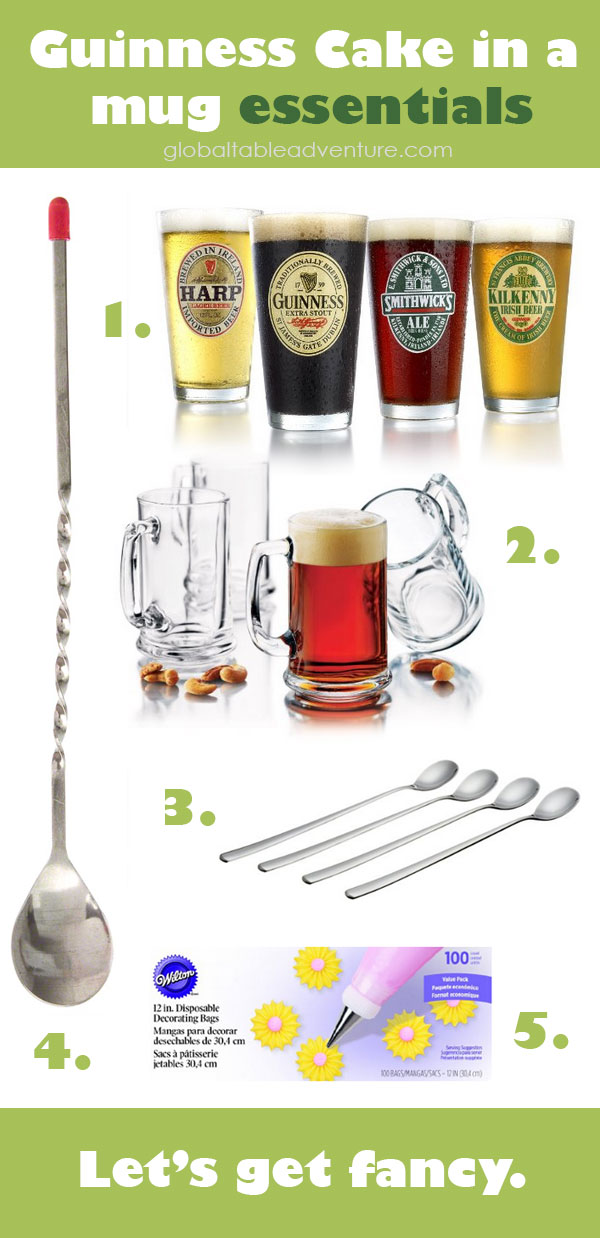 1. Assorted Irish Beer Glasses For a truly authentic look, try serving the cake in a Guinness branded glass. This particular set comes with assorted Irish labels for astute beer drinkers to discuss (I'll leave it to you to decide if serving a Guinness Cake in a Kilkenny's mug is sacrilege or not…)
2. Cardinal International Arcoroc 25-ounce Beer Mug (12-Piece Set)  These over-sized glass mugs are similar to the one I used in this post. They allow for some wiggle room for the cake,which means you won't be stressing the fit. Also, offering your guests a handle gives them a firm grip as they go digging  for cake and frosting.
3. Long Drink Spoons (Set of 4) And speaking of digging… you'll need some long-handled spoons to enjoy this cake. Iced tea spoons are the perfect accompaniment, though it might be fun to use a bartending spoon…
4. Twist-Neck Bar Spoon (Set of 2) Bartending spoons have cute twizzler shafts – perfect for spooning Guinness Cake, not to mention spinning drinks long after St Patty's Day is over.
5. Wilton 100-Pack Disposable Decorating Bags I hemmed and hawed about purchasing 100 decorating bags a year or two ago. But the box is about the same size as a box of zip lock sandwich baggies… and now I have decorating bags on hand whenever I need them. A great buy!
3 More Festive Irish Dishes: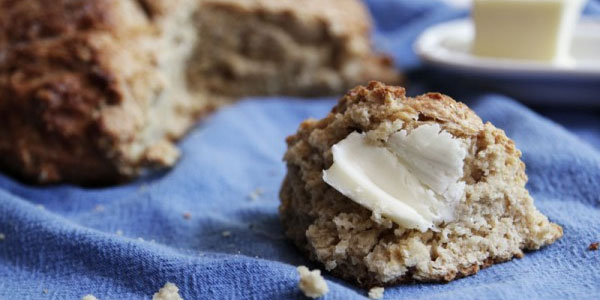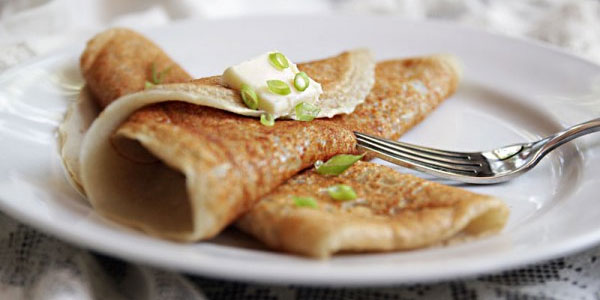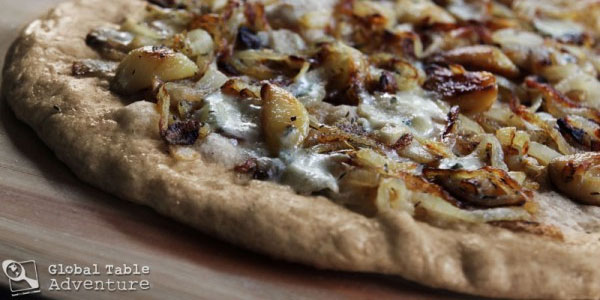 Cashel Blue & Caramelized Onion Pizza
Do you celebrate Saint Patrick's Day? What fun traditions do you and your loved ones keep alive?
I'll probably wear green but I don't wear the pin!  😉
xxoo Sasha