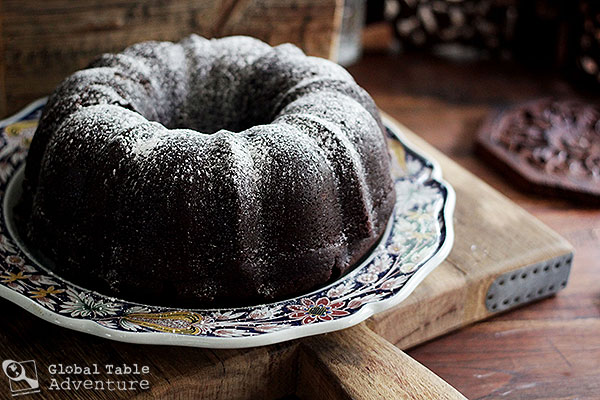 Let's talk about world peace for a second. Pretty much everyone I know agrees we need a big dollop of it to make the world a happier place, but not many people know what this world loaded up with peace would actually look like.
Except for that one image of children holding hands.
While the notion of all our children holding hands is a beautiful image, I can't help but wonder where all the adults are. Why is it always just children? Are we so jaded that we think they're the only ones who can do it?
Are we past the point of no return? Is it really too late to lead by example?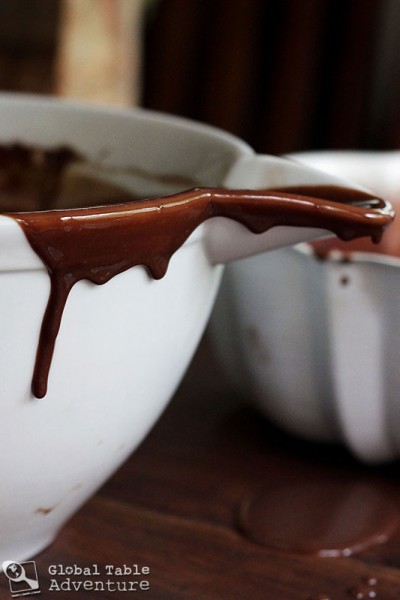 I've put some thought into this lately. I think world peace will be a lot like chocolate cake. Delicious. Lovely. But definitely not overly sappy or idealistic. Sure, everyone would wear the smile of the dove in their heart (they're eating chocolate cake, after all) but there would still be varying points of view.
Disagreements.
People need to be able to have opinions, express themselves – be unique, eat unique, and love uniquely.
In a peaceful world, we wouldn't have to be the same… but we also wouldn't get so worked up about our differences.
We would just let each other be … and celebrate each other. As is.
Which brings me to this chocolate rum cake from Panama (and popular all over Central America and the Caribbean).
With a lovely burst of rum and deep mocha love, it's a little different. A little unique.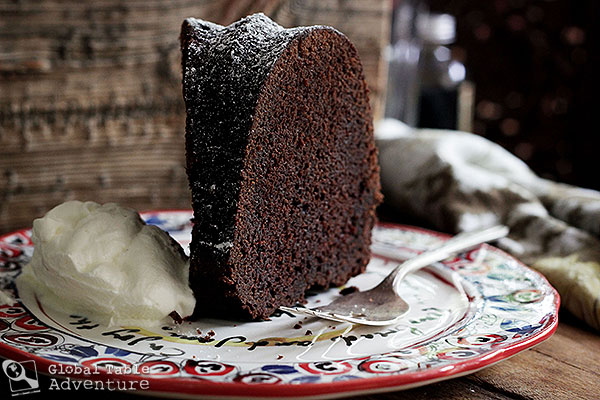 This cake is glorious, but here's the truth: I would rather experience this cake one day and an Irish Guinnesss Chocolate Cake another day.
No way would I want all the chocolate cakes in the world to conform – to taste the same for the rest of eternity. 
That's not world peace. That'd be terrible.
And, excuse me, but I'll need my hands free to enjoy the cake. Unless you're going to feed me.
So we're not going to be able to hold hands.
In fact, I'd much rather sit around a Global Table than hold hands while standing on a tiny cartoon globe. After all, I might get an itch, let go and float into outer space. And I'd definitely get hungry standing around like that.
So… let's eat some cake, celebrate each other, and call it one very grown up step towards world peace.
Deal?
Fills one 12-cup bundt cake to the tippy top (leave 1 inch on top so it doesn't overflow). Inspired by Epicurious. 
Tip: To make this cake extra boozy: (after flipping it out of the baking pan) poke holes in the top of the cake with a skewer and sprinkle on a shot or two of extra rum… let sit overnight in the refrigerator to soak it all up.
Ingredients:
cocoa powder for dusting
3 sticks (1 1/2 cups) unsalted butter
3/4 lb bittersweet chocolate (not unsweetened), broken
3 cups all-purpose flour
1 1/2 teaspoons baking soda
1 teaspoon salt
1/3 cup dark rum
2 cups strong brewed coffee
2 teaspoons vanilla extract
2 1/4 cups granulated sugar
3 large eggs
Garnish:
extra rum, as desired
Confectioners' sugar for dusting
dollops of whipped cream
Extra rum for soaking cake, optional
Method:
Let's get this "world peace" thing started.
First of all, preheat your oven to 300F. Then butter a 4 1/2-inch-deep (12-cup) bundt pan and dust with cocoa powder.
In a medium pot, melt the butter into pools of deliciousness. Remove from heat and stir in the chocolate pieces. Cover and let melt.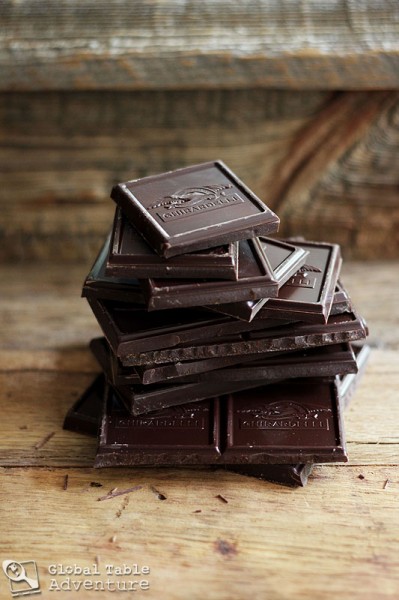 Meanwhile, whisk together flour, baking soda, and salt.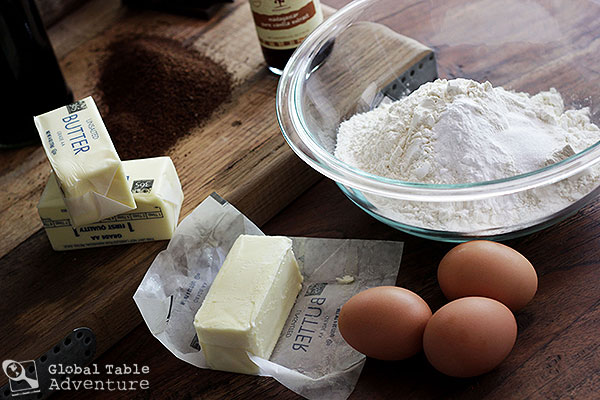 Stir the rum, vanilla extract, coffee, and sugar into the melted butter mixture.
(P.S. The mixture will smell exactly like "intoxicating glory" right about now)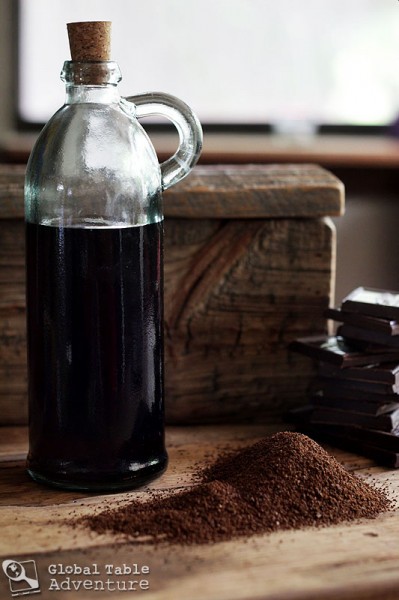 Slowly combine butter mixture with dry mixture (add about half, whisk until smooth, then add remainder).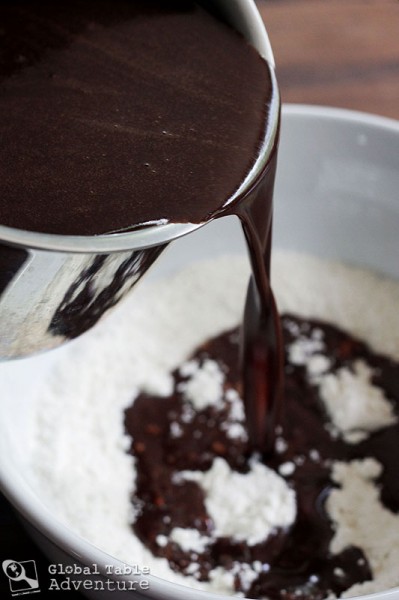 Add 3 eggs and beat until a smooth batter forms. Scrape the sides as needed to work in all the flour.
Lick the beaters as needed.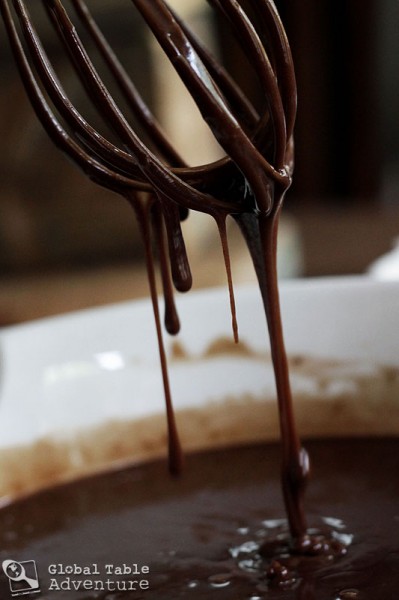 Pour into bundt pan and bake for 1 hour and 50 minutes. Be sure to leave at least one inch clear at the top of the bundt pan so that it doesn't overflow.
Lick the bowl, as needed.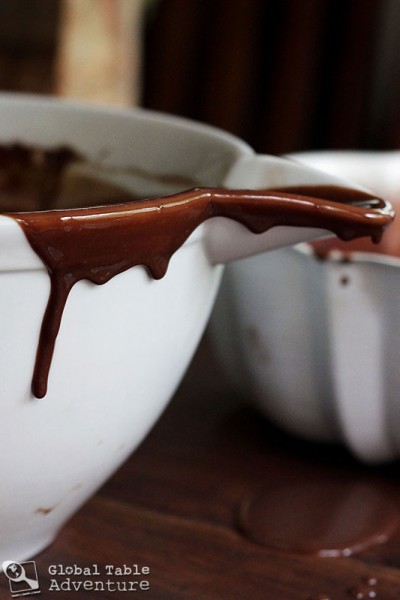 Let the cake cool to room temperature on a rack, then flip out.
If you rush and flip it out while still warm, half your cake might stay in the pan.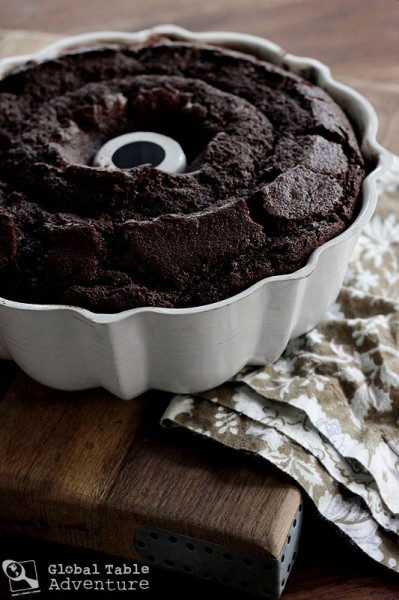 Once flipped, you may refrigerate until needed (for up to 3 days). You can even poke it with a skewer and sprinkle on a shot or two of extra rum, if you're feeling wild (just be sure to let it sit overnight to soak it all up evenly).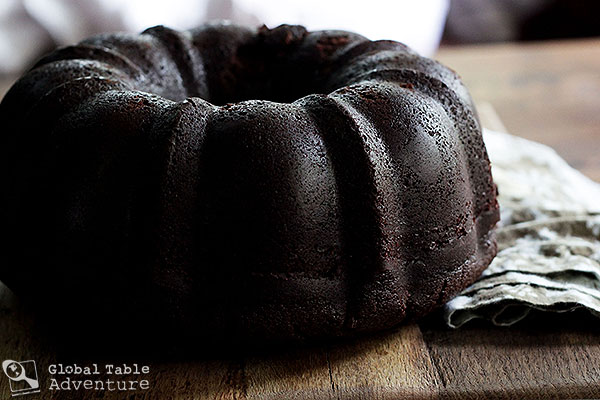 Then dust with a flurry of powdered sugar…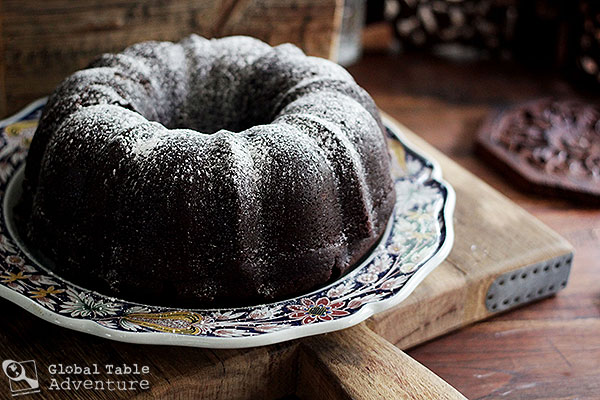 Slice.. (go ahead and slice it thick… life is short)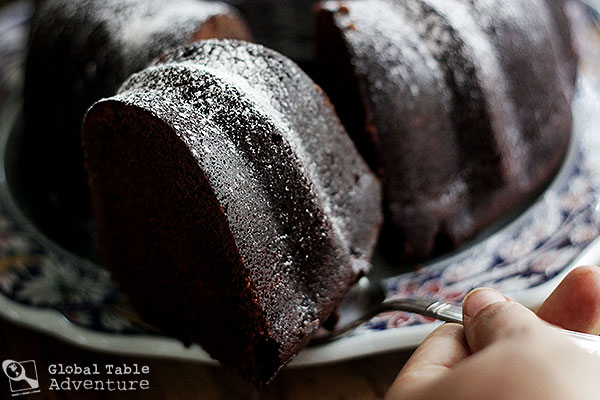 … and serve with a dollop of whipped cream.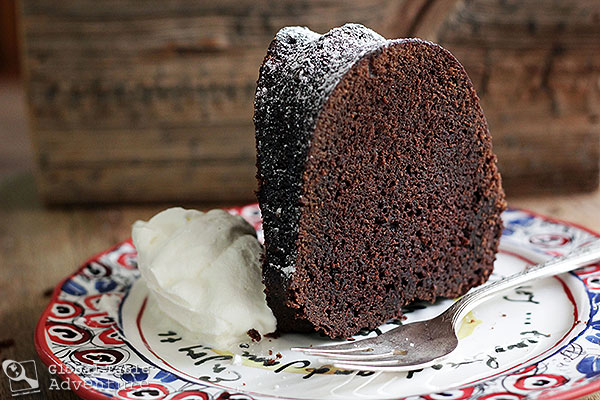 If chocolate cake isn't the key to world peace, I don't know what is.
Have a beautiful day.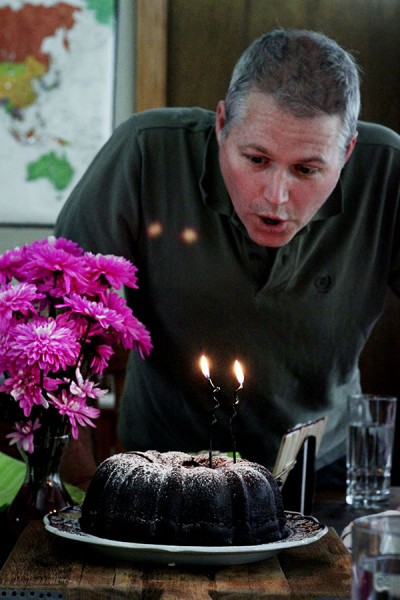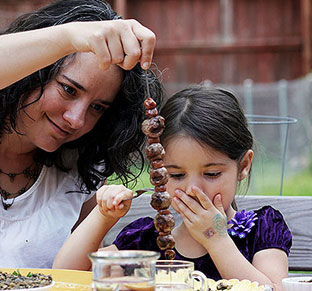 Hungry for more?
Be notified when National Geographic releases my memoir.
Simply fill in your details below.