Nom, nom. I'm in the grazing mood. Solution? An Armenian Meza buffet for this weekend's Global Table.
Meza buffets are typically served cold or room temperature. Most of the dishes can be wrapped up or dipped in flatbread, making Meza great picnic food. This meal is vegetarian; add seasoned grilled chicken, beef, or lamb, if desired.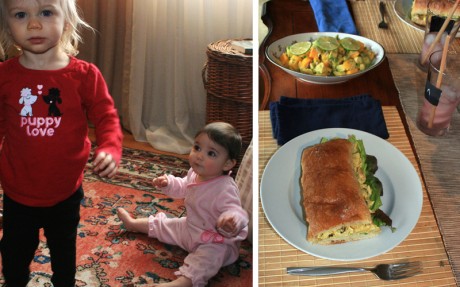 Lavash
Armenian flatbread
Spiced Feta [Recipe]
Feta seasoned with paprika, tarragon, oregano, and sumakh
(tart berry powder available at middle eastern stores)
Jajik (Cucumber Yogurt Dip) [Recipe]
A refreshing blend of cucumbers, yogurt, mint and garlic
Yalanchi Sarma (Stuffed Grape Leaves) [Recipe]
Grape leaves stuffed with rice, onion, currants, pine nuts, and parsley
Lupia Plaki (Stewed White Beans) [Recipe]
Great Northern Beans  stewed with carrots, celery, onion, tomato, and garlic. Seasoned with Hungarian paprika and fresh parsley
Itch (Bulgur Pilaf Salad) [Recipe]
Bulgur with bell pepper, onion, scallions, fresh parsley, and lemon juice
Revani (Hazelnut Cake in Honey Syrup) [Recipe]
A sponge cake made with ground hazelnut and walnut soaks overnight in honey-brandy-cinnamon syrup.