Serves 4
Spiced feta is wonderful wrapped up in flatbread with fresh herbs. Feel free to improvise on this recipe with your favorite herbs and spices.
Ingredients:
1/2 lb feta cheese
1 Tbsp white wine vinegar
1/4 cup olive oil
1/2 tsp Hungarian paprika
1/2 tsp dried tarragon
1/2 tsp dried oregano
1/2 tsp dried cilantro
1/4 tsp sumac (optional garnish)
2-6 sprigs each of basil, oregano, mint, and chives
Method:
1. Spread fresh herbs down in a shallow serving dish. Slice feta into 4 slices. Arrange on top of herbs.
2. In a small bowl, whisk together vinegar, oil, paprika, and dried herbs. Drizzle over feta. Let sit for at least an hour, or over night. Right before serving, sprinkle with ground sumac.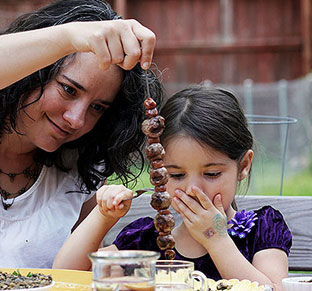 Hungry for more?
Be notified when National Geographic releases my memoir.
Simply fill in your details below.